SportGames- Bringing The Fun In Sports to Your Backyard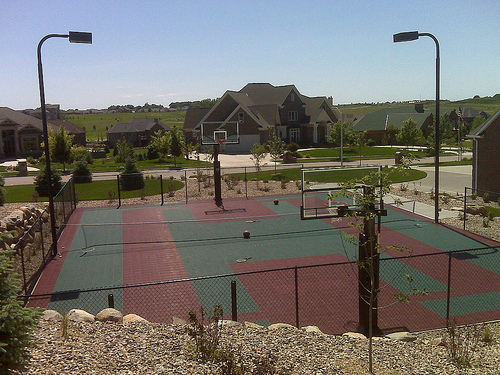 Where do those PGA Tour pros consistently log thousands of hours each year honing their putting stroke? Well, sure they spend a huge amount of time on the practice putting green at their home track and also lots of time out on the links; however, to be around family and for privacy's sake, how are they getting all of this practice time in? Yep, you guessed it, in their backyards.
PGA Tour pros across the country spend a huge bulk of time throughout each season working on their short games (both chipping and putting) in their backyards on custom practice putting greens. Let's face it, stroking balls to a plastic cup across shag carpeting isn't going to help you win too many more $5 Nassaus, and that $39 auto return cup with that bumpy and kinked 6 foot "green-like surface" isn't so green-like once it's out of the box. If you want to truly be able to practice around your house in order to improve your game, then a custom backyard putting green may be for you.
Enter SportGames, your authorized Sport Court Dealer in the Sioux Falls area. SportGames not only sets up custom golf practice areas, but also basketball, volleyball, tennis, baseball, hockey and just about anything else that will get you up off the couch! They have over 14 years of experience of custom work to design your dream Sport Court backyard just the way that you want it.
Check out the SportGames website for more info, and also check out the pics below of some of their great work in action. A picture is worth a thousand dribbles, or serves or putts.
Joel Harrington