07/02/2013
The Greenbrier Classic in White Sulpher Springs, West Virginia is most likely the most popular sites on the PGA Tour schedule. Okay I'll briefly retract my bold statement, as obviously Augusta, the Opens – British and U.S. – and the PGA Championship all may be more liked. As far as non-majors are concerned, this Smokey Mountain paradise ranks among some of the best on Tour.
The Greenbrier is revered not only for the quality of its golf course, but also for the immense popularity of its amenities. If you haven't, check it out. Absolutely other worldly. Completely phenomenal. Neat fact: for a long time, underground bunkers were built in case America came under attack. The information was leaked revealing its location and our government no longer uses it. Nonetheless, fascinating.
Let's get into some picking:
SUSPECTS
SUSPECT #1: Brain Davis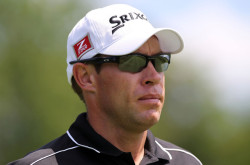 This sunglasses-sporting, Englishman is a perfect fit for this event. The Greenbrier is a course that requires fantastic short iron play. Davis is a great short iron player who already has 3 top tens in 2013. It was a few years back at another shorter hitter, ball striking paradise where he inadvertently grounded his club in a hazard at the Heritage to lose out on his 1st PGA Tour win. He's a 5-time runner up on Tour.
He'll be around this week.
SUSPECT #2: Charlie Wi
Another short iron wizard, Wi is 11th in proximity to the hole from 75-100 yards. He's also 3rd in birdies on par-3s – a critical stat on a course with a par of 70 and the finishing 18th hole being a par-3. He'd gone 9 straight starts without a top-50 finish, but last week at Congressional, he turned it around. His T7 was the highest finish all season.
Hey, he was also a T3 last season here at the Greenbrier.
UNSUSPECTING SUSPECT
DON'T SLEEP ON THIS SUSPECT: Donald Constable
A bit of a homer pick, since I'm a Minnesota purebred, but I think Donald could come around and play well this week. He's a rookie on Tour, qualifying via Q-School, but has not made a single cut this season.
Donald's strengths lie in his short irons and his putting. He makes a ton of putts, while remaining very accurate with his wedges, 9 and 8 irons. I think he could play well this week and notch a Top-25 this week on Tour.
Cut number 1 of his PGA Tour career this week.
Winner
It is only a matter of time before he busts through, right? The Canadian product just celebrated Canada Day this past week, I'm sure pridefully with his Canadian cohorts. This guy is the #1 Ball Striker on Tour, he is a solid putter, thinks his wa….wait, wait, go back there. I'll reiterate – Graham DeLaet is the #1 Ball Striker on Tour. He's better than Rose, better than Weekley and better than Billy Horschel. All top ball strikers who've all won this year.
Graham will make it 3 straight first time winners in 3 years at the Greenbrier.