Posted 03/25/2013
Problems are presented with practicing on golf mats. Sore wrists, potential injury, poor habit development and a lack of durability scare many indoor golfers from spending the money necessary to buy quality assurance in a golf mat.
When looking for a golf mat, take search queries no further than JR Mats.
The only Real Feel Golf Mats on the market, these mats give golfers the type of performance desired in any golf mat. They focus on a product firm enough to gain solid footing, yet still 'squishy' and soft enough to give reliable feedback from the impact position of golf shots.
Owner Jay R. McGrath has seen the golf mat industry develop over the years. The earlier most popular golf mats were sand filled golf mats – mats in which the consumers loved. The only issue presented with these mats was the soft feeling of sand, soon disappeared into a compacted concrete feeling as the sand saw continued use.
He listened to the market and developed The Country Club Elite® Golf Practice Mat – the first mat that could take a real tee using heavy yarns and fibers which took form and remained durable through repeated strikes.  Outside of the durability and form, it was the most complete and realistic mat on the market. The element which consumers embraced was the ability to take a tee. It was revolutionary in golf mat production.
The product continues to pride itself on innovation. Recently, Real Feel Golf Mats have added lie stations with different lie features after suggestions from PGA professionals. They wanted an area to work on lies above the feet, below the feet and hitting off down slopes and up-slopes. JR Mats adapted and gave the consumers what they wanted in a quality product.
With many of the top teachers in the country embracing it – including Mike Bender, Brian Manzella, Jim McLean and Butch Harmon using the mats in their teaching facilities – the success of JR Mats is hard to look past.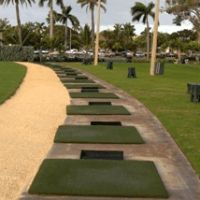 If you are interesting in putting of the nation's best golf mats into a teaching studio, golf simulator or indoor practice area, take a look into http://www.realfeelgolfmats.com/!
Follow on Twitter: @troy_usgolftv