Bushnell Excel GPS Watch Review: Video
Bushnell Excel GPS Watch Review – Wearable Technology
08/11/2017
So, you've been eyeing the Excel GPS Rangefinder Watch from Bushnell Golf . . . and who could blame you? This Bluetooth-capable watch does everything from measuring your clubhead speed to reporting yardages at each hole. But with a price tag of $249.99, you may be wondering if the Excel GPS Watch is a practical investment.
Featured: Bushnell Pro X2 Rangefinder Review
I gave the watch a test run so I could tell you what to expect from this product. In short: it blew my mind.
So, if you're familiar with Bushnell's reputation, you don't need assurance that the Excel GPS Watch is a quality product. (It is.) Instead, I will tell you exactly what the watch does, the bonus features you may not expect, and how this golf tool can be of use to you.
Practicality
Let's face it:  if a product isn't practical, there isn't much sense in looking at it, let alone buying it.  If you want to shell out the dough to get your hands on this great device, you want to know what you're getting from it.  So here's the breakdown:
Look and Feel
These qualities may not be the first thing we think of when investing in new gadgets.  But look and feel can mean the difference between an item that gets used and one that winds up forgotten in the pocket of your golf bag.
The Excel GPS Watch is stylish and has a natural fit. Basically, the watch didn't interfere with my swing or distract me during my game, and it looked great.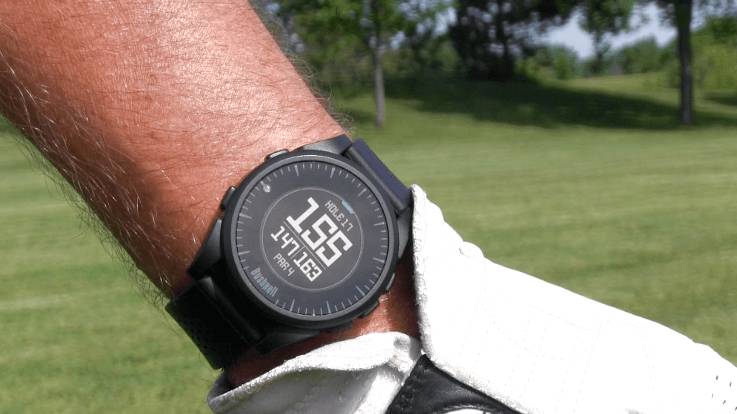 Battery Life
The battery lasts up to three rounds between charges.  Therefore I was able to put the watch on at the start of a round and not worry about keeping it alive.
Pre-Loaded Golf Courses
The watch features stats and tracking information for 35,000 pre-loaded golf courses. No matter where, the watch is almost guaranteed to have the information you need for the course you're playing.
Golf Course Stats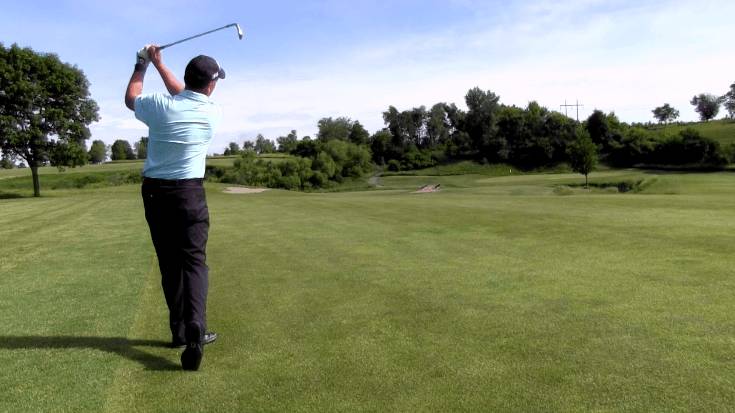 Auto-Recognition
This is one of the best things about this watch.  Not only does it recognize which course you're on; it also recognizes the hole. The moment you step up to the tee, the display will show you the yardages for that hole.
Yardages
The GPS watch not only reports the yardages to the front, middle, and back of the green.  It also shows the yardages to up to four hazards per hole – valuable information as you prepare to make any golf shot.
The App
The Excel GPS Watch comes with an app that provides additional features, transforming an already useful product into the ultimate golf aid.
The app includes Bluetooth pairing so you can sync your watch with your phone.  It also enables you to receive call, message, and calendar alerts right on your watch. You can also use the app to keep score and book tee times.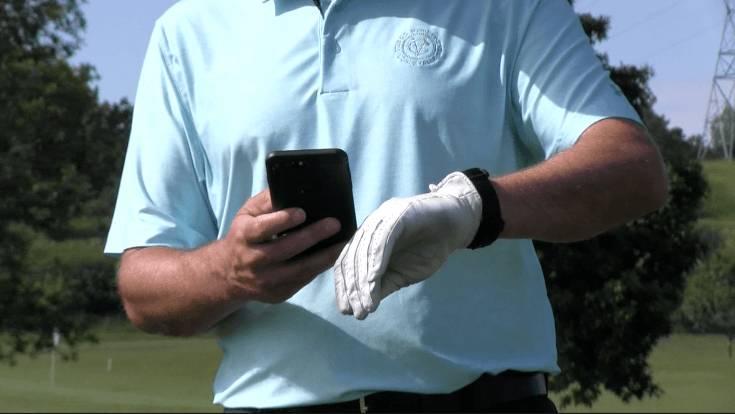 Your Own Stats
Swing Information
I was impressed to discover that the technology of this watch goes so far as to measure your swing. Simply put, all I had to do was enter the club I was using.  From there, the watch noted my swing tempo and clubhead speed.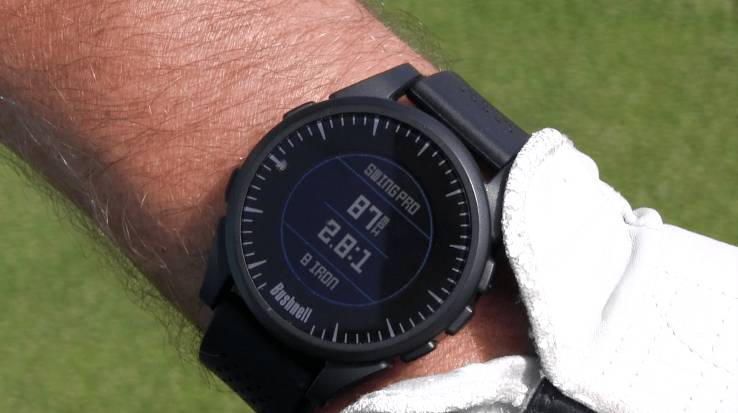 Fitness Information
For those who like to know how much exercise they've gotten over the course of a round, there's a feature for you too.  The GPS watch includes a pedometer function that tracks how many steps you've taken.  More than that, it measures how far you've traveled on the golf course.
Bottom Line: Is It Worth It?
Bushnell Golf's Excel GPS Watch exceeded my expectations. I found just about every tool I could need on the golf course all in a single product that fits comfortably on my wrist. So if you're looking for a convenient way to track your progress, plan your golf shots, and get reminders to leave the course in time for your kid's ball game, this watch may be exactly what you're looking for.
For a complete list of retailers and purchase options, visit bushnellgolf.com.