Bushnell Neo Ghost Review
06/17/2015
Bushnell has been on the cutting edge of rangefinder technology for decades, from their Jolt Pinseeker Technology to their recently introduced Tour X model–which has a detachable faceplate to give you both a slope rangefinder when you want it, as well as being tournament legal when you need it.  But what about for the casual golfer that only needs basic stats?  Their new Bushnell Neo Ghost Rangefinder simplifies the technology, allowing for an easy-to-use pocket sized GPS unit that can even clip to your bag or belt.  With features like a front/center/back distance display, auto course recognition, and a simplified interface, knowing basic yardages has never been simpler.
Bushnell Neo Ghost Rangefinder Review
PGA Professional Todd Kolb with another pro review, and today I'm taking a look at the Neo Ghost Rangefinder by Bushnell.  We all know—it goes without saying—that Bushnell is the leader in the industry when it comes to rangefinders; and what I like about this new Bushnell Neo Ghost Rangefinder is not only is it accurate and has great functionality, but you know what:  it's kind of fun.  It comes in a variety of different colors, so some people want to kind of add a little flair to their golf game and their golf bag, you can do that with a couple different colors.
It's literally like a hand held rangefinder; it fits right in the palm of my hand.  It comes with a clip; I can clip this onto my belt, onto my bag, I can put it in my pocket.  It is simple and easy to use.  In terms of functionality, here's what I like.  First of all, when I got it in the mail for the review, it comes with a USB charger.  So I literally charged it as I was driving to the golf course; fantastic.  I got out of the car, and I was ready to go.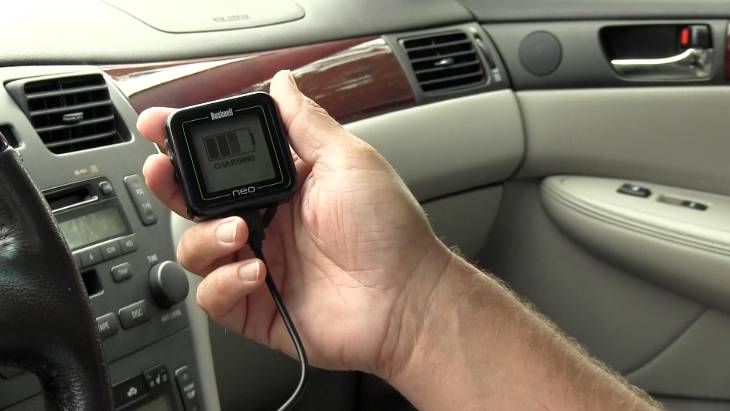 It has a GPS system, with over 30 thousand courses already preloaded.  So I'm here at my home course, I turned it on, the GPS kicked in and found my home course, I was ready to go literally in a matter of seconds.
Of course features—that's always important, right?—when you buy a rangefinder, what is it going to tell you?  First of all, everything that you need to know for the average golfer:  distance to the middle of the green, to the back of the green and to the front of the green.  That's really—for a lot of golfers—that's probably all you need.  You get that with the Bushnell Neo Ghost Rangefinder.
Also it has a cool feature that tells you how far you hit a shot if you want to know that, alright?  If you want to know how far you hit a shot, click a button, walk to the next shot or where you hit the ball, click it again, and it'll tell you how far that ball traveled.  Another cool feature for the Bushnell Neo Ghost is it allows you to scroll up and down on the hole.  So maybe you're playing in a shotgun start, and you have to start on the fourth hole, you can literally just scroll up and down and you're on the hole that you need to.

So when you're looking for functionality, you want to have a little fun, but you need information—the basic information to play a round of golf—the Bushnell Neo Ghost Rangefinder is something that you're going to really like.  If you want more information about this product, or the other great products by Bushnell, be sure to check out their website.