Bushnell Pro XE Review: Is This Bushnell's Best Rangefinder Yet?
Bushnell Pro XE Review: Could This Innovative Golf Rangefinder Technology Be the Secret to Better Course Management?
As every golfer knows, a rangefinder is basically the 15th club in your golf bag . . . and it endures a lot of use. In fact, a rangefinder is the one tool you use on just about every shot except your putts. This piece of equipment sees a lot of play, takes a beating, and can mean the difference between artful course management and just fumbling your way blindly through a round.
In other words, a quality rangefinder is always a good investment. If you're looking for a new golf laser, you're smart to do a little digging first to make sure you're making the best decision.
So, what is the best rangefinder on the market? And which company should you turn to when it's time to make a purchase?
I can give you the short answer right now: Bushnell. More specifically, the Bushnell Pro XE golf laser rangefinder.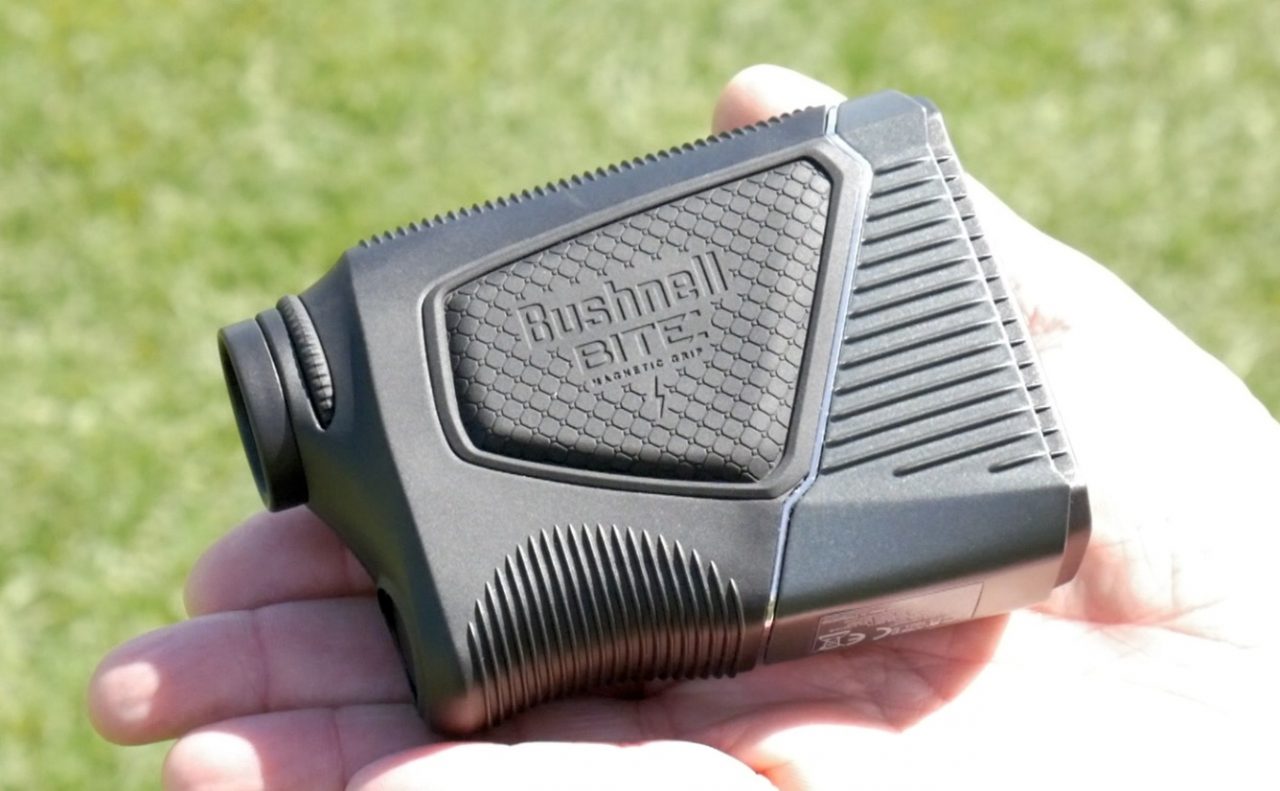 Bushnell has been my number one choice in rangefinders for my entire career, so as soon as the new Pro XE came out, I had to give it a test run. Now, I'm going to share my Bushnell Pro XE review with you. I'll cover the main features of the new Pro XE and introduce you to my favorite feature—a feature that is exclusive to this particular unit.
But first, let's talk about why you should trust Bushnell in the first place.
The Legacy of a Bushnell Golf Rangefinder
As the leader in rangefinder technology, Bushnell is always your best bet. After more than 20 years in the industry, watching touring professionals and testing different rangefinders personally and with my students, I can tell you no other brand has been able to compete with Bushnell.
From the iON 2 Watch to the Hybrid GPS Laser Rangefinder to the Pro X2, this company has always been ahead of the curve. And you'd be hard-pressed to find another industry professional who would disagree. Just look at the stats. Watch the world's best players in professional golf. At least 99% of PGA Tour players use Bushnell rangefinders.  And if the pros trust it, average golfers can rest assured it is a quality product.
Having now tested the company's brand new laser device, I can also say that no previous model compares to this one. A few years ago, Bushnell changed the game with Pinseeker with JOLT technology. They've done it again here with XE. But I'll get to that in a minute. Let's take a look at the basic features first.
The Practicality of the Bushnell Pro XE
The best technology means nothing if a rangefinder isn't easy to use and ready to survive your golf lifestyle.
Fortunately, the this laser checks both those boxes. Like the more recent versions of the Bushnell rangefinder, the new Pro XE fits nicely into your palm for an easy, natural feel. It features a rubber armored metal housing, making the unit extremely durable as you transfer it from car to cart, from cart to bag, from bag to luggage. (And, let's be honest, your rangefinder is going to get dropped a time or two.)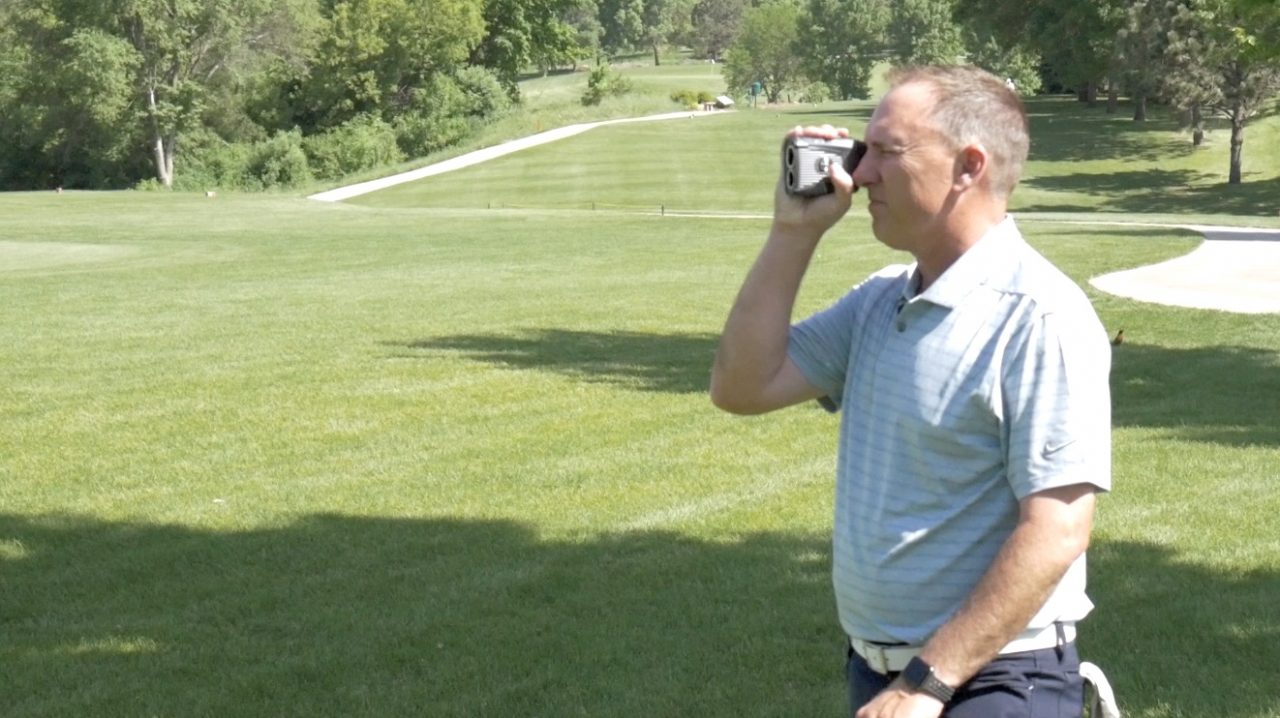 The Pro XE is also completely waterproof. If you're newer to golf, this detail may not have occurred to you as an important one. But between morning dew and the risk of getting caught in the rain, you want a laser rangefinder that can handle whatever elements nature tosses your way.
BITE Magnetic Mount
Another feature I love is the built-in BITE magnetic cart mount. You've probably seen the magnetic bands made to go around the cart bar so you can clip your rangefinder onto your golf cart for easy access. Bushnell cleverly saves you a step by putting that magnet directly onto the side of the rangefinder itself.
So those are the features that make this unit convenient and easy to use. Now for a more technical Bushnell Pro XE review.
A Review of Bushnell Pro XE Technology
I'll admit that when I test a new Bushnell, I don't approach the unit with much skepticism. But that's only because Bushnell has never let us down. With each generation, the technology gets more advanced, more nuanced, and more exact. The Pro XE is no exception.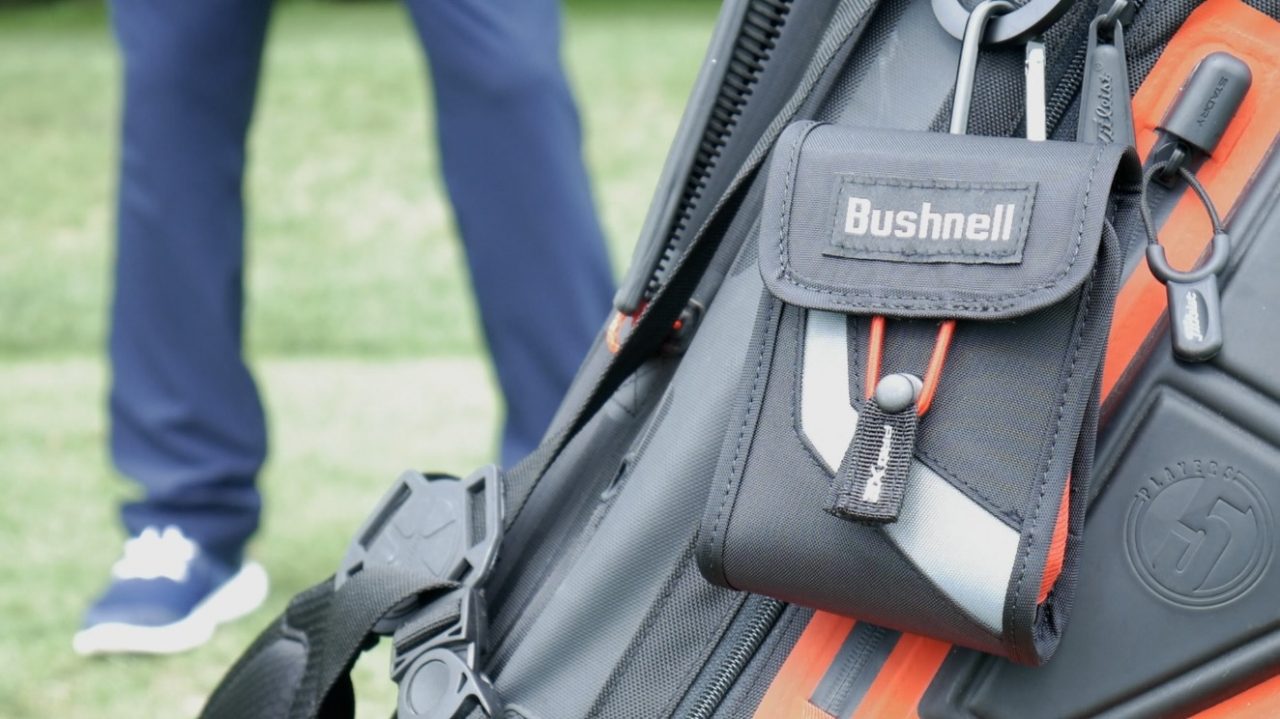 Updated JOLT Technology
A few years ago, Bushnell revolutionized the industry with its signature Pinseeker JOLT technology. If you've never experienced this feature, the concept is simple. When you look into the rangefinder and lock onto a target, you feel a jolt—a quick vibration that confirms you've locked onto the pin or whatever target you laser.
I've found that this technology gives me more confidence in the accuracy of the yardage readings I get from my rangefinder, especially when I laser the flag.
The new Pro XE still features that vibrating signal, but now they've added an extra visual jolt. When you lock onto the target with this new device, the rangefinder lets you know with a physical jolt and the visual of a flashing red ring.
Exceptional Range and Clarity
Bushnell claims that the Pro XE offers "superior clarity and resolution" thanks to its high-performance optics. I'll confirm that the unit does deliver on this promise. I had a crystal clear view of everything, from a flag on the green to a tree or hazard in the way. It's also worth noting that the Bushnell Pro XE is currently the only rangefinder that comes with 7x magnification. The device ranges more than 500 yards to a non-reflective flag.
Slope Technology
Just like previous generations, the Pro XE features Bushnell's patented Slope Technology. This technology provides such an advantage that it isn't allowed in all golf tournaments. Fortunately, that doesn't mean you have to bail on Bushnell rangefinders. The Pro XE features a slider that turns Slope Technology off for tournament golf.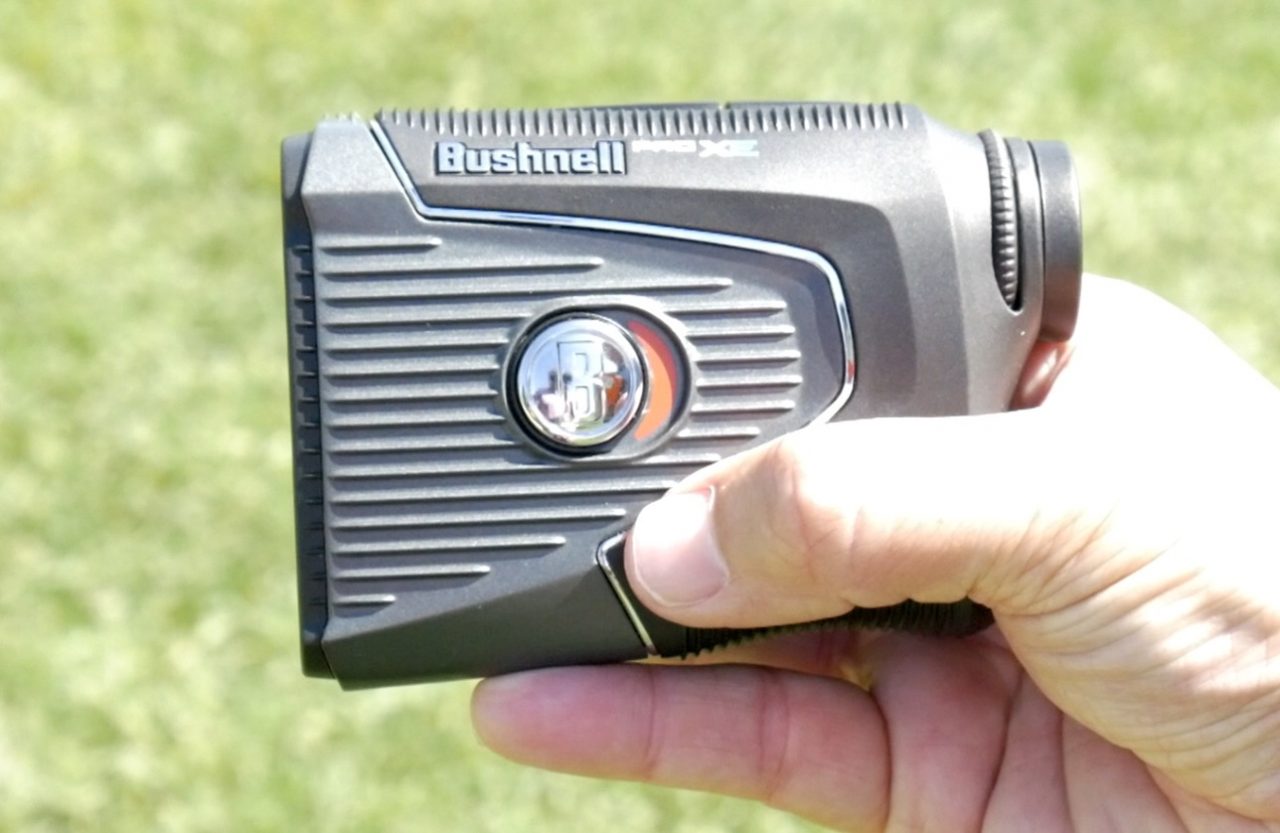 Now, if you're not familiar with Slope Technology, it's like this:
The rangefinder reads the slope of each shot and adapts to provide compensated distances . . . yardages that more accurately reflect how you need to hit the golf ball in order to reach your target, regardless of actual, geographic distance. It's an incredible feature for improving course management. And now, with the Pro XE, Bushnell has made Slope Technology even better.
Here's how:
My Favorite Feature: XE
The "E" in XE stands for "Elements." And what do elements have to do with anything?
Well, if you've played the same course in both cool, early morning spring conditions and during a hot, humid summer afternoon, you may have noticed that your 7-iron hits different distances, even if you're swinging the same way.
This is because natural elements have a huge impact on distance and trajectory. Temperature, altitude, air density and barometric pressure . . . these all influence how far your ball travels in the normal course of play.
The new Pro XE is designed to help you take even more of your playing conditions into account when strategizing each shot. Bushnell's classic Slope Technology now includes element compensation. The new "play as" distance factors in:
Temperature
Adjusted altitude
Slope
The Bushnell Pro XE calculates all details like temperature and altitude to determine the actual playing yardage for that particular location on that particular day and in that particular climate.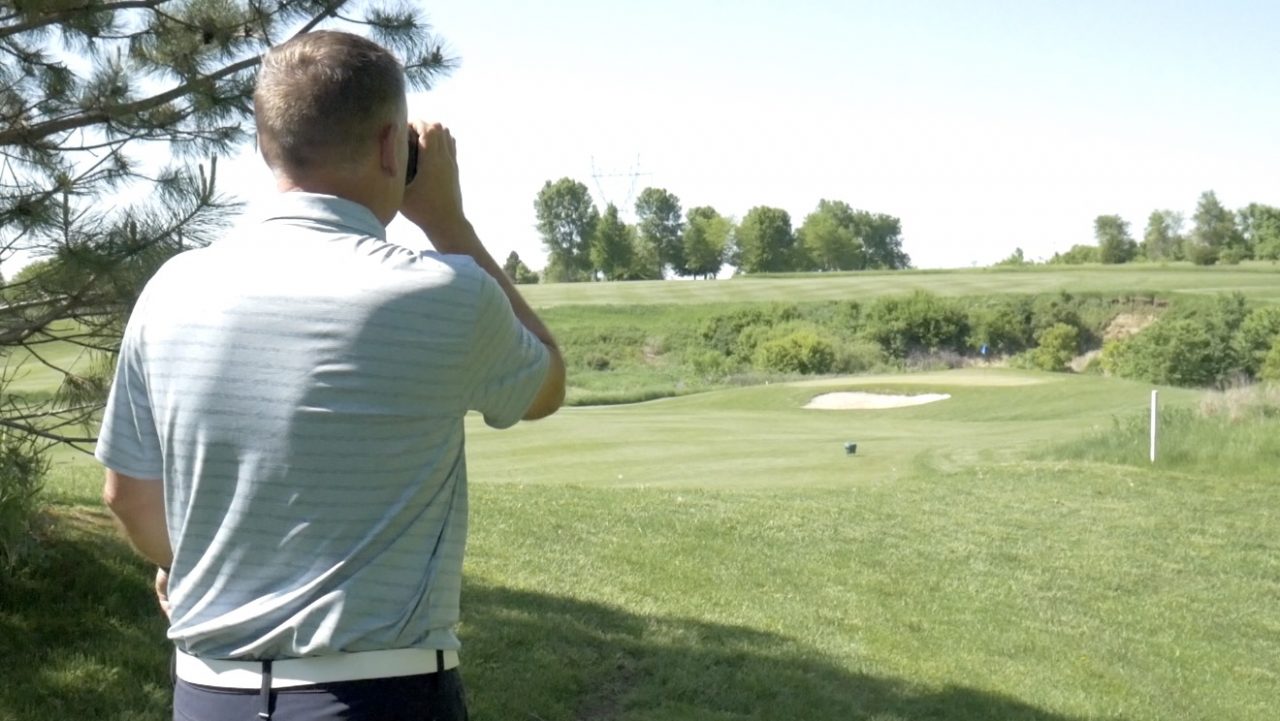 So let's say you use your Pro XE to determine the actual playing distance to a target on level turf in 50-degree weather. You could then laser the distance to a target that's technically just as far away, but this time, you're shooting uphill on a hot day. Just like that, you are working with a different temperature and barometric pressure.  You'd get a different number, because the Pro XE shows you the distance you need to hit in order to reach your destination.
As far as I'm concerned the Bushnell Pro XE represents an incredible advancement in laser rangefinder technology. But that's me. What about you?
Would You Love the Bushnell Pro XE?
I may not know you personally, but I can say this:
It's hard to imagine a golfer who would not benefit significantly from the new features of the Bushnell Pro XE.
And if you're a traveler, I think this rangefinder is definitely the one for you. You already know that playing a round of golf in Colorado is vastly different from hitting the course in San Diego. Imagine how much more enjoyment you could get out of the game with the element compensation feature of the Pro XE.
For my part, I believe Bushnell is always the way to go if you're looking for quality, durability, and accuracy. And this new unit is the best I've ever seen.
But I'm also curious to know what you think. Have you tried the new Pro XE rangefinder? What's your experience with Bushnell products? Do you already have a favorite rangefinder?
Jump into the comments; we want to hear from you!
And be sure to follow us Facebook, Twitter and Instagram for more product reviews, golf tips, and information on new brands. For helpful video tips, subscribe to our YouTube channel!
Also visit us at GreatGolfTipsNow.com for more tricks and insight on all aspects of the game. We're always here to help you play better golf.