Bushnell Tour X Rangefinder Review
06/12/2015
Bushnell Tour X Rangefinder Review
Bushnell has been the leader in golf rangefinders on the PGA Tour, LPGA Tour, and in the bags of amateur golfers for several years.  Bushnell Tour X Rangefinders are no exception, offering Jolt Technology, pinpoint accuracy and a new detachable faceplate that allows you to choose between slope and nonslope technology, allowing you to customize your rangefinder to conform to different tournament standards for the first time ever!
Professional Todd Kolb here with another PGA Pro Review, and today I'm taking a look at the Bushnell Tour X Rangefinder.  When it comes to rangefinders, Bushnell is always at the top of the list.  And how do we know that?  Well, when you look at the PGA Tour, the LPGA Tour or even at the club level, Bushnell is hands-down the leaders in the industry; it's what you're going to see in golf bags all over the world.

Now this particular year, we're taking a look at the Bushnell Tour X.  Now the big feature with the Bushnell Tour X—the new thing that they've added—is the interchangeable faceplate.  Now what that allows you to do is it allows you to change from slope mode to standard mode.  So that's a great feature to have if you're playing a practice round, or if you're playing in a tournament that might or might not allow you to use the Slope Edition.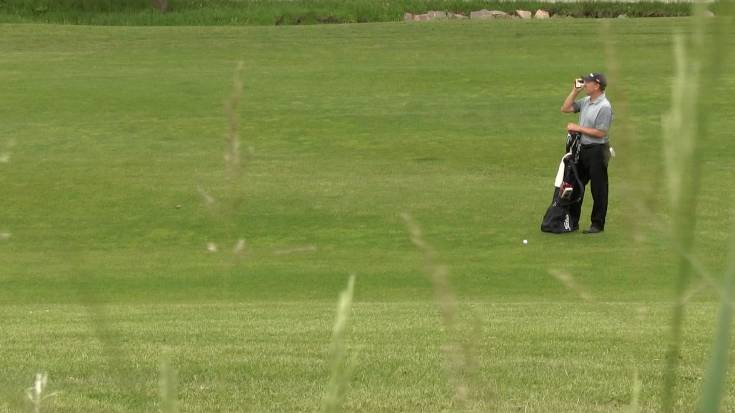 Of course they've also got their JOLT technology; I love that, because when I laser in on the flag and I hit the button and I get a yardage, I know exactly that I've got the right yardage and what I'm looking for.  A couple other cool features for this particular unit is the ability to change the display from a bright orange to a black color.  Now that comes in handy based on the sun or the time of the day that you're playing.
Of course, durability is a big factor when you look at rangefinders, because you're on the course and you're moving around; you might accidentally drop it.  It comes with a great case here that's nice and durable, fits nice in the hand.  What I like about Bushnell is they always also send you with a great carrying case.  It fits right on your bag.  I love this elastic strap; it clips back and forth, it's easy access.
So when you're looking at a rangefinder, what are you looking for?  Accuracy, durability, and features that make the game more enjoyable; Bushnell Tour X has all of those things.  If you want more information, be sure to check out their website.