Martin Hall's "Short Game" Series: Overview
Martin Hall's Build a Better Short Game
03/16/2018
***DISCLAIMER:  WE ARE NOT AFFILIATED WITH NOR DO WE SELL BUILD A BETTER SHORT GAME.  THIS ARTICLE IS INTENDED AS AN OVERVIEW TO HELP GOLFERS LEARN ABOUT THE PRODUCT.
You're standing in a bunker, staring daggers at your golf ball. You just wasted a stroke spraying sand and ultimately sending the ball nowhere. You're sure there's some technique you haven't learned that could keep you out of this situation. Something must be wrong with your swing or your setup. At the very least, you're definitely going to start practicing your bunker shots.
You take another swing and pop the ball up onto the green. Now you can move on with your game. An hour later, you've hit some powerful drives, enjoyed the beautiful weather, and are sitting down for beer with your buddies. You've almost forgotten about the bunker.
The next time you practice your golf game, will you still be in the mood to spend time in the bunker, kicking sand into your own shoes until you get it right?
If the answer is "no," you're not alone.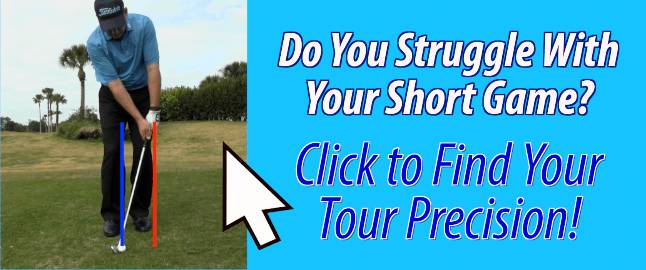 Build a Better Short Game
Legendary golf instructor Martin Hall says most of his students would much rather spend time practicing their long game. If you're like a lot of amateur golfers, this sentiment probably feels familiar. However, mastering the short game is essential to creating a better golf game overall.
This is why Martin Hall has created his instructional series, Build a Better Short Game.
Build a Better Short Game is a three-disc course put out by Revolution Golf, an NBC Golf Company. (You may remember that Revolution Golf also put out Cameron McCormick's The Skill Code.)  In this series, Hall walks players through the common difficulties—and common misconceptions—of the short game. Building on 38 years of teaching experience, Hall's instruction is designed to make pitching, chipping, and bunker shots feel more approachable. He seeks to keep golfers engaged. Most of all, Build a Better Short Game is intended to help you have more fun practicing your short game so you can have more fun on the golf course.
But what exactly can you expect from Build a Better Short Game?
We're going to break down exactly what this instructional series involves, from the instructor himself to the bonus features.
First, let's talk about the man behind the course.
About the Instructor
Martin Hall has taught more than 100,000 students over 38 years. He is a former PGA of America Teacher of the Year, and Golf Digest regularly ranks him among the Top 50 Teachers. He has coached several players on both the PGA and LPGA Tours. And when Jack Nicklaus's children, grandchildren, and friends are looking for golf instruction, Nicklaus sends them to Martin Hall.
Suffice it to say, Martin Hall knows how to teach golf.
He is also a seasoned virtual golf instructor. Before Build a Better Short Game, Martin Hall released his course Build a Better Golf Game, also through Revolution Golf.
In short, there is absolutely no question as to whether Hall is a quality golf instructor. However, it is fair to wonder if his approach fits your needs.
The Martin Hall Short Game Philosophy
Martin Hall says new students often come to him looking to strike the ball farther. It isn't difficult to imagine why that would be. After all, longer shots would inevitably lead to better scores, right? Then, there's the enjoyment factor. There is almost nothing more satisfying than hitting a long, powerful drive. As for short game practice . . . let's just say there's a lot less appeal in drilling those aggravating greenside bunker shots over and over again.
Regardless, Hall says starting with your short game is the smarter way to practice. Not only does a better short game shave points off your round, the skills you develop in your short game help improve your long game. Many of the techniques, movements, and foundational concepts you practice in your short game also apply to your full swing.
In fact, Hall explains that in all of his years of coaching, he has found that the students who put their short game first make faster progress overall.
Of course, in order to make those quick improvements, students have to learn proper form and find a way to enjoy the process. Hall works hard to make both happen. In Build a Better Short Game, Hall clears up misconceptions, shares surprising insights, and introduces the same unique drills that his tour players have used. He draws on tips and tricks he's learned from some of golf's best short game players. And as an instructor, he always emphasizes enjoyment and simplicity.
In over three hours of instruction from Martin Hall, you are bound to learn a few concepts that help you finally have fun practicing your short game.
Build a Better Short Game Course Content
Let's talk about what exactly you can expect to learn from Martin Hall in this video course.
When you purchase Build a Better Short Game, you receive over three hours of instruction. The series consists of three sections: "Chipping," "Pitching," and "Bunker Play."
In the Chipping section, you will learn the basics of solid chipping, including grip, tempo, and club selection. Hall's instruction will, at times, surprise you or invite you to think outside the box. For example, when he discusses club selection, he will—under certain circumstances—encourage you to use a putter. He also teaches his "Golden Rule" for chipping, and he shares insights from Steve Ballesteros and Ray Floyd.
The Pitching section includes instructions on fundamentals such as setup, grip, and the all-important distance control. Hall goes in-depth on the challenges of pitching, helping you determine how to handle different lies. In this section, you can also expect additional tips Hall has learned from Tom Lite and Nick Faldo.
We all know how tricky those bunker shots can be. In the Bunker Play unit, Hall walks you through the unique challenges of the bunker shot, including how to handle a buried lie and how to manage different types of sand. He helps you evaluate and correct your swing length, and he shares tips and drills from Gary Player and Tom Watson. Finally, Hall reveals what he calls "the single most important part of bunker play."
All three sections of video instruction are offered as either digital videos or on three DVDs. Currently, the course also comes with bonus material.
Bonus Material
Build a Better Short Game includes two bonus videos:
An interview with Martin Hall about short game

7 special short game tips
Purchase of the course also comes with a few other extras, such as:
Access to two Q&A sessions with Martin Hall

A discount on RG+ membership (Revolution Golf's membership program offering access to video instruction and product discounts)

Entry into the Martin Hall

Build a Better Short Game

sweepstakes, in which you could win a 30-minute Skype session with Hall himself
So, now that you know exactly what to expect from Martin Hall's course, only one question remains:
What Does Build a Better Short Game Cost?
At the time of this writing, Build a Better Short Game is brand new and available at a discounted "launch price." There are three purchase options: Digital Copy Only, DVD Copy Only, and Digital & DVD Bundle.
Digital Copy Only is currently available at the $47 launch price (normally $77).
DVD Copy Only is currently available at the $57 launch price (normally $87).
Digital & DVD Bundle is currently available at the $57 launch price (normally $164).
No matter which option you choose, Build a Better Short Game comes with a 365-day money back guarantee. That gives you plenty of time to put Martin Hall's instruction into practice and determine if this series truly is the game-changer it promises to be.
Build a Better Short Game – The Snapshot
To recap:
Build a Better Short Game is a three-hour instructional video series taught by Martin Hall and put out by Revolution Golf. Martin Hall is a renowned golf instructor with 38 years of experience.
In this course, Hall delivers in-depth guidance to help you master chipping, pitching, and bunker play. His instruction includes some surprising fundamentals, tips from the masters, game-changing drills, and insights for how to use your short game practice to improve your full swing.
Build a Better Short Game is available digitally or in DVD format. It is currently priced at $47-$57 and comes with a 365-day money back guarantee.
What Do You Think?
Was this information helpful? Do you have any questions? Let us know!
If you've tried Build a Better Short Game or Hall's previous course, Build a Better Golf Game, please be sure to share your experience in the comments. We're also eager to hear of any other courses you recommend or would like to learn about.
Remember to follow us on Facebook and Instagram and subscribe to our YouTube channel for more tips and information about other golf products. We are constantly adding new content to keep up-to-date on current trends and—above all—help you play better golf.