SwingOil: The On-Course Sports Packet Designed for Golf Performance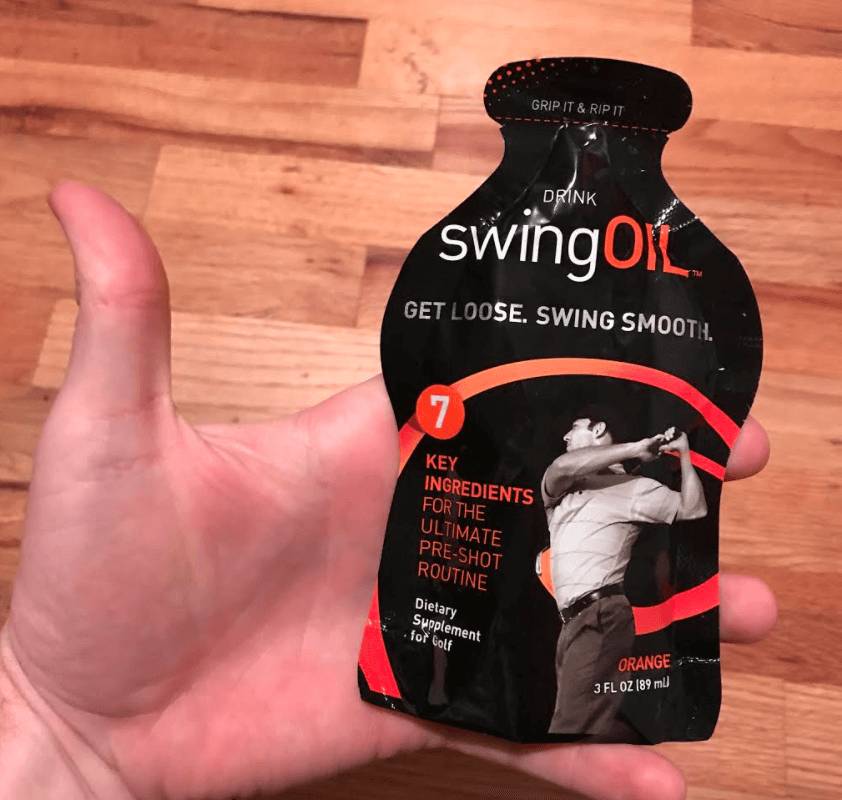 06/08/2017
A lot of pros make the game look very easy at times. 
Dustin Johnson, Fred Couples, Jason Day and others just have that "it" factor.  You know it when you see.  It's more than just a nice swing and sweet putting stroke.  They have a manner about them which suggests they can shoot a 68 anytime, anywhere without breaking a sweat. 
Others like Jim Furyk or Zach Johnson can be labeled "gritty" or "grinders" and it works for them.  But DJ & Freddie are different.
They're smooth.  Like James Bond, smooth.
Are you smooth or does it take you a few holes to get into the groove? 
If you need a hole or two to shake off the rust, then you need SwingOIL.
SwingOIL is a non-alcoholic supplement drink to help you smooth out your game before you even tee it up. 
Key there…non-alcoholic.  😉
Maybe you didn't get enough sleep the night before and your head's a little fuzzy. Perhaps it's a little chilly early in the morning and your muscles are feeling stiff and tense.
SwingOIL is specially formulated by golfers to give you the flexibility and focus you need to play your best.
Each 3 oz. pouch is easy to travel with and easy to use. It fits in the palm of your hand. The pouch contains seven key ingredients to keep you smooth. And swinging smooth isn't easy for everyone. Especially when we can't play every day.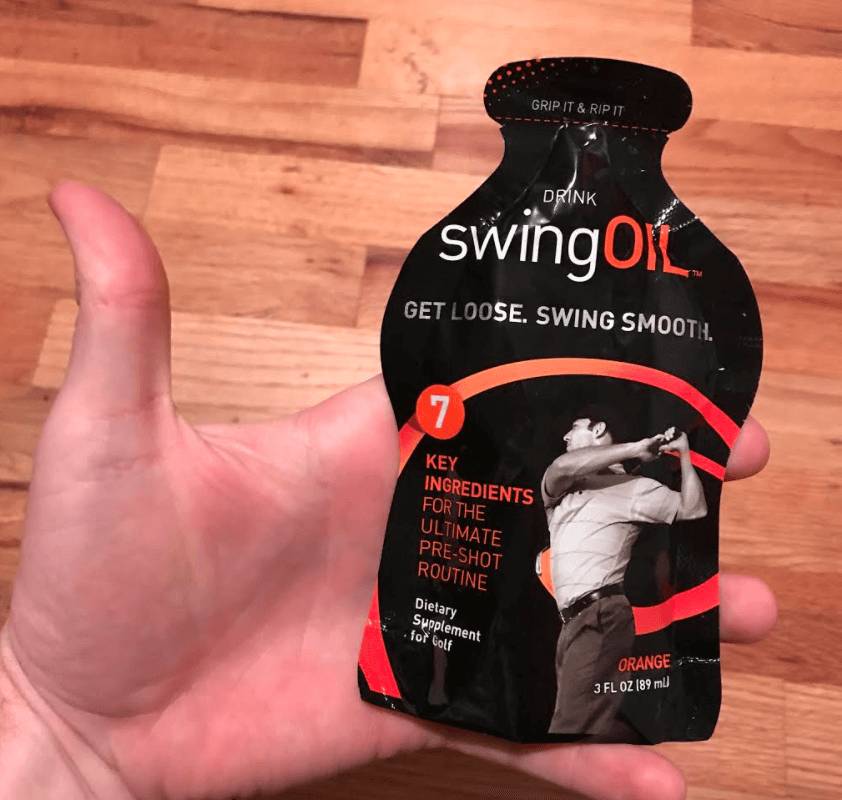 Glucosamine and chondroitin will keep your joints loose. Turmeric and citrulline malate will combat any sore and inflamed muscles and have you ready to play the next day as well.  Taurine gives your body a natural pick me up if you start to lag on the back nine.  Ginseng extract will keep your mind razor sharp and rhodiola rosea extract will keep jumpy nerves at bay so you can knock in that 5-footer par save with ease.
---
This, from their website:
1 – GLUCOSAMINE (100 mg.) & 2 – CHONDROITIN (50mg.)
Stay lubed up with these two. It's like an oil change for your body.
3 – TURMERIC (40 mg.)
Inflammation destroys smooth swings. Turmeric is here to help.
4 – TAURINE (100 mg.)
Meet taurine: A low-cal, sugar-free pick-me-up for when you're on the back 9.
5 – CITRULLINE MALATE (100 mg.)
You love the game too much to take days to recover. Be glad this is in here.
6 – GINSENG EXTRACT (100 mg.)
When you're trying to putt or win the skin, focus matters. Enter ginseng.
7 – RHODIOLA ROSEA EXTRACT (50 mg.)
We all know what game-day stress is like. That's why we included this.
---
SwingOIL is all natural, comes in 3 different flavors (lemon-lime, orange and strawberry-banana) and comes in a small, easy to consume size.
Have one before your round to stay loose and get your mind focused, have one at the turn to stay loose and have another on the drive home to help your body recover.
Speaking of Jason Day, he's a proud member of Team swingOIL and drinks one before every round.  So does U.S. Senior Open champion Gene Sauers and others on the Champions Tour.
We tried the product this spring. At the end of the day, it's a simple product that delivers. If we graded it on three levels, we'd say the following:
Presentation: Great packaging, easy to travel with, and very easy to open. Fits wonderfully in a golf or travel bag.
Taste: Tastes solid. It's flavored very similarily to Gatorade or Powerade. Not overly sweet, but quenching. Can almost taste the ingredients.
Performance: The concentrated substance provided a definite energy boost. We did no testing on the body, or measurements. Felt great though.
We all feel a little out of sorts from time to time.  Let swingOIL smooth out the rough edges and keep you loose and relaxed on the course.
@JDayGolf enjoying his latest shipment of #swingOIL! Can't wait to have you back on the course, J ? pic.twitter.com/cWYaTsNe9e

— swingOIL (@swingOIL) December 6, 2016