02/29/2016
Onto the land of Donald Trump and the TPC Blue Monster at Trump National at Doral. Oh, Donald, you've been quite the topic of conversation over the past few months, haven't you?
This week we'll be treated to the best in the world at the WGC- Cadillac Championship.
After last weekend's Honda Classic and win by Adam Scott, forever a prodigy, we move onto tier 2 of the Florida Swing. PGA National was a great test of nerve and quality of play, producing a wonderful leaderboard and fantastic theatre again on the greatest TV drama going on TV–the PGA Tour.
On a Doral note, this event is the first of the season to feature Jason Day, Jordan Spieth and Rory McIlroy all in the same field.
Our first WGC event of the 2016 calendar year…
Last Year's WGC- Cadillac Top-10
This was last year, too.
Full 2016 Field at the WGC-Cadillac Doral
Click here for a full field list.
Rory McIlroy (Contender) MC
Freddie Jacobson (Contender) T26
Jeff Overton (Contender) T21
Will Wilcox (Sleeper) T43
Patrick Reed (Winner) MC
Zero top-10s and two marquee MC selections, but in the picks in my fantasy league (fitting Adam Scott into my roster and starting Russell Knox all week) led me to success.
Past 5 Winners at the WGC-Cadillac
2015: Dustin Johnson
2014: Patrick Reed
2013: Tiger Woods
2012: Justin Rose
2011: Nick Watney
Course Overview: Trump National at Doral
If this course could be personified in any way, Donald Trump seems like a worthy candidate.
Big, audacious, bold, difficult, challenging, and intriguing, all encompass the Doral design at the TPC Blue Monster. Measuring in at close to 7,600 yards and located only miles from the Atlantic Ocean coastline, this course can offer as brute a test as can sometimes be found on the PGA Tour. Note: last year's final round scores.
For an extremely interesting hole-by-hole analysis by Hanse, click here.
This Week's Picks
Three from the Fairway (Contenders)
1. Sergio Garcia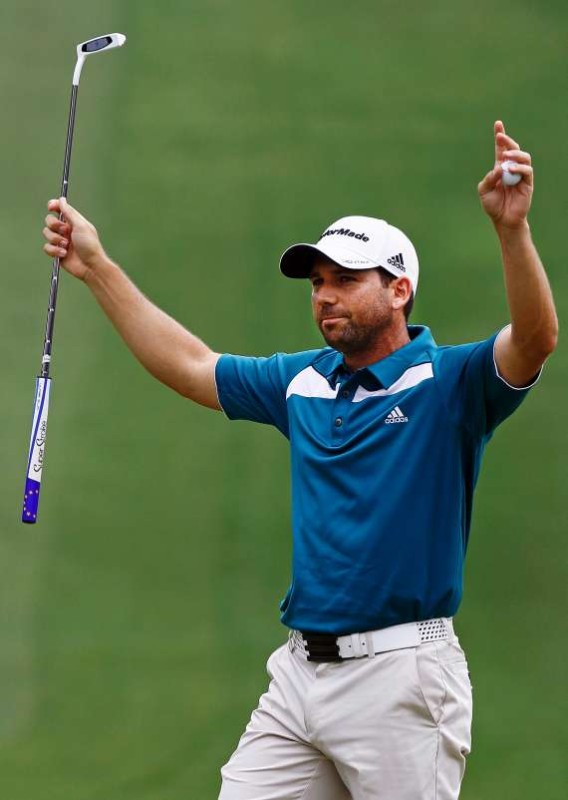 His ability to strike the ball and his improved putting was again on display all week at the PGA National. Despite losing by a stroke to Adam Scott at the Honda, and giving a "humble" interview post-round saying "he didn't have his best, obviously," Sergio's game seems to be in good shape.
I think every single one of us would take a "C-level" of Sergio's ball striking, no matter what he says.
Adam Scott had success as a previous runner-up last week at the Honda, finishing 2nd at Riviera before flying to Florida and winning. Sergio was second last week to Adam.
He's had success at Doral in the past, gathering top-10s and a 3rd place finish as recently as a few years ago. I like his form. I like his ball-striking for windy conditions. I like Sergio, El Nino, to compete this week at Doral.
2. Jordan Spieth
His last time out, he embarrassed himself. A missed cut at Riviera on the heels of an opening round 79 was an abhorrent display for the world's number one golfer.
You know that's been eating at him for the past 10 days in a major way.
This week's event, like I said, is the first where Rory, Day and Jordan will all be pegging it up. It's the first "big, full field" event of the 2016 calendar year. Jordan will be ready to play good golf this week, and I think he'll bring #2 ranked putter, his #1 birdie average, his #3 ranking in strokes gained: total, and his #1 world ranking and the mindset that comes with it.
He was a top-20 finisher here last year and I think the electric play from Spieth is back this week at Doral. I'm going with the angry golfer.
3. Dustin Johnson
Hard to ignore this guy this week.
His great play at Riviera signals to a confident DJ, and we witnessed said "confident DJ" last year at Doral. It's a dangerous thing and in the words of Stephen A. Smith, he's a "baaaaad man." That's DJ.
He's a top-4 finisher here at Doral in three of his last five starts. He has another top-15 thrown in there as well.
Great play last time out. No need to say more.
So close!! Fun week @NTrustOpen with another solid finish. Always a good way to wrap up the west coast swing. Back to FL! @CadillacChamp

— Dustin Johnson (@DJohnsonPGA) February 22, 2016
More Contenders to Consider
Shane Lowry (great ball striker)
J.B. Holmes (last year's 62)
Bubba Watson (length and track record)
One from the Rough (Sleepers)
Graeme McDowell
Is it odd that I've filled my sleeper hole with a player who is posing with hardware in the above photo? A former US Open champion? How about a former Ryder Cup hero?
Well, Mr. McDowell is the sleeper selection this week for the WGC-Cadillac. Much of that is due to his play over the past nearly two seasons.
A staple in world golf circles for years, McDowell's career had a bit of a fall from grace. He dropped outside the top-80 in the world rankings, and his confidence suffered. But what's important to remember is his track record at Doral–both old and new–is really good.
Since 2008, McDowell has three top-10 finishes and another top-15. His play, a meticulous brand of both grit and determination, fits a difficult course like the one at Trump National. His play at last week's Honda was a sign of the McDowell we had once known. A grinder, who knows no test too difficult. In fact, he was a winner as recently as this fall in Mexico.
I like McDowell for a nice little top-15 finish this week in Miami.
The Man With the Trophy
Justin Rose
He's a past winner here, he's playing well, he has the temperament to withstand trials and he has the game to fit Trump National at Doral. Justin Rose is the winner this week at the WGC-Cadillac.
A dismal 55th place finish last year for Rose would point to discomfort with the redesign, right? Wrong. His finish last year was amidst the turmoil which led to some of the worst play we'd seen from Rose in years. In four events, he missed the cut in three. He broke 70 zero times. Look what happened once he figured it out.
With Rose, his last two starts have yielded top-20 finishes. Six out of his past 8 rounds have been in the 60s. Statistically, he's top-20 in driving distance in 2016 and top-10 in strokes gained total.
A great player will become a repeat victor again in Miami. His name is Justin Rose.
17-year-old Justin Rose chips in at the 18th to finish 4th as an amateur at #TheOpen in 1998. Magic.#TBThttps://t.co/Tw80iieakQ

— The Open (@TheOpen) February 25, 2016