10/15/2015
With the Frys.com this week, we celebrate the start of the 2015-2016 PGA Tour season. The Tour Championship ended a few weeks ago, the Presidents Cup ended last weekend and now we're back at the grind again. I love golf, but three-to-four weeks off wouldn't be the worst thing in the world, would it?
Either way, once this season ramps up, golf fans nationwide will be fawning over the drama that is bound to take place in the golf world. Some will win, some will fail, but it all leads to some of the best natural theatrics in sport.
So Dillon Friday and myself decided to sit down and highlight some of the breakthroughs for the 2015-2016 PGA Tour season. We were inspired last week by Jason Sobel from ESPN. If you haven't read it, he outlines an awesome article called "The Leap." It's great stuff from Sobel.
PM RT: As the new PGA Tour season gets underway, here are 10 players who will make The Leap: http://t.co/ZIIjKJ5n7U

— Jason Sobel (@JasonSobelESPN) October 14, 2015
With that, we took a different spin and decided to highlight some of our own "Bulletin Board Breakouts." Here we go.
Bulletin Board Breakouts for 2015-2016
1. Robert Streb Will Win Multiple Tournaments
by Dillon Friday @noclassfriday
Very quietly—in fact nearly as quietly as you can get—Robert Streb put together a tremendous season in 2014-15.
If he snuck up on people, it's because his lone win, the only one of his career, came last October at The McGladrey Classic (the what?). And yet Streb continued to play well into 2015.
He completed the year tied with Hideki Matsuyama for the sixth-most top-10's with nine. The players ahead of him? Bubba Watson, Zach Johnson, Dustin Johnson, Jason Day and Jordan Spieth. Not terrible company.
Streb's consistency is what makes him good. He's a great ball striker (27th strokes gained tee-to-green) and a great putter (24th in strokes gained putting). He made every cut from May to the end of the season. He could have been an asset in the South Korea last week, showing the depth in American golf.
He'll win twice in 2015-16.
@PGATOURSMartin @DJPie pic.twitter.com/o1PULMCbpa

— Kyle Porter (@KylePorterCBS) October 14, 2015
---
2. Kyle Stanley Will Be A Comeback Player in 2016
by Troy Klongerbo @troy_usgolftv

In 2011, Kyle Stanley was peaking on the PGA Tour. He was one of the PGA Tour's rising stars. After a season where he locked up 4 top-10s, made the cut in 22 of his 28 starts, and made over $1.5 million, he was poised for breakout in 2012. What happened next was a choke, followed by a win, followed by a Nike signing, followed by a "what the hell happened to Kyle Stanley?"
He was on the right track, but veered off the rails.
2013 and on was a disaster for Stanley. After a 3rd place finish at the 2013 Memorial, Stanley proceeded to shoot almost as many scores 76 or higher (5) as in the 60s (6). He finished inside the top-50 twice the rest of the season.
2014 was no better. Cuts, cuts, cuts and more cuts. His confidence was gone, but golf is cruel. It takes more than your confidence. It took Stanley's professional card on the PGA Tour away with it.
He delivered a great quote in March 2015 while working his way back through the Web.com Tour. In an interview with The News Tribune, he said the following:
"The past, whether good or bad, is not really something I am dwelling on right now. I am concerned with my development as a player, and my long-term outlook and not my short-term outlook."
His focused demeanor on the process is what is going to drive Stanley back in 2016. Take a look at the end of his 2015 season. Stanley is starting to peak in his golf game again. There are a lot of nice rounds in there:
After a terrible putting season in 2014, finishing with -1.320 strokes gained, Stanley seems to be one his way back. Check out his attic in the tweet below. Let's hope he keeps draining 20-footers like that. I feel he will.
20 footers like it's nothin!! 👊😉 https://t.co/IvwbMAaOSg

— Kyle Stanley (@kylestanleygolf) July 21, 2015
---
3. Tony Finau Will Be a First-time Winner on the PGA Tour in 2016
by Dillon Friday @noclassfriday
Part of being a PGA Tour rookie is believing that you belong. As someone who came so far to reach the bright lights, Tony Finau's transition took a little bit longer than expected. We've loved him here at USGolfTV.
But the talent was always there and by August he looked like not only a possible winner, but a potential surprise Presidents or Ryder Cup selection.
Finau flirted with the lead at the PGA Championship before bowing out in Sunday's Final Round. He finished T10 at Whistling Straits and T14 at Chambers Bay in June.
All in all, it was solid rookie season from the former Big Break contestant. In 2015-16, the prodigiously long Finau will break through with a win.
My Rookie season is officially over on the #PGATOUR. It was a blast! Grateful for all the support I've received. Onward and upward!

— Tony Finau Golf (@tonyfinaugolf) September 21, 2015
---
4. Patton Kizzire Will Be a Surprise Rookie in 2016
by Troy Klongerbo @troy_usgolftv
General Patton took the 2015 Web.com Tour by storm. Someone has had to have made Normandy jokes about the way he dominated his 2015 season, haven't they?
Patton Kizzire is a 29-year-old (30 in March) PGA Tour rookie who won the Web.com Tour last season– in a big way. With 12 top-10 finishes in 18 starts, he won twice and had 6 top-3s. His $567,000 in earnings amounted to almost $200,000 more than 2nd place on the money list. His play was dominating. He stormed the beaches of the Web.com Tour (there it is).
Standing 6-foot-5-inches, Kizzire is one of the tallest players in professional golf. It's size he uses to generate effortless power. In 12 registered PGA Tour drives last year, Kizzire averaged almost 300 (299.5) yards off the tee per drive. His power will be one of his assets heading into his rookie season.
Ryder Cup captain Davis Love III may have said it best about Kizzire's all-around ability:
"He's got no holes in his game. … I know that people watching him go, 'That's not fair. He just makes it look so easy.' He's one of those kind of guys."
Ever since Kizzire dedicated himself to his game in Sea Island, Georgia, the strides started to materialize. It all lead to his massive 2015 breakthrough.
After reading through Kizzire's Twitter account, I also sensed a general Southern humility to his persona. His RT's contained well-wishers and support for his fellow competing comrades. His humility can be seen in this singular self-deprecating share to his page after a horrible finish to a round.
Fun ain't it 😡 https://t.co/UCDUQdmapb

— Patton Kizzire (@pkizzire) August 14, 2015
Maybe it's easier to share these with a smile with $500,000 on the Web.com Tour in the bank and a PGA Tour card in your back pocket.
Regardless, Kizzire's play on the Web.com in 2015 was nothing short of remarkable and it shouldn't be a surprise to see him do it again next season on the PGA Tour. Well, I guess the beginning of this section was titled "surprise rookie," so let's just act surprised, sound good?
---
5. Shane Lowry  Will Be on the 2016 Ryder Cup
by Dillon Friday @noclassfriday
A glance at the European Ryder Cup standings, shows a changing of the guard for the team that has dominated the competition in recent years.
Veterans Graeme McDowell, Lee Westwood, Luke Donald, Ian Poulter and even 2014 US Open Champion Martin Kaymer are nowhere to be found. At the top of the list, on the other hand, is 21-year-old Matt Fitzpatrick, who recently won the British Masters. He'll surely make the squad as will fellow youngster Thornbjorn Olesen.
You want another up-and-comer who will join the blue at Hazeltine? How about the 2015 Bridgestone winner Shane Lowry?
Lowry, an Irishman, displayed a  kind of game and panache down the stretch in Akron that took the PGA Tour by storm. With the victory he earned a full-time place on tour, which means he'll have more chances to tee it up with the best in the world. Even if he misses automatic qualification—he sits sixth in European Points and 11th in World Points—he could garner a captain's pick.
Lowry's length and precision out of tough situations fits the difficult Minnesota course, not to mention the Ryder Cup itself, perfectly.
He's already preparing.
@ShaneLowryGolf Back on the grind today after 2nd at the British masters.The best never stop trying to get better pic.twitter.com/aALGfhWVFO

— Robbie Cannon (@RobbieCannon) October 12, 2015
---
6. Tiger Woods Will Be an Assistant Captain in 2016 at Hazeltine for the Ryder Cup
by Troy Klongerbo @troy_usgolftv
So Tiger reached out to DLIII last week. He expressed his interest in being part of the team next fall in Minnesota as a captain. The story was covered at lengths across the web. He doesn't want to miss out, and who can blame him?
Now this bold breakthrough predictions works on two levels. One, it means Tiger will be an assistant captain for the 2016 Ryder Cup– basic. But number two is more between the lines, and it means Tiger won't qualify to play himself.
Now I am in the "Tiger Woods will win again on Tour," camp, however, my feelings of his reaching Jack's 18 majors is fading faster than a Kobe jumper. I still have a $20 bet with my dad that Tiger will win again on Tour in his career, a safe bet in my mind. But even one win next year won't be enough to earn a place on the Ryder Cup team.
Maybe his game comes around and he's a captains pick, but I don't see his recent surgery helping his cause.
Tiger Woods is a guy you don't bet against, we've learned it over the years, but I think a place on the captains line-up sheet is a safer one than that as a player, and a bold thought nonetheless.
7. Paul Casey Will be a Surprise Major Winner
by Dillon Friday @noclassfriday
No Englishman had a better season than Justin Rose, but Paul Casey deserves distinction as well.
After a difficult four-year stretch that saw him post just one top-10 in 47 starts on the PGA Tour, Casey rebounded with eight in 2015. He rose to 23 in the World Rankings thanks to two seconds, two thirds and 20 made cuts in 25 events.
Casey's all-around game makes him formidable in difficult conditions. He played the weekend at all four majors in 2015 including a T6 finish at Augusta. Casey will do himself one better this season.
Jordan Spieth will happily slide the Green Jacket on Casey come April.
Congrats @JordanSpieth on an amazing year. Brilliant way to cap it off. I think that answers the POY debate!

— Paul Casey (@Paul_Casey) September 28, 2015
---
8. Phil Mickelson Gets Back into the Winner's Circle in 2016
by Troy Klongerbo @troy_usgolftv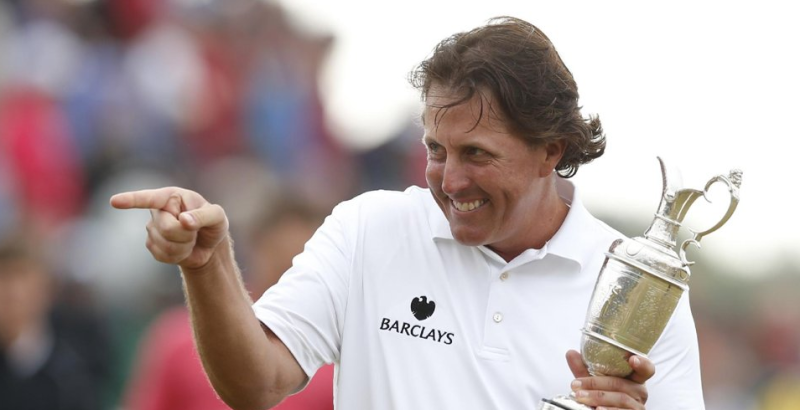 That look above is one Phil will be wearing in 2016 when he wins again. That's right, Phil's going to win in 2016 after a 3-year hiatus from the winner's circle.
Fun fact: Phil Mickelson has only won 5 tournaments since the beginning of 2010, the year he turned 40. 
Well, for Phil, I can't imagine its that fun of a fact.
Complacency is a real thing in golf. Players look to peak their golf games for certain times throughout the year. Obviously, the goal is to always play great, all the time, but players throughout golf look to peak when it matters most.
Phil's been a professional now for 25 years and he's had his game peak, then drop, then peak, then drop again. After claiming the Open Championship in 2013, I think Phil's felt a feeling of career achievement. He won the tournament he was never supposed to win. He triumphed at the place that was never to fit his style of play.
Phil became complacent.
One of the key elements to quell complacency is through doubt. People doubt whether Phil still has it. People doubted his place on the Presidents Cup this past week. How did that turn out?
Phil still obviously has plenty of game left in his bones (no pun intended). So much so, I see Phil jumping back in the winning realm in 2016. He'll turn 46 in June. Vijay Singh won 22 times after turning 40. Even Steve Stricker has 9 wins after rolling over the hump. Five wins for one of the all-time greats seems low for Mickelson
Phil's healthy. Phil's gunna win. And Phil's going to add to that total.
From hole-outs to umbrellas… Basically, Phil Mickelson had the best #PresidentsCup ever: http://t.co/4htDHww3l2 pic.twitter.com/STsHPwfFJd

— Golf Channel (@GolfChannel) October 11, 2015
One more time.

Phil's 137-yard eagle. #PresidentsCup http://t.co/KBWi7yvzDn

— PGA TOUR (@PGATOUR) October 9, 2015
---
Thanks for reading and be sure to let us know your thoughts in the comments below or on Twitter!