01/08/2016
I kept track of it growing up in my golf statistics. I can remember specific rounds where I was so proud of what I had done. "Twenty-six putts," I would yell to my friends, after a tightly contested match. I would think to myself, "don't need to work on my putting today," and off to the range I went.
I would hit balls, working on different ways to get the ball to go straight, hit it solid and hit cuts/draws. I would chip and I would hit bunker shots, because I didn't need to work on my putts. I just had 26.
But maybe I didn't putt as well as I thought…
Rounds of golf conclude throughout the world, on a daily basis (except of course, if you live in the Midwest). How often do those rounds conclude in a putt total? Or some form of golf statistics? Fairly often enough, right? Fairways, greens, and putts.
What if I told you, that the number of putts you have is the most useless stat in golf?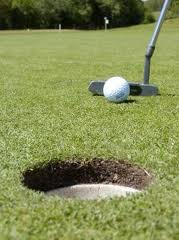 Well, that was a sentiment I was reminded of again, after listening to the Australian PGA Teacher of the Year Stuart Leong in a car conversation he sent our team at USGolfTV and the Todd Kolb Golf Academy.
The information Leong gathers is based off of a system he created called ShotsToHole.com. It's a way of measuring true golf statistics and getting accurate representations from a round of golf.
According to their Twitter page, they are "the ultimate high performance golf statistics, analysis and training tool designed to help golfers achieve their goals."
Par 3's are hard, getting close to par is good playing.#stats #howgoodisgood http://t.co/Hdd4aMYDf0 pic.twitter.com/3LdFPZSORh

— ShotsToHole.com (@shotstohole) January 12, 2015
So back to the discussion, why is keeping track of total putts for a round of golf "useless?"
Player 1: Jordan
Jordan hits the ball great all day. He is putting for birdies, most from 10-30 feet for a majority of his round and putts quite well, two putting most while holing a few nice birdies. In the greens he missed, he hit good chips inside 10-feet and converted on half of the putts. He finishes the day with 32 putts.
Player 2: Jason
Player 2, Jason, hits the ball poorly throughout his round and doesn't find himself putting for birdies much at all. In fact, he misses most of his greens on the day, forcing himself to chip from near the green on 15 of his 18 holes. Many of those chips are good, getting him to inside 10-feet. He doesn't putt great, only holing 1-in-3 of his putts from close range.
Of the three greens he hit, he two putts. He finishes his day with 31 putts.
So who putted better, Jordan with 32 putts or Jason with 31 putts?
Ignore the names, as I didn't choose them in any way because of Jordan Spieth or Jason Day. 😉
The stories would suggest Player 1: Jordan, putted considerably better. If there were strokes gained statistics provided to show his performance, Jordan probably would have finished with a positive strokes gained number, while Jason may have incurred a negative, losing strokes with his putter.
So what does it matter how many putts they finished with?
It all goes back to Strokes Gained Putting, information that has been developed by Mark Broadie and his book "Every Shot Counts."
Our PGA Professional Todd Kolb discussed the concept of Strokes Gained Putting in this blog post back in September 2014 in the form of a video. If you want to learn about Strokes Gained Putting in a simple way, Todd also does a fantastic job laying that information out for you.
The stat has taken over the professional golf circuits. The pros now use analytics to get an accurate analysis of where their game is and what to improve for the offseason. After all, taking the totals from large sums of data and averaging them out gives us an accurate representation of what to improve.
Huge thx to @stuart_leong for putting my stat report together. He is the best in the business! @shotstohole has honestly changed my game.

— Kim Kaufman (@KimKaufmanGolf) December 23, 2015
******
Stats are meant to help us improve. To pinpoint a weakness in our game and accentuate that into a strength. But stats that don't give us perspective (i.e. total putts) aren't going to give us any idea of what or how to improve. They're useless!
Now maybe useless is harsh. Perhaps there is still value. Having 8 putts in a 9 hole round is still an achievement, just not one that relates strictly to putting. It's more a testament to your entire game for the day, chipping great and holing out. You found a way to get the ball in the hole in the least amount of strokes, but we already have a stat for that.
It's called score.
Start keeping statistics that will help you improve.