A Proper Putting Stroke Should be 60/40 (VIDEO)
04/11/2017
If I were to ask you to name some of the greatest putters of all time, who would be on your list?  Nicklaus and Tiger, for sure.  Ben Crenshaw probably.  Bobby Jones?  Why not?  I never saw him play, but you can't win 13 majors without knowing how to get the ball in the hole.
Personally, I always felt Brandt Snedeker was a very underrated player on the greens.  He maintained a beautiful, languid stroke that helped him to a top-10 finish in two of the past five Masters tournaments. 
Whoever you consider a great putter, you should really study their stroke and I'd be willing to bet you would notice a lot of similarities.
What is a 50/50 Putting Stroke?
Although older players like Arnold Palmer and Gary Player used more a jabbing stroke (and were quite effective), you, like many players, were probably taught a 50-50 stroke was the right way to putt. 
A 50-50 stroke means your stroke back was the same distance and pace as your stroke moving forward.  A nice pendulum-like stroke.  After all, a putter is just like any other club in your bag.  A fluid and rhythmic swing increases your chances of scoring your best.
Now, if you currently use a 50-50 putting stroke but still struggle at times on the green, I would suggest switching to a 60-40 swing.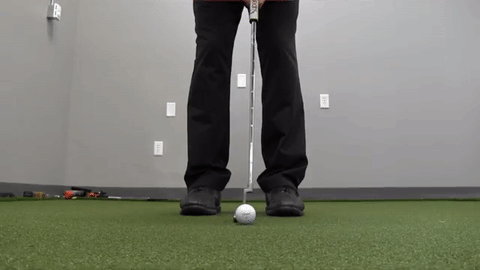 What is a 60/40 Putting Stroke?
Imagine the 60 being the backstroke and the 40 being the through stroke.
PGA Teaching Pro Todd Kolb espouses the benefits of the 60-40 stroke, taking the putter back a little bit longer and shortening your follow through just a touch.  Too often, Todd sees golfers with the exact opposite stroke.
They barely take the club back (perhaps out of fear of hitting it too hard) and then have a long follow through where they try and "chase" or "push" the ball into the cup.  Call it a 40-60 stroke or just call it what it really is.  A bad putting stroke resulting in a lot of missed efforts.
This video explains it:
When you adopt a 60-40 stroke you're going to find your body is a bit steadier over the ball, you're likely to hit the ball in the center of the face more often, and most of all your stroke is going to look and feel a lot better.
The next time you're on the greens, really focus on trying to take the putter back a little longer than you normally might, and cutting back on your follow through. 
Like any swing adjustment, it might feel a bit off at first, but stay with it and you should really see a lot more putts drop.
60/40