The TV Drill: A Drill Designed to Fix Your Slice
09/23/2016
Phil Mickelson did it at Winged Foot.  Jean Van de Velde did it at Carnoustie.  Seve Ballesteros did it all over Europe.  Heck, even Tiger Woods has done it.
They've all hit a big, wicked slice. 
And it usually comes at the worst possible time. Although let's face it, there's never a good time to slice the ball.  Granted, there are occasions when a pro might try and slice the ball on purpose, but trust me those occasions are rare. 
Amateurs never slice on purpose, no matter what they say after reaching in their bag for another ball.
There a lot of reasons for slicing a drive.  Poor form, poor setup, getting your body ahead of the ball, or just a case of the jitters.  The causes are practically endless, but the solution is simple. PGA teaching pro Todd Kolb has a drill to fix your slice. 
Seriously. 
A lot of websites claim they can fix your slice, but take it from a pro who has done it successfully with many, many students.  This drill will fix any slice and it's so simple to do.  All you need are a handful of golf tees.
Next time you're on the practice range, here's what you need to do to fix your slice. 
First, tee up your ball like your normally would.  Doesn't matter if you're hitting driver or an iron.  Now, from your ball, face the target and take three steps forward, and then three steps to your right (assuming you play right-handed).  Now put a tee in ground.  It should be about a 45-degree angle from your ball. 
Go back to your ball and take a few practice swings, like you're getting ready to hit.  Make sure when you finish your practice swing, the butt end of the club is pointing right at the tee you put three steps forward and three steps to the right.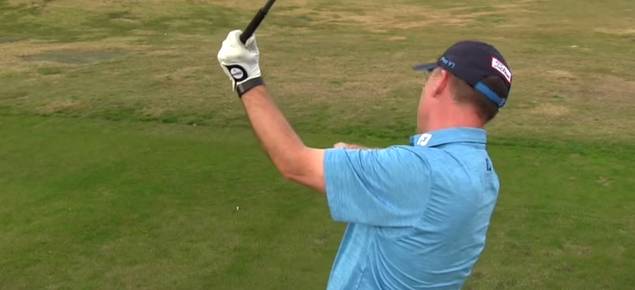 Go ahead and make a few more swings until it becomes second nature to you.  Remember to finish your swing and keep the end of the club with the grip pointing at the other tee. 
Now step up and hit the ball.  That's it.  You just striped it right down the middle didn't you?  Maybe even with a little draw to it?  I know you did.  I told you the drill works and here's the best part.  It's guaranteed to work 100% of the time.  No crazy swing aids needed, no confusing swing thoughts swirling in your head.  None of that.
If you're fighting a slice every now and then, you can take comfort in the fact it happens to the best of the best.  Practice this drill and your slice will be a thing of the past.  Golf is a lot easier from the middle of the fairway.  Hitting more fairways gives you the opportunity to hit more greens and lower your score dramatically. 
Fix your slice today and start playing better golf tomorrow.