2019 U.S. Open Preview: Odds, Picks, ICYMI, and More!
2019 U.S. Open Preview:  Who Wins at Pebble Beach?
Summer seems to finally be here!  With Memorial Day in our rearview mirrors and Independence Day coming in hot, it's time for probably my favorite of the 4 majors.  Pairing one of golf's majors with Father's Day weekend always seems to make for some special moments on Sunday. And the 2019 U.S. Open at Pebble Beach could stand to be perhaps one of the best U.S. Opens in recent memory.
The last time Pebble Beach hosted the U.S. Open was in 2010.  Who won that year?  That's right, Graeme McDowell by a stroke over Grégory Havret (I don't remember him either).  Nothing against Graeme (or Mr. Havret), but I'm thinking the names atop the leaderboard will be more familiar this time around.
2019 U.S. Open Odds
Brooks Koepka 13-2
Dustin Johnson 7-1
Tiger Woods 10-1
Rory McIlroy 16-1
Patrick Cantlay 16-1
Jordan Spieth 16-1
Justin Rose 20-1
Rickie Fowler 20-1
Justin Thomas 25-1
Jon Rahm 25-1
Jason Day 25-1
Xander Schauffele 25-1
Tommy Fleetwood 25-1
Francesco Molinari 30-1
Phil Mickelson 30-1
Tony Finau 30-1
Hideki Matsuyama 30-1
Adam Scott 30-1
Bryson DeChambeau 40-1
Matt Kuchar 50-1
Paul Casey 50-1
Who's Hot: Brooks Koepka (13-2)
If you have yet to peek at the field or see odds on players, one name you know to be on the contender's list is this guy.  Brooks Koepka is looking like a machine the past 24 months, raking in 4 majors in that span.  In fact, the only guy that looked poised to take down Tiger at Augusta in May was Koepka.
Seriously, going into the 2017 U.S. Open, who would have guessed that in 2 years Koepka would have as many majors as Rory McIlroy?  That is just insanity, and yet here it is.  Winner of the past 2 U.S. Opens, and winner of 3 of the past 5 majors (including that aforementioned runner-up in April), it's no wonder Brooks Koepka is the odd-on favorite to make a three-peat.  I'm not making him my pick, but he will likely be making noise come Sunday.
Who's Not: Jordan Spieth (16-1)
Let's go back to that U.S. Open just two years ago.  If someone was going to be laying waste to the landscape of golf majors, you would be hard-pressed to find a better contender than Jordan Spieth.  His 2015 season was on a Tiger-like level of dominance, and even after his 2016 Masters collapse, he still rallied to win the Open Championship later that season.
And then suddenly, nothing.  2018 produced a goose egg in the win column, and suddenly Jordan Spieth was but a mere mortal.  But hold on, because while he may not have produced any wins, he still is producing some good finishes.  In fact, just last month at the PGA Championship, he finished T-3.
And I'm not counting him out this week either.  While 16-1 seems a bit high on the odds for me, he has the talent to back it up.  I see a second straight top-5 out of Jordan Spieth as he continues to somehow fly under the radar and work his way back into his prior dominance.
Who's the Best Story:  Phil Mickelson (30-1)
I mean, come on: who else would make a better story than Lefty to win the 2019 U.S. Open?  Phil Mickelson, forever the bridesmaid in what has become a laundry list of close calls and near misses at the U.S. Open, has tallied 6 runner-up finishes.  But that number is not nearly as incredible as this.
Phil Mickelson has won 5 major championships, which is impressive.  But he also has 27 (!) more top-5 finishes in majors, 11 of which were runner-up finishes.  This kind of trend gives you a glimpse into what epitomizes Phil.  We love him almost as much for what he hasn't accomplished as for what he has.
But what would that do for golf as a whole if Phil Mickelson reversed the proverbial curse and won the U.S. Open?  Certainly it would be the best storyline out there.
If Tiger Woods can win the Masters at age 43, certainly Phil can do this at 49, right? (his birthday is Sunday)  Probably not, but goodness, I would love to see it.
Who's Got Course History:  Tiger Woods (10-1)
The 2000 U.S. Open at Pebble Beach is just insanity.  Only one player finished under par in the tournament.  His name?  Tiger Woods.  His score?  12-under.  Second place was 15 strokes away at +3!
If Tiger Woods is in the field, Tiger Woods is a factor, plain and simple.
For the past decade, many wondered if major number 15 would ever happen.  Now it feels like we're wondering WHEN for number 16.  It's not this week in my opinion, but Tiger definitely has the pedigree and history to make a run at it.
Who's My Pick: Xander Schauffele (25-1)
He has yet to string together four days of championship golf, but Xander Schauffele's time is coming.
In his past 5 major appearances, Schauffele has posted 3 top-10 finishes.  It seems that he puts himself in a place to contend, but has yet to close the door.  I think that changes this week at Pebble Beach.
And he has the right kind of consistency (12th in Total Strokes Gained on Tour) to take a challenge like the U.S. Open head on.
If you're going to win arguably the toughest test in golf, one way to do it is consistency.  And that is why I'm taking Xander Schauffele as the 2019 U.S. Open champion.
USGolfTV Staff Picks: 2019 U.S. Open
Todd Kolb:  Dustin Johnson – "This U.S. Open course sets up well for DJ, and he has a history of top finishes at Pebble Beach. It is time for DJ to add to his major championships, and seeing one of his best friends on tour (Brooks Koepka) win the last few is all the motivation he needs to take home the top prize this week."
Jordan Knowlton:  Brooks Koepka – "I have to go with the favorite here, just feels like he is ready to keep this run going. Love his confidence on a course like this and I think he will capitalize!"
Sam Vosler:  Tommy Fleetwood – "It feels like there could me be some mild disappointment from the American fans when I nail this pick! Fleetwood is the next European to take on the big stage, and what a better time than to do it at Pebble Beach when so many top American golfers are favored. Tommy by a million!"
Tyler Prins:  Tiger Woods – "I think he's sick of hearing about Brooks and wants the spotlight back and have it all for himself. Tiger is ready to grind no matter how hard the USGA sets up the course."
Troy Klongerbo's Take
Primetime major championship golf. Pebble Beach. Gorgeous Pacific Ocean vistas. And the best players in the world of golf.
As if the U.S. Open couldn't get hyped any further.
I'm a marketing guy at heart and not even the USGA could mess up the marketing for this event. Let's hope the golf delivers in turn.
Three Horses
Tommy Fleetwood
His game feels crafted for U.S. Open play, despite being growing up in Open Championship land.
If you look closely at his statistics, he dominates many of the ball striking statistics in U.S. Open play and his record reflects it. The 28-year old has a 4th and 2nd in his last two appearances in U.S. Opens — a statistic you'll get sick of hearing by the end of the weekend if he finds himself again in the hunt all weekend.
Either way, Pebble feels perfect for Tommy.
This is a golf course that rewards accurate placement off the tee and precision into the greens.
He's one of the top drivers of the golf ball in the game, but sits only 82nd in Driving Accuracy. Thankfully, Pebble doesn't set up as a course that requires accuracy with the driver, as players can hit 3-woods and long irons into play off the tee, using the firm fairways to chase golf balls out.
He handles the pressure of big golf extremely well (see: Ryder Cup 2018 France) and I think he'll put together another wonderful week of golf.  
Henrik Stenson
Look up 2 paragraphs… did someone say 3-wood?
I know one guy heard that.
Before diving in here, can major champions with plenty of great golf left in their career be considered sleepers?
Given his OWGR has slipped to 43, Stenson doesn't appear to be one of the stalwart characters heading into the U.S. Open at Pebble Beach, but I'll actually be looking his way for some good play this week.
He's 33:1 to win, but his 3-wood will be hit upwards of 45 times this week off the tee (assuming he plays all 4 rounds).
His form in U.S. Opens has always been solid, missing only 1 cut since 2009 and notching 3 top-10s. And look last week north of the border, where Stenson claimed yet another top-10.
Pebble plays into Stenson's hands this week. The 43-year old's iron play is never in question. And this week, he'll be licking his chops at the opportunities they'll give him.
Sharpie him in for a nice performance this week.
Rory McIlroy
Perhaps if you're reading these selections, you're disappointed to see his name appear so high in my preview.
No, he's not in the bottom of my preview, sitting in the winner's circle. I'm sorry. Even though he blew away the field in Canada in one of the more memorable performances of 2019 so far.
You'd think with the history here by the Ulstermen (Graeme's win in 2010), we'd be leaning heavily with Rory stock. Here's why I'm liking him to compete:
Beaming confidence.

A putter that is in pure form — needed for poa annua greens.

Wedge play that is dialed.
Here's why he'll end up just short:
Lack of driving advantage.

Hungover (

after the win when asked if he'd like to play again tomorrow, he responded, "No, I'll be hungover"

)

Emotionally drained for a late Sunday push.
Rory will keep the confidence rolling this week, but I don't think he'll claim a win at Pebble. But he'll be a look in my fantasy pools (though he'll be expensive).
WINNER:  Dustin Johnson
What did I say above about Rory's driving strength being taken from him this week? Seems contradictory to give DJ the win this week, doesn't it?
Let's start with the storyline.
Dustin Johnson is ready to exorcise some Pebble Beach demons.
Not that he hasn't already, given his history since at Pebble (two wins, two seconds, one third, one fourth, one fifth and one seventh in 12 starts).
But U.S. Opens are different. And DJ has a score to settle.
I can see Dustin this week hitting dozens of blistering 3-irons that run 290 yards and "make it look easy," methodical golf that finds him hovering around the top of the leaderboard come Sunday.
Consider his pedigree, course history, temperament, short iron deftness, and ability to hang in there in U.S. Opens, I like Dustin a lot this week.
Typically picking homers is a bit boring, but the storyline here isn't.
They'll be showing clips of skinny 2010 DJ all weekend from his 2010 final round 82 and his triumph here will taste all the sweeter.
Dustin Johnson has 1 U.S. Open victory to his credit; does he make it 2 after this weekend?
In Case You Missed It:  News, Tips, Happenings and More from the World of Golf
Whelp, looks like Phil might be ready for Pebble Beach. He just aced the 7th hole replica in Jim Nantz's backyard. (Golf.com)
We're all getting a little stiffer with time. Here are some tips from Tiger Woods on how he adapted his swing to accommodate for new limitations. (Golf.com)
And not to make it all about us, but we also have some great tips for hitting powerful shots with limited mobility. (USGolfTV)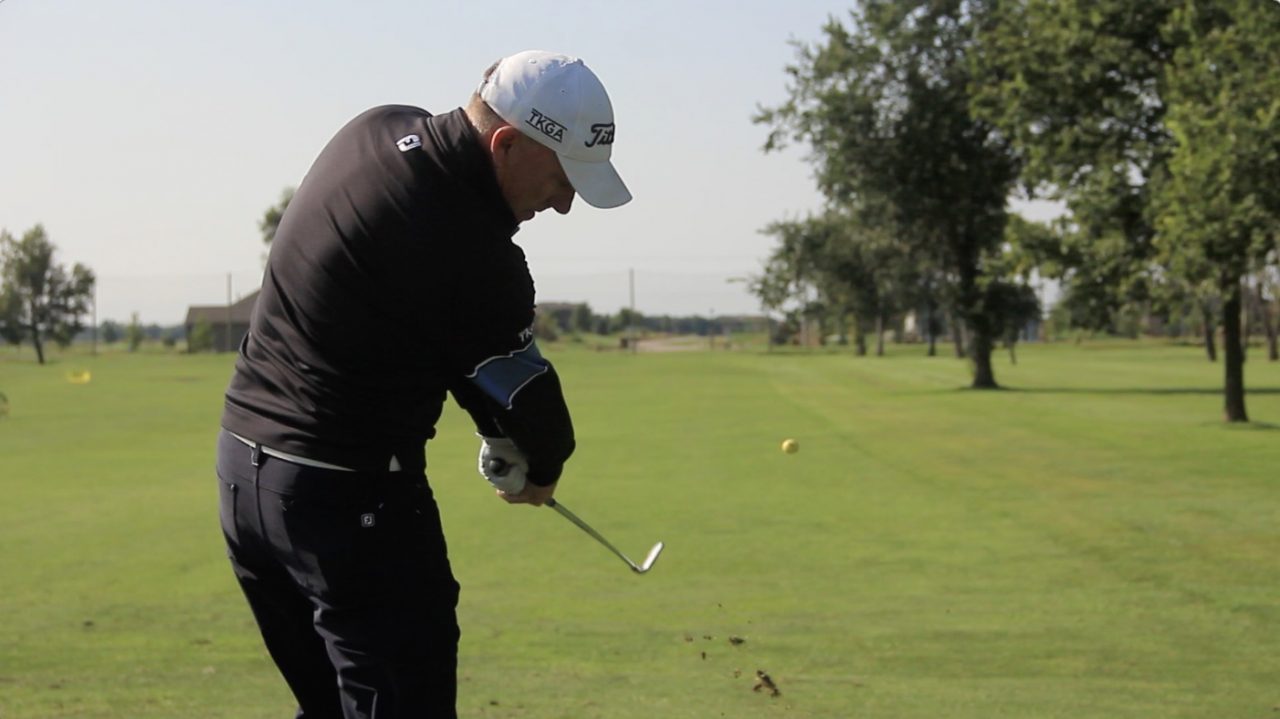 "Soon enough it became pretty clear that we were actually making a buddy film." Will you be checking out this (Bill Murray narrated!) documentary about the bonds between players and caddies? (Golf.com)
Never underestimate the effect good balance can have on your golf shots. Here are some tips for getting more distance with better balance. (USGolfTV)
Stanley Cup time is as good a time as any to reimagine our favorite golfers as hockey stars. (The Loop)
In honor of Women's Golf Day this past Tuesday, here are some great golf tips from one of the LPGA's most beloved icons, Nancy Lopez.
We loved watching college golf superstar Maria Fassi make her pro debut at the Women's Open a week ago. Next up? Matthew Wolff and Viktor Hovland at the Travelers Championship. (Golf Channel)
Whoa. Alex Ross shot a 57 at the Dogwood Invitational. (Golf Channel)
Ready to start hitting draws?  Use this simple drill to get you on your way (USGolfTV)
We're divulging major secrets over here. Check out this video to discover the three speed sources you didn't know existed. (USGolfTV)
Golf News
Players at the RBC Canadian Open got to participate in the Goal-in-One Challenge, which involves hitting drives into a hockey, because it's Canada. (Golf Channel)
The PGA Tour added the Bermuda Championship to this season's schedule. Not too shabby. (Golf Channel)
Stuart Appleby encounters a venomous snake and a family of kangaroos while golfing with his kids. Standard day in Australia. (Golf.com)
Check out the putt that scored Lexi Thompson an impressive eagle and the win at the ShopRite LPGA Classic. (LPGA)
Is McIlroy's seven-stroke win at the Canadian Open a sign of things to come at Pebble Beach? (Golfweek)
What is the baseball equivalent of breaking 80? How about the camping equivalent? Parenting? Beer pong? Max Adler breaks it down for us. (The Loop)
Who Do You Think Wins the 2019 U.S. Open?
Let us know your picks to win the 2019 U.S. Open at Pebble Beach!
And be sure to follow us Facebook, Twitter and Instagram for more product reviews and information on new brands. Our primary goal is always to help you play better golf.  For helpful video tips, subscribe to our YouTube channel!
Also visit us at GreatGolfTipsNow.com for more tricks and insight on all aspects of the game. We're always here to help you—and Dad—play better golf.