03/06/2016
Ladies and gentlemen, a new favorite has emerged for the Masters and it's a familiar face. Adam Scott captured the WGC Cadillac Championship at Doral Sunday for his second consecutive victory. He is the first PGA Tour player to win in back-to-back weeks since Rory McIlroy won the Bridgestone and PGA Championship in 2014. Scott is simply playing his best golf since he slipped on the Green Jacket in 2013.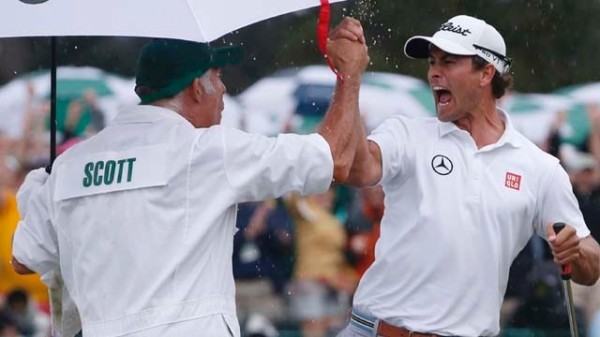 Well, best and sometimes most confounding. A week ago the Aussie negated a third-round quadruple bogey to secure the victory. This week, he somehow rallied from two doubles…in three holes…on Sunday.
With McIlroy entering the final round with a three-stroke lead, it looked like the Northern Irishman would cruise to his first win stateside of the year. That seemed even more likely when Dustin Johnson, Phil Mickelson and yes, Scott all splashed shots into the Blue Monster.
But as his closest competitors faltered, so too did Rory. He failed to make a birdie until the 16th hole, failing to overcome bogeys on seven, nine and 13.
McIlroy's struggles reopened the door. And Scott, who doubled the third and fifth holes, still had a chance. He started a magnificent run on the par-4 sixth. Scott birdied that hole as well as five of the next eight to surge to the lead at 12-under. On a difficult course, Scott picked the fairways apart and didn't miss a significant putt.
Although, there was still some self-inflicted drama. On the drive-able par-4 16, Scott smoked a three-wood through the green and into the back bunker. The ball settled well below the lip, giving him an easy look to set up a birdie.
Maybe it was the relative ease of the shot that took Scott by surprise. Or maybe it was the water in the background that looked inviting once again. Whatever it was, Scott shanked his bunker shot. It went almost sideways off the face of his club and nestled in the rough above an adjacent greenside bunker. No matter. He got up and down.
Adam Scott on bunker shank: "I was so embarrassed to do that playing with Phil Mickelson. He'd be lipping out or holing it. I shanked it."

— Jason Sobel (@JasonSobelESPN) March 7, 2016
If Scott was feeling lucky, he made sure to test the golf gods once again on 18. Following a drive that landed behind a narrow palm tree, Scott elected to go for the green by hitting a high fade despite the vast water that lines the entire 18th. The approach didn't fade. With Bubba Watson already in the clubhouse at -11, Scott watched nervously as his championship was in the air. The ball landed just over the hazard and, somehow, stopped on the slope.
Scott produced yet another great up-and-down to secure the win.
There's always so much to love about Scott's physical game. At 6-foot, 180 pounds he has a perfect build, athletic build. We talk incessantly about his swing (and at all times: Scott escaped a fairway bunker at one point and David Feherty and Johnny Miller were both gushing even as sand flew on the high-definition shot). But it's Scott's mental game that took the day Sunday at Doral and last week as well.
No one was scrutinized more post anchor-putter ban than Scott. No one's caddie search was more public than his post-Stevie Williams. Throw in a winning drought and you have what could have been a golfer with a fragile psyche.
Instead, we've seen a dominant start to the 2016 year—T2, 1, 1 the last three weeks. Scott has reinserted himself into what we all thought was Spieth-McIlroy-Day's sport. With the victory Scott shot up to No. 6 in the Official World Golf Rankings.
How high will get before Augusta? Who knows? But at this point, he's surely the favorite.