Antigua Women Spring Collection: 2018 Preview
Antigua Women 2018: Fashion Forward Mixed with Retro Feel
10/23/2017
2018 is just around the corner, and Antigua Women is at it again.  They are giving fashion mavens in and out of the golf industry a clothing line that pleases the eye and satisfies apparel enthusiasts both on and off the course.
Antigua Spring Women's Collection
You have big plans for your golf game. You're finally going to master the slice. You're going to take a stroke off your short game. You're going to get those scores down and that confidence up.
Of course, it's easier to play like a pro when you feel like a pro. If you're headed to the course in the same old polo that reminds you of last week's double bogey, feeling like a pro may be easier said than done.
It might be time to switch things up.
Pump up your confidence with a bright, new look for the golf course. Ditch the old duds and welcome in a new season of golf with apparel that's as fresh as your game. Antigua's 2018 Spring Collection has arrived, featuring soft, breathable fabrics and a modern spin on retro fashion. You may not be Michelle Wie (yet), but these styles will make you look and feel like the real deal when you tee up.
After all, you know how important visualization is to your golf game. Visualize yourself as a pro with these new looks from the Antigua 2018 Women's Collection.
What to Expect from Antigua in 2018
As you may know, USGolfTV is no stranger to the quality Antigua has to offer.  As with year's past, the brand is keeping a keen eye on the forefront of fashion, while paying homage to classic looks of the past.  
This season, Antigua is ushering in spring by celebrating the season's hottest trend: the holographic effect.
Remember your favorite fashions of the late 80s and early 90s? From metallic nail polish to prismatic fabrics, the best looks were all about the hologram. Now those eye-catching (and light-catching) styles are back, but with a less plastic, more organic touch. Antigua's new line indulges the nostalgia of the holographic effect while ensuring that your ensemble is one hundred percent fashion forward.
New Looks
Check out Wildfire, the new short sleeve polo style from Antigua Women. This top features a cotton-like closed mesh fabric and a holographic printed box pattern at the top of each sleeve. These holographic accents shimmer against the organic look of the heather fabric for a perfect blend of brilliance and simplicity. The elements all tie together with the flawless finishing touch: a holographic zipper placket. Antigua's Wildfire is eye-catching without being flashy. This look won't get you in trouble for creating a distraction on the green, but it is sure to brighten your day on the golf course.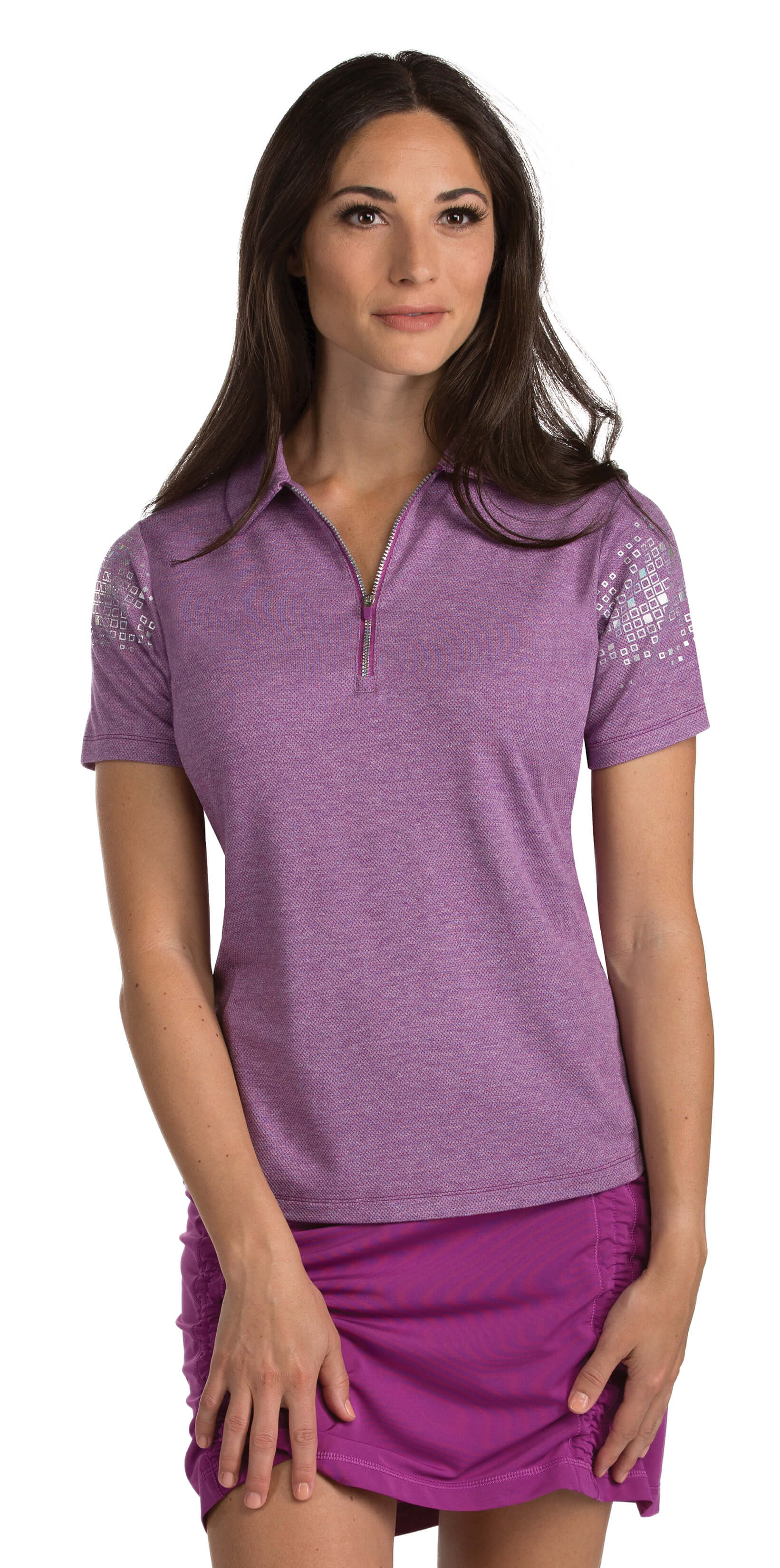 Another great new offering from Antigua Women is Beam. This is a short sleeve polo style with a bold-but-subtle presentation.  This button-down golf polo is anything but standard, featuring a multi-colored foil print that creates a prismatic effect. With its thin, angled lines, the Beam style manages to bring a little glimmer to the classic golf ensemble without being too audacious. But make no mistake: Beam is more than just a pretty top. With its Desert Dry moisture wicking technology, this polyester/spandex blend ensures that you don't won't have to trade comfort for style. This top feels every bit as breezy as it looks.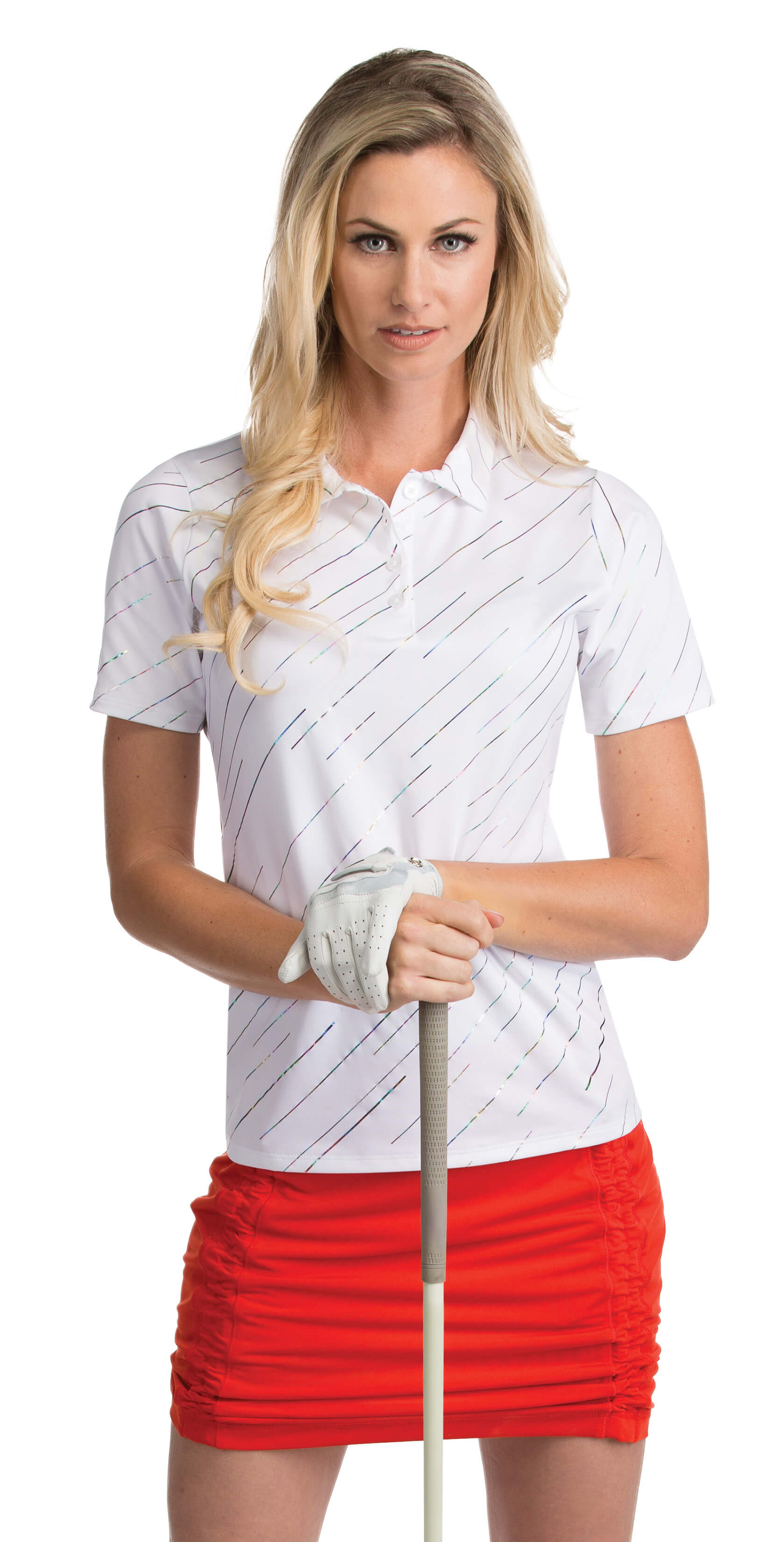 Both of these striking golf polos from the Antigua Women's Spring Collection radiate confidence and bring a little color into your golf game. With the return of the hologram, you can enjoy an upgraded version of the prism effect that was all the rage twenty-five years ago. Antigua's style combines the light-catching colors of 1990 with the softer, more natural aesthetic of 2018. The result is a look reminiscent of a sunset: simultaneously calming and visually stunning.
The Verdict
If it's time to switch up your golf wardrobe, it's time to look into the Antigua Women 2018 Spring Collection. Treat yourself to a fashion upgrade for the golf course. Maybe looking like a pro can't turn you into a pro overnight. Even so, if you can at least look good battling your way out of a bunker, that's a victory in itself.
And who knows? Maybe your fashion upgrade will inspire an upgrade in your game, too. Never say never.