03/02/2017
If you found yourself reading this right now, you have one critical question you want answered… "Will the Golf Channel be on YouTube TV?"
The short answer is yes. But wait… If you are expecting to be able to watch all of your golf programing on YouTube TV, hold on to your horses.
First of all what exactly is YouTube TV?
YouTube TV is a cloud DVR service.
This means you can record all of your favorite programming to the cloud while on the go. And it's better than getting the Golf Channel on YouTube itself. This is access to LIVE streaming at all times. 
"Holy buckets of range balls!"
"Oooh! The cloud. Wait, what's the cloud?"
Basically this means that when you decide to watch a program, the program is stored for you to stream whenever you want. It's like Google Drive. It's like DropBox.
Because the capabilities of the internet and mobile service providers are continually expanding, we no longer need to sit down and watch 4-6 hours of the Masters with commercials included. Simply hit the record button and watch all the best shots, fast forward through the commercials and rewind to watch the best shots again.
This is going to change the way we watch live television, and change the way advertisers run their marketing. Interrupted by the kids? Just hit the pause button and pick up right where you left off.
Something like this surely must cost hundreds of dollars. Nope. For only $35, we get access to all of the 40+ channels (including golf) from 6 accounts! This is huge and unheard of by any other digital streaming service.
"For only $35, we get access to all of the 40+ channels (including Golf Channel) from 6 different accounts!"
Although YouTube TV signed with over 40 major providers like ESPN and The Golf Channel, there are still a few providers that aren't yet ready to commit themselves to the future. You will be able to watch programming on FOX, ABC and CBS through this brand new platform but channels like CNN and MTV haven't committed fully to the future yet.
But hey, the Golf Channel is there. And that's reason enough to smile and make you jump for joy.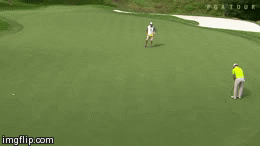 Is this going to completely cover all our Golf bases? Perhaps. At least as much golf as one can handle. Not to mention the thousands of hours of golf-centered viewing already on YouTube like yours truely, the USGolfTV Youtube Channel.
Be sure to get on over there and subscribe to our channel, because although some of the big boys may still be wondering what the future brings, we know that we can already bring you the best of tutorials, instructionals and golf news viewing right now. Today.
And that is exactly our goal, to bring you the best of golf content right to where it matters most, wherever that might be. Out on the driving range? There we are. At home on the couch? We are there too! And we know that you are going to get massive value from the content we bring to the table.
If you are looking for any topic in specific and can't find it, please connect with us on Facebook or feel free to email me, the editor, Troy Klongerbo at troy@usgolftv.com and we will be sure to put something together that we know you will enjoy.
If you find the concept of YouTube TV interesting and would like to learn more, you can visit the exact sources we cited for this blog MarketWatch.com or Wired.com.
We look forward to bringing you all the golf content you could possibly desire on the frontier of this digital world and we love your feedback!
In the meantime, tee 'em high and hit 'em straight!
ESPN Fam, BTN, FS1, FS2, CBS Sports Net, NBC Sports, Golf Chan. YouTube TV has a pretty good Sports Lineup pic.twitter.com/dINwGVEWrf

— Salz (@kodysalz) February 28, 2017