04/02/2015
Standing on the 16th tee box of one of America's most exclusive golf courses, Dustin Johnson turned to his three playing partners and predicted "I'm going to go birdie, birdie, eagle." Johnson did just that, shooting a record 65 at Shadow Creek, the famed Las Vegas track. What is it that Dizzie Dean said? "It ain't bragging if it's true."
It takes a special sort of confidence to boast like Johnson, especially in the presence of such distinguished men. Chris Chelios, the former Norris Trophy winner and three-time Stanley Cup Champion, bore witness to DJ's record as did Justin Manacher, VP of Marketing for the Bellagio. Johnson's future father-in-law Wayne Gretzky was also present.
Although it was in a less competitive setting, DJ's feat recalls one that Gretzky accomplished in 1981. In that season, in which the Great One would amass 92 goals, 99 scored five times against the Philadelphia Flyers to reach the 50-goal mark in his 39th game. No one could have foreseen that performance. Few would have expected Johnson to fulfill his boast.
The Masters hype machine is in full effect and the Cavalier Chanticleer is far from the lone star contributing to it. Sure, Johnson's return from a long sabbatical has been stellar—one win, a second-place finish, and four top-10's, which suggest maybe we'll see the 30-year-old finally reach his potential—but bigger names remain at the forefront.
Recently, a letter surfaced from nine-year-old Rory McIlroy telling Tiger he's coming after him. McIlroy is chasing the career Grand Slam, not to mention the ghost of Woods (more on him in a bit).
Adam Scott announced Wednesday (read: April 1st) that he'll use an anchor putter at Augusta next week. If that news is true, then two things will happen. The first is Scott will nudge farther up the contenders board. The second is that the backlash will heighten.
The Aussie's 2013 Masters win was one of the great moments in recent golf history, and yet even then he couldn't escape detractors who diminished the achievement. Now that he's since switched to a traditional putter only to return to the anchor means that he's willing to play on through the criticism.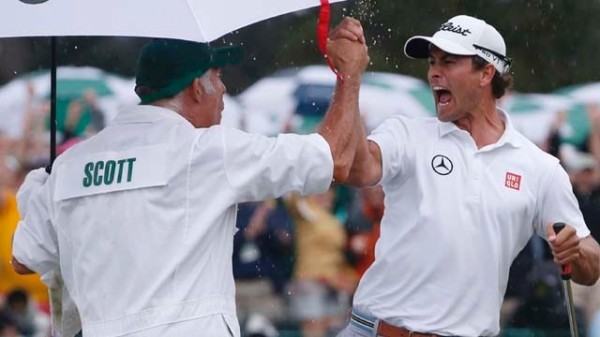 And finally, there's Tiger Woods. There's always Tiger Woods, just like there's always Tiger Woods speculation. Not only did Woods play a practice round at Augusta this week, he also apparently shot a 66, worst-ball score at Medalist sometime before he took off in his private jet. To put that in perspective: Tiger played two balls and took the worst of the two shots from tee to green on all 18 holes. He still shot six-under.
Woods previously stated that he won't play again until he's ready for tournament golf. That announcement has yet to come.
But imagine the scenarios that could play out next week. Tiger returns. DJ continues his hot play. Rory vies for the career Grand Slam and his third consecutive Major. Scott shoos the haters away. We haven't even mentioned the rise of Jimmy Walker, Patrick Reed, and Jordan Spieth or returning champ Bubba Watson.
Now who's ready for the Masters?