03/26/2013
It's SHO-time.
The Shell Houston Open is this week's PGA Tour stop. Typically, this marks the time when the smell of azaleas fill our nostrils and every beer league Masters pool participant is watching golf – not for the action at the Shell Houston, but in an attempt to gain that 'insider's edge' as to who is playing well for Augusta and who isn't. This tournament is usually Masters Preparatory School.
Not this year! This year, Augusta isn't slated for another TWO weeks. Due to a scheduling conflict with the Valero Texas Open (the Valero has a contract not to play on Easter Sunday), the tournaments are flipped and we are making the trip out to Redstone Golf Club a little early.
Perfectly fine for us, let's get into some picks:
Contender: Hunter Mahan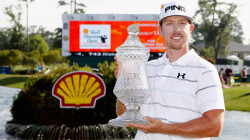 It's hard to go against past champions. It is also, hard to go against a member of the Golf Boys.
Mahan was the champion here in 2012 after a performance SHO-cased by rounds of 69-67-65-71. Want to hear an incredible statistic about Mahan's win? During the 72 hole event, he only recorded two bogies all week. Neither were on par 4's or par 5's as he made bogies on holes 9 and 14 on Saturday and Sunday, both par 3s. Check out his squeaky clean scorecards.
Last week at Bay Hill, Hunter's T21 marked his 7th straight top 25 performance on Tour this season. During his 2012 SHO victory – which was the 5th of his career – Mahan led the entire field in Greens-In-Regulation percentage, hitting greens at a 86.11% clip. The 2011 champion Phil Mickelson hit greens at a 77.8% pace during his victory as well. Last week, he finished inside the top 10 in GIR. Hit greens at Redstone, play well.
I say Hunter continues to hit greens, while continuing to impress in his Masters Prep. Another top 10 for Mahan.
Sleeper: Brian Stuard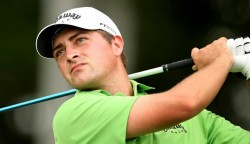 To remain consistent throughout this preview, I am picking Stuard for a few reasons. One, his past play has proved worthy of consideration as he finished T16 at Arnie's last week plus his zero missed cuts all season. Two, he hits greens at a high rate. Playing hot and hitting greens make me believe Stuard is going to play well this week.
It's time we start talking about Brian Stuard a little more. Maybe it is hard to talk about someone we don't know anything about, so let's do a little lesson on the Michigan man (not Michelin Man).
Stuard is from Jackson, Michigan. He attended Oakland University in Auburn Hills, MI before turning pro in 2005. Mini-tours and Nationwide events were his forte until the fall of 2009 where he qualified for the PGA Tour. A 2010 PGA Tour campaign finished with a 154th status on the Money List and a relegation to the developmental tours again. Last season, he earned his way back via Web.com 25, finishing 20th. He styles his game after a Justin Leonard, hitting a high amount of fairways and putting very well. He doesn't hit the ball as far as the big boys, but still ranks 6th on Tour in total birdies.
Anyways, now that we know who Brian Stuard is, maybe we won't be so surprised to see him notch his 6th top-30 finish of the season in Houston.
Winner: Steve Stricker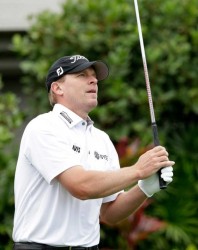 Steve is a guy I always want to pick, but for some reason never do. Playing a highly publicized restricted schedule, Stricker is teeing it up this week at Redstone, probably because of it's title (given by me earlier today) as Masters Preparatory School.
The last time we saw Steve was a few weeks ago at Doral where he finished in a T2. He is going to be a tough player to judge all season, because we won't have consistent appearances to assess his game with. We will need to trust the fact he will be consistently ready to play and that he will more than likely hole a bucket load of putts. Remember his putting lesson to Tiger at Doral? The man will roll the rock wherever he goes.
Three starts thus far in 2013 for Stricker. His finishes: T2, T5 and T2.
He's played well in Houston too, posting a T4 finish in 2011 during Phil's win. In 6 starts at Redstone, Steve has locked 4 top-11's.
I'm picking him to finish top 1 this week.
Troy Klongerbo – Follow on Twitter: @troy_usgolftv