06/23/2015
US Open hangovers are in full-effect. We were all four, measely feet from 18 more holes of championship golf. Goll dang-it, Dustin.
Do you want to hear (/read) something depressing? We are already 50% complete with major championship season. Half of it is over. Gone. Isn't that sad? If that doesn't induce a deep sigh and a gentle tear to float down your cheek, I don't know what will.
Hey, Lloyd Christmas, the US Open is over…
Let's take one last look at Chambers Bay.
Now many of you may feel like the video above about Chambers Bay, but hey, it's a major championship. It's major championship golf. There were some things to gripe about, sure, but overall the course proved to be a stern test and selected a deserving champion. The complaining and debating will continue on.
It's now Travelers Championship time and the only good news we have is the fact that there is more PGA Tour golf coming in our summer.
The 15 1/2 event is held hitting shots into the umbrella on the pond. Check it out!
Travelers Championship Information
As sponsor of the event at TPC River Highlands, Travelers is committed through 2024. Bubba Watson will be nearing a career on the Champions Tour by then
Tournament founded in 1952 and was called the Greater Hartford Open for 35+ years
It's been the event to follow the US Open every year since 2007
It is widely-known as one of the most attended events on the PGA Tour, only behind the Waste Management Phoenix Open (no wonder Bubba does well here…#attention)
Final thought on Bubba: It's been two years since the infamous "that club" meltdown on his caddie. Read more here.
Read about Kevin Streelman's 2014 win here where he finished with 7 straight birdies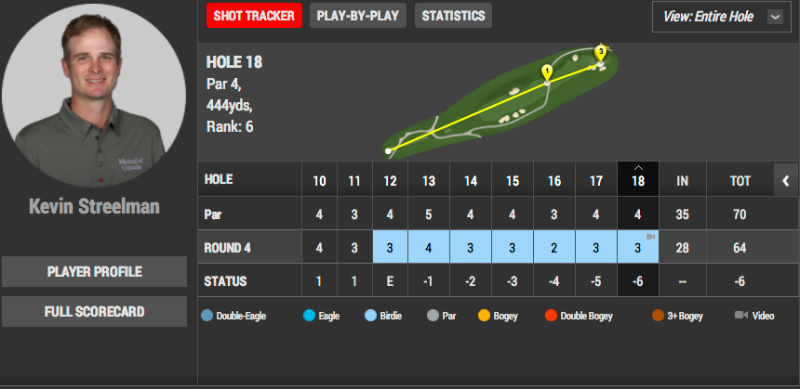 Peter Jacobsen (yes, that Peter Jacobsen) won this event only 12 years ago…
Follow them on Twitter, here:
The iconic (floating) red umbrella. The pros will take their shot at the @Travelers 15 1/2 hole for charity tomorrow. pic.twitter.com/YJuLRtc5Rd

— TravelersChamp (@TravelersChamp) June 23, 2015
Course
Read all about the course here!
Full Field
Click here for a link to the entire 2015 Travelers field. Pros love this event:
Might not be a more fun golf course we play all year than TPC River Highlands. Looking forward to the week in Connecticut. — Graham DeLaet (@GrahamDeLaet) June 22, 2015
---
TV Times
Thursday, 6/25: 3-6 p.m. ET Golf Channel
Friday, 6/26: 3-6 p.m. ET Golf Channel
Saturday, 6/27: 1-2:30 p.m. ET Golf Channel; 3-6 p.m. ET CBS
Sunday, 6/28: 1-2:30 p.m. ET Golf Channel; 3-6 p.m. ET CBS
---
Last 5 Champs
2014: Kevin Streelman (Recap here)
2013: Ken Duke (Recap here)
2012: Marc Leishman (Recap here)
2011: Freddie "The Junkman" Jacobson
2010: Bubba Watson
---
Last Week's US Open Picks
Dustin Johnson: T2nd
Rory McIlroy: T9th
Francesco Molinari: T27th
Jordan Spieth: 1st (WINNER)
Ryan Moore: CUT
Tommy Fleetwood: T27th
Henrik Stenson: T27th
I went 6/7 in top-30 finishes. Satisfying week of picks, even though I wish I had forcasted Branden Grace or Cameron Smith… Ha! Great play from those lads.
---
This Week's Picks– Travelers Championship
TWO From the Fairway
Sergio Garcia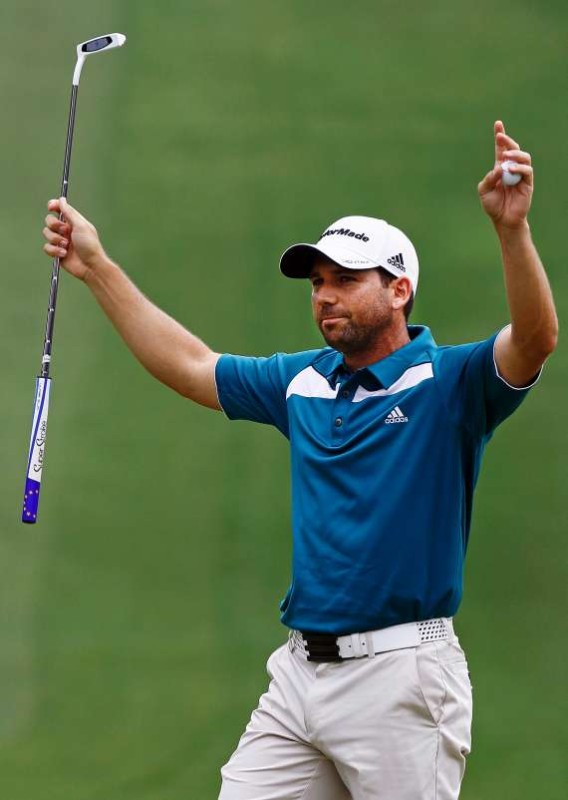 A world-class talent, a world-class ball striker and a world-class complainer– Sergio Garcia. (Really though, his complaining last week was founded on some solid ground on greens that were definitely not rolling well– at all…)
He had it here last year, but Kevin Streelman's nasty back nine nipped him and he finished T2. His WORST finish all year has been a T37. The guy is way more consistent than you'd think.
Precision at TPC Highlands is necessary and Sergio may be as precise as they come with his iron play.
The world's 9th-ranked player will play again this week. So play him if you must…
You think he's precise?
Hunter Mahan
He's missed the cut at the last two big events on Tour– the US Open and PLAYERS both. He's sandwiched those with an unimpressive list of complete blah…
But before that, Hunter had solid play at the Match Play and a really good weekend at the Masters that back-doored a top-10 finish. He's rarely posted a high finish at the event, check this out:
He opened this event with a 62 in 2013
Closed with a 61 in 2012
In 2011, he fired a second round 63
… and in 2010 posted his 3rd round 63
This is the year he puts it all together.
Hunter Mahan: 62-63-63-61. Wow, wouldn't that be something?
ONE From the Rough
Scott Langley 
He's ranked 264th in the world and hasn't had a top-25 finish on the PGA Tour since February. The absolute perfect sleeper…
He actually played quite well a few weeks ago and finished T27 at the Crowne Plaza. The catch to this pick– he went T11 at the Travelers last year after rounds of 64-65-70-71. On one of the Tour's shortest courses, Langley's precision will come in handy. It's a course that obviously plays to his liking.
Scott's going to view this event– after a week off– as a good chance to improve his FedEx Cup ranking of 153. He's a sleeper pick and he's mine to give golf fans a sneaky top-25 finish (remember, his first since Feb).
The Man with the Trophy
Bubba Watson
He hated the pace of play at the US Open and went on to miss the cut. Is anyone happier to see the Tour come back to the Travelers? Well, maybe not caddy-man Ted Scott (remember, this was the site of the berating).
Regardless, Watson has to be viewed as the indubitable favorite this week.
Go and try to find a preview on the world-wide web this week that doesn't have Bubba Watson mentioned.
Five different occasions inside the top-15 on 5 since 2008 and his win in 2010 for his first PGA Tour victory. It was then that he cried and gave golf fans the first "Bubba Watson touching moment." (It's that Bubba we sometimes miss when we see the complaining and griping in-between the ropes.)
Bubba is a bomber with the creativity and imagination to overpower and dominate this golf course. I'll be shocked if he doesn't go top-1o this week and quietly surprised if he doesn't contend late on Sunday.
He's my winner this week.