08/04/2015
The WGC-Bridgestone Invitational is another collection of the world's top talents. A World Golf Championship (WGC), this event boasts one of the strongest fields in golf– unlike the Barracuda Championship hosted on the PGA Tour opposite this event.
Aside from a few odd invitees (of the 75 players, there are 3 names I do not recognize), this event is pretty stacked. No Tiger and no Rory hurts the event's sell-ability for sure, but with pretty much everyone else there, Sunday will be a fun finish again.
For questions about why Tiger isn't in the field, the WGC-Bridgestone invites golfers based on world ranking, among a list of other qualifications, as cited by the PGATour.com:
All playing members of the 2014 U.S. and European Ryder Cup teams.
The top-50 players, including any tied for 50th place, from the Official World Golf Ranking (as of 06/27/2015 and 08/03/2015).
Tournament winners, whose victories are considered official, of tournaments from the Federation Tours since the prior year's Bridgestone Invitational (with an Official World Golf Ranking Strength of Field Rating of 115 points or more).
The winner of the following tournaments from each of the following Tours: Japan Golf Tour Championship (2015) and Bridgestone Open (2014) from the Japan Golf Tour; Australian Masters (2014) from the Australasian Tour; Dimension Data Pro-Am (2015) from the Southern Africa Tour; and the Thailand Golf Championship (2014) from the Asian Tour.
There, got it?
Hosted on the behemoth Firestone Country Club's South Course, this was a venue formerly dominated by Woods, Tiger. Tiger has won the event a record 8-times. It made me wonder, if he were to make a phone call, do you think they'd just let him play for the hell of it?
What if he were to send video of this shot:
Remember, it was only 24 months ago that Tiger Woods fired a 61 in the 2nd round of the Bridgestone, here at Firestone South. Interesting that so many are ready to bury him and his career. But that conversation is neither here nor there. Tiger's at home practicing and we must focus on the event at hand.
Let's take a splash.
Course
The Firestone South Course is one of the monsters in all of golf. Its only a par-70, but its an absolute goliath. Measuring at 7,400+ yards and featuring lush, green fairways, penal rough and giant trees, this is one of the courses that separates the boys from the men, the touring professionals from the amateur hacks.
Big, long par-4 after big, long par-4, this course can be a grueling test for the players who fit into either one of these molds:
Long, but crooked
Short and impatient
This course will continue to wear on nerves and wane at patience.
With only two par-5s, players with deadly par-4 scoring will continue to find themselves earning an edge. Long is definitely an advantage, for sure.
Tour the course here on PGATour.com
News & Notes for the WGC-Bridgestone Invitational
I said it above, but Tiger Woods shot 61 in 2013 during the 2nd round. That's not long ago at all.
Before 1999, the event was known as the World Series of Golf, an event hosted for the certain invited players and past champions. This was before it became the Tiger Woods Invitational
Every year this event has been hosted at Firestone except 2002, where it was hosted at Sahalee in Washington.
This video is a fun 6-minute video walking through some of the best memories from the event, especially Jose Maria's wonderful accent and the forgotten, awesome 2001 playing:
Last 5 Champs
2014: Rory McIlroy
2013: Tiger Woods
2012: Keegan Bradley
2011: Adam Scott
2010: Hunter Mahan
Notice anything about this list? They all kill it.
Full Field
Click here to check out the entire 2015 WGC-Bridgestone field.
Two from the Fairway (Contenders)
Jim Furyk
If you just kept scrolling and didn't watch the video above, I ask you to go back up and move to the 2:56 mark. Start watching. Furyk was a mad man.
He's the atypical selection at this course. A known bunter, Furyk isn't the prototype for a pick at Firestone's South Course– but I'm taking him anyways in my fantasy pools.
In the last 3 holdings, Jim has been a top-15 finisher each year (and arguably should have won in 2012 when Keegan Bradley's emotion took over the 18th green and wilted to its will).
So while the course has always treated players who can hit it long and straight, its always penalized those who haven't been able to keep it in play. Jim keeps it in play better than anyone and with a hot putter, he'll find his way to the top of the leaderboard again.
Brooks Koepka
He's never played the event, but I think that narrative is going to overplayed throughout the week. As the weeks go on and Koepka's 67s continue to pile, he'll be toward the top of the leaderboard with the announcers saying, "he's a rookie here," and "his first time playing Firestone" throughout play.
Brooks is carbon cut for this golf course.
Long off the tee, he's 8th on the Tour in driving distance and combines that with a birdie or better percentage on par-4s of 20.06%, good for 6th on the Tour. Top-20s in his last 4 events (and 5 of his last 6), dating back to his last missed cut at the PLAYERS.
Koepka, baby.
More to consider: Spieth (obviously), Day (almost as obviously), Danny Lee and Adam Scott
One From the Rough (Sleeper)
Marc Leishman
I have a sneaking suspicion that Leishman's bow out from contention in the playoff at the Open is still lingering with him. It's going to give him an edge this week. He was playing so, damn, well at St. Andrews on the weekend. He's gotta look to carry that play over.
And he will this week.
Hard to consider the 30th ranked player in the world a sleeper, but when the other 27 top players in the world are all in the field, suddenly a player of Leishman's quality gets buried.
He's not going to be an immensely popular pick this week, but I like Leishman for a formidable top-20 finish.
The Man with the Hardware
Sergio Garcia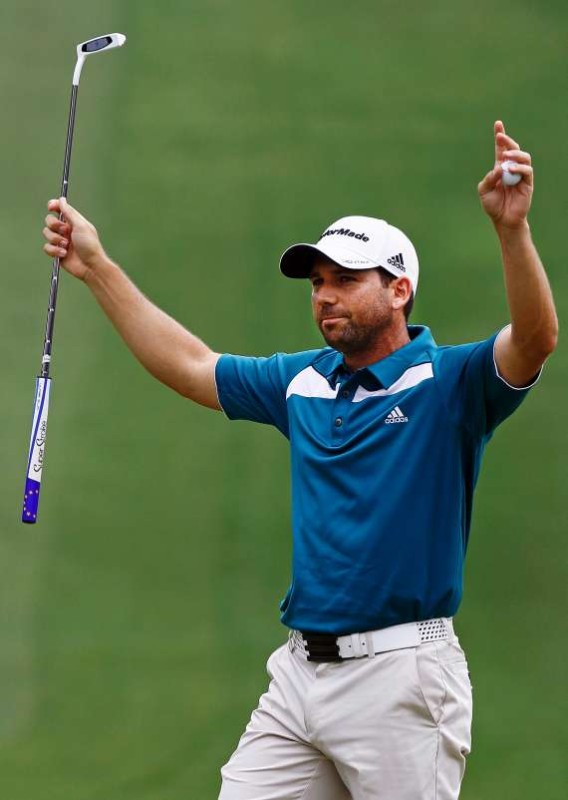 He hasn't spent much time winning throughout his career, but he sure has spent a lot of time inside the world ranking's top-10 and hitting awesome, buttery irons shots.
Sergio jumps back into the winner's circle this week.
11th on the PGA Tour in par-4 scoring average, the Spaniard's 4th ranking tee-to-green will aid him in big ways this week on Firestone. After an amazing season on the greens last season (for Sergio), where he actually gained strokes with the putter, he's back down a bit this season.
But that hasn't stopped him from going for top-25s in his last 4 starts on the PGA Tour.
He was a solo second here last year and shot a course record tying 61 in the second round.
He's your winner this week.