06/09/2015
Welcome to our 2015 FedEx St. Jude Classic Preview–an event viewed more as a "how's their form heading to the U.S. Open," and less "who's going to win in Memphis?"
Unfortunately, this week is overshadowed with the looming spectacle at Chambers Bay only a week away. But PGA Tour golf is lovely at all times, so be happy. Bobby McFerrin said so:
I wrote this last year before the FedEx St. Jude Classic in Memphis:
For golf fans, today is July 3rd, November 24th, December 23rd and the day before our birthdays. We can smell Pinehurst and we're only 12 days from US Open Sunday.
Time for some information to be shared in our St. Jude Classic Preview:
Fast Facts on the FedEx St. Jude Classic
Event has been held every year since 1958
Interesting: for the first three years, FedEx increased the purse $1 for each package they shipped on the Friday of the tournament.

 

The purses went from $500,000 to $605,912 in 1986, from $600,000 to $724,043 in 1987, and from $750,000 to $953,842 in 1988
Dave Hill won this event 4 different times from 1967-1973
Al Geigberger's 59 was fired during this event. One of only a handful (6) in PGA Tour history
This event continues to raise millions for charity ($30 million and counting for the Children's Hospital)
---
Full Field
Click here for a link to the entire 2015 FedEx Cup field via PGATour.com.
---
Last 5 Champs
Does anyone remember this Harrison Frazar win? This is titled, "Like it never even happened."
Harrison Frazar, unfortunately, since his win, more missed cuts, than cuts made (74% MC):
---
Last Week's Picks
I had some decent picks.
Contender: Brooks Koepka T52 (c'mon, final round 78)
Contender: Justin Rose P2
Sleeper: Ben Martin MC
Winner: Dustin Johnson T13
---
This Week's Picks (Winning Score: -17)
Two From the Fairway
Phil Mickelson
The guy played puke awful golf on the weekend last week, but what more motivation to light a flame under his a** going into his now, most coveted major championship.
Phil was solid here in 2014, finishing T11, but it was other close calls where he almost won which makes me attracted to the big-lefty this week in my picks. Something about lefthanded golfers this week, I like them.
Phil will find enough inspiration to string together some solid golf and lock a top-15 finish in Memphis. His eyes will be one week ahead, but he'll put together some good rounds this week, I feel at least…
He may as well be under the sleeper category.
---
Billy Horschel
Octopus-boy (he'll never live that down) was one of my fantasy selections last week, although he was omitted from the official on-site USGolfTV preview. His existence on my bench during a T11 finish didn't make me all that excited, so this week, he's active.
He was a T6 in Memphis for 2014 and T10 in 2013, both which point to good things.
He's the 7th ranked ball striker on the PGA Tour. A guy to start this week, hands down. When Billy is playing good, buy stock. He'll rack up good finishes in clusters.
Other contenders: Harris English (a former winner), Jamie Donaldson
---
One From the Rough (Sleeper)
Blayne Barber
How can anyone with their very own custom website with unique URL be a sleeper you ask– good question. I'll classify him as a sleeper based off his 0 PGA Tour wins and exactly 3 total top-10 finishes for a career.
But I do like me some Blayne this week.
The former Auburn Tiger and Web.com Tour player is coming off an career high as he qualified for the US Open on Monday. He'll roll that into some solid, peak level form and confidence this week as he locks in a nice top-20 finish (I'll say he goes T12).
A top-10 finish at last month's Zurich Classic also bodes well.
Looking for someone no one else will have on their roster? Start Blayne Barber.
---
The Man with the Trophy
Brian Harman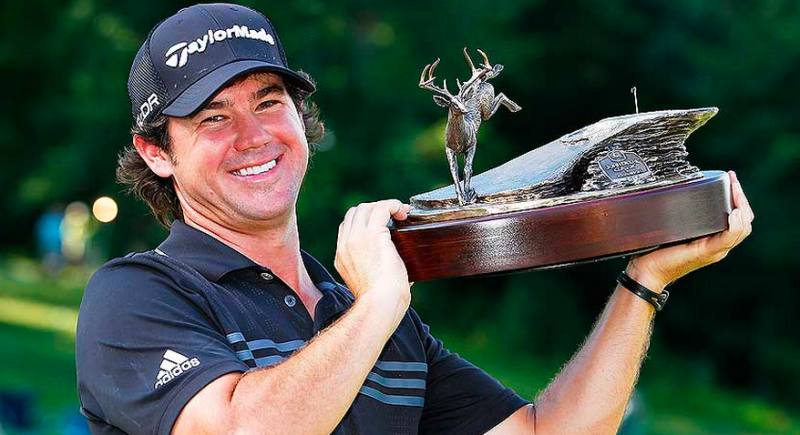 There's an image of Brian Harman hoisting a trophy on the PGA Tour, (from his win at the John Deere Classic last summer). I think there will be a similar image taken this year of the young man from Athens.
TPC Southwind isn't a course which favors the bombers, look at the past winners. Ben Crane and Harrison Frazar are neither long by any means. Sure, some guys with prodigous length have brought the course to its knees, but the little guys can compete here, which is why I like Harman.
He was a top-10 performer in two of the past 4 events he played and has a T6 last year here to boot. He also just played in Memphis on Monday and made it to the U.S. Open.
Some things here are giving me the feeling to go with Harman, so I did.
Brian Harman, your winner.