06/02/2015
Jack's home. Jack's place. Jack's tourney. One of the best fields in golf– the Memorial.
Do you think they're hiring for "sloganists" for the Memorial event? I think I've developed a pretty good one here. Maybe I can contact Jack and see what he thinks… 😉
Japanese superstar Hideki Matsuyama's first major splash on the PGA Tour came here last year in 2014. He was the winner in a playoff over Kevin Na, having put is prowess in the game on display for all to see. Watch Muirfield Village's youngest champion in history:
This course has teeth and with some of the changes made, they've added a few more. It was only a couple years ago since Tiger's Saturday nine holes of 44. Now I know, last year witnessed a lot of birdies and winning scores well into the double digits, but a lot was aided by softer conditions. I don't think we will see scores as low in 2015.
This is another one of the Tour's great events, hosted on a renowned course, with a world-famous icon for a host and a laundry list of superstar former champions.
It will be another great week of golf. So let's dive in.
---
Fast Facts on the Memorial
As an invitational, event hosts only 120 players
Tom Lehman holds the tournament scoring record at -20 in 1994
Ohio State Buckeye grad Jack Nicklaus hosts the event in his home state of Ohio each year
Roger Maltbie won the inaugural event in 1976. He was the only first-time winner to win the event until last year's victory by Hideki Matsuyama
Tiger Woods is the only player to successfully defend his title
This year's "honoree" is Sir Nick Faldo
In 2013, Matt Kuchar was the champion. Tiger was the defending champion in 2012. It was the opposite of the 2012 and 2013 PLAYERS Championships where Tiger was the 2013 champion while Kuchar was the 2012 champion. Dumb observation? Perhaps…but an observation nonetheless!
---
Full Field
Click here for a link to the entire 2015 Memorial tournament field via PGATour.com.
---
Last 5 Champs
I miss the days where Steve Stricker would win on the PGA Tour…
---
Tiger Report
Tiger Woods is reportedly in the field this week, this after flying to Chambers Bay to get some U.S. Open scouting in. Here's a tweet from Kelly Tilghman featuring Tiger's swing. Nothing of note here, except the fact that Tiger is in 'Jack Major Championship Pursuit.'
Want to see Tiger Woods' swing for 1st time since Players? Video of Woods on #9 at Chambers Bay pic.twitter.com/HUCgs0WgFC (via @LewisSports)

— Kelly Tilghman (@KellyTilghmanGC) June 1, 2015
I have no inside information on the state of Tiger's win, but one thing we have come to learn is that we should expect the unexpected when it comes to Mr. Woods.
---
This Week's Picks (Winning Score: -10)
Two From the Fairway
Brooks Koepka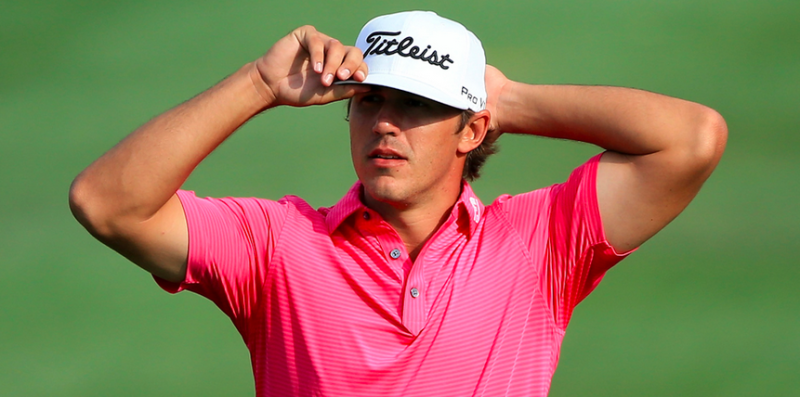 Koepka has become by boy (one of my boys) during the 2015 season. Not only did I successfully predict victory for him at the WM Phoenix Open back in Feburary (a feat that gives me a subtle sense of ownership over Brooks moment of glory…), but I've fallen in love with his game, swing and demeanor.
At the 2015 Masters, Brooks was struggling with his health, a rib issue. What did he do? He decided to tough it out. You may ask, "so what, tough life! The dude played Augusta! Who wouldn't tough it out?!" True, but look before that. He was in pain at Bay Hill, but he soldiered on, making all the way to the final round amidst sessions with a Tour trainer before being forced to call it quits. Dude's got guts.
How about this quote when he finally WD'd?
"I am not a quitter, and this really pisses me off." — Brooks Koepka
As for this week, he's obviously a bomber (which gives him an advantage) coming off strong play at the Byron Nelson (T16). He's never played here, but that doesn't scare me.
Also, how about this endorsement from Steve Williams in the July 2015 edition of Golf Digest:
ONCE IN A GREAT WHILE, a player comes along who hits a golf ball the way it was meant to be hit. Powerful, piercing, the perfect trajectory. Of the young players out there, one I've seen has that special ball flight: Brooks Koepka. Adam and I were paired with him at the Open Championship last year, and from his first tee shot on, I thought, This kid is special. Obviously he's searching to find the other parts of the puzzle, but I haven't seen a ball flight like that since Tiger, and before that, Johnny Miller.
---
Justin Rose
Justin Rose has become one of those players that I would love to pencil in each and every week. I have complete trust in his outlook, his game and his process. The world's 6th-ranked player though, missed the cut in his last appearance at the PLAYERS. Does this faze me? No.
His win at the Zurich a few weeks ago, coupled with a T8 here last year, and 8th in 2013 and a win in 2010 are evidence enough to support the sweet-swinging Englishman this week.
You can't tell me you're not a fan after watching this video…
Other contenders: Bill Haas, Jordan Spieth, Chris Kirk, Kevin Na
---
One From the Rough (Sleeper)
Ben Martin
First of all, cut me some slack here. I know Ben Martin is a fabulous player, but I know he's been overlooked and with a field that features only invites, the list for true sleepers is limited–especially ones I like this week.
Martin falls into that mold.
Now, if you're a fantasy golfer, you'll find Ben Martin in your A-list of golfers.
He's notched a T4 at the PLAYERS and a T10 at the Colonial in the past few weeks and quietly finds himself in the 10th position in the FedEx Cup standings.
Last year, his finish was rather unextraordinary, but he did fire a third round 65, a fact that bodes well for him.
I like Martin in a sneaky top-10.
---
The Man with the Trophy
Hideki Matsuyama Dustin Johnson
Matsuyama's game is cookie cutter for this place– a course which requires length with precision coming into the greens, but I can't have him winning in back-to-back years.
I like DJ this week.
Dustin Johnson is coming off four sub-69 rounds at the Byron Nelson that led to a T8 finish. A win at Doral and T6 finishes at both the Valero and the Masters mean his golf game has no red flags at all. Out of the last 6 years at Muirfield, he's put together solid top-20 finishes in three of them.
DJ's game fits the course, is trending up and is buying material this week.
I'm buying DJ stock for Jack's place. He's already got the approval of one great one (Wayne), now he'll have that of another (Jack).