Steurer & Jacoby: Wonderfully Made, Premium, Hand-Crafted Golf Bags
02/04/2017
Tungsten, titanium, graphite…
All these wonderful materials came to golf to save the day with the magic of modern technology. Are they robbing the spirit of the game? What ever happened to good old fashioned nostalgia? It used to be dead.
Not anymore.
The folks over at Steurer & Jacoby have been bringing that rustic and antique feeling back to the golf course just for people like you who value quality craftsmanship. Not only do they bring high-quality club carriers to your doorstep but also club head covers, travel bags, market bags, messenger bags and get this…cup coasters. This is not just another golf product to order and throw in the garage, it's truly a work of art produced by an artisan at its finest!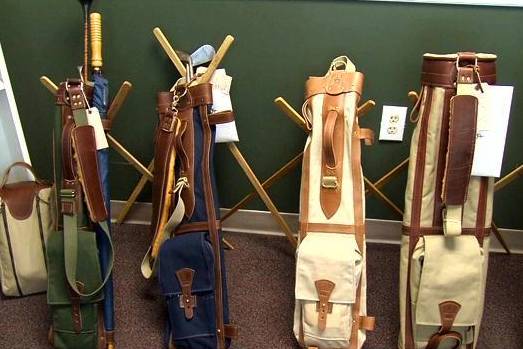 The Tennessee-tanned American Bison leather provides an incredibly vintage feel to golfers who enjoy the sentiment of a day long since passed. Handmade items are sourced and assembled in the US.
Cotton duck fabric, the same material used by the British Army for soldiers coats in WWII because of its durability, is waxed to ensure your grips stay dry on those dreary mornings. Or if you like to keep your clubs upright, you can even order yourself a hickory cradle stand.
Everything about these products scream authenticity and to seal the deal, be sure to place your order to have your initials or logo embroidered. S&J wants you to feel like you can pass their products down to your kin. And why wouldn't you want to? These bags are sweet! If only more companies, in every aspect of life, took business this seriously.
Everything about these products scream authenticity.
Its only fitting that S&J hand stitches every bag in the oldest city west of the Appalachians. Especially considering the history of Louisville, it's easy to understand how fitting it is that this is the home of Steurer & Jacoby. S&J is as American as fried chicken, baseball bats, and horse racing. The fact that they sit just across the river from the origin of the Lewis and Clark expedition is just another testimony to the soul of this American Company.
A special relationship with the Hickory Golf Association goes further to ensure that what you are spending your dollars on is truly for the purist at heart. Throw the ole' hickory's in the bag to finish off the sensational "blast from the past" feeling. Now you're only missing your line cut balls, a tam o' shanter, and some knickers.
Take yourself back in time when you strap up these bags. But be careful, you might not come back.