Indoor Golf: The Ultimate Guide
The Ultimate Guide to Indoor Golf
10/22/2018
The leaves begin to change. An autumn chill creeps into the air. People everywhere await family holidays, cozy nights, and pumpkin spice lattes with eager anticipation. But for golfers, the change in temperature signals the impending end of our favorite season.
Some of us worry about our skills slipping in the off-season.  Others will just miss the fun of weekends on the course with their buddies. And some have finally gotten their kids excited about golf and are crossing their fingers that the enthusiasm will hold until next season.
The good news is, as golf continues to rise in popularity, our options for off-season play increase. Whether you're worried about getting enough practice or having enough fun this winter, there is an indoor golf option to meet your needs. In fact, many indoor golf options have benefits beyond the controlled climate, and these winter discoveries may enhance your golf options all year long.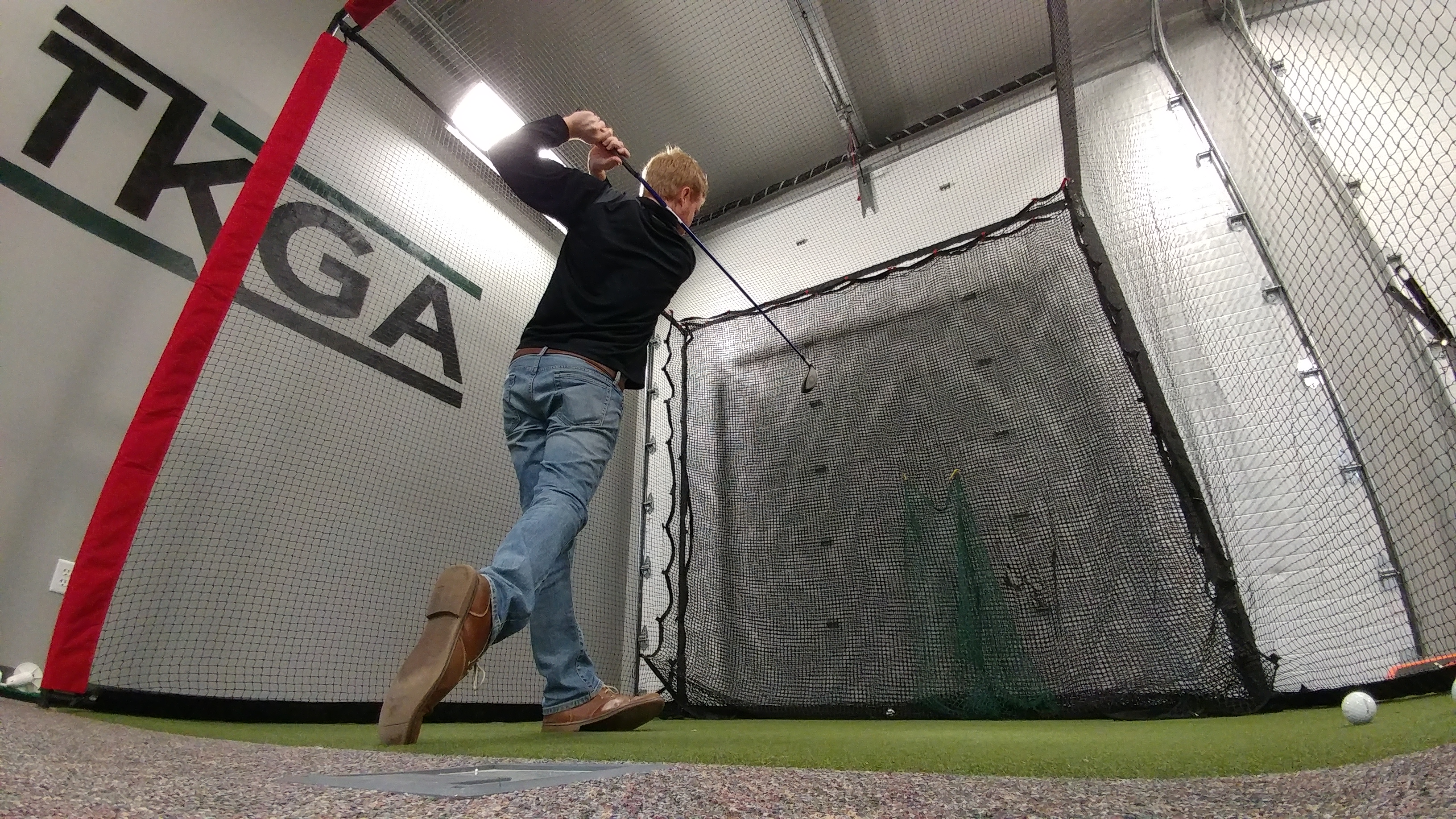 Welcome to your Ultimate Guide to Indoor Golf. Your winter game will never be the same.
Golf Entertainment Centers
Over the last several years, golf entertainment centers have been cropping up all over the country. If you think there isn't one in your area, do a quick Google search. You may be closer to a facility than you think, especially if you're anywhere near a university or metropolitan area.
These indoor facilities are climate controlled, well lit, and typically offer hitting bays as well as putting greens so you can practice all aspects of your game. They often offer classes, private lessons, and golf clinics. You may even be able to join a league in the off-season.
However, the best reason to check out any indoor golf entertainment center this winter is that you're likely to discover an experience you'll want to take advantage of all year long. For serious golfers, many indoor golf facilities are equipped with state-of-the-art technology for instant feedback on your shots. If your primary goal is to have fun with friends, you'll find a low-pressure atmosphere and a bar or lounge to kick back in after you've hit a few balls. Many indoor golf complexes even have an area dedicated to kids, so you can share your favorite game with your favorite people.
Here are a couple facilities worth checking out:
Global: TopGolf
TopGolf is a sports entertainment complex with locations in the U.S., U.K., Australia, and (coming soon!) Canada. This venue is exploding, with 41 current locations and 16 more on the way. What accounts for its popularity?
TopGolf operates on the premise that "Golf is everyone's game." While its facilities offer lessons, technology, and league opportunities that are meaningful for a serious golfer, the atmosphere caters to everyone. A typical TopGolf location includes multiple restaurants and bars, a KidZone, and TopGolf's signature party-like ambiance. This is a place where you can practice your swing, bond with the family, or enjoy a night out with friends.
Perhaps most notably, TopGolf offers a variety of specialized games. Players can choose from up to nine different games, each offering a unique challenge. Games are scored using assigned golf balls with microchip technology. Golfers who really want to get into the competitive spirit can also join one of TopGolf's weeknight leagues as well as the TopGolf Tour.
Local: Great Shots      
Great Shots is the brand new golf entertainment center coming to USGolfTV's hometown of Sioux Falls, South Dakota in 2019. This facility is part of the Sanford Sports Complex and will be home to the Sanford POWER Golf Academy.
The 54,000-square-foot complex will feature an interactive driving range with 60 individual bays spread over three floors. Guests can also enjoy a full-service restaurant and bar, a kids' area including video games, and six meeting spaces for events and fundraisers.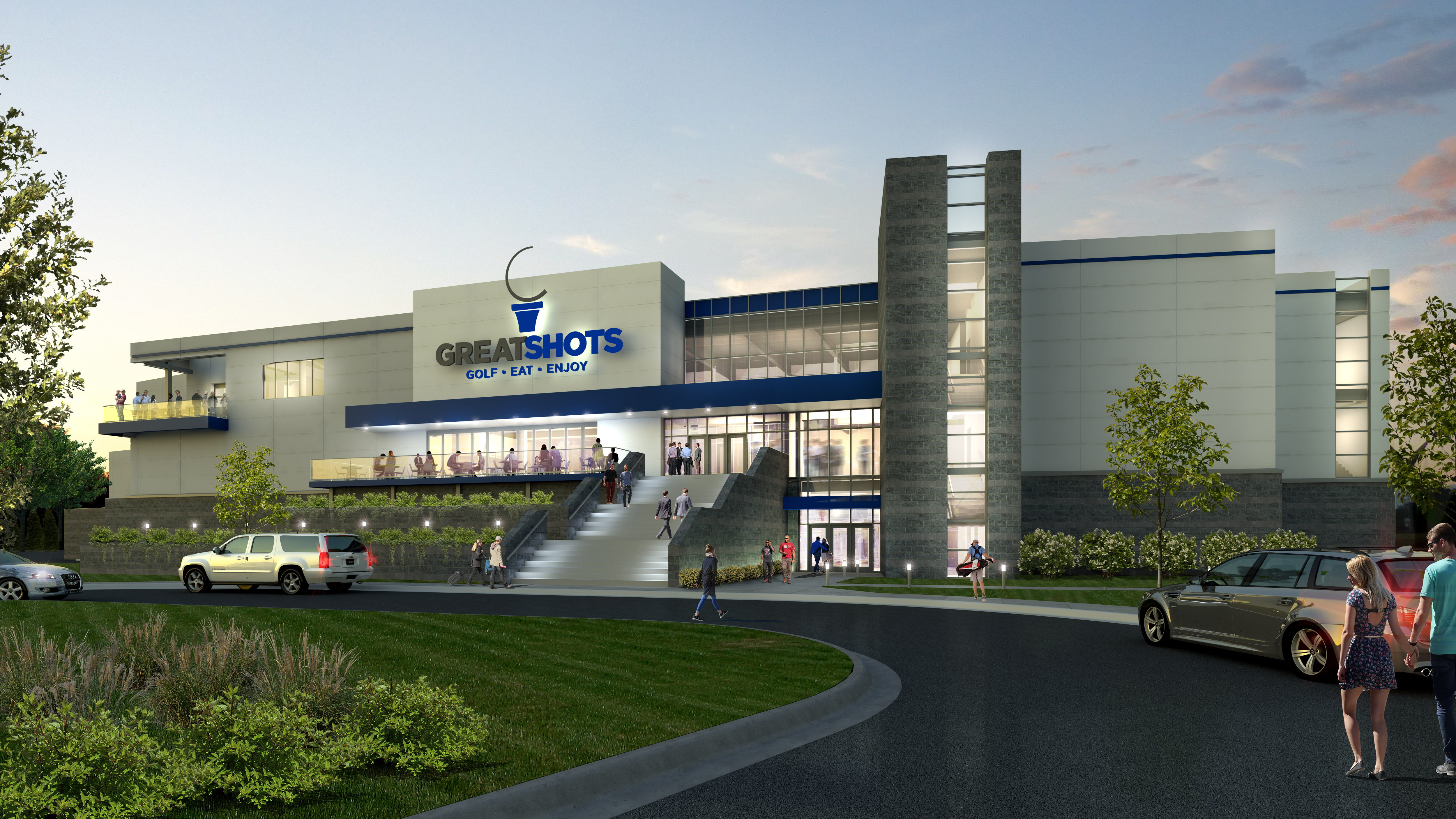 Great Shots is designed with families in mind. One of the main priorities of this new facility is to provide a place that is accessible to everyone, regardless of skill or experience.
That said, Great Shots will also be the home of the Sanford POWER Golf Academy, providing state-of-the-art practice spaces for serious athletes. Students of the POWER Golf Academy will have access to private bays and a putting green.
Golf Simulators
Cold weather is the perfect excuse to try a golf simulator. This game-changing advancement in golf technology offers more than just the opportunity to keep swinging in the snowy season. A typical golf simulator offers high definition, 3-D graphics for dozens of world-famous golf courses. And not only does a simulator give you the opportunity to "play" Pebble Beach, it also gives you instant feedback on every shot.
A typical golf simulator features a large screen that fills your field of vision and displays living graphics of a selected golf course. Depending on which specific simulator model you use, you may stand on a swing pad designed to imitate the texture and slope of an actual golf course.
The simulator also features a specialized golf ball that includes sensors to determine the loft, speed, direction, and distance of every shot. When you hit the ball at the screen, the display shows a realistic depiction of your ball flight. And because you don't have to travel between holes or wait on anybody else, you can get through eighteen holes in about an hour.  
View this post on Instagram
Is using a golf simulator the same as being on a real course? No. But it's a pretty great second choice after dark or in poor weather.
So how do you access to this killer technology? You have a couple options.
The Home Golf Simulator
If you want to go big, you can purchase a personal indoor golf simulator for your home or office.
The TrackMan Indoor Golf Simulator is exceptionally popular. As you may know, TrackMan is one of the most trusted names in golf technology. With their Indoor Golf Simulator, TrackMan offers a customizable package that considers the priorities of the individual golfer. Users can even compete online with other golfers or use the included TrackMan Performance Studio software to observe and evaluate their own swing. In fact, you can share data from an at-home practice session with your instructor.
Another in-home option comes from Full Swing, the simulator used by Jordan Spieth and Tiger Woods. Full Swing offers a couple different models, including the Sports Series and the Pro Series, as well as the Virtual Green Series. The Virtual Green includes a physical "green"—a floor that not only mimics the texture of an actual green but also shifts to mimic the topography of the green on the simulator screen. This way, you get practice reading a variety of putts and adapting to different slopes.
Virtual Golf Facilities
If a home golf simulator isn't in your budget, no worries. A simple Google search can point you in the direction of a virtual golf facility near you. It's not unusual to find a simulator among the offerings at a golf entertainment complex or at a golf club. Here in Sioux Falls, we even have Golf Addiction, a bar and grill that also offers virtual indoor golf. At a place like Golf Addiction (also located in Fargo), you can book a virtual tee time, join a league, and compete in tournaments.  
Indoor Golf at Home (and on a Budget)
A lot of people imagine indoor golf at home to be one of three things: swinging aimlessly into a net, putting again and again on the exact same surface, or shelling out thousands of dollars for a golf simulator.
If the first two sound monotonous and the third is not in your budget, we have good news.
Not only are the pros benefitting from huge strides in golf tech; weekend warriors now have access to high-tech training aids. With devices like portable launch monitors and cameras with swing mirror technology, you can now practice at home with a clearer understanding of how your shots would play out on the golf course. This knowledge makes your practice time more productive and more fun.
Here are a couple products that could completely transform your home practice.
The Swing Caddie SC200
The SC200 is a portable launch monitor that gives you instant feedback on each shot with accuracy comparable to that of the industry standard launch monitors. Unlike the industry standard devices, however, the price of the SC200 is more accessible to the average amateur golfer.
The unit is unobtrusive—only about the size of a smart phone—and provides instant statistics on swing speed, smash factor, ball speed, and carry distance. It stores data on your last 100 shots so you can look for patterns and track improvement.
Having these stats on hand is already a huge boon to your indoor golf practice. You can see how far your shot would have gone out on the golf course. Perhaps even more valuable, you can determine why you're not getting the yardage you know you're capable of. Maybe your swing speed is lower than you'd like. Or maybe your swing speed is outstanding and the problem lies in a low smash factor and subsequently low ball speed.
What's especially fun about the SC200, however, is that it features two additional settings that enable you to measurably challenge yourself. In Target Mode, you play a round of ten shots, trying to reach a target yardage you select yourself. The Swing Caddie gives you a score for accuracy on each shot. Approach Mode operates similarly, only in this setting, the device randomly selects a different target distance for each shot. Either way, the Swing Caddie gives you a chance to score yourself . . . and gives you a score to beat. As far as we're concerned, that's way more interesting than shooting pointlessly into a net.
LiveView Golf
While Swing Caddie helps you self-evaluate with data, LiveView Golf offers you a live mirror image of yourself so you can observe your own swing in real time.
LiveView Golf comes with a compact camera that can be clipped to a tripod or alignment rod and placed at any angle. The camera syncs wirelessly with your smart phone or tablet and uses digital swing mirror technology to show you a mirror image of your body movements. All those bad habits you never realize you're doing until your instructor or buddies point them out? With LiveView, you can catch those errors yourself and correct them immediately.
LiveView also features automatic swing detect, recording your swing from two seconds before impact to two seconds after. You can then watch a slow motion instant replay. The LiveView app even allows you to draw coaching objects onto the mirror image of your swing. With swing plane lines and circles to monitor head movement, you can better judge the accuracy of your swing motion.
One of the greatest benefits of LiveView is that you can use it to practice effectively even without a ball. Even if you have a small space and no net to swing into, you can still use LiveView to improve your form.
Indoor Mini Golf
As serious as we are about golf, we cannot neglect the benefits of an afternoon of putt-putt.
The greatest benefit of mini golf is that it's fun. It's an irreverent game that brings the family together and reminds the most serious among us that hitting a ball with a stick is—after all—just a game.
Moreover, the occasional round of miniature golf can actually improve your putting. While you're unlikely to encounter rotating windmill blades on an actual golf course, there is something to be said for the way putt-putt teaches you to read and strategize a shot. It's also a great opportunity to work on tuning out distractions and sharpening speed control.
That said, it's important to keep in mind that—even without factoring in the castle moat—the conditions on a mini golf course are quite different from the real thing. You're putting on a faster green using a low-quality ball and putter, negotiating odd angles you'll never find on a golf course.
While mini golf should probably not be your first choice for effective golf practice, it is a great option for anyone who's just antsy to get out of the house and have fun. Odds are decent that you can find an indoor putt-putt course in your area. You may even discover a glow-in-the-dark mini golf facility nearby. Putting by blacklight is about as far as you can get from replicating the real golf experience, but you know your kids will love it.
In Short: You've Got Options
No matter what it is you miss about golf—the practice, the fun, the competition—there is a way for you to recreate that experience indoors. Not only that, but a lot of indoor options come with benefits that could keep you coming back all year long. From access to cutting edge technology to kid-friendly accommodations, indoor facilities can broaden your relationship with the game and redefine golf for your entire family. Nothing can replace the experience of playing on an actual course. But these indoor options give you the opportunity to indulge in the aspects of the game you love the most.
Thoughts? Questions?
How do you stay in the game when the weather keeps you off the course? Do you have any indoor golf tips to share?
Please drop us a line in the comments. We always love to hear from you, whether you're chiming in to disagree, ask a question, or offer advice. Any excuse to talk golf!