Under Armour Golf Shoes: HOVR Drive Review
Under Armour HOVR Drive Golf Shoes or: How to Look Good at Golf Even if You Aren't Good at It
Let me start this article off with one minor caveat: I am not a great golfer.
I will not pretend to be one for the purposes of this article, nor will I give you the impression that I can handle a 2-iron like a poor man's Gary Woodland.  If by chance I hit a nice high draw, it was half my doing and half dumb luck.  Now that I have kids and work for a golf company, I've got golf tips for days and no time to practice any of them.  So standing at address over a golf ball is not a place of absolute confidence for me.
But I know a good shoe when I see one, and that is where I am happy to provide my golf insight.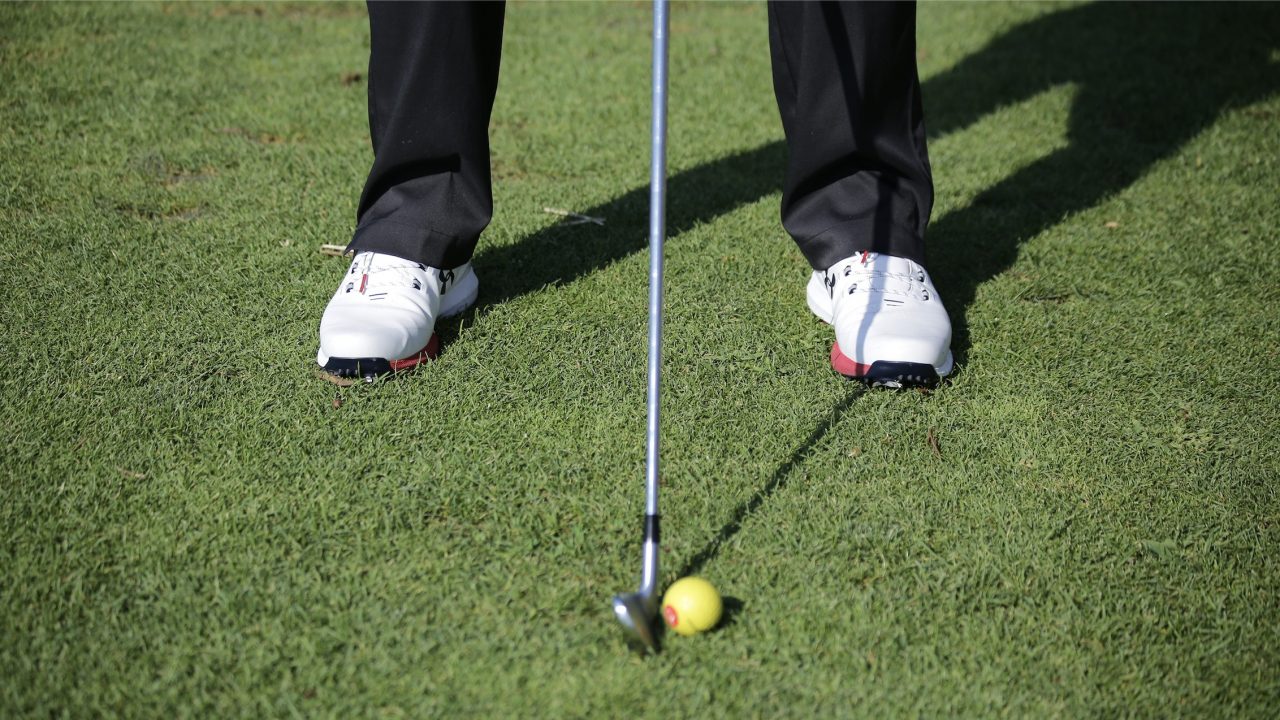 And with that, I'll start by saying this:  If you are in the market for some nice golf shoes, you may want to look no further than UA HOVR Drive golf shoes from Under Armour.
What's in a Golf Shoe
It seems not too long ago that if you wanted golf shoes, there felt like you had two options.  Option one was to buy something from FootJoy.
Option two was pretty much everyone else.
Back in my day (that may be the first time I feel I can officially say that), Under Armour served a singular purpose. That purpose is in the name of the company.  You would never have thought of them in the golf industry, nor would you expect them to provide slick options for golf shoes.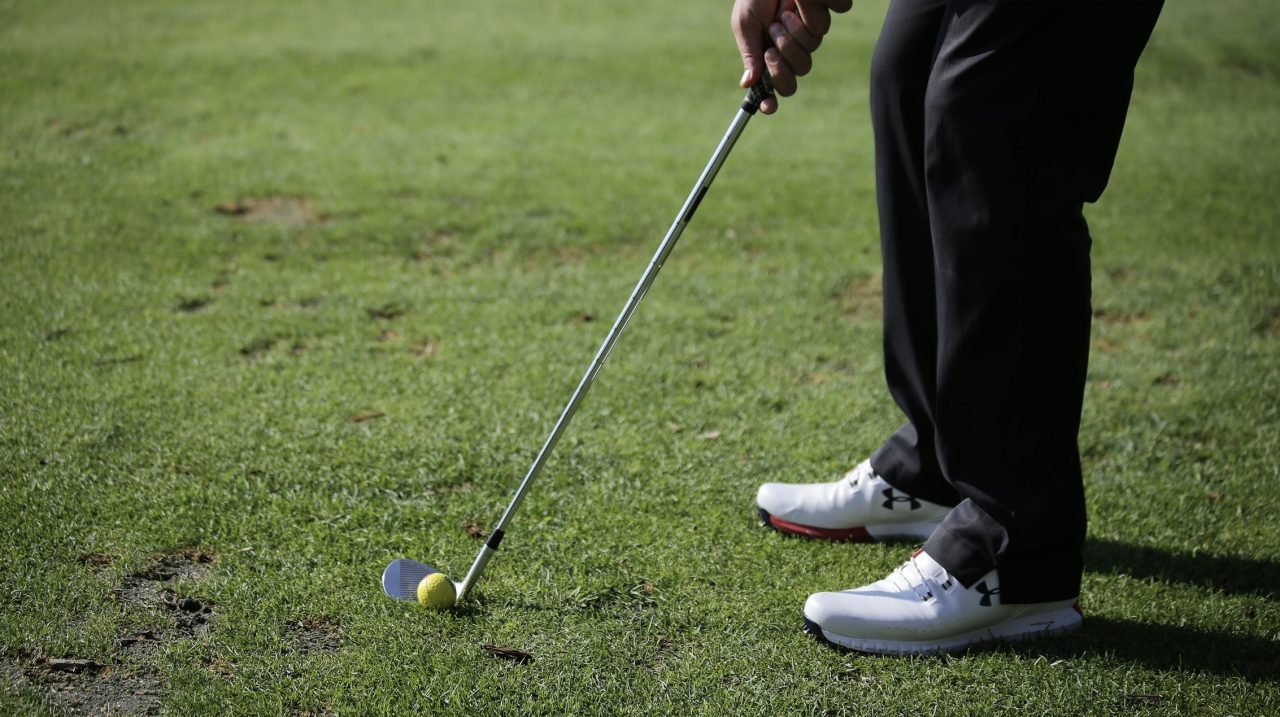 But fast-forward (cough) 15 or so years later, and I am finally ready to buy a good pair of golf shoes.  Not a pair of season-ending clearance golf shoes, but a pair that says I am ready to retire the tennis shoes and get something that actually looks and feels the part.
So where did I turn to find a new pair of golf shoes?  How about a company that makes some of my favorite golf attire?  (and some of my new favorite sunglasses)
HOVR Drive Specs
If you want the specifics of the UA HOVR Drive golf shoes, this is from the Under Armour website:
Breathable, Clarino® microfiber upper & a lightweight waterproof membrane keep you cool & dry

Integrated lacing system for a locked-in fit

100% waterproof UA Storm technology repels water without sacrificing breathability

2 Year Limited Waterproof Warranty

New, lower profile UA Rotational Resistance (RST 2.0) & Softspike™ Silver Tornado spikes for lockdown horizontal traction & all day comfort

Strategically placed cushioning & support from the ground up with integrated footbed, insole, midsole & outsole provides ultimate vertical traction

UA HOVR™ technology placement supports natural movement of the foot during your swing & provides 'zero gravity feel' to maintain energy return that helps eliminate impact step after step

Compression mesh Energy Web contains & molds UA HOVR™ foam to give back the energy you put in

Dual durometer footbed provides lateral support & medial softness to harness power

Lightweight, durable TPU outsole

Weight: 11.9 oz.

Imported
But do phrases like Storm Technology, Energy Web or Rotational Resistance mean anything to the average golfer?  Understandably, you probably want to know how these golf shoes actually perform on the golf course.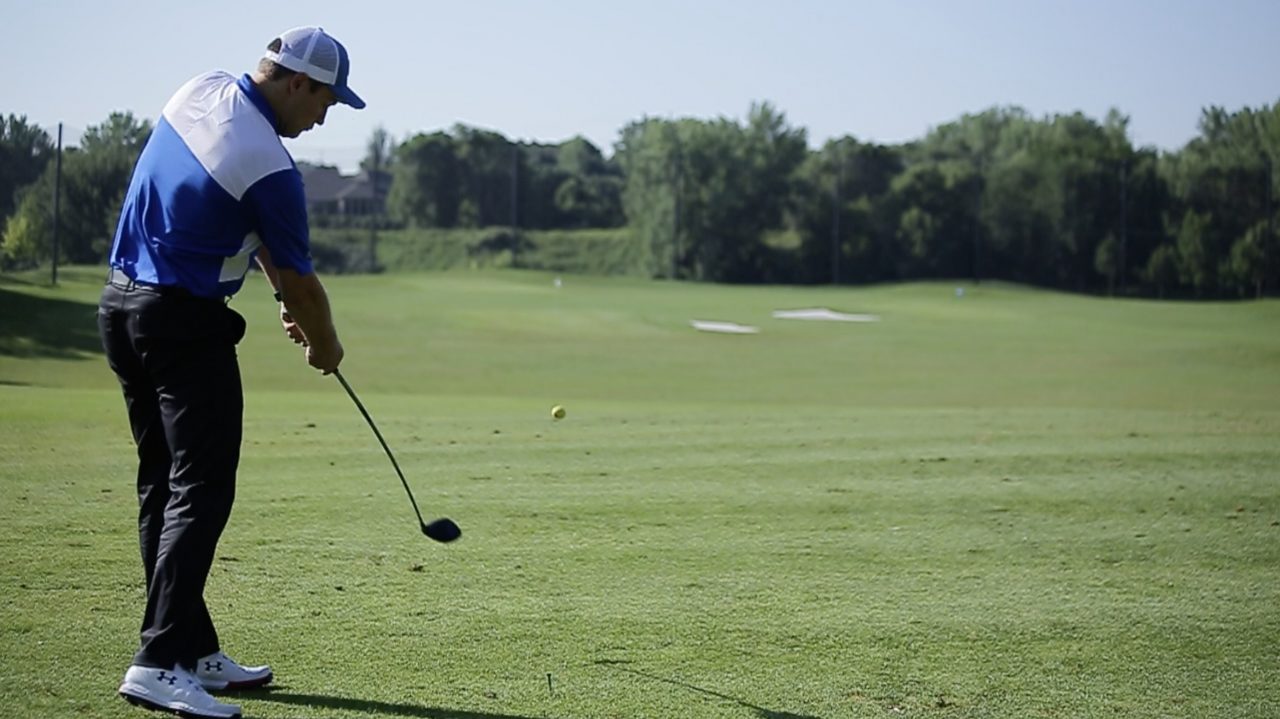 This is my take on the shoes.
Feel
When I first took these shoes out of the box, I knew immediately that this was a solid golf shoe.  The look and feel was great, a nice, soft white leather with just the right amount of color to keep the shoe classy without being boring.
But my biggest fear was how my feet and heels would feel after walking 18 holes.  After all, the biggest measure of shoe performance is comfort.  I am not concerned with a fancy shoe that gives me blisters after 5 swings.
And this is where this shoe shines.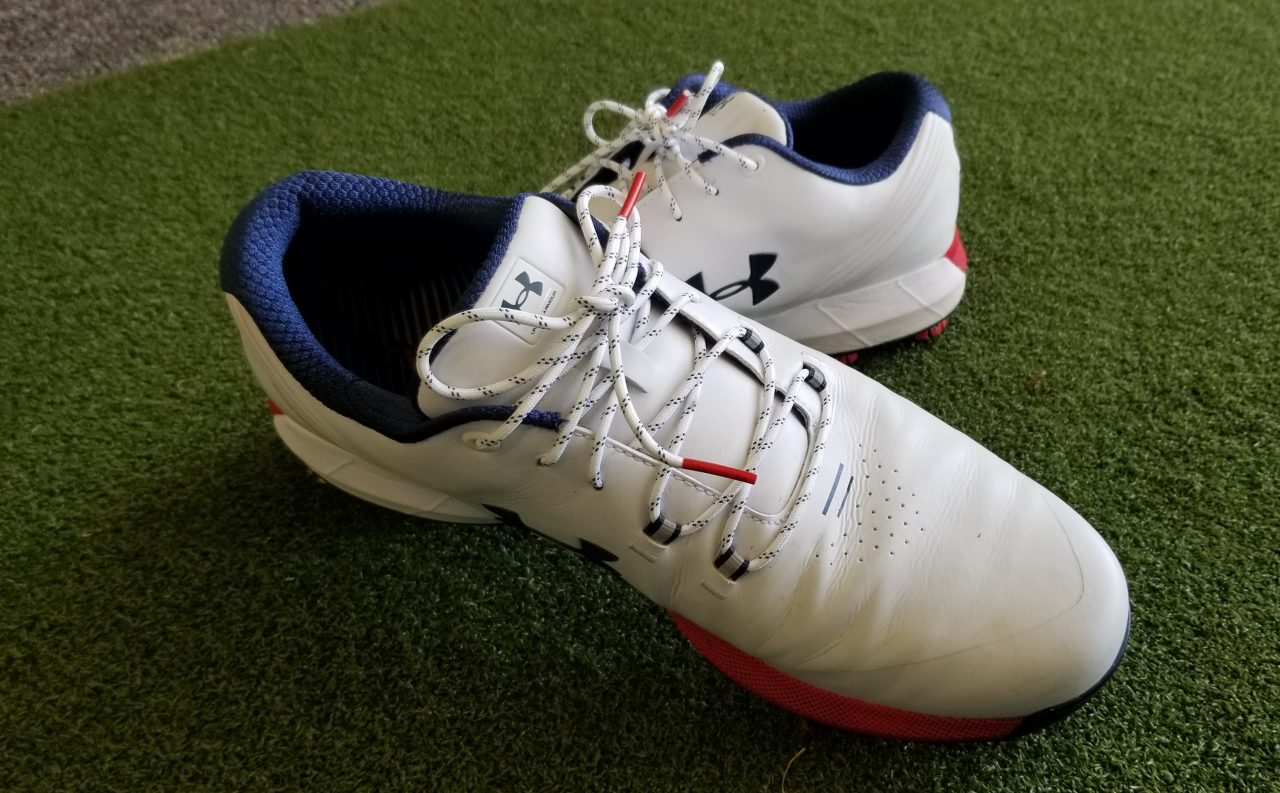 The Under Armour HOVR Drive golf shoes fit like a glove right out of the box.  I have high arches, so shoes with faux arch support are just unacceptable.  Now, I know the other stuff sounds flashier, but they should really tout the "lateral support and medial softness" before any other features.
I don't know what they did to strategize the cushioning and support of the shoe, but they did a good job there.
Performance
Alright, so comfort in a golf shoe is a no-brainer, so how did the shoe perform when I actually swung a golf club?  This is the part that also matters. And again, these golf shoes pass the test.
I don't get as many opportunities to golf as I would like, so my technique leaves a lot to be desired.  That said, I need a shoe that can keep a full-on swing from flinging me off the tee box.  And the spikes on this shoe are fantastic.  They did a great job of keeping me balanced and stable throughout my swing, but didn't grab to the point of restricting my hips or turning my body in my follow through.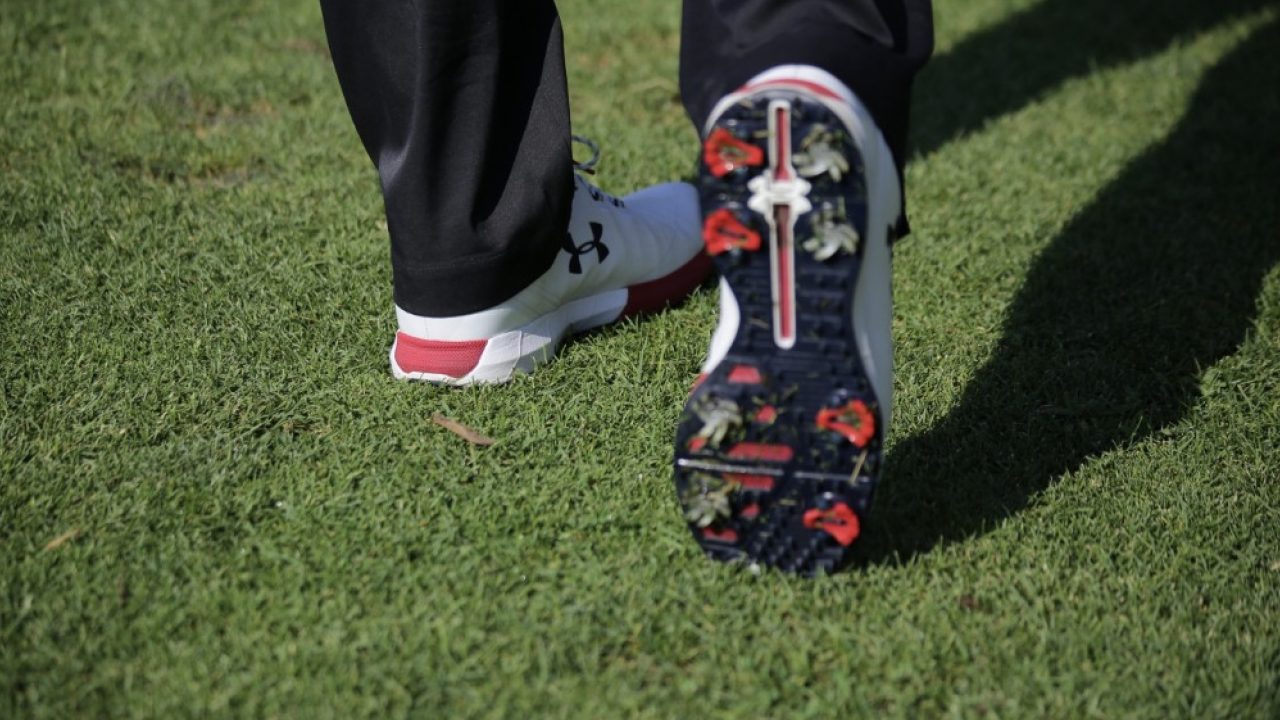 The only real knock I have on the shoes is that the laces didn't like staying tight.  And that they don't help me golf better.  But that's more my own doing.  In fact, aside from switching my hands for putting, this is as close to Jordan Spieth's golf game as I may ever get.
Other than that, these are a fantastic pair of golf shoes.
Should You Buy the UA HOVR Drive Golf Shoes?
So to me, the shoes are comfortable, stylish and perform well.  So the question is, should you purchase them?  The UA HOVR Drive Golf Shoes sell for $160, so it is a bit of a financial commitment.  If you're a casual golfer and don't spend a ton on golf equipment, I get it.  These are probably not the shoe for you.  I'm usually the same.  In fact, this article is probably not for you.
Likewise, if you're a Footjoy purist, you probably are unlikely to jump ship and buy a pair of these.  I wouldn't expect someone with a Scotty Cameron putter to suddenly switch to Odyssey putters either.
BUT…if you are in the market for new golf shoes, and you have purchased anything from Under Armour in the past, you can hedge your bets that these shoes will able to live up to the standard you've come to expect from the brand.  And if that is the case, these shoes are just what you are looking for.