Under Armour Golf Apparel Review
Under Armour Golf Apparel:  Clothing That Performs With Consistency
While most people probably still think of Under Armour as a football or even basketball apparel company, that is no longer the case.  Under Armour has slowly been creeping its way into the golf apparel sector for years now.
In fact, one of golf's most recognizable faces, Jordan Spieth, is also one of the company's most recognizable endorsers.
That doesn't just happen by accident.  Instead, you have to start by making things people want, and that is what Under Armour golf apparel has become.  Something people want.
From polos and sunglasses to pants and shoes, Under Armour Golf Apparel seems to have a stronger presence with each new golf season.  So I decided to test some Under Armour golf apparel out to see how it looked and performed, and it does the trick.
We'll start with a few Under Armour golf accessories we already reviewed.
Under Armour Tuned Sunglasses
We did a full review on Under Armour Tuned Sunglasses you can read, but here's what a few of the members of our USGolfTV staff thought of the Under Armour Tuned Golf Sunglasses: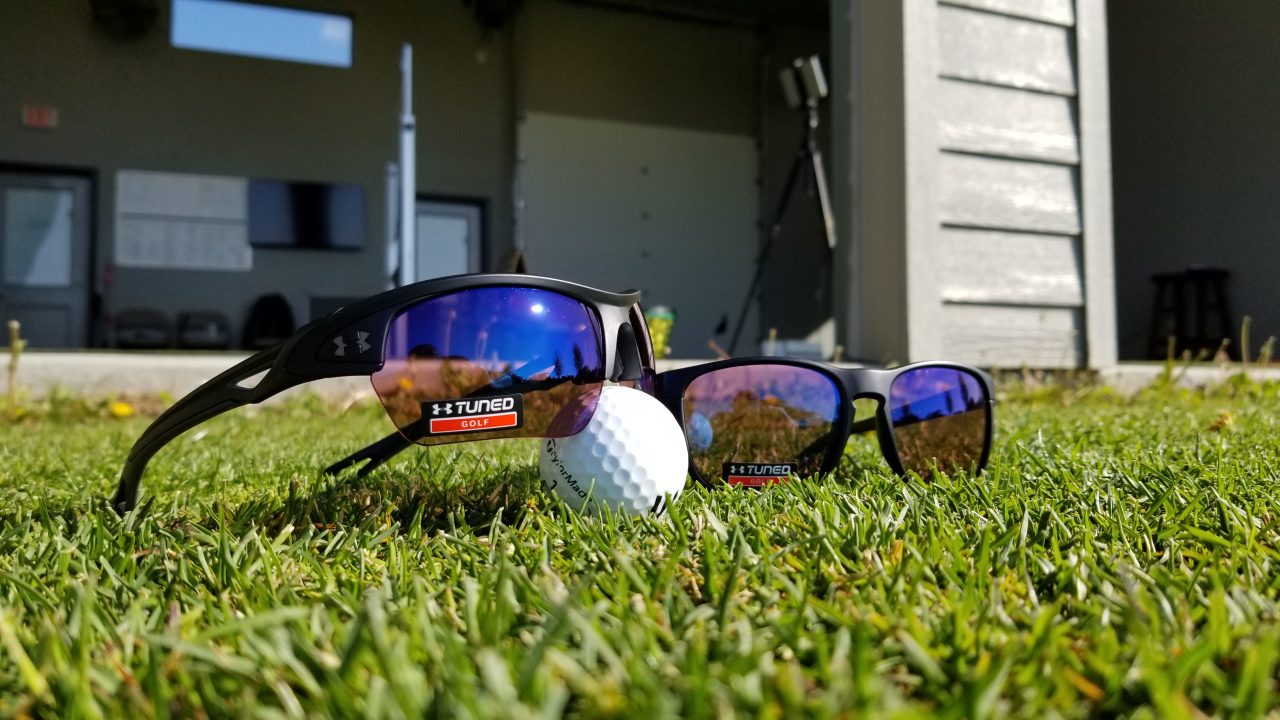 Jordan Knowlton:  I loved the color that these glasses shaded everything in, it really helped make the course pop out while still helping with the glare from the sun. The build quality is excellent as they feel sturdy and like they won't break if I drop them on the course. Also, I really liked the fit on my head, nothing felt like it was too tight or too loose, they always felt secure when swinging with them on. Some sunglasses make it too dark when I am trying to golf in them but these balance that line perfectly!
Tyler Prins: One of my favorite features about the sunglasses was the fact that the nose piece was adjustable.  This helped me most when I was on the golf course hitting shots because the glasses stayed put even when I was sweating. The other feature that I liked was the lenses, which allowed me to see the green undulation much better than normal sunglasses on the greens.  Reading putts is always difficult, but I feel like I actually had an advantage!
Under Armour HOVR Drive Golf Shoes
Under Armour Golf Apparel is more than golf polos.  Their HOVR Drive golf shoes are ridiculous.  I wish these shoes didn't have spikes, because I would wear them as everyday shoes, they are that comfortable.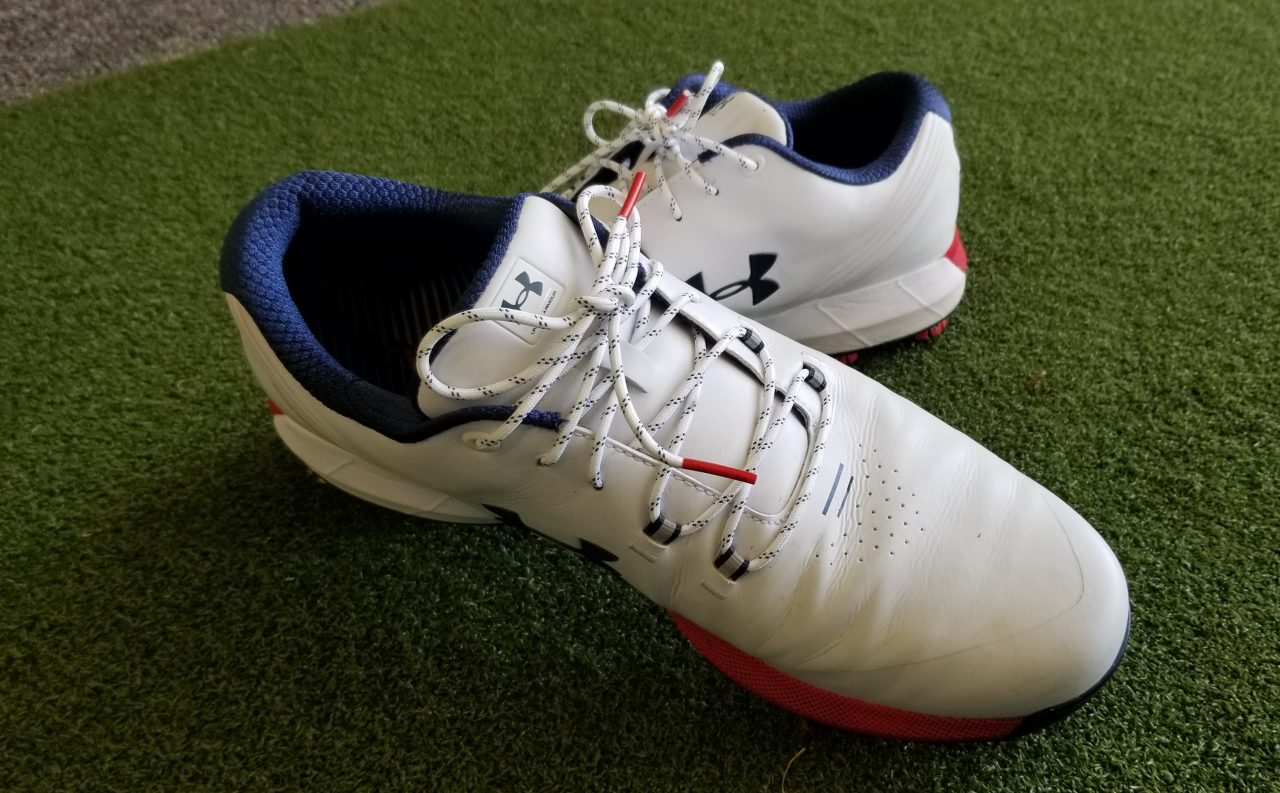 When I first took these shoes out of the box, I knew immediately that this was a solid golf shoe.  The look and feel was great, a nice, soft white leather with just the right amount of color to keep the shoe classy without being boring.
But my biggest fear was how my feet and heels would feel after walking 18 holes.  After all, the biggest measure of shoe performance is comfort.  I am not concerned with a fancy shoe that gives me blisters after 5 swings.
And this is where this shoe shines.
Under Armour Performance Wear
It might sound mundane, but a shirt has to look good to make you want to wear it.  A lot of us would rather wear a nice looking shirt over a comfortable shirt, which sounds ridiculous.  But that doesn't make it untrue.
At the same time, if a shirt does not perform (like keeping you dry on a hot, muggy day), it might not stay in rotation long.  The UA Iso-Chill polo meets both criteria well.  In terms of look and quality, this shirt is great.  It's got a stylish, subtle design and a little added contrast in the collar to really make it pop.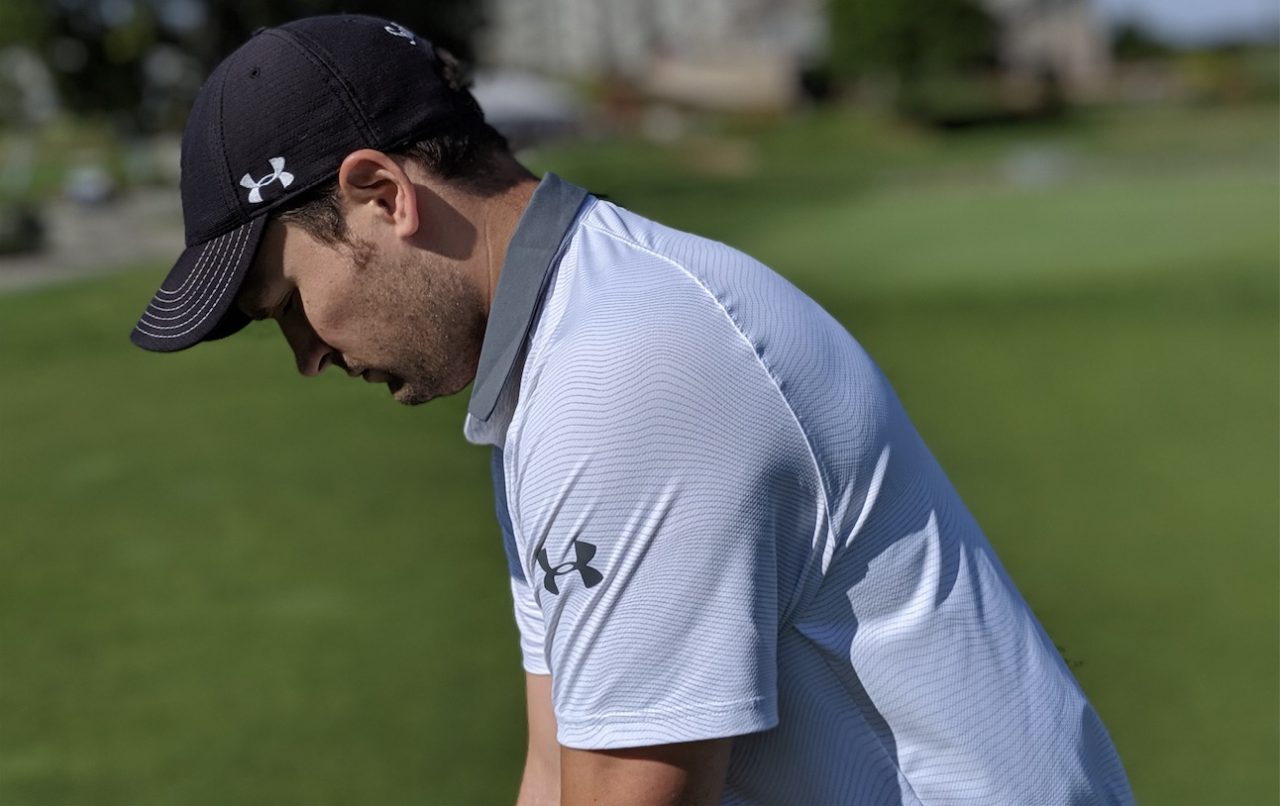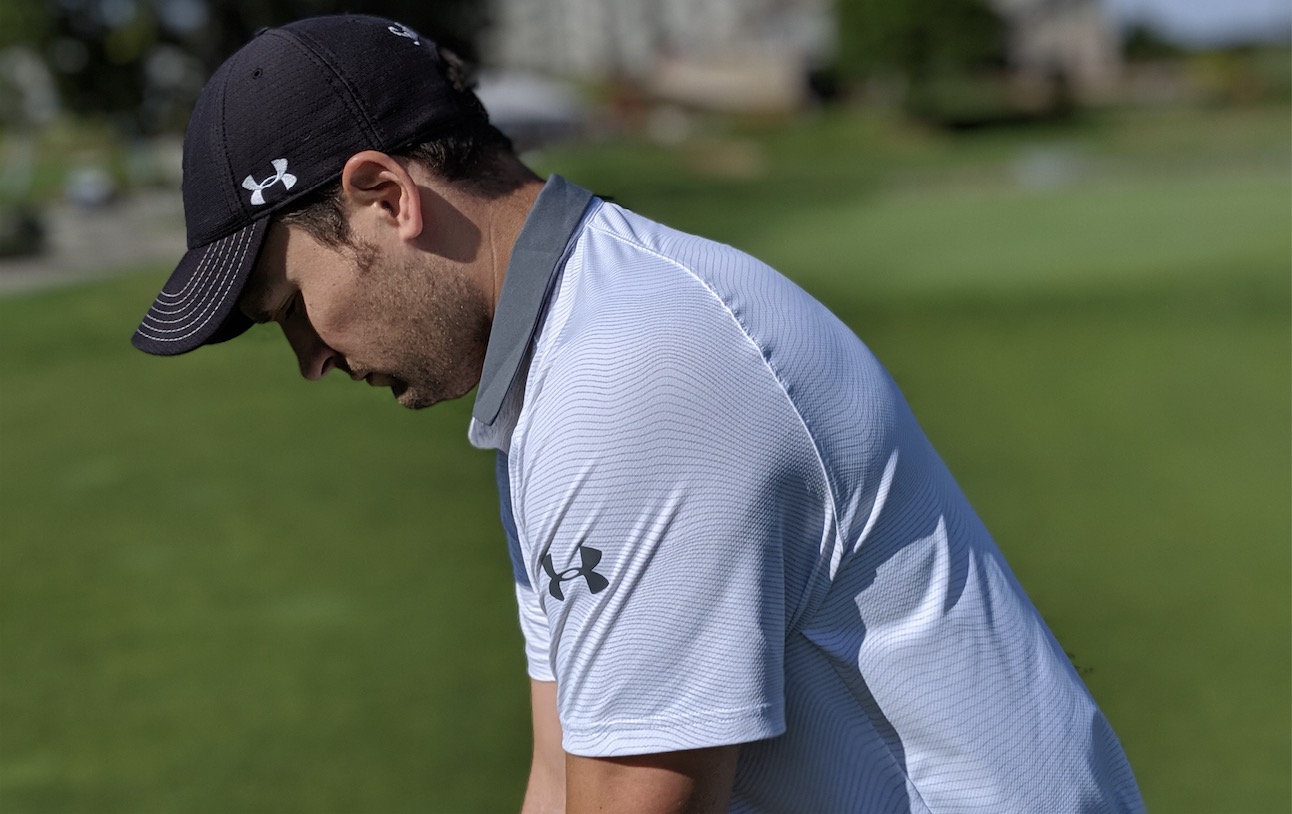 But more importantly, the 90% polyester/10% elastane allows the shirt to have a  good amount of stretch as well as breathability.  I usually hate wearing a tucked in polo when golfing, because after one or two drives, the shirt comes out and starts to look frumpy.  And even with the elastic feel of the fabric, it still can allow airflow to keep you from becoming a walking sauna.
One minor caveat for fabric softener buffs:  do not add this shirt to laundry with fabric softener.  Synthetic material is designed to perform, and fabric softener sort of creates a coating to eliminate the desired performance of the material.  The shirt may also feel a little tacky after washing, so just a little heads up.
UA Showdown Shorts
They may come across as an afterthought, but good golf shorts can sometimes be hard to find.  What I    like about the UA Showdown shorts is that they are super lightweight, hit the perfect length just above the knee, and can be worn with a golf polo or a regular tee.
I have other golf shorts that are essentially abbreviated golf pants, so they don't go well with a shirt.  Likewise, I have other shorts that look underdressed with a nice polo.  The UA Showdown shorts really can go well with either.
And on a side note, one of the best features their website does not list is the inner part of the waist of the shorts.  There is a slightly gummy/tacky inner lining that is great for keeping a tucked-in shirt tucked in; novel concept.  One of the most annoying things about tucking in your polo is when you swing, the shirt gets messed up.  This subtle little addition does a good job of curtailing that issue.
My Favorite UA Apparel
Hands down, my favorite piece from the Under Armour golf apparel collection is the UA Storm Sweaterfleece.  Classic look, contemporary style.  Simple, comfortable, to the point.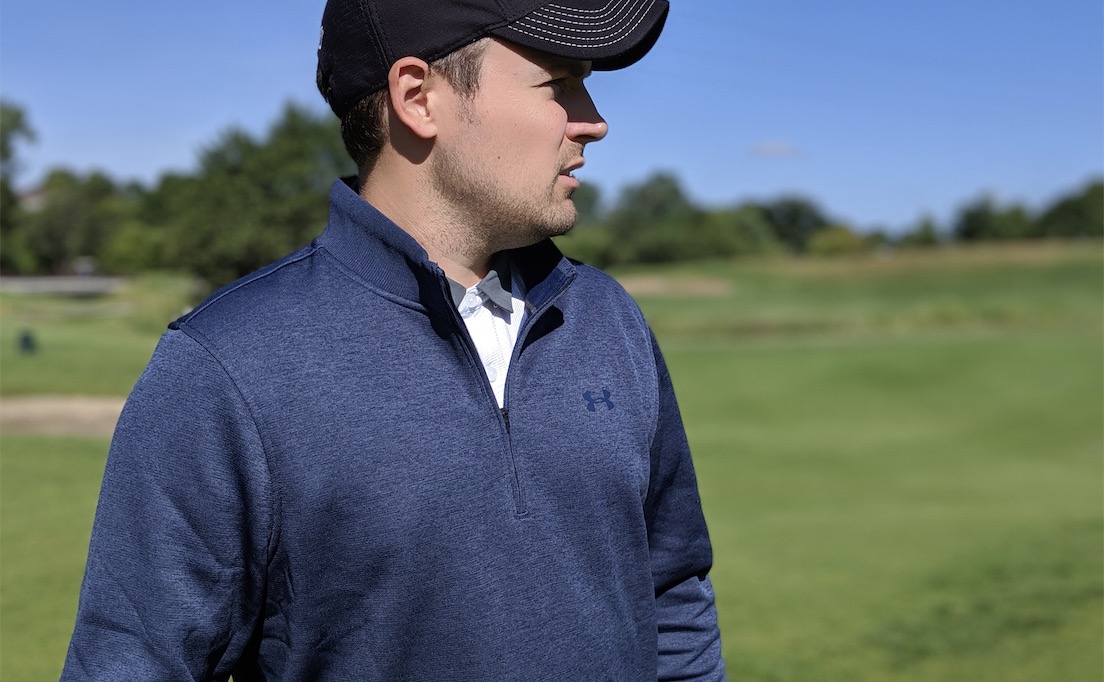 This sweater fleece is super versatile, as you can dress it up or down really.  This is a nice layer for those cooler mornings on the course, or early or late season golf when the temperature is lower.  But you can also wear it with a nice pair of dress pants away from the course as well.
The single color allows it to go with many options, while the static patterning gives it just the right amount of pop to keep it from being too simplistic.
The material is also a polyester fabric made with what Under Armour calls Cold Gear fabric.  The fabric allows you to retain heat while wicking moisture to keep you warm and dry.  I    wore it on a colder day on the course, and felt like that claim certainly holds up.
I would add that the sizing for me ran a little smaller than perhaps a traditional cotton or blend fabric, but it wasn't over the top.  I've got long arms and a longer torso, but the sleeves and shirt were not a short fit.  Obviously if you are trying to smash your driver 300 yards, it may creep up a bit on you, but it doesn't turn into a 3/4 sleeved belly shirt like some clothing may.  But that's an article for a different day.
What Do You Think of Under Armour Golf Apparel?
Have you tried any of these Under Armour products?  Is there another product you would recommend?  Leave us a comment!  Whether you're an avid golfer or someone new to the game, we all have to wear clothing to the course.  If you have not tried Under Armour apparel yet, give it a shot.  If you already like UA golf apparel and know what to expect, you can rest assured that these products perform and deliver.
And be sure to follow us Facebook, Twitter and Instagram for product reviews, golf tips, and information on new brands. For helpful video tips, subscribe to our YouTube channel!
Also visit us at GreatGolfTipsNow.com for more tricks and insight on all aspects of the game. We're always here to help you play better golf.