Clear Your Hips to Create a More Powerful Golf Swing
Know How to Clear Your Hips in Your Golf Swing? Discover Greater Flexibility and Powerful Speed with These Tips.
Do you know how to clear your hips in your golf swing? Do you feel like you understand what it means to clear your hips? Did you even know this was something you were supposed to do?
The best golfers understand how to clear their hips. But a lot of amateur golfers struggle with this concept. Not only do they have a hard time mastering the physical motion, but they don't entirely understand what "clearing your hips" means.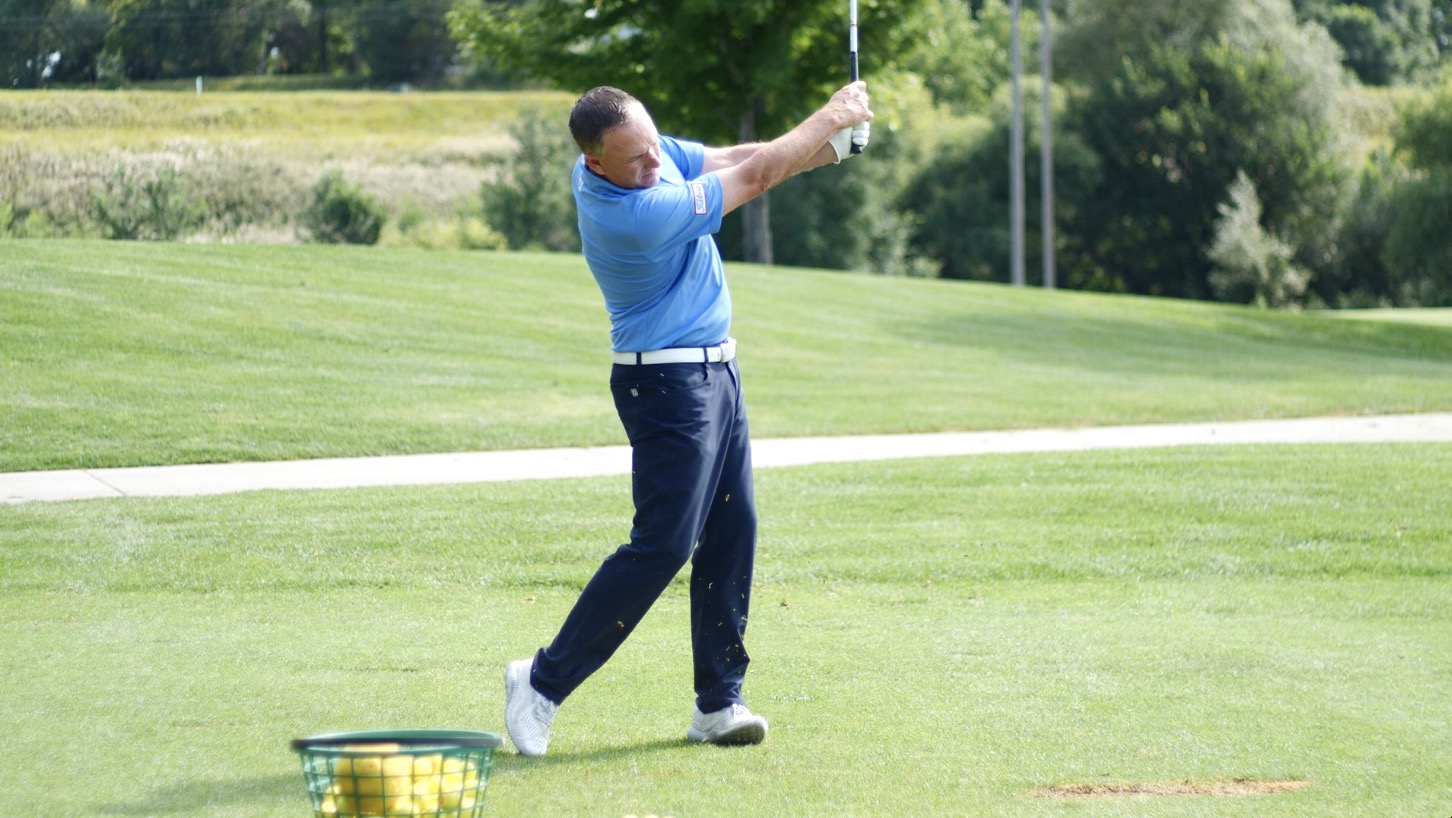 If you can clear your hips, you can hit higher quality shots and pick up a lot of clubhead speed. In other words, mastering this skill is more than worth it. It's also easier than many casual golfers realize. You simply have to understand why clearing your hips matters, what holds you back, and how you can finally perfect this motion.
And you can find all those answers right here.
What Does "Clearing Your Hips" Mean?
First, let's clarify what people are talking about when they tell you to clear your hips.
When you "clear your hips," it means your hips are open towards the target at impact. Here's what that looks like: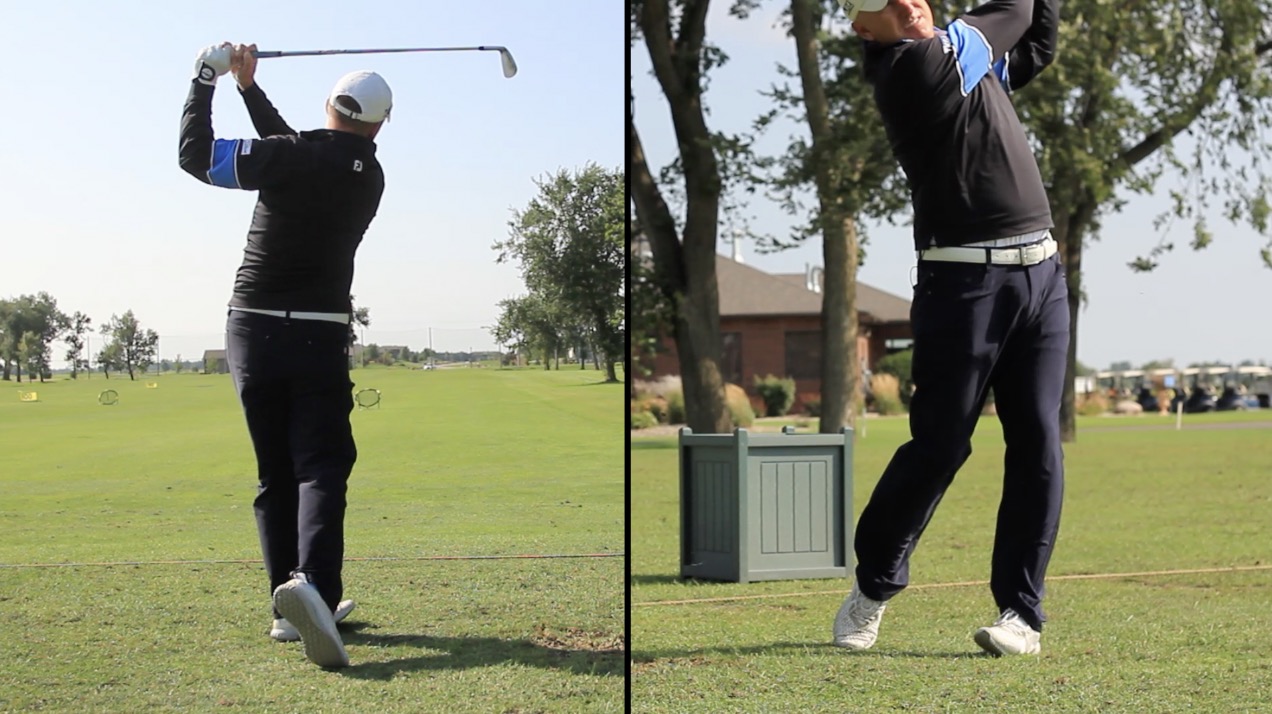 When you take your golf setup, your hips are square to the target. That is to say, the line across your hips aligns with the target. As you swing through, you want your hips to rotate so they are pointed to the left of the target at impact (if you're right-handed). This is what we mean by "opening the hips."
Clearing your hips is simply about rotating early in the golf swing and getting your hips out of the way. And the benefits of this are huge.
How Important is Clearing Your Hips in Golf?
For one thing, hip rotation helps you improve the quality of your contact. When you increase hip mobility, you find it's easier to make square, solid contact with the golf ball.
But the major benefit of clearing your hips is that this motion is a huge speed generator. I mentioned previously that you can see this skill at work in the best golfers' golf swings. If you watch the longest drivers in the game, you'll notice those players have really fast hips.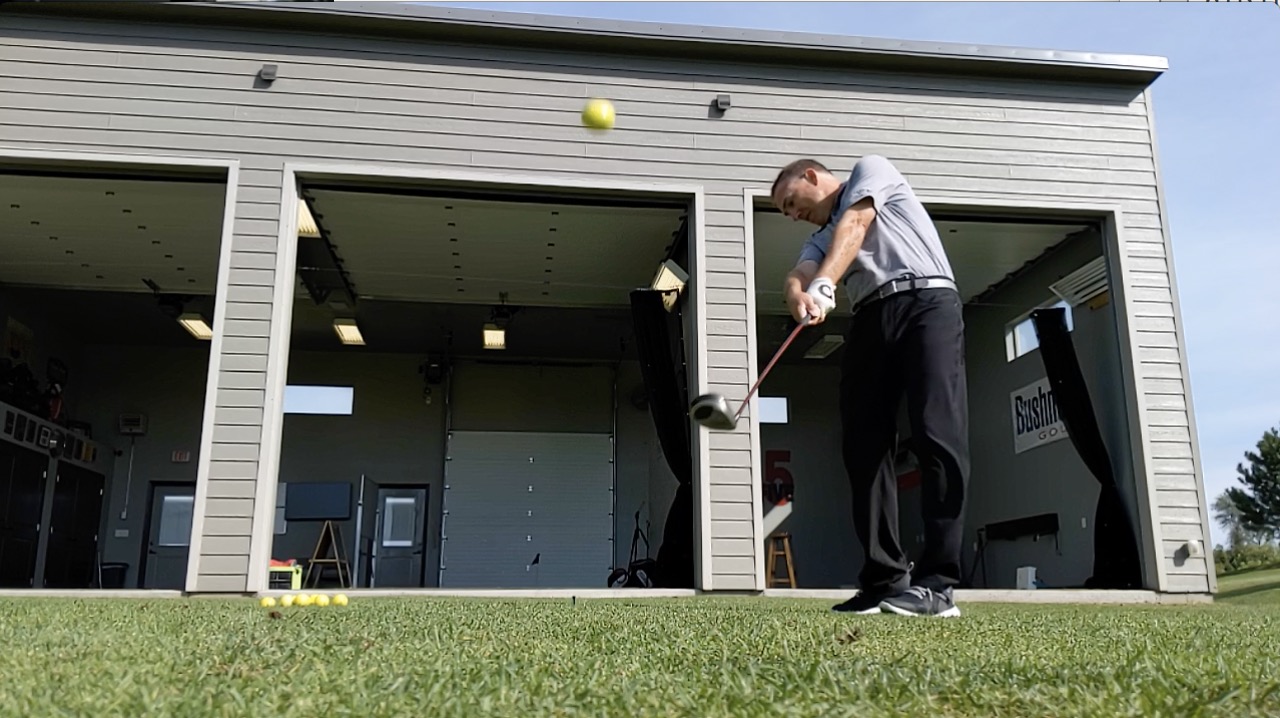 Why?
Because rotation creates speed. A really great golf swing isn't just about what your hand and arms are doing. It also has nothing to do with having big muscles and a ton of strength. It's a chain of movement in which one motion has the ability to either enhance or inhibit the next. Rotation in your hips facilitates rotation in your torso, which in turn helps you pick up speed in your golf swing.
Now, there are other benefits to clearing your hips beyond speed and contact. But I'm not going to dive too deep into that for this article. Just know that when you clear your hips, you drastically improve your game.
So, let's talk about how you can improve flexibility, unlock hip flexors, and clear your hips with a simple adjustment to your lead foot.
Tips for Rotating Your Hips with Your Golf Swing
Before I get into drills and tips for improving your hip rotation on the golf course, I'd like to clarify why you're having trouble with this skill. Clearing your hips is about more than mastering swing plane and swing motion. It's about creating a swing that is both powerful and safe.
For many golfers, it's not just lack of understanding that keeps them from clearing their hips. It's limitations within their own bodies. Your first step in conquering this skill is to understand what's holding you back and how you can overcome it.
Why It Might Be Difficult to Clear Your Hips
Hip rotation is a dynamic movement. This means it is hard to monitor and adjust in the moment. It also means your ability to improve hip rotation may be limited by two significant factors.
First, your own genetics might hold you back. Clearing your hips comes down to flexibility. And flexibility is like jumping. Some people jump higher than others simply because they are naturally better at it. I, for one, cannot dunk a basketball. And though I've seen plenty of other people do it, I don't expect it will ever be talent I pick up.
Second—and more important for the purposes of this article—you're probably wrestling with some tightness in the body. Maybe there's tightness in your hip flexors, in your lower back, or in your body in general.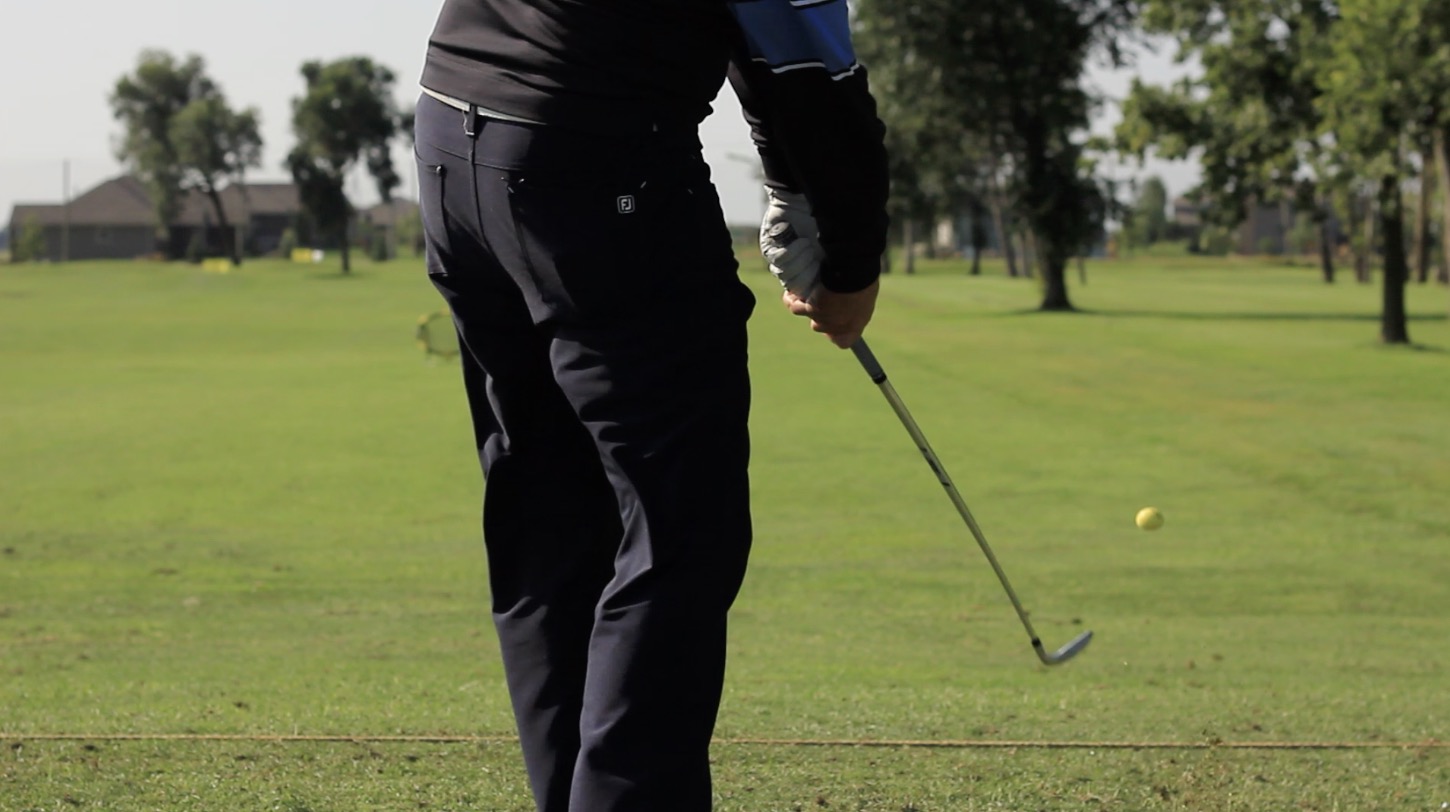 While golfers of any age can find themselves battling this stiffness, it's especially common among older golfers. Our bodies lose flexibility as we age. While there's no getting around that reality, there are steps we can take toward improving mobility. And when we take these steps, we not only hit better shots, but we also do more to protect the back.
Improving Mobility in Your Golf Swing
Does your back often hurt after a round of golf? Believe it or not, back pain is a problem that often originates from poor hip rotation. Now, failure to clear your hips is not the only possible reason for lower back pain, but it is a common one. If you don't have good hip and upper body rotation, the lower back strains itself to pick up the slack.
So how do you fix it?
In a moment, I'll get into some tips to help you practice clearing your hips during your golf swing. But one thing you can start doing right now in your own home is work on improving your hip flexibility. Matt Rollag, physical therapist at the Sanford POWER Golf Academy, recommends trying the 90/90 position.
The 90/90 position is a simple exercise that tests your hip mobility. You sit on the ground with each leg out in a different direction, both knees bent at a 90-degree angle. Just sitting in this position tells you a lot about your hip flexibility. If you have a lot of stiffness, you'll topple over when you raise your arms out in front of you.
To challenge yourself and build flexibility, try shifting your legs from one side to the other. For example, if you're sitting with the right side of both knees touching the ground, lift your knees and arc them over to the left side, without picking your feet up or using your hands to stabilize yourself. This simple exercise helps you test and enhance mobility so you can enjoy a better golf game.
Now let's talk about changes you can make on the golf course.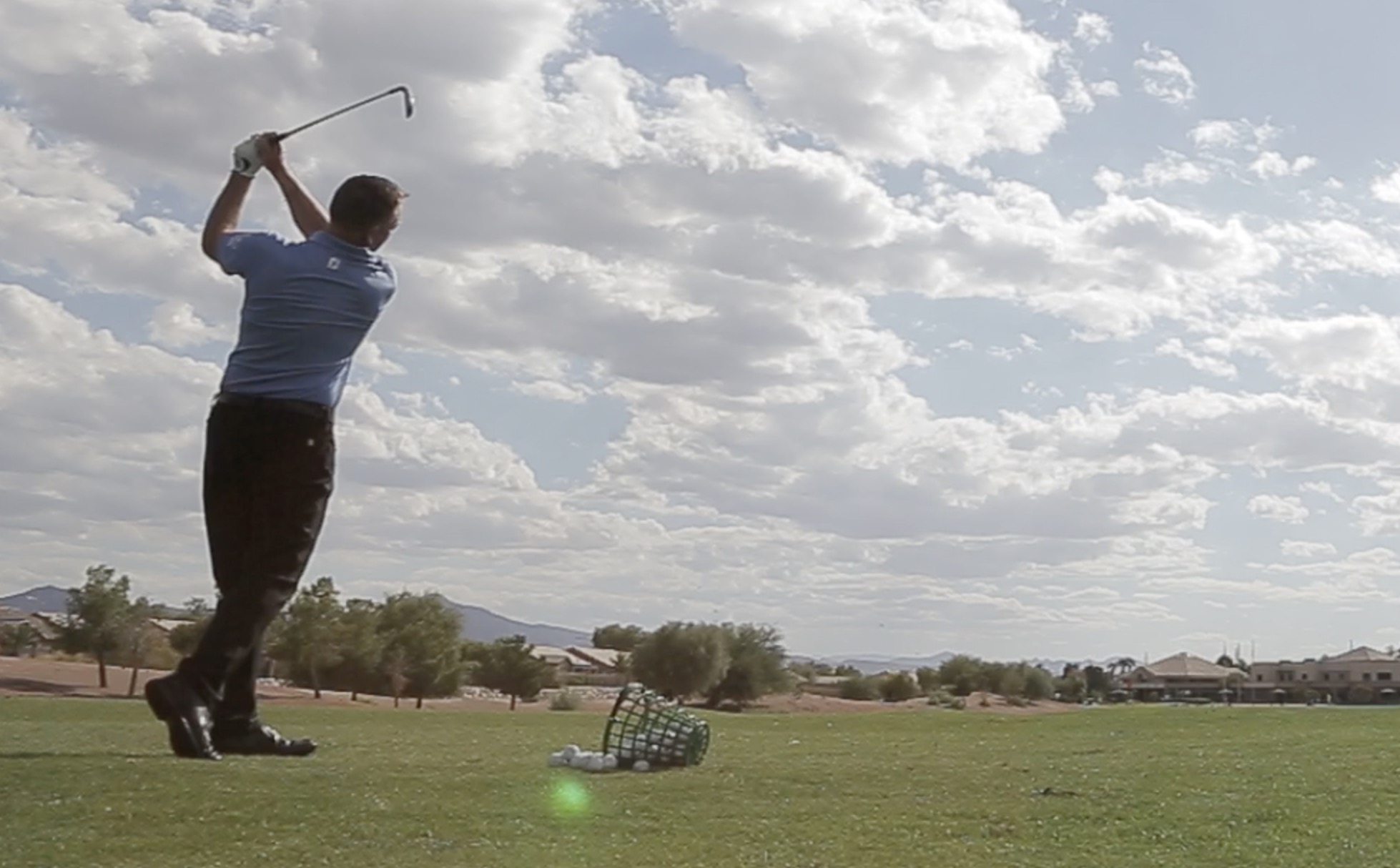 How to Open Your Hips When You Make Impact
As I mentioned, clearing your hips simply means opening your hips at impact. There are a couple different drills you can practice to help you develop this habit. But there are also small changes you can make on the golf course today that will help you clear your hips.
Both these changes happen in your golf setup.
First, set up your golf shot as you normally would, with an athletic stance, good posture and slight bend in the knee. Most likely, your toes are both pointed straight ahead in the direction of your golf ball. From this position, you're going to make two adjustments to your lead foot.
Point the left toe out slightly—somewhere between 30 and 45 degrees if you're a right-handed golfer. We call this "opening your stance."
Pull the lead foot back just a little so it's on a plane just slightly behind the trail foot.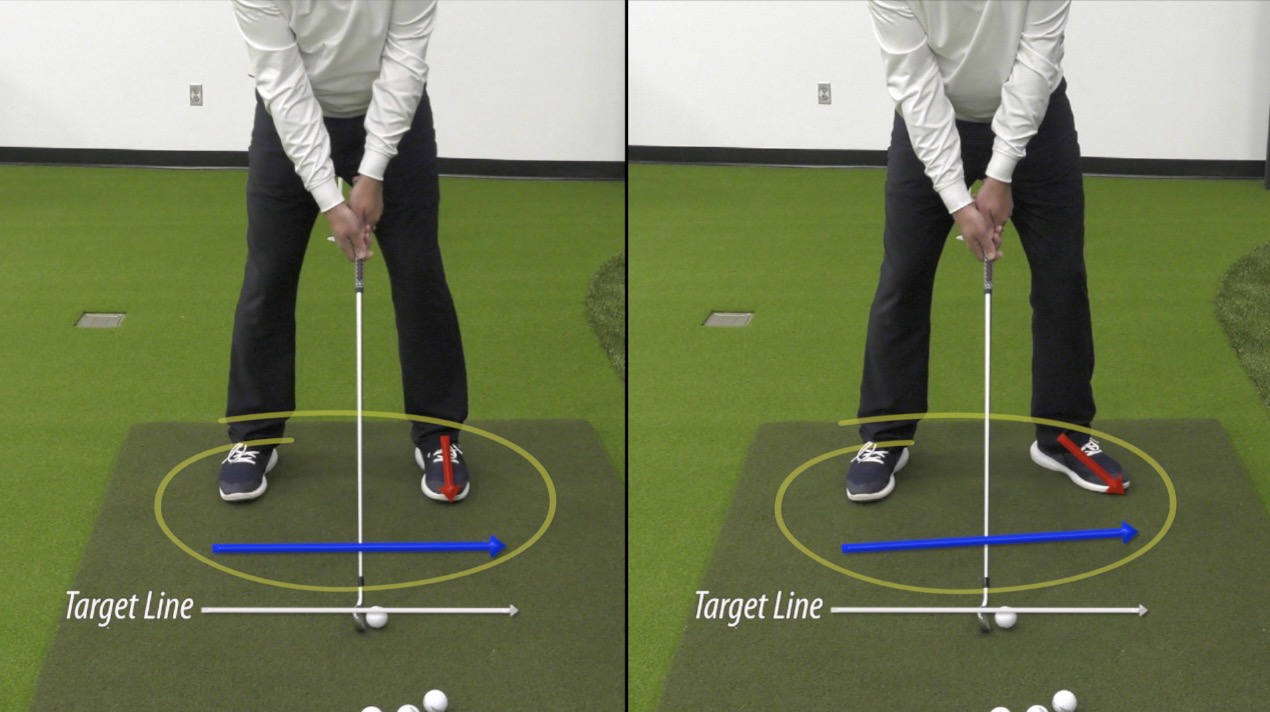 Both of these adjustments loosen your stance so you have more space to get better rotation in the hips and pelvis.
Consider it this way: If your lead foot (left foot for right-handed golfers) points straight ahead, that ankle is going to get stuck and lock you down at impact. You won't be able to get the rotation you need through the lead/left leg and in the hips.
You have an even worse problem if you close your stance. Closing your stance means your trail foot points out to the right (if you're right-handed). Opening your hips from this position takes a lot of flexibility . . . and a lot of work.
Exercises like the 90/90 position can do a lot to improve your golf fitness and give you better hip mobility. But it's also a good idea to give yourself a leg up (and help your muscles learn to use this new range of motion) with a smart golf setup from the beginning. Point that lead foot, pull it back, and enjoy immediate improvement in your golf swing.
Techniques to Clear Your Hips in Your Golf Swing
The previous advice helps you clear your hips by setting you up for success. You've learned how to improve flexibility and how to adjust your stance to make hip rotation easier.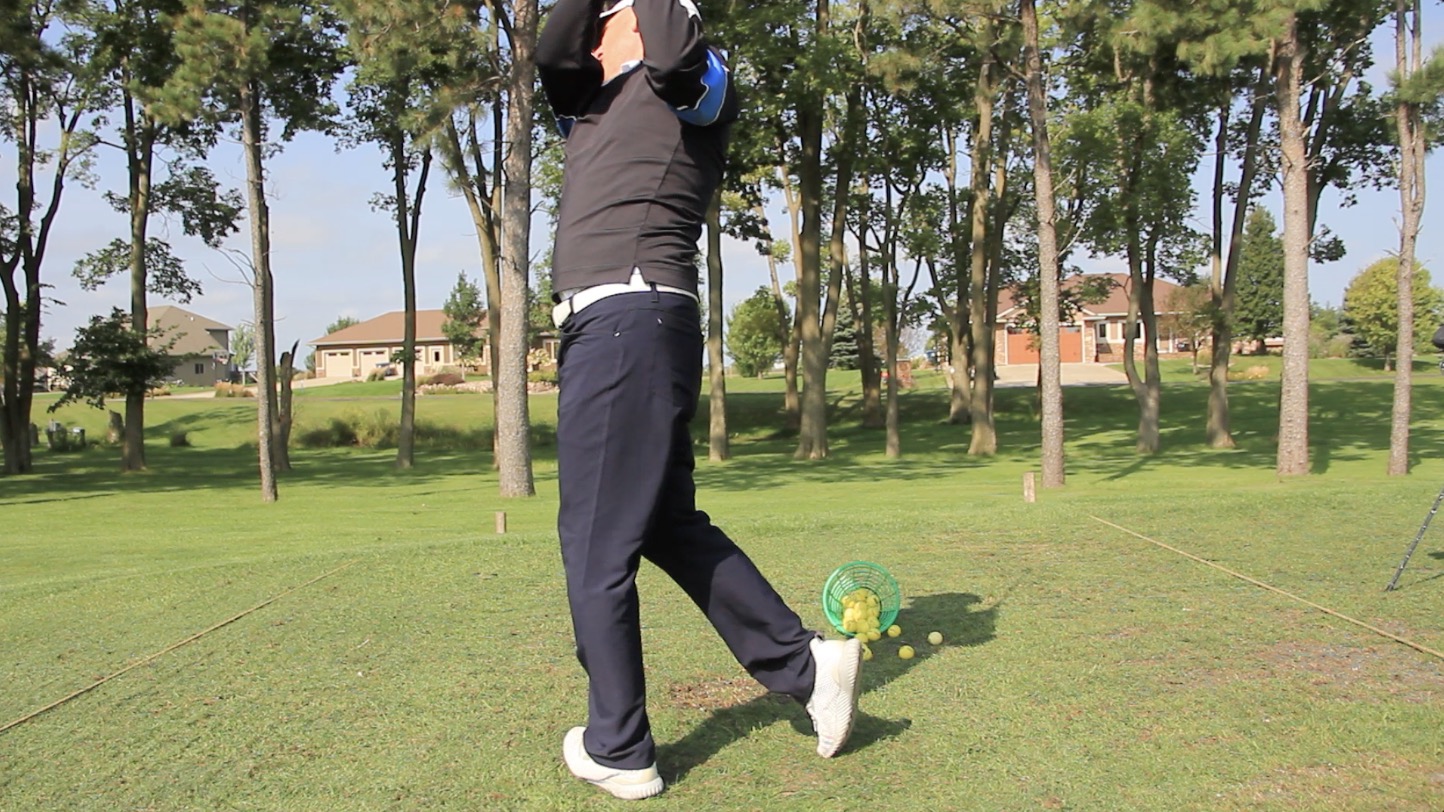 The last thing to do is learn what he proper hip rotation actually feels like so you can make it happen every single time.
Use the following two drills to practice clearing your hips at the driving range or even at home. You've probably already done plenty of drills on swing plane. These exercises help you focus on hip plane—the path your hips follow through the backswing and the moment of impact.
Hip Rotation Drill #1
For this drill, you need an alignment rod. That's it. You can involve your golf club and golf ball if you want to, but it isn't really necessary.
To get set up, take the alignment rod and hold it lengthwise across your hips. Some golfers like to actually thread it through their belt loops. Either way works.
Once you're set up:
Rotate your body to mimic your typical swing motion from the takeaway to the finish.
As you do this, practice getting the trail end of the rod pointing down at your ball by the moment of impact.
Repeat this motion several times.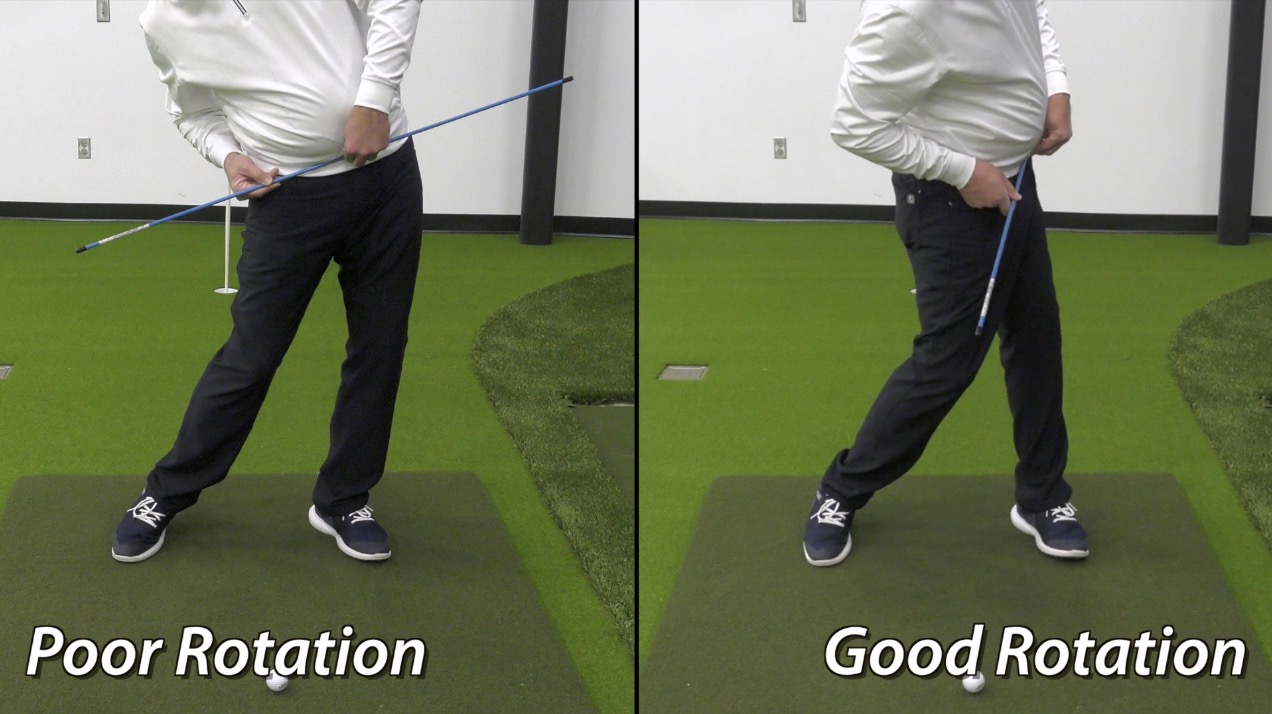 One thing I love about this drill is that it provides a clear and immediate visual of your current hip rotation. If the alignment rod traces a more vertical path and stays behind the ball—suggesting a lateral pelvic tilt—you know you're not opening your hips.
There are also a lot of ways to adapt this drill for your needs. Some golfers like to use a shorter rod and position it in their belt loops so they can actually hit the ball while they practice. If this is how you prefer to do it, be careful with your hands and arms. It's very easy to hit the alignment rod and injure yourself.
Hip Rotation Drill #2
You actually will hit the ball for this drill. You'll also need a training aid similar to the Swing Arc by The Perfect Putter. This aid is basically an arced alignment rod. That curved shape makes it the perfect visual to understand the path of your hips.
Here's how you can use the Swing Arc to clear your hips.
Take your golf setup.
Position the Swing Arc on the ground between yourself and the ball. One end of rod should be about where the ball is, with the rest of the rod curving out to the left of the target line (if you're right-handed).
Take your golf shot, careful to follow the curve of the Swing Arc with your hips.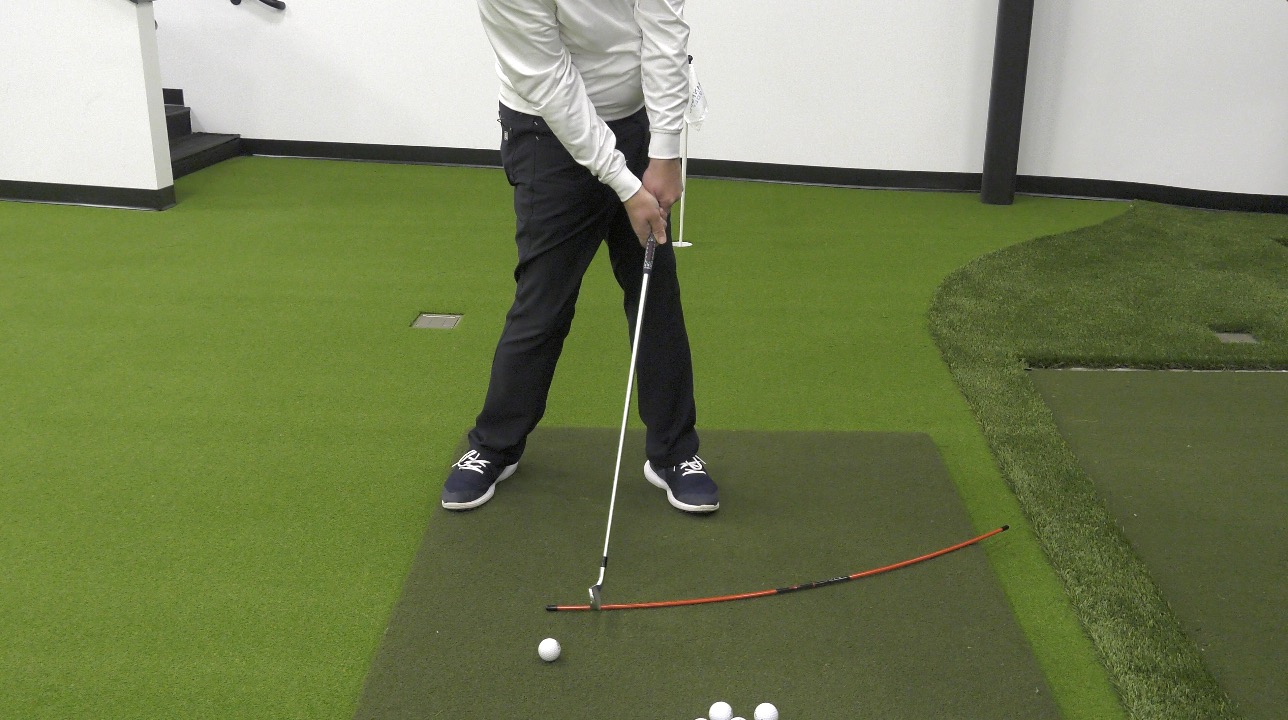 I love this drill because it provides a crystal clear visual for your hip path. With enough practice, you can train your body to understand what it feels like to clear your hips. Then, you can consistently open your hips at impact for every single shot you take.
To put it another way, you can start cranking up that clubhead speed and launching the ball farther than you thought possible.
Quick Recap
Getting your body to properly from to finish is as simple as getting yourself in a better setup. An athletic , with a slight bend, flare your toes and open your stance a bit to help your , and you have half the equation before you even swing.
Get your

golf swing

with much greater ease.
and body adjusting to this newfound range of motion by utilizing the and drills above, and you will find yourself able to and clear those hips in the
Any Questions About How to Clear Your Hips?
Did you find this advice useful? Join us in the comments and let us know what you thought. We'd love to hear if these tips worked for you, answer any additional questions, or discuss any difference of opinion.
For more in-depth golf tips, visit us at GreatGolfTipsNow.com. This new video series is completely free and packed with detailed advice to help you play better golf!