How to Master Any Bunker Shot
01/22/2017
While bunker shots can be challenging, they aren't impossible. PGA Professional Danny Sinksen takes you through executing and practicing the greenside bunker shot at Elmwood Golf Course in Sioux Falls, SD, in a few easy steps with a great tee drill.
To start with, Danny recommends that you put a tee on the ground and angle it so it faces your target.
While most people have the tendency to dive into a bunker shot, the tee prevents you from doing so. Instead, focus on splashing the tee out with a full swing.
Practice this a few times before substituting the tee with a golf ball and you'll be all set to hit a greenside bunker shot like a pro. What matters is focusing on the right technique and getting in enough practice.
While the tee drill is a helpful way to get used to hitting a good greenside bunker shot, here's another drill video that is sure to up your game. The simple and easy Beach Drill from PGA Professional Todd Kolb is perfect for practice sessions in the sand.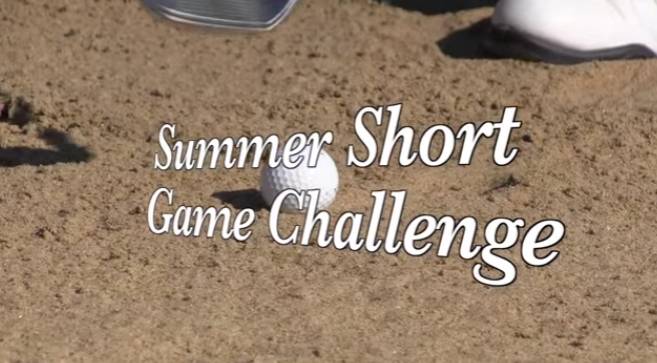 A bunker shot can be tough for many weak-end players as well as advanced players. Practice makes perfect, and the beach drill allows golfers to get a feel for the sand and how the golf club reacts to it. As with other practice drills, this one also makes use of five golf balls. You could use the club you normally use when hitting out of a bunker.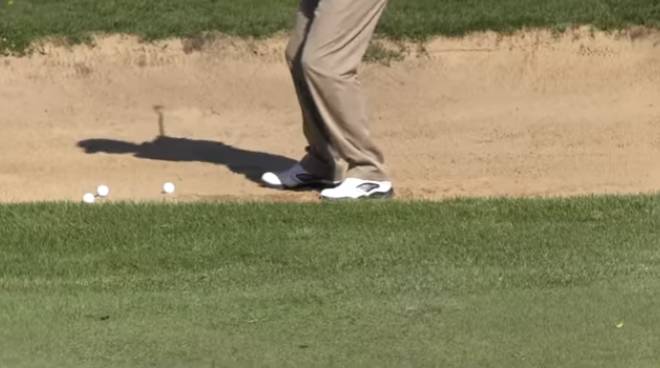 However, Todd recommends golfers use a sand wedge (typically anything from 54 to 60 degrees of loft) when hitting the shots. Doing this for about 20 minutes will give you a better idea of what is happening in the sand. These practice shots will in turn, translate on to the golf course.
With the beach drill, you will gradually become more comfortable with hitting shots in an area that you normally aren't used to. It is very effective when it comes to taking the fear out of the short game with practice over time.
High Soft Bunker Shot
The high soft bunker shot isn't like the average bunker shots. In this video, swing experts Joseph Mayo and Grant Waite explain how to successfully hit the high soft bunker shot.
Grant mentions in the video, how he took some tips on the high soft bunker shot from Seve Ballesteros who was a leading professional golfer till the '90s and well known for his world class short game. The first step is to get some distance from the golf ball, making sure you are not cramped in tight.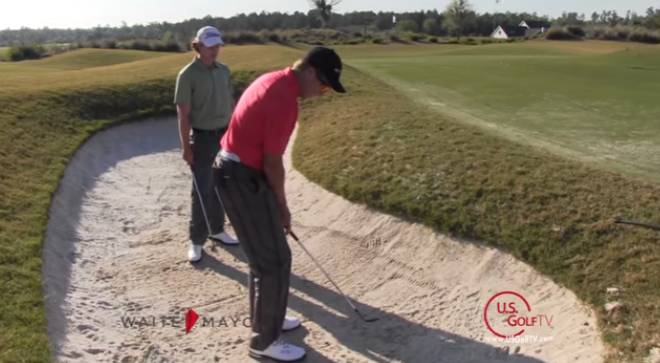 Being in a narrow space can make it tough to lower your waist and hips into position for the swing. Secondly, keeping the club face open and your left wrist cupped or dorsiflexed – as Grant demonstrates – the key is to increase the bounce of the club.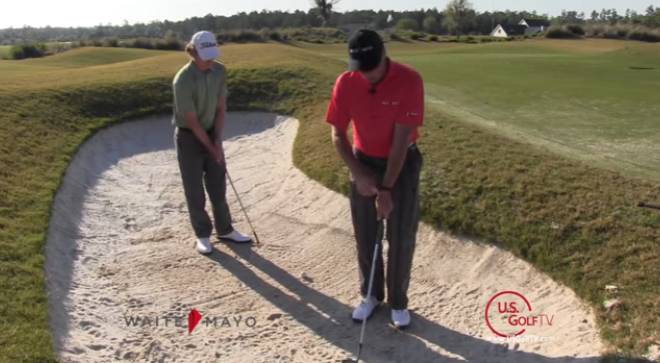 In addition, you have to keep your knees flexible and spread out, keeping the ball forward while the golf handle is low. Ben gives a good idea of how to hit a well-aimed high soft bunker shot – he brings the club across as he keeps the loft on.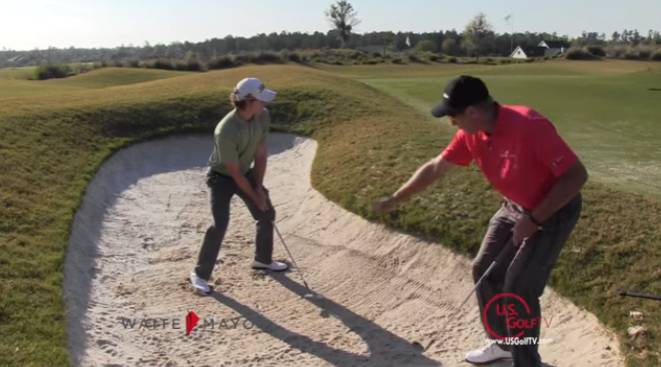 It's important to have the correct posture before hitting the shot, since this is really different from a driver. A high soft bunker shot needs to be as high as possible, cutting under the golf ball to use the bounce of the sand wedge.
The bunker shot can intimidate most amateurs, but it doesn't have to. Incorporating some useful tips can improve your golf game down the road, as seen by these insightful videos. A little time and effort spent hitting shots in the bunker will serve you well.