XE1 Wedge: Information on the Most Talked About Wedge in Golf
XE1 Wedge Review – Can This Golf Wedge Lower Your Scores?
01/15/2016
Among the industry giants, the XE1 wedge shares no comparison. It's not a Vokey wedge, designed by the great Bob Vokey. It doesn't have the storied history of Cleveland wedges, nor does it offer the technology of a Ping wedge. In fact, the XE1 wedge doesn't sniff the same league as these wedges.
Don't fall into the trap of believing it's on the level of those timeless clubs–it's not.
But due to the recent obnoxious influx of TV commercials on the Golf Channel featuring Arron Oberholser, the XE1 wedge has started to generate a lot of talk and consideration among golfers desperate for competency around the greens.
So what's all the fuss with the XE1 wedge?
Before we dive into the controversy surrounding the club and what the advocates and pundits say about the club, let's get into some information on the wedge.

The Club, the XE1 Wedge
Now built to 65 degrees (along with 59 degrees), the wedge is more so a Lob wedge on steroids, than it is a standard sand wedge. Where the club gets away with an exorbitant amount of loft exists in the bounce of the wedge.
With their technology they call the "auto-glide sole" (see below), they've created a club akin to the Alien wedge of the 2000s and the Ray Cook "Shot Saver."
Just reshafted my Alien Wedge. #winning

— Club Pro Guy (@ClubProGuy) October 23, 2015
With a massive sole and a ton of bounce, the design of this club doesn't allow it to dig into the turf, allowing golfers to be more aggressive through the hitting zone. With an aggressive strike, golfers give themselves less chance of hitting a skull.
They've also added weighting to the heel and to the toe of the club. They don't just call this "heel-to-toe weighting" but they've called it "extreme heel-to-toe weighting." Whoa, extreme dude… It shows the lengths in which they've gone to create a club that appeals to the high, high-handicappers.
By spreading the center of gravity throughout the face, they've expanded the sweet spot significantly. This gives the golfers more forgiveness in mishits, advancing the ball from the pits and the butt cracks of the golf course where we so often find ourselves.
The club is also designed for a square address and alignment, different than what most short game experts would ever teach. This is in regards to the Doug Tewell swing theory called the "Square-to-Square" method. It's not a technique for those looking to hit the spectacular shots, but more one for golfers looking for a vice, or an easy fix.
Judging strictly from appearance it looks like a cast iron head, which unlike a forge heads, will result in a lack of feel and softness.
The Issue I Have With the XE1 Wedge
Now I am a free-market thinker, and I have no issue with companies looking to bring a product to market eager to compete. If a company wants to shell out hundreds of thousands of dollars in Golf Channel advertisements, that's totally fine. Honestly, it is.
Where I start to take some issue with this club is in the spirit of the advertising. I don't want to go as far as to say it's false marketing, but there is a certain level of preying on consumers that I feel here. This wedge doesn't claim to be the best wedge or be the best option for all golfers. It caters to high-handicappers, desperate for change.
My friend and colleague Dillon Friday wrote a piece on the club called "I Hate This Idea…" where he talks specifically about the "no practice" marketing ploy used in the TV ads.
In other words, ignore some basic fundamentals of the game. You no longer need to use them or learn them.

In my eyes, this is a get rich quick scheme for struggling golfers. The xE1 is more like a cheat code for a player instead of a solution. Unlike other products we've highlighted in the past, this wedge does not help improve a golfer's skills. The website even brags about not needing practice: "The First Time You Pick Up This Club… No Practice."
People with an abysmal short game and no hope are going to dole out the money to get one of these XE1 wedges, where maybe what they need is to spend some of the money on a series of lessons and a few afternoons working on their chipping.
No club can cure all, that's important to remember.
What People Are Saying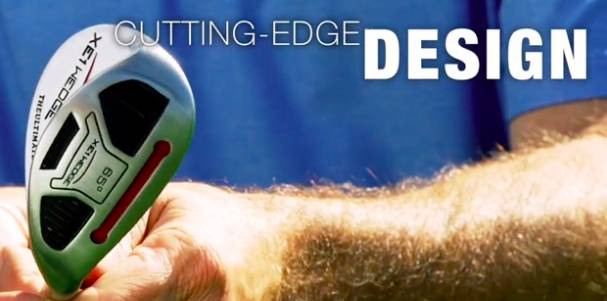 "Far and away ahead of the other wedges I've ever used," said one golfer giving the XE1 wedge a chance.
This wedge has received a fair amount of both ridicule and praise. People in the commercial, obviously, praise the product and how it was able to help transform their game. Others make fun of it. For an array of interesting commentary on the club, visit our blog "I Hate This Idea: The XE1 Wedge | As Seen on the Golf Channel" and read the comments thread.
People have very interesting thoughts on this club.
One person who praises the wedge:
Thanks @HankHaney for the XE1 wedge recommendation. Pitching over bunkers terrifies me, but got up and down 2x today. #itreallyworks

— Geedubyah (@golfnewnan) January 10, 2016
Another, who criticizes their overused marketing efforts:
@ArronOberholser haven't seen XE1 wedge spot in 60 seconds. Can you recap its benefits? Or should I wait a minute for next spot. #ugotpaid

— Jeff Neubarth (@JeffNeubarth) January 9, 2016
We had one man named David, who sent us an in-depth review of his time spent with the club. For fellow beginning golfers, you may find this helpful.
…how do I like the XE1. Ok, I am 75, only been playing for 4 years, get round a 29 par 9 hole course with 7 par 3's and 2 par 4's in very best 38, but usually closer to 50!  I have only had the club out 3 times now, and only practicing on the short game practice area. Out of the bunker I am getting about 7/10 out and about 3/10 good landing  3 meters from flag. But that is a lot better than I was doing before with the SW!! The main difference is that as I do not need to open the face and compensate with my stance the shots are straighter.  Also it's 100% better when the ball is close to the lip..it hops out. Same when the ball is partly buried in the sand. Then using it 5-20 meters from the edge of the green I was getting about 7/10 on the green and also about 3/10 within a put of the flag also better than I was doing with the SW. But it's early days and I need to practice a lot more to make the best of it. I think what is important to note is that I feel very comfortable with the XE1 and can see/feel the potential and am very sure that in a month or so it will shave shots off my card.

But here is an even more important observation. In fact two! While I was practicing on the first day a Thai coach arrived in the bunker alongside me with his client. There he was showing this guy how to open the SW, change his stance and try his best. Well I could not very well interfere and ask the client to try the XE1, but I did hand it to the coach and asked him to try it, adding that he should not open the face. He hit 3 shots in quick succession from the middle of the bunker to a flag about 10 meters away and all three ended within 2 meters of the flag. Nice lift, nice landing, short roll. That was impressive and convinced me the club is great, and I must just practice.  The other story is this. I mentioned to you before that the club pro, my coach, a Brit,  said the XE1 was a gimmick. He based that only on my earlier description of it. Now in his hands and with near perfect shots first time he said "Mmmm, this is right for you!"  He compared it to the Alien!!

OK, in my opinion this will work well for me once I learn to judge the distance.

I will give you feedback again in a few months time.

Bottom line….happy customer!!
Overall, when a club gets this much attention, there is going to be a somewhat polarizing view on what the club is able to do. We've seen both sides of the argument.
The Verdict
I hope in my verdict on this wedge, that I am more fair than the Manitowac County was to Steven Avery in #MakingAMurderer, the hit Netflix documentary. Sorry, I was just hooked on it for a few days, so it's fresh on the mind.
But unlike #MakingAMurderer (where I believe Steven Avery is innocent), I go back and forth on this club. I go from seeing the merit, to being extremely frustrated in the marketing behind it.
Is one singular club ever going to revolutionize someone's game? The answer is no. So to market it in such a way is misleading.
But the science makes sense. A large sweet spot due to the (extreme) weighting and the massive amount of bounce will help golfers do exactly what the wedge says it will–for the most part. Bunkers and rough will be easier to advance from, and it's all science.
There's truth there.
Temperatures have hovered around 0 degrees for the better part of a week now in South Dakota, where we at USGolfTV find our home base. But when the sun starts to warm the earth and the grasses start to peek through the snow, we hope to get our hands on an XE1 wedge and try it out. From there, we'll be able to give you a more in-depth idea as to what this wedge is looking to accomplish.
Until then, stay warm folks.
If you would like more information on the club, check out Golfers Authority, who has another great article on the XE1.
---
UPDATE: 08/19/2016
by Dillon Friday
Someone recently tweeted Tiger Woods should join xE1 now that Nike went belly up in the golf industry. The joke was two-fold. One, if the last three seasons are any indication, Tiger needs help with his short game. And two, he's sort of geriatric at this point, isn't he?
Forgive me if I'm misreading the xE1 Wedge's advertising, but the club seems to be designed for players who may not have the wrist strength, or mobility, that they once had. This is a good thing for seniors as it helps them stay in golf.
What I've been critical before with the xE1 Wedge, is that a main selling point was either a movement away from practice hours or the elimination of them in total. I still think that's both a poor message to send and against the spirit of golf. It's a game of skill. Let's not take any away.
I will concede that the xE1 has tremendous staying power in the industry. We see the infomercials on the Golf Channel constantly. This has been on-going for more than a year now. While twitter has become a platform for xE1 jokes, i.e. the Tiger dig from above, there seems to be at least some merit to the club.
The problem is, we've been promised similar results before (Pause to allow for your own personal highlight reel of hucksters talking wedges, drivers, putters, etc. etc.). Video can be edited. Actors turned experts can deliver testimonials.
Well luckily for you we have an expert of our own. Troy Klongerbo is not only the Editor-in-Chief of US Golf TV, he's also a former collegiate golfer and a noted club connoisseur so-to-speak.
In the video below, Troy talks about the design of the xE1 wedge and what makes it different from more traditional clubs. More importantly, he hits a few shots that settle inches from the hole (no editing, we promise). The xE1. But what is its practicality or best use?
Hit play and take notes. Also please be kind in the comments section.