3 Reasons You're Still Chunking Golf Shots with Your Irons
Still Chunking Golf Shots? Try These Three Simple Tips for Better Iron Shots and Finally Stop Hitting It Fat.
Is there anything more frustrating than watching your divot travel farther than the golf ball?
All golfers know the pain of chunking golf shots. You take a powerful backswing, you feel like you're about to hit a quality shot, then you swing down and feel the club hit the ground.
When you look up, you see a huge piece of turf traveling down the fairway. Meanwhile, your ball has only gone a few feet.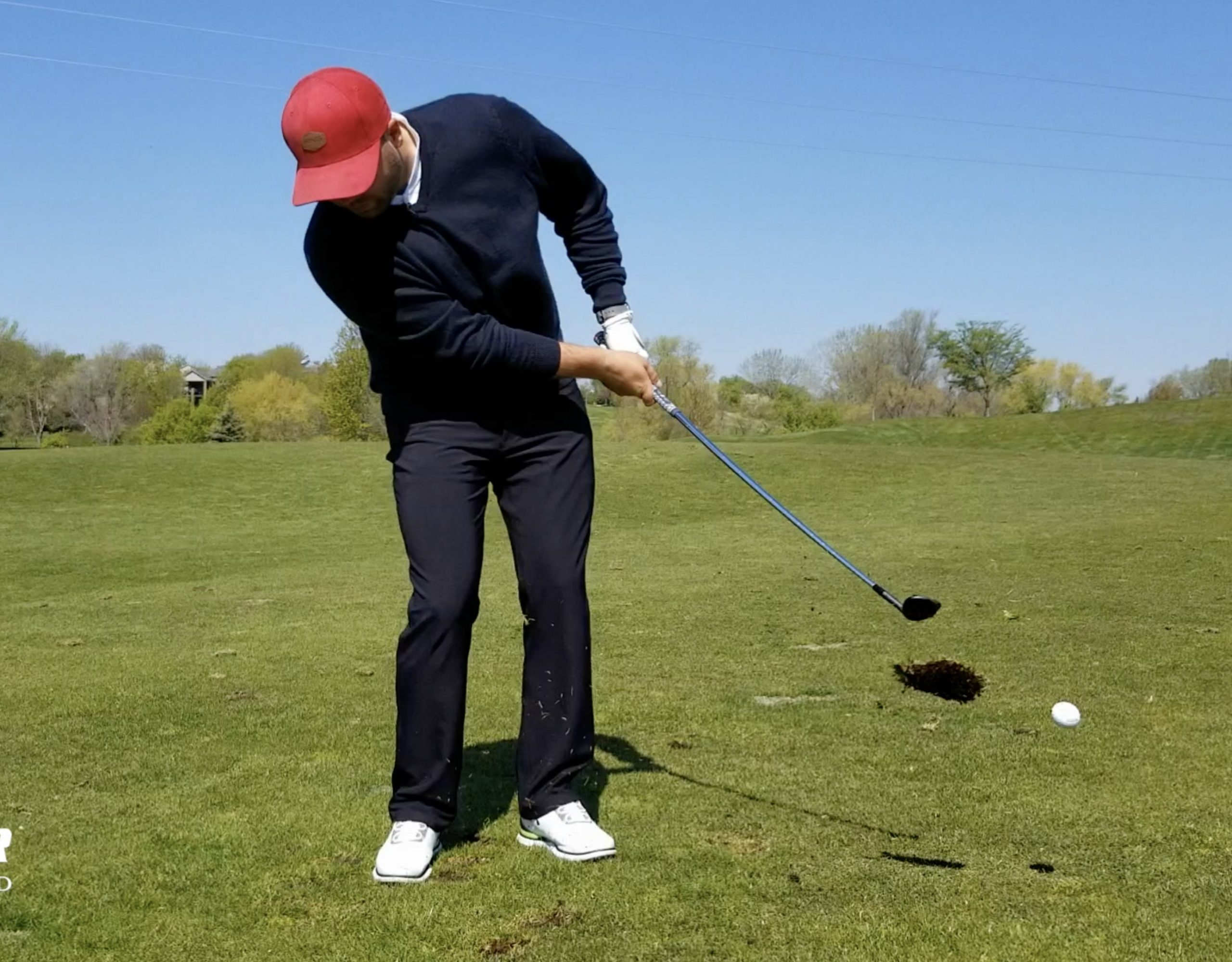 The chunk shot is a common problem. But it's not common because it's hard to overcome.
It's common because so few amateur golfers have gotten the right advice for preventing heavy shots.
I'm going to share the three mistakes that cause most amateur golfers to hit it fat. More importantly, I'll explain what you can do to fix those mistakes in your own game.
But before I explain how to stop chunking golf shots, let's clarify a few basics.
What is a Chunk Shot?
You may hear the term "fat shot," "heavy shot," or "chunk shot." Whatever you like to call it, it's all the same problem.
To put it simply, a chunk shot is that aggravating golf shot where the club hits the ground before it hits the ball. In most cases, the leading edge of the club digs into the turf, creating a divot. Turf flies, and your ball takes a few pathetic skips forward.
It's heartbreaking.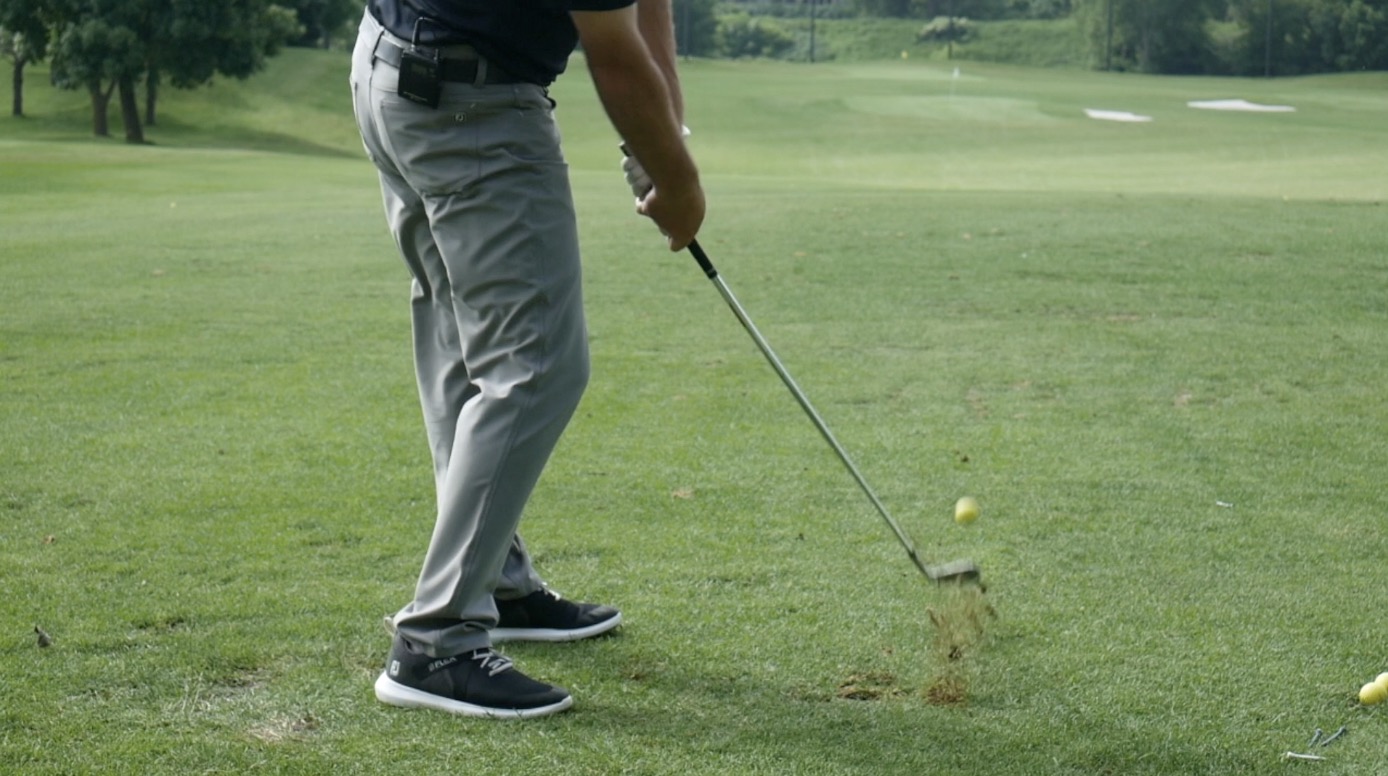 What Causes a Golfer to Hit it Fat?
Right now, I'm talking specifically about chunking your irons. As you may know from past articles on hitting stellar iron shots, you want to catch the ball on a downward motion. To put it another way, you have to make contact with the golf ball before you reach the low point of your swing.
Right now, you're chunking golf shots because the low point of your swing happens before you reach the ball. There are a few reasons this might be happening.
1: Ball Position
This is the most common mistake I see among amateur golfers. Fortunately, it's also the easiest to fix.
If your ball is too far forward in your stance, the bottom of your golf swing is bound to come before the ball. You want the ball in the center of your stance. Maybe slightly forward of center, but only slightly. You can learn more about the importance of ball position in iron shots here.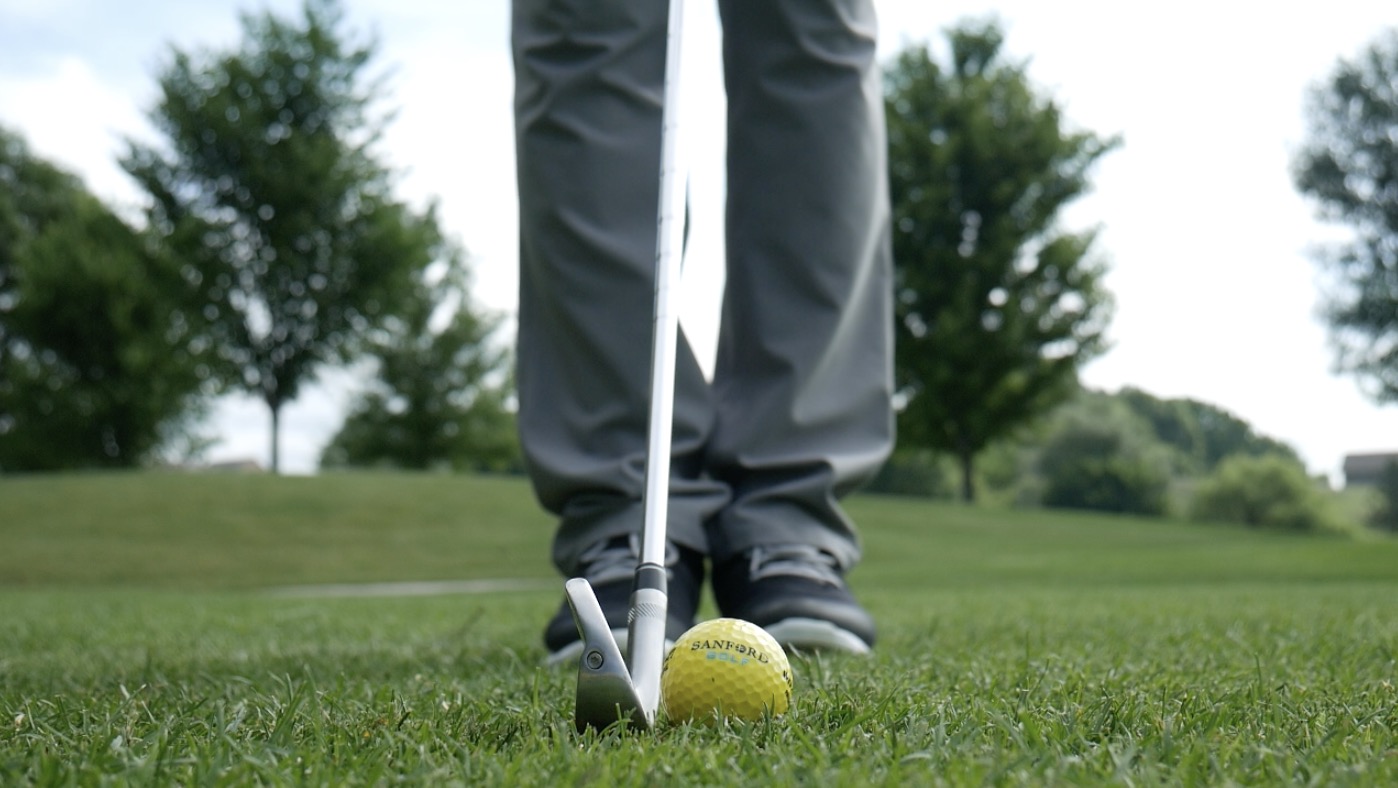 To get proper ball position on your irons, simply start with your feet together at address, ball right between your feet. Then, simply take your lead foot and move it towards the target, trail foot away from the target equal distance. Your feet should be about shoulder width apart, and the ball will be fairly centered in your stance.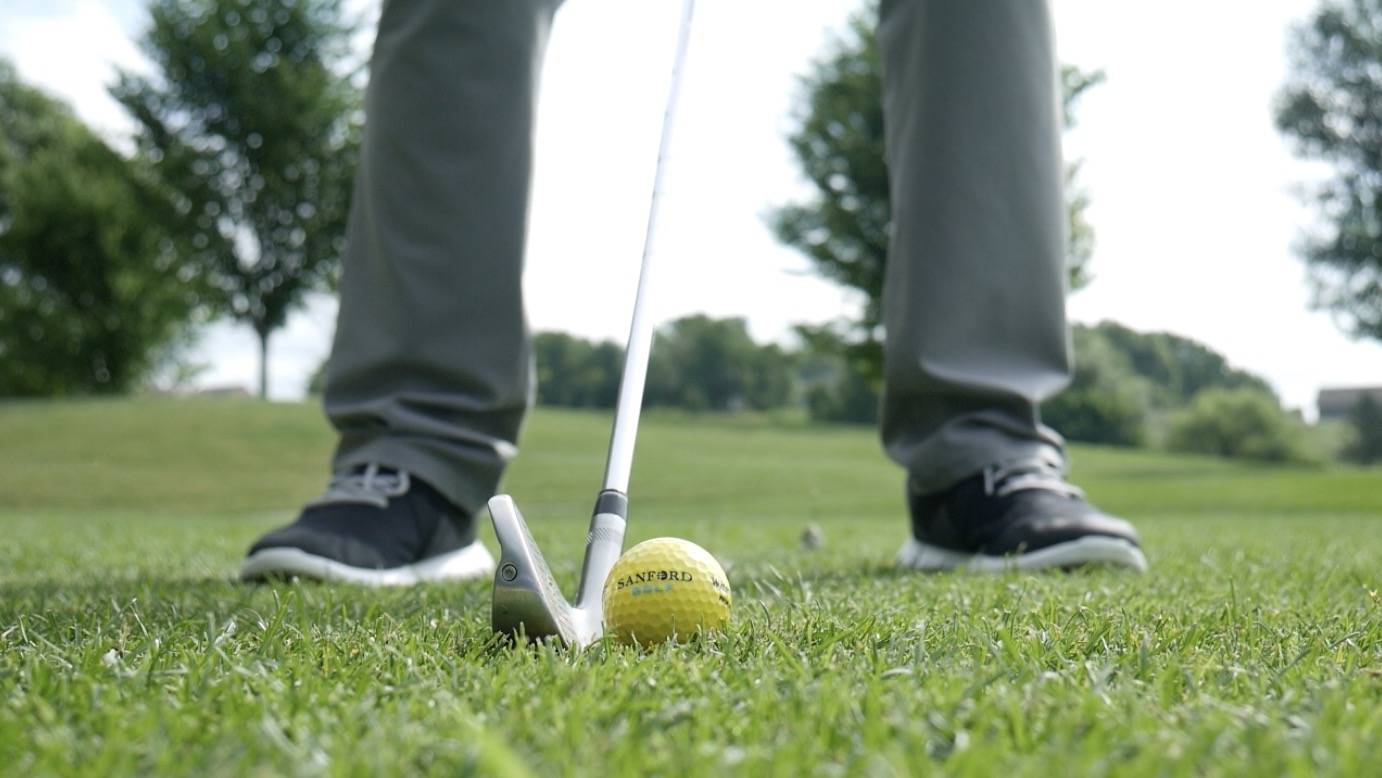 2: Pressure Shift
I talk about pressure shift a lot. It may seem overly simple, but trust me: When my students get the pressure shift right, they see major improvement in their golf game.
When I talk about pressure shift, I'm referring to the way in which you transfer pressure between your feet throughout your swing. You might think of it as a weight shift.
Now, when a golfer can't stop chunking golf shots, I frequently notice that they start with most of their pressure on the lead foot. This is good. But then, they shift pressure to the trail foot on the backswing and leave it there for the downstroke.
This is significant because the low point of your swing follows the pressure in your feet. If most of your pressure is still in your back foot when the club comes back down, the clubhead is going to hit the ground well behind your golf ball. You wind up chunking the shot.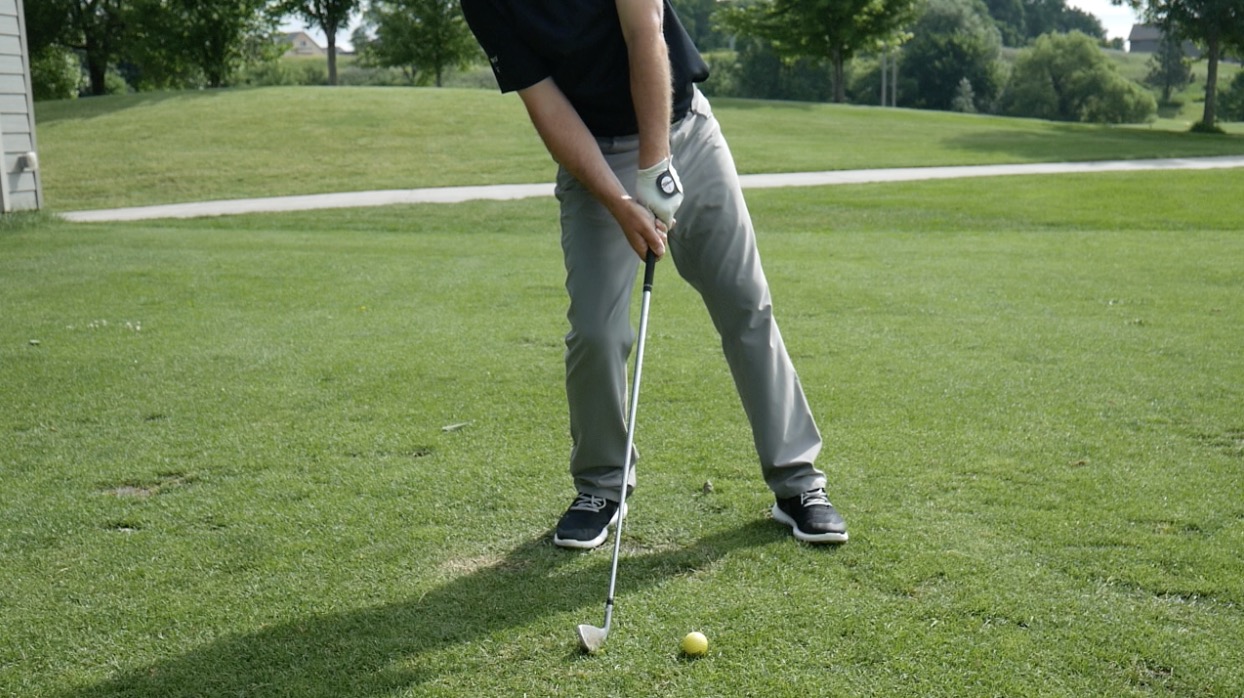 3: Angle of Club Shaft
This is one of the more overlooked mistakes, simply because no one really talks about the angle of your golf club. But when you think about it, it's pretty clear how this detail can make or break your iron shots. After all, club angle is an element of your iron setup, and nailing your setup is everything when it comes to iron shots.
When you take your setup, notice the position of your hands. If your hands are more forward (toward the target), the club shaft leans forward with it. And what does that do to your clubhead? It forces the leading edge to tilt down towards the ground. When you swing through, the tilt in your club causes the leading edge to dig into the ground.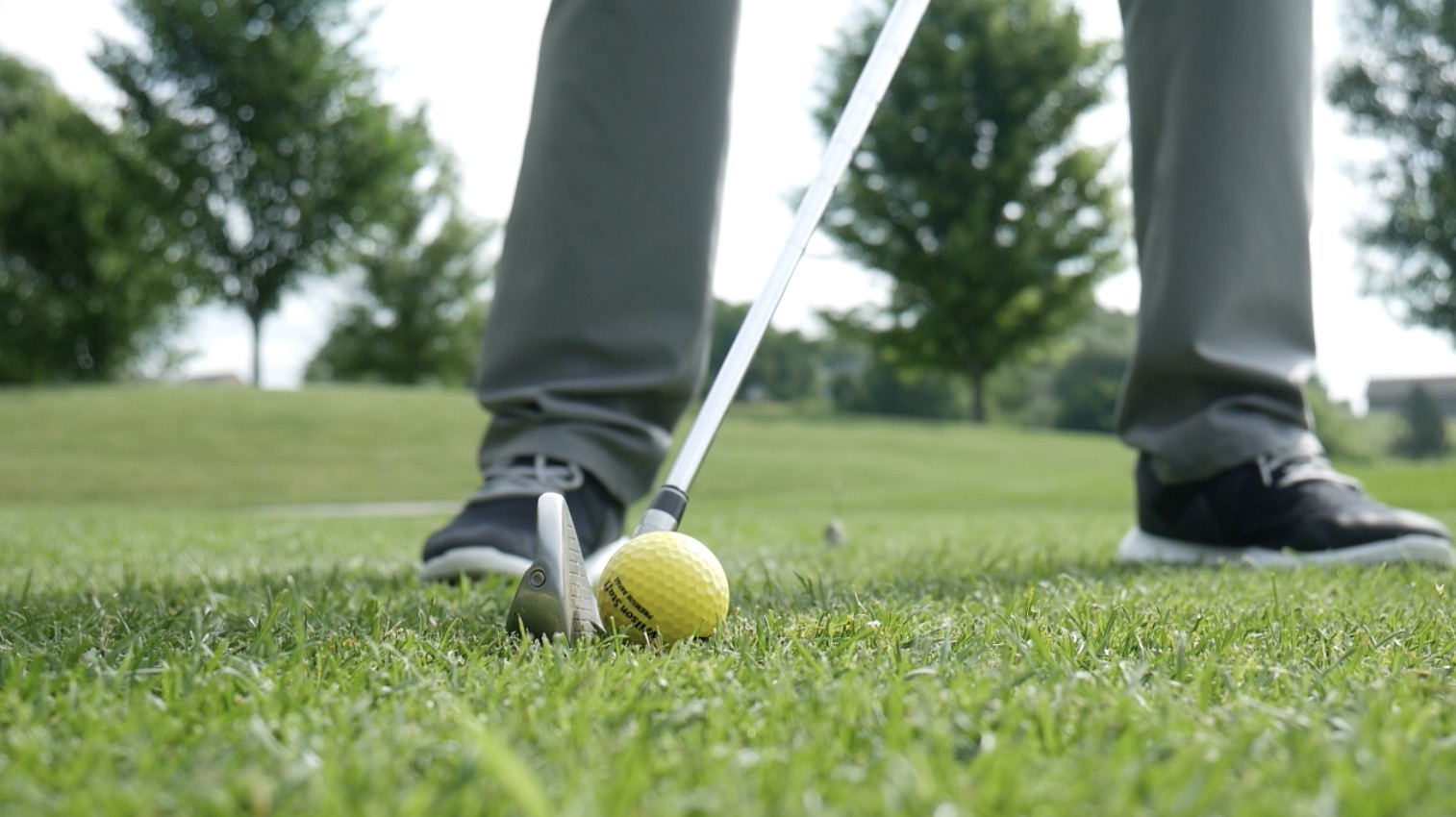 How Can You Stop Chunking Golf Shots with Your Irons?
Now you see the problems. So what are the solutions?
First, correct your ball position by centering the ball in your stance. An easy way to do this is by standing with your feet together and the ball aligned with the center. Then, step your lead foot forward and your trail foot back and equal distance.
Second, notice the pressure on your feet as you take your swing. You should start with most pressure on the lead foot, shift to the trail foot on the backswing, and shift pressure back to the lead foot as you swing through. You can find more tips on pressure in the feet here.
Third, check the butt end of your club at setup. If it's pointed at your belt buckle, you know you've got the shaft in a neutral position. That's what you want.
Finally, to really ensure a solid iron shot, finish your swing with most of your weight on the front foot and your knees together.
Did This Advice Help You Stop Chunking Golf Shots?
I've seen these tips help countless students, but now I'm curious to hear from you. Did this advice help you? Do you have any differences of option or tips of your own to share? Weigh in on the comments!
And be sure to follow us Facebook, Twitter and Instagram for product reviews, golf tips, and information on new brands. For helpful video tips, subscribe to our YouTube channel!
For more in-depth golf swing tips, visit us at GreatGolfTipsNow.com. This new video series is completely free and packed with detailed advice to help you play better golf!