2020 Under Armour Golf Apparel Review
2020 Under Armour Golf Apparel Review: UA Golf Continues to Live Up to Expectations
For the longest time, Under Armour was great for performance wear.  If you liked the outdoors and ran, hiked, or biked, it was a great go-to for apparel.
But in the past 10 years especially, there has been a noticeable UA presence growing in the golf industry.  And with a big name like Jordan Spieth repping your brand, you know you are a force to be reckoned with.
Something worth noting is that when it comes to golf equipment, you may be able to get the exact same driver with the same specs as Spieth.  But that does not mean it will perform the same for you.
With golf apparel and shoes, however, you can wear the same exact shirt, shoes or hat and get the exact same performance.  So if a big name endorses and uses it, you can rest assured it ought to work fine for you as well.
Under Armour Polos
Golf and polos are pretty synonymous. And if you are looking to boost your 2020 season wardrobe, start by looking at the Iso-Chill lines from UA.  These lightweight, breathable polos are geared for those warm to hot summer days, and have a great amount of moisture wicking to keep you dry at the same time.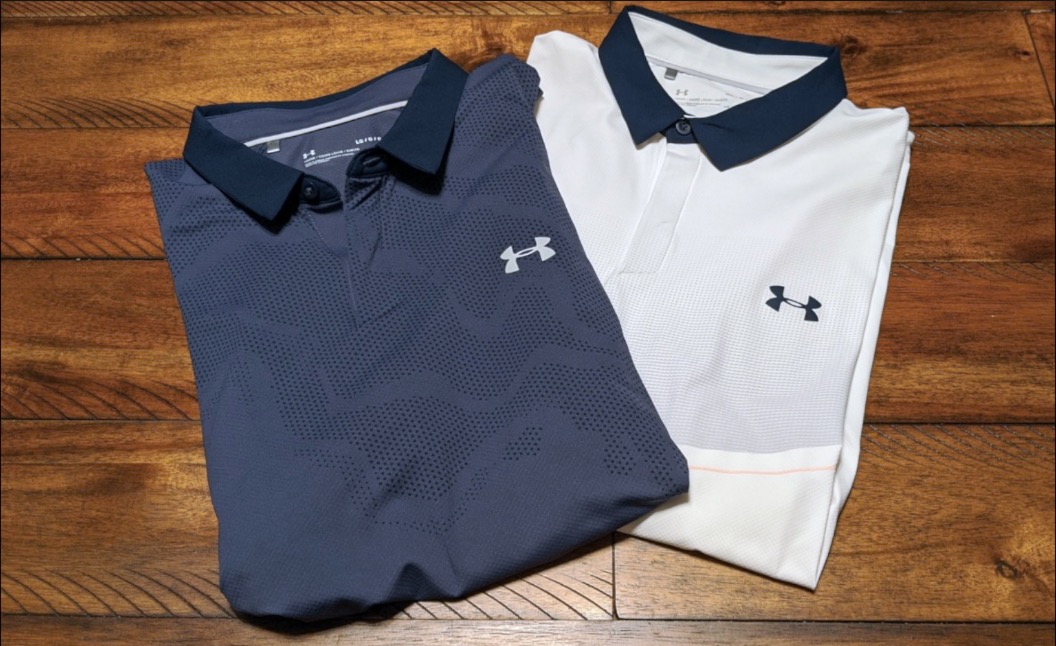 One interesting note is the the Iso-Chill polos have titanium dioxide in the material (which is found in sunscreen).  This keeps the heat at bay, like built in Banana Boat protection.  Nothing worse than wearing a lightweight polo that is saturated as soon as you bead a little sweat.  And this line of polos does a good job of not clinging to you when you do sweat.
Two side notes about these polos for the more traditional polo wearer.  First, the material has a much different feel than the typical cotton or synthetic polos you may be used to wearing.  Not that it is a bad thing, it just may take a bit of getting used to it.  Once you start sweating though, you will really like how it performs.  The second is that the collar is smaller than a typical polo.  Not a bad thing personally, but something to note.
UA Tops
This section might be my favorite part of the UA golf apparel lineup.  I love quarter zips, and Under Armour has awesome quarter zips.  They can be worn on the course or at work.  You can dress them up or dress them down.  They have great versatility.
The UA Playoff 2.0 quarter zip is amazing.  It is loose fit, but does not flap in the wind with tons of extra fabric.  The fabric is breathable and lightweight, with anti-odor and quick-dry capability to keep you comfortable all day long.  And the self-fabric cuffs are nice because if you roll your sleeves up, they don't get stretched and awkward looking when you pull them back down.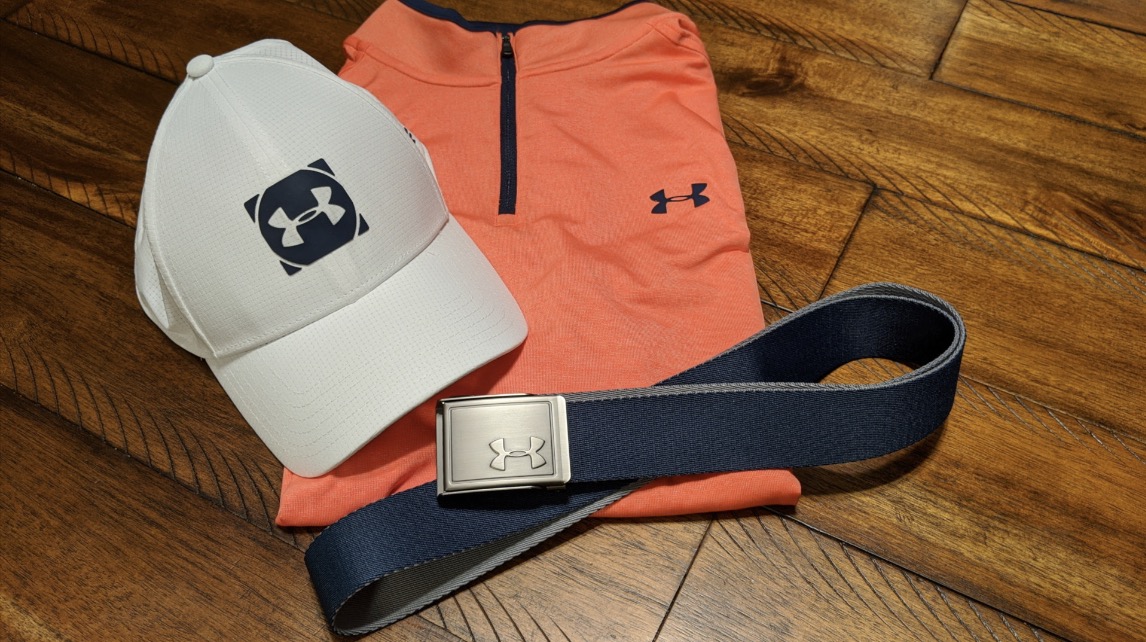 But the most underrated feature is the anti-pick, anti-pill capability.  It never seems to fail, after a handful of washes, you start to get some of those fabric pills from wear and tear.  Suddenly a perfectly good article of clothing starts looking tattered and old.  So far, that has not been the case with these.
For the Cooler Days
On the colder side of the spectrum, the UA Storm Daytona half zip is a good option for those cool, brisk days in the spring or early mornings of summer.  The 3-layer construction helps you retain warmth without losing the breathability of the material, while the material allows for moisture wicking to keep you dry.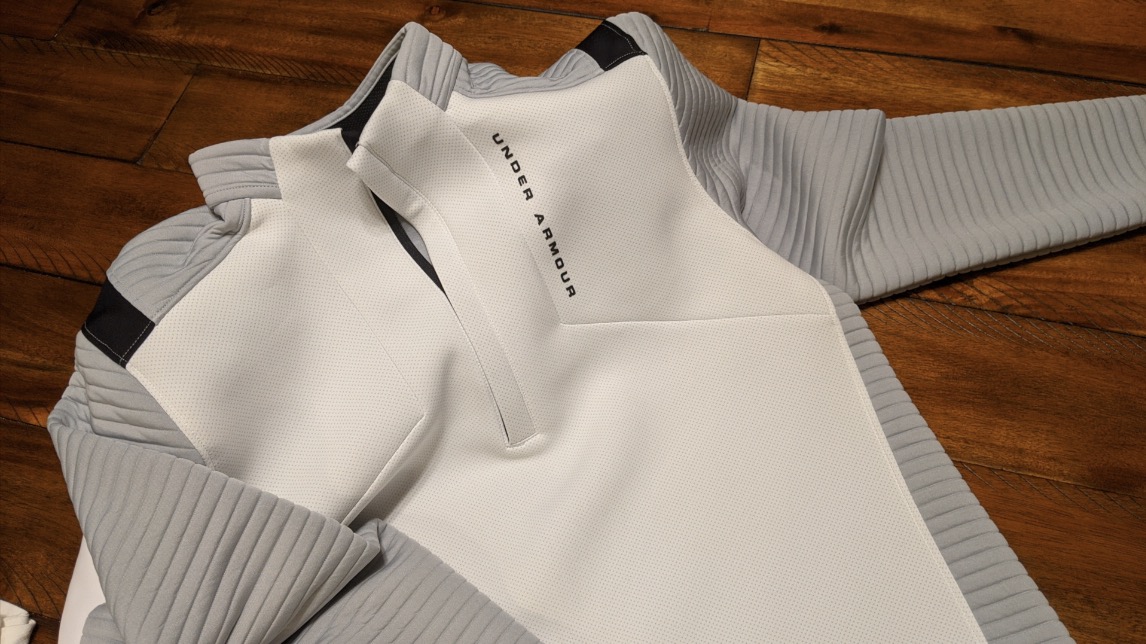 The sleeves are soft and warm, with a little bit of extra stretch in the shoulders for more freedom to move during your swing.  The compression cuffs are nice to keep your sleeves in place, but does make pulling them up a little trickier.
And if you want something that looks a little dressy, we did a review on the SweaterFleece half zip last year as well.
Under Armour Golf Pants
Golf pants are awesome.  I work for a golf company, so I have added more and more golf pants to my dress attire in recent years.  Now, I will not say that they completely replaced dress pants for me.  There is always a time and place for a good pair of dress slacks.  But on a day-to-day basis, I am taking the style AND comfort of golf pants.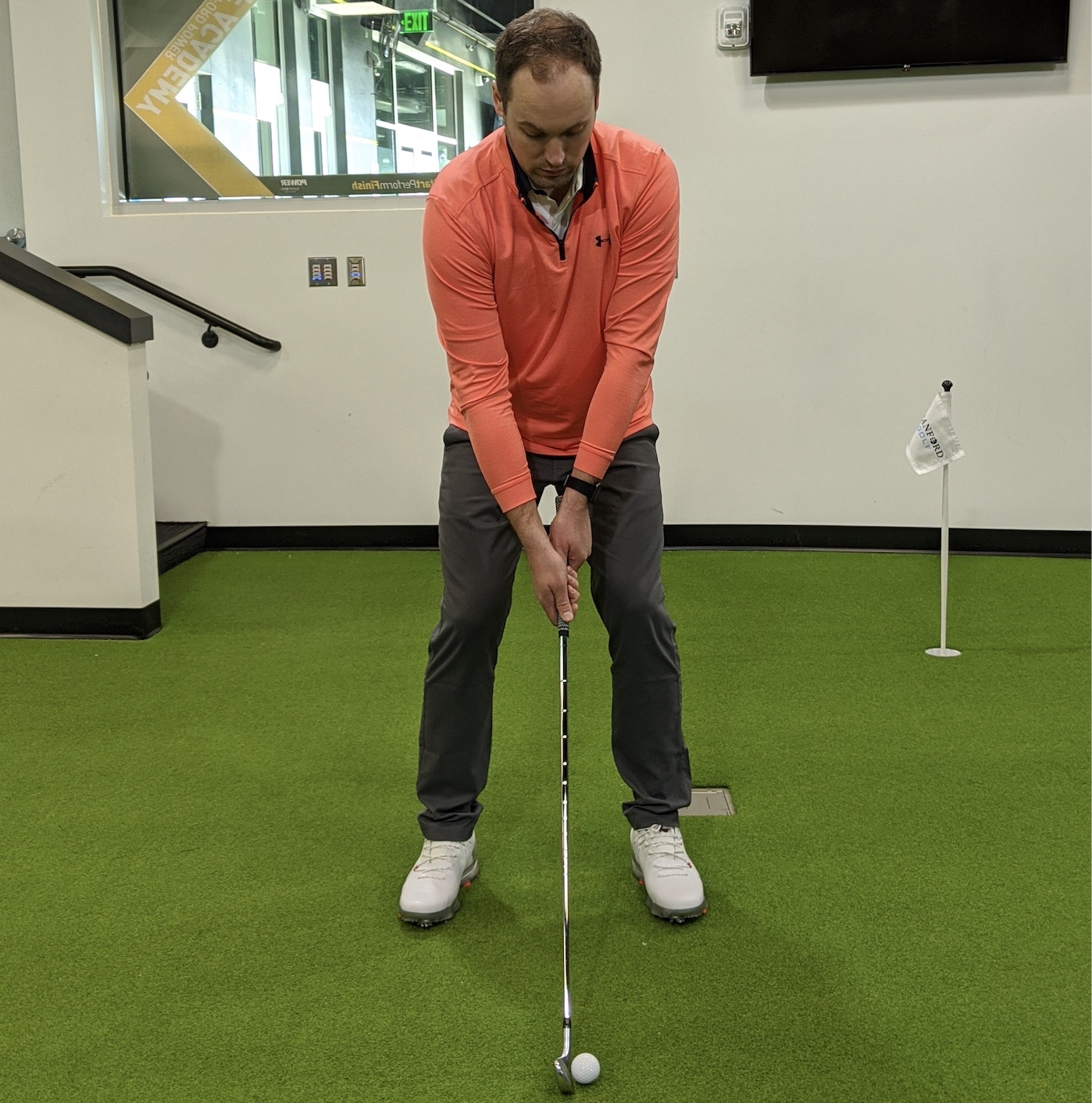 When I got to try the UA Iso-Chill Tapered Pants, I was pleasantly impressed.  These pants fit great, have great stretch and flexibility, and are nice and lightweight.  They have a stretch-engineered waistband, which makes them really comfortable around the waist.
The lightweight stretch-woven fabric has a good amount of breathability without feeling like you are wearing cheap, thin pants.  And the best part about these pants?  They have a water/stain-resistant finish.  And if you are wearing light colored pants and tend to spill food or beverages on occasion, that is a nice feature to save you from yourself.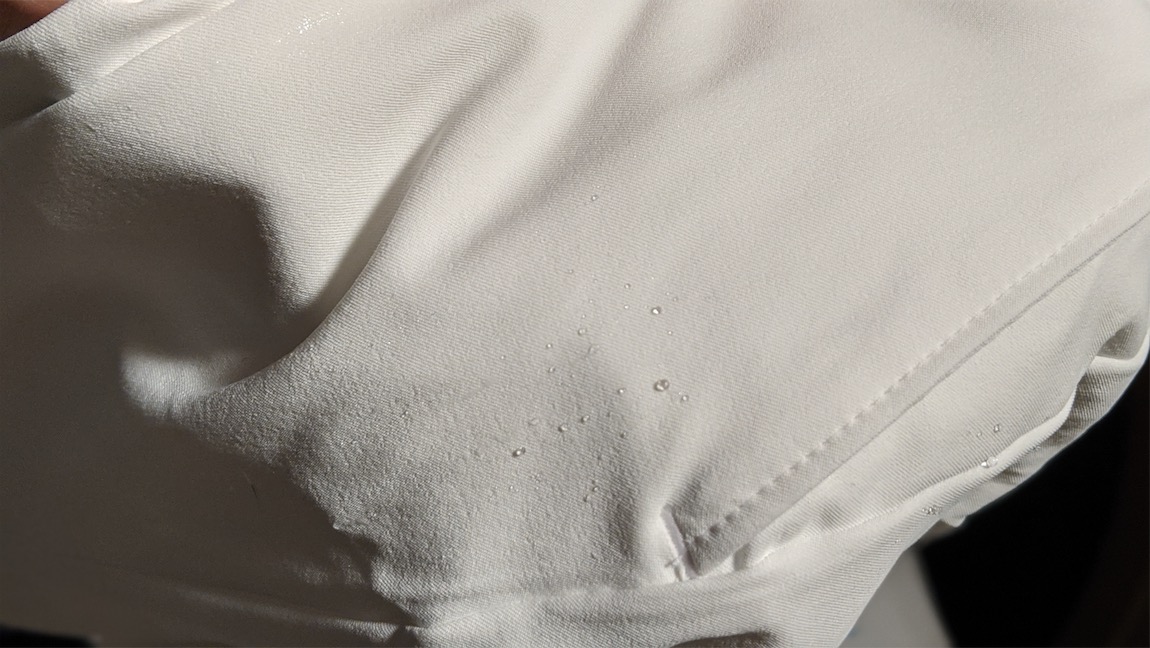 If there is a downside to the pants, it is that they do not have rear pockets.  They are stitched closed, which is not a bad thing.  But since the pants are tapered and fit a little more snug, I really don't like putting things in the front pockets.  But I    can get around that minor detail.
Under Armour Accessories
Golf hats are a must in the hot, bright midsummer sun.  And if you wear a golf hat, you want one that is not going to rub and be uncomfortable.
I've worn UA hats in the past, so I know what to expect from them.  But the Tour 3.0 cap is the first fitted one I have worn from Under Armour, and it fits like a glove.  The 100% polyester material may give you a brief pause, but once you put it on you will love the feel.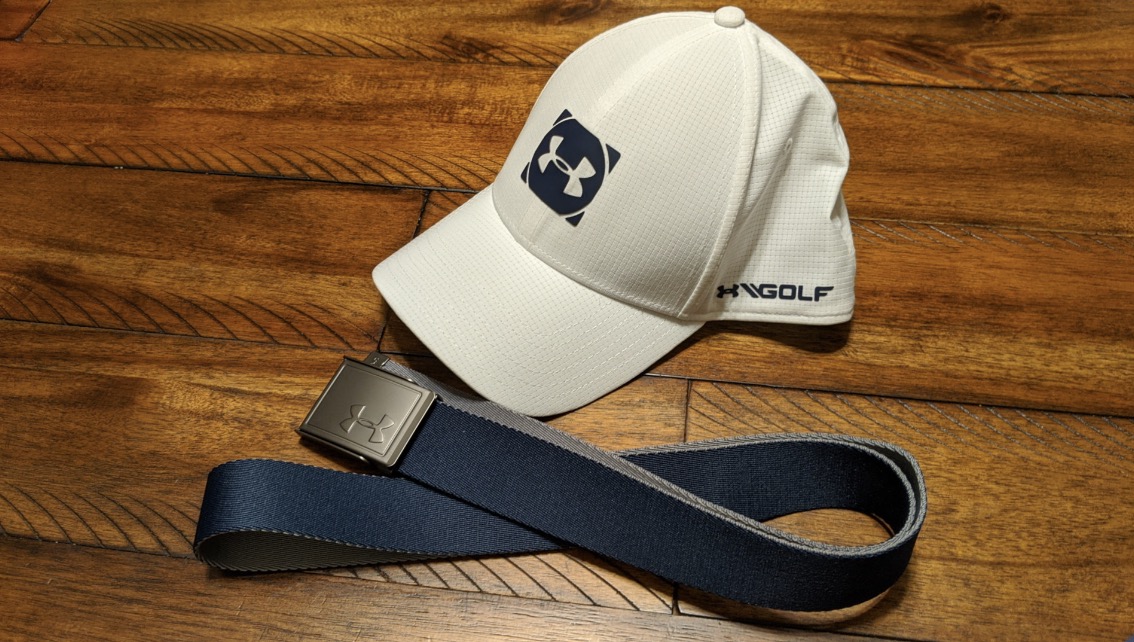 The ArmourVent Technology material is super light and breathable, and dries quickly.  On top of that, the flexible stretch fit band does not rub or bother your head.  And the low profile fit is a nice reprieve from the tall trucker hat look most hats are like anymore.
To complete the ensemble, the Webbing Belt 2.0 is fully adjustable, with a webbed construction to provide a hint of flexibility.  This belt is subtle, simple and just dressy enough to wear on a regular basis.  And it's reversible, so you get two belts for the price of one.
UA Women's Golf Apparel
When we did a review on Under Armour Golf Apparel last year, we were unable to add women's golf apparel to the review.  This year, we made sure to include it in our review.
The UA Zinger Blocked Polo is a well-designed buttonless polo, instead with a V-neck design.  The fitted cut and 4-way stretch material allow you to wear a slimmer fit design without worrying about coming untucked or exposed.  The women's polos are a more traditional synthetic feel we've all become accustomed to having in polos, but the moisture wicking capabilities are still present.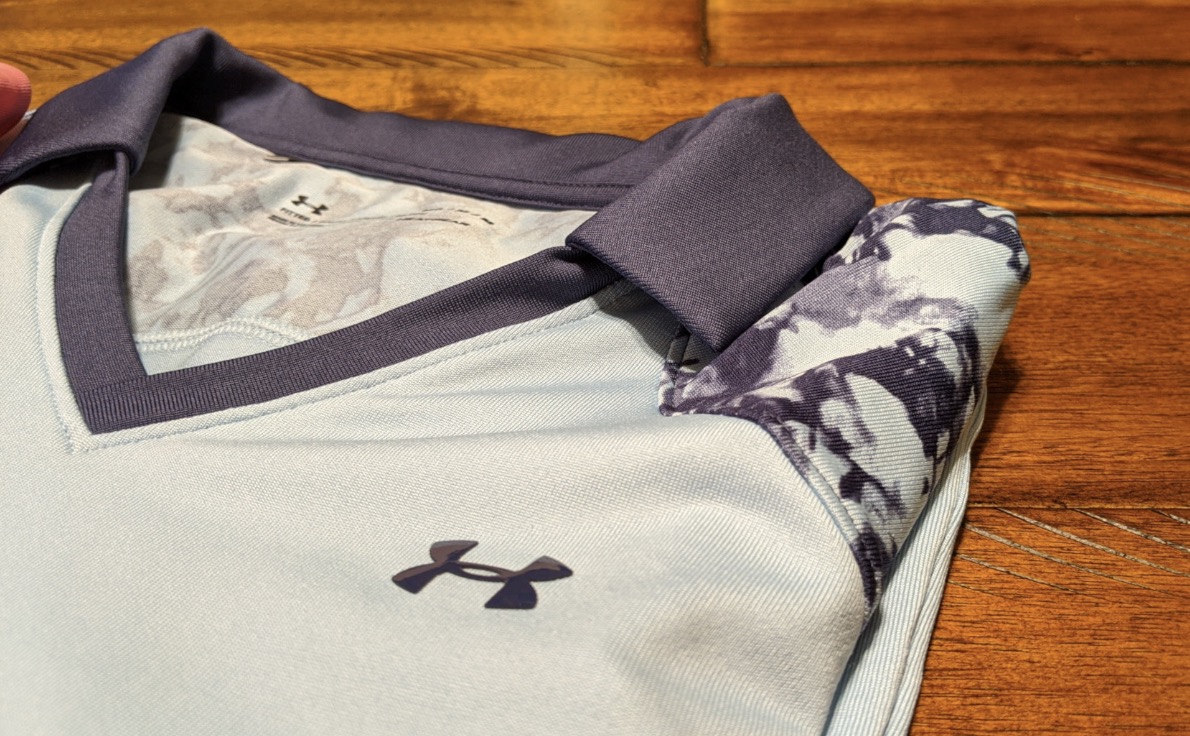 My wife works in physical therapy, so she is used to wearing polos and dress pants to work.  She really likes the look and feel of the UA Zinger Short-sleeve polo, which also carries the same characteristics as its V-neck counterpart.  The polo can be dressed up for work or dressed down for a more casual look, and the solid color options make it super easy to coordinate.
Tops
But by far, her favorite in the collection was the UA Storm Sweaterfleece.  This beautiful, soft and comfortable piece is also super was to wear as a dressy top or dress down with a pair of jeans.  It also has built-in thumb holes for added coverage and to keep your sleeves in place.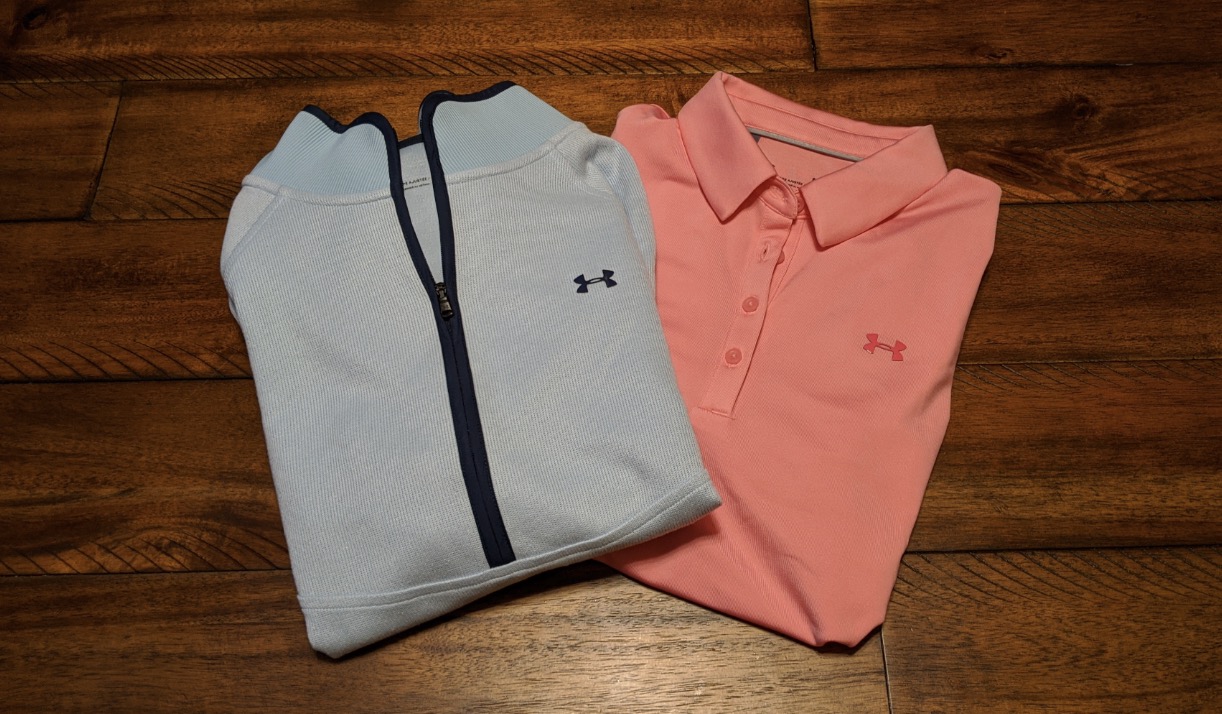 But the best thing about it is the water-repellant nature.  "UA Storm technology repels water without sacrificing breathability," which means you will stay drier on those rainy days.  More importantly, if you spill a little water (or coffee) on the piece, it will brush off rather effortlessly.  That means fewer stains.
Under Armour Golf Shoes
If you haven't already read it, we did a review of 2 new UA golf shoes for 2020: the Spieth 4 and HOVR Drive Gore-Tex golf shoes.  In a nutshell, both pairs of shoes fall in line with what you expect from Under Armour.
Both the Spieth 4 and the HOVR Drive GTX golf shoes have Gore-Tex technology built into the shoe.  This is supposed to make the shoe both waterproof and breathable.  I would agree with the assessment that the shoe is definitely waterproof, and does provide a certain level of breathability.
Both pairs have more traditional and wider fit options (E for HOVR, EE for Spieth 4).  Personally, I have a slightly wider foot, and blow out the sides of shoes before anything else.  I like the extra room, and my feet seem to as well.
Spieth 4 – $200 / HOVR Drive Gore-Tex – $170.  I do like the Spieth golf shoe look a little more, the profile seems a little lower.  But if you like the look and feel of both, you will not lose any sleep opting for the more affordable pair.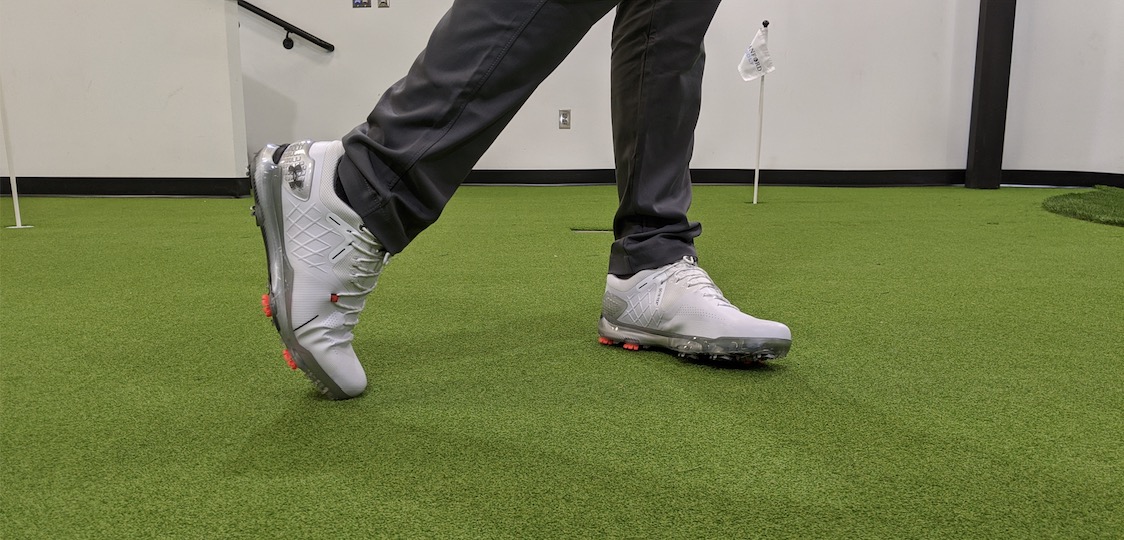 Verdict
If you are in the market for some good golf threads, nice golf accessories or some good new golf spikes, Under Armour has definitely established itself as a brand to trust.  The quality is great, the price is comparably good, and the reputation holds up.
There are certainly more affordable options on the market, but the quality or the style usually are the first things to suffer.  There are also a lot of higher priced options in the industry, but at some point you stop paying for quality and start paying for logos.
If you are ready to up your golf attire, Under Armour golf apparel is a good place to start.