Under Armour Golf Shoes 2020
Under Armour Golf Shoes 2020 Review: New Spieth 4, HOVR Drive Up the Game With Gore-Tex
Gone are the days of the stiff, old, typical golf shoes of yesteryear.  Under Armour has released two new golf shoes for the 2020 golf season: the HOVR Drive Gore-Tex and Spieth 4 golf shoes.  And both golf shoes are awesome.
I'll start with a similar disclaimer to last year's Under Armour golf shoes review I did:  I am not a great golfer.  Nor am I about to pretend to be a great golfer for the purposes of writing this article.
And like last year's article, I am going to tell you that if you like Under Armour golf footwear, look no further than this year's offerings.  And if you have not tried UA golf shoes, it may be time.
New Under Armour Golf Shoes for 2020
One of the things we like to harp on here at USGolfTV is foot pressure.  And the golf swing is a very dynamic, unnatural move.  There is a lot of stuff going on at the ground, so having proper footwear is only going to benefit your swing.
Another thing we like to discuss is the interaction between your feet and the ground.  In fact, for most amateur golfers, the ground is a massively underused power source, especially when it comes to driver.  UA shoes have been in my arsenal before getting their men's golf shoes, so the transition was a no-brainer.
Spieth 4 Specs
Breathable, Clarino® microfiber upper & a lightweight waterproof membrane keep you cool & dry

3D molded quarter panel & tongue lining for added comfort & support

Dual durometer EVA footbed provides lateral support & medial softness to harness power

New, lower profile UA Rotational Resistance (RST 2.0) spikes for lockdown horizontal traction & comfort

Lightweight, durable TPU outsole with carbon insert for added support

2 year waterproof warranty

Weight: 13.8 oz.

Imported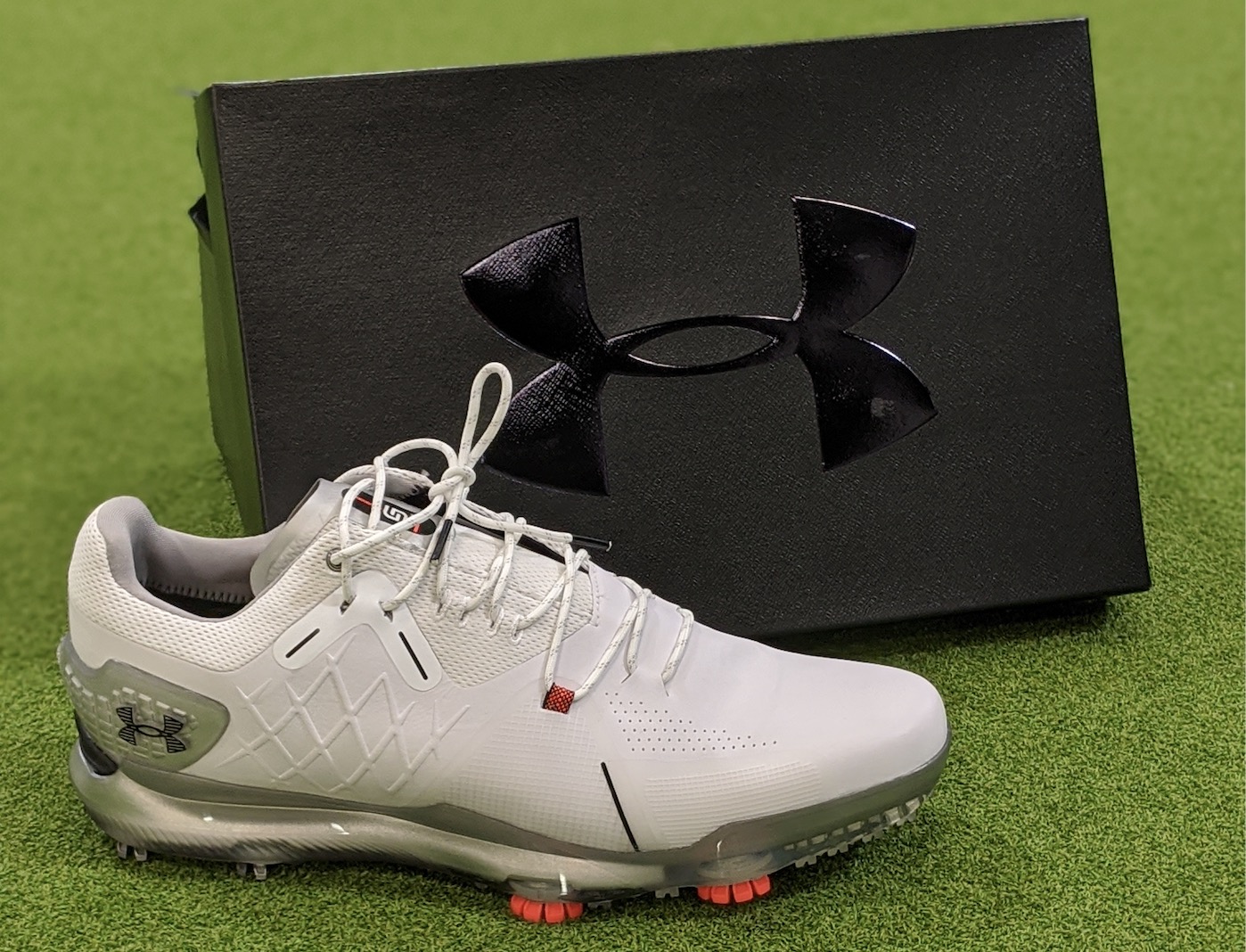 So let's be clear here:  Jordan Speith is a paid sponsor for Under Armour.  Spieth is also one of the best golfers in the world, and wears the shoes year after year.  So the performance in this brand of shoes is not a problem for him.
This is different from golf clubs, where their clubs are designed specifically for their game.  The bounce, grind, lie angle, loft, gear effect, everything.  These are literally the same shoes Jordan Spieth wears.  Your golf swing and his are a different story.
These shoes are super comfortable, and did not take much to break in and get to that point.  A lot of golf shoes start rigid and stay rigid.  The EVA midsole provides the right amount of cushion and support to be comfortable and still perform.
HOVR Drive GTX Specs
Breathable, Clarino® microfiber upper & a lightweight waterproof membrane keep you cool & dry

UA HOVR™ placement supports natural motion of the foot & provides energy return to help eliminate impact

Compression mesh Energy Web contains & molds UA HOVR™ foam to give back the energy you put in

New, lower profile UA Rotational Resistance (RST 2.0) spikes for lockdown horizontal traction & comfort

Lightweight, durable TPU outsole

2 year waterproof warranty

Weight: 12.2 oz.

Imported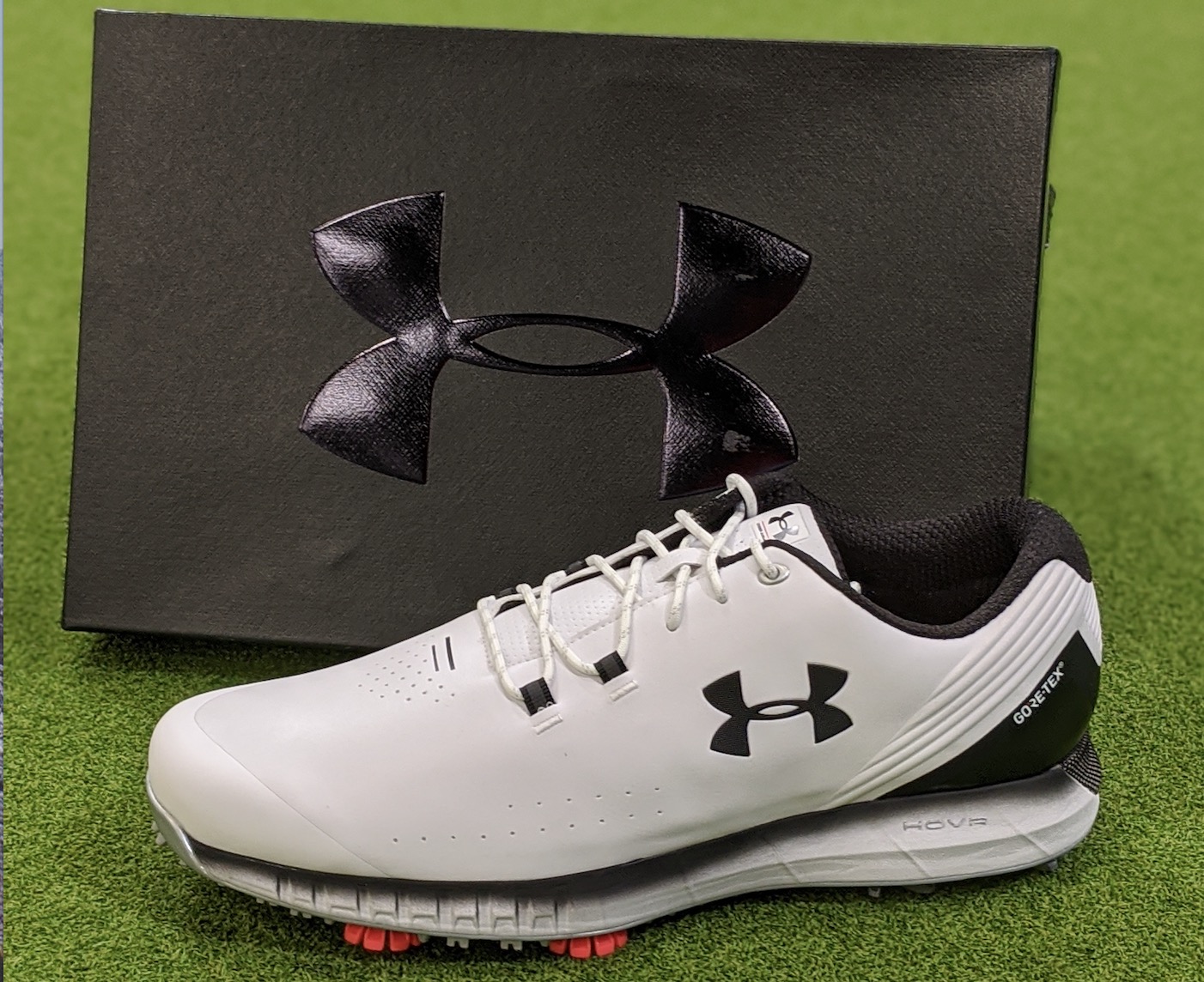 We actually did a review on the HOVR Drive golf shoes from last season, and those shoes were awesome.  The fit, feel and style of the new HOVR Drive GTX shoe does have a lot of similarities.  But maybe the most interesting thing about the new GTX shoe is the cork insert.  Not something you see often in golf shoes, but the shoe fits brilliantly.
What is Gore-Tex?
I think we can all agree that waterproof and breathable are not always synonymous.  In fact, one of the biggest drawbacks to having a waterproof golf shoe is that your foot tends to get pretty sweaty inside all that lack of breathability.
If you are a hiker or particularly outdoorsy, you have probably heard of Gore-Tex.  Many of the biggest brands in outdoor apparel use Gore-Tex in their waterproofing designs.  Their website does not make it easy to find (nor understand) the technology behind the material, but I did do some extra research.
But what I did gather is that the membranes found in the material are much smaller than a water droplet.  This makes them waterproof on the outside.  They are also much larger than water vapor, making them breathable from the inside (thanks Moosejaw).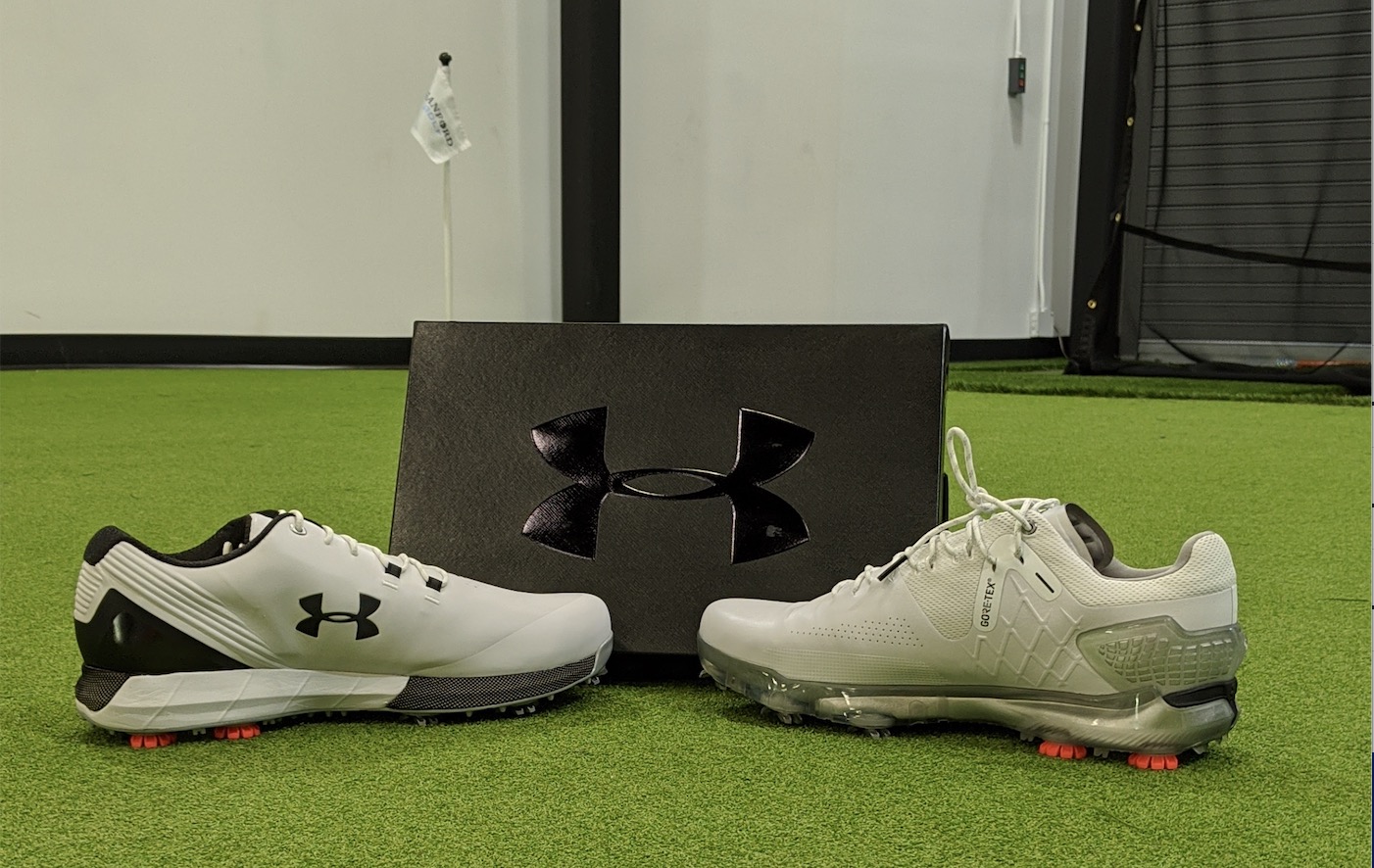 Both the Spieth 4 and the HOVR Drive GTX golf shoes have Gore-Tex technology built into the shoe.  This is supposed to make the shoe both waterproof and breathable.  I would agree with the assessment that the shoe is definitely waterproof, and does provide a certain level of breathability.
Now, everyone should understand that in order to attain one, the other must make a bit of a sacrifice.  So if it's 95 degrees and muggy out, your feet will still sweat.  But you will sweat less than the old vinyl-stiff greenhouse nightmare that used to ravage waterproof shoes.  And some of the heat from your feet will actually dissipate through the material.
Other Questions to Answer
Now that we have walked over the details and specs of the shoes, let's dive into some other questions.
How Do the Shoes Fit?
Both pairs have more traditional and wider fit options (E for HOVR, EE for Spieth 4).  Personally, I have a slightly wider foot, and blow out the sides of shoes before anything else.  I like the extra room, and my feet seem to as well.  It's too early to tell if I like the cork bottoms or prefer the traditional inserts though.  The opening of the shoe rubbed a bit at first, but once I got them broken in a bit, that seemed to soften up and go away.
How Much Do They Cost?
Spieth 4 – $200 / HOVR Drive Gore-Tex – $170.  I do like the Spieth golf shoe look a little more, the profile seems a little lower.  But if you like the look and feel of both, you will not lose any sleep opting for the more affordable pair.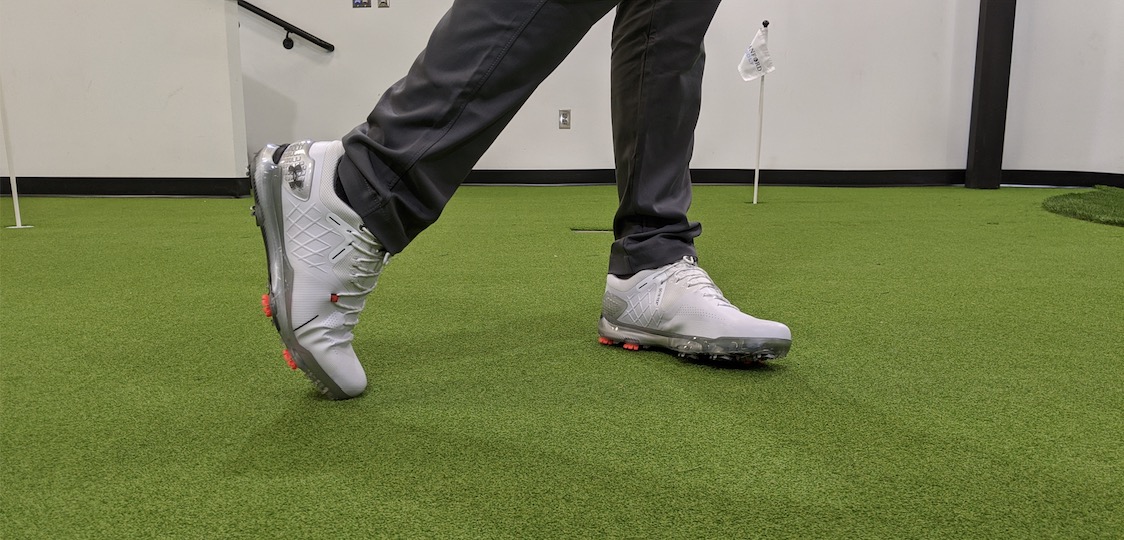 Are Under Armour Shoes Good?
Yep.  It's hard to argue with the success they have been creating over the past few years, especially with these 2 signature lines.  My only complaint is the laces again.  I usually had to retie them once or twice in the round, but that may be splitting hairs a bit.  They are a little stiff to start, but did not take much to get them going.
What Our Team Had to Say
Here are a couple reviews from a few of our team members on the shoes:
UA HOVR Drive Gore-Tex
"One of the biggest things I look for in a golf shoe is, "how does this shoe feel when walking compared to my running shoes?"  I like to get out and walk pretty fast when I'm golfing.  I have been wearing the UA HOVR Drive GORE-TEX shoes and have to say they feel very very similar to high end running shoes which I've really enjoyed personally. To get out and walk 18 holes with these shoes has been a breeze for me.
The other big factor that is a reality is the weather up here in the frozen tundra.  We have all types of weather from cold, rain, snow, dry, really hot, and really cold. I need a golf shoe that is going to be ready to perform in any weather and these shoes definitely do the job.  I have to say, great job UA!" – Tyler Prins
Spieth 4 Golf Shoes
"These are actually my first pair of UA shoes at all, not just golf shoes and I am very impressed. Comfortable and snug on my foot but without being too tight, I really liked how they hold my heel in place as some shoes are too loose in the heel for my taste.
The balance of the shoe felt really good, it didn't feel like i was standing on oddly placed spikes in a tennis shoe which is how I feel with golf shoes sometimes. Overall a super comfortable and well built shoe that I'm excited to play a ton of rounds in this season." – Jordan Knowlton
Verdict
The shoes are more waterproof than breathable, but most waterproof golf shoes tend to be that way anyway.  They provide good support, have plenty of grip, and have a great look to them.  And we all know that does matter.  We have all purchased a pair of shoes that looked great, but that was it.
Spending good money on a pair of golf spikes is a sizable investment for the casual golfer.  But if you are serious about the game, like looking good on the course and want a good pair of shoes, you might have just found your next pair.