2021 Under Armour Golf Shoes
The 2021 Under Armour Golf Shoes: Men's UA HOVR™ & Spieth 5
It makes a lot of sense.
We're reviewing two of Under Armour's newest shoe releases during the resurgence of superstar Jordan Spieth to the world's stage.
A T3 at Augusta in April then most recently, a stately solo 2nd at Royal St. George's Open Championship and Spieth seems to have officially regained his magic "mojo" (sorry for the Nike terminology during a dedicated Under Armour blog).
Spieth — an Under Armour guy since day one as a professional — is the crown jewel athlete in the sport of golf for UA.
Alongside Maverick (we'll call him Mav) McNealy, Matthew ("Bryson has no skill") Fitzpatrick, and Alison Lee on the LPGA Tour side, the number of UA Athletes chasing little white golf balls is slim. A quick little Google search and it appears Under Armour has roughly a half-a-dozen golfers on their sponsorship roster.
In short, with their Spieth partnership, Kevin Plank and the team have an international kahuna on their roster promoting their golf lines and iconic crisscrossed logo.
I suppose It's him and USGolfTV providing UA with the vast majority of their international golf eyeballs! (Here's last year's shoes for comparison)
And those eyeballs have had the opportunity to fixate on the golf shoe offering for 2021 — the Men's UA HOVR & Spieth 5 golf shoes.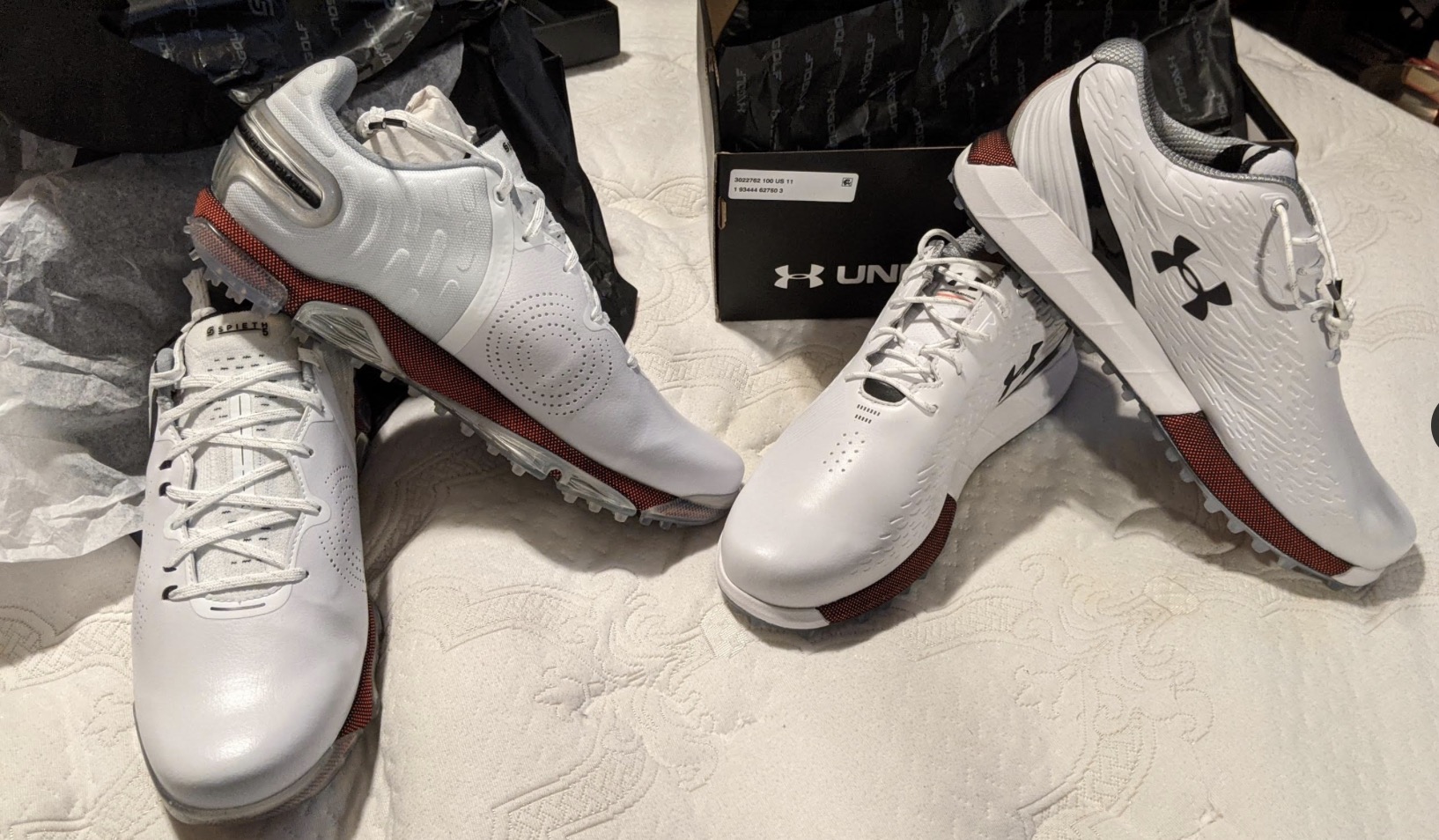 Our team here at USGolfTV got our hands on a few pairs toward the middle part of the summer and we've got thoughts to share.
Let's take a peakers…
The Spieth 5s
(Men's UA Spieth 5 SL Spikeless Golf Shoes)
The first thing to note here is that these shoes are traditionally spikeless. No kidding, right? (In fact, both shoes are spikeless. But more on the UA HOVRs below.)
This is the first time in Under Armour golf shoe making history where they've ditched the traditional replaceable spikes and gone with a single, spikeless shoe base.
Hey, spikeless is the trend of the entire golf shoe industry. They're following trend.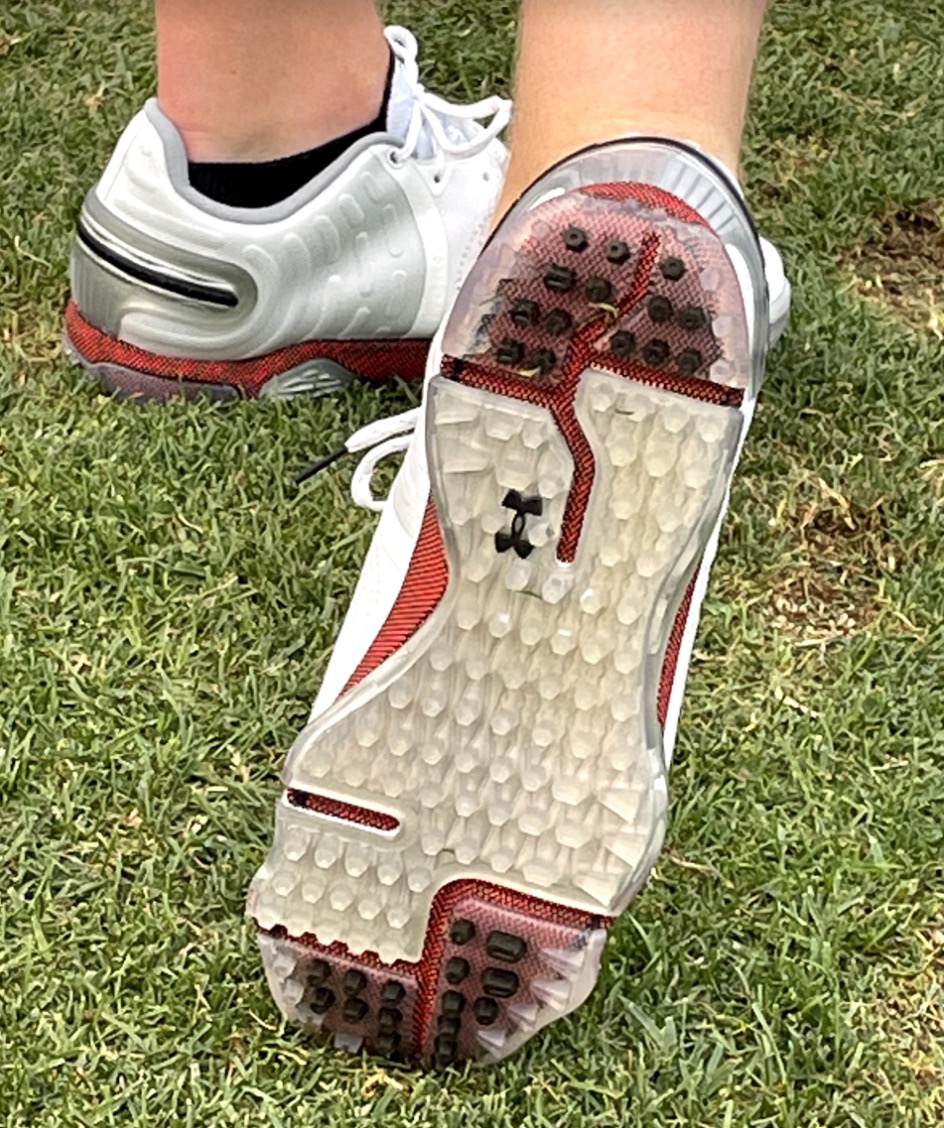 The result? 
Virtually no change at all in traction, which would be the primary concern. I'll dive deeper into what I liked about the traction later on during my "Spieth 5 Strengths" section below. But gosh, what a well-performing shoe.
The UA Spieth 5 SL Spikeless Golf Shoe is the premium shoe offering for Under Armour in 2021. This is the shoe Spieth can be seen wearing throughout the 2021 PGA Tour season. 
This is the 5th version of Jordan Spieth's released and can be found in stores at an MSRP of $199.99. For this 5th version, Under Armour really dialed into the scientists and engineers to manufacture a shoe that holds up to the torque of the modern golf swing.
The shoe comes in one color — white — so you black golf shoe wearers better go on and get out of here if you're looking for something different. 😉
Let's take a look at strengths and weaknesses.
The Spieth 5 Strengths
1. Incredibly good traction and grip.
I'm becoming more and more of a fan of spikeless shoes. I bought a pair of a competitor's shoe (we won't say names here) a few years ago and I'll admit, I was slipping all over the place. Even in dry conditions!
It's literally led to me being nervous over certain shots with them on. Not a good look [insert golf brand name]! 
These shoes, that was never a concern.
The layering of rigid, "fixed" clear nubs, then black, flexible nubs gave the shoe incredible grip. I'll discuss the traction a bit more during the stability section below, but being able to make full golf swings and trust your feet is a feeling you never thought you missed until you didn't have it.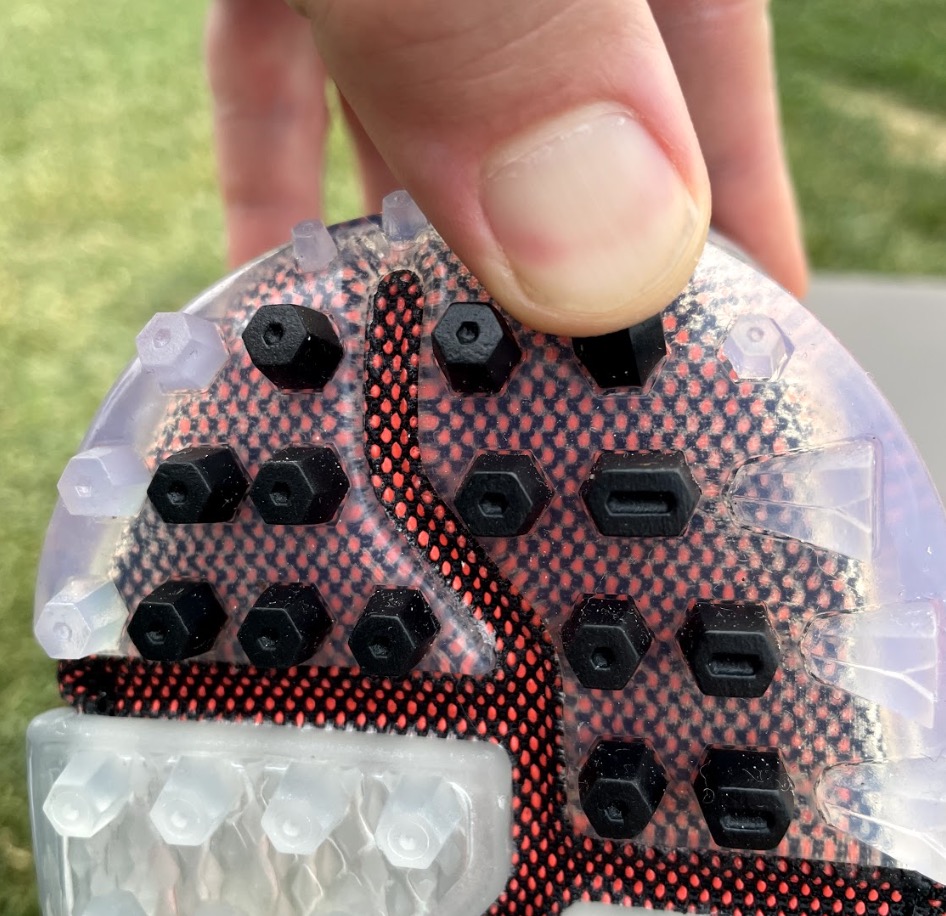 These shoes really grab. And that's nice.
2. Waterproof
Ever since collegiate golf ended for me almost a decade ago, I really don't love going out and playing in the rain if I don't absolutely have to.
But I do still play tournaments competitively and find myself from time-to-time playing with morning dew and around freshly sprinkled water.
Wet socks are of no concern with the Spieth 5s. In fact, they were noticeably dry.
And to that point, if you find yourself unsatisfied with the water protection, the shoe comes with a two-year waterproof warranty. 
Unless you're playing 120 rounds a year walking in these bad boys then dragging them behind your car on a rope after every round, I suspect you'll get far more than two years out of these shoes.
My only wish? I wish I had these when we played Bandon Dunes in February when it was absolutely downpouring. (Apologies for the humble brag — ha!)
3. Stability & Traction
When I wore these shoes on the course for the first time, I loved the stability I felt taking a stance and making a swing.
This is no hyperbole, but this is truly one of the most stable golf shoes I've ever worn.
I felt like my back foot was quite literally locked in when I stood over the golf ball. Some people may think they like mobility, but I loved the stability. Your feet moving around during a golf swing is so 1970s anyways… 
Seriously though, I did feel as though once I made a stance, I was able to make an athletic turn and really dig that back foot into my downswing without any fear of losing balance, or even worse, slipping.
Full stability for maximum power.
Hey, I know I loved squeezing all of the MPH I could out of my driver swings.
Part of the stability in the shoe comes from the internal support structure. The footbed actually molds around the foot connecting the base of the shoe with the inside of the shoe. 
I wonder if this is a trend that we're going to see more of in the future of golf shoes — the intertwining of both footbed / sole / shoe wall. It definitely helped with the stability.
Try the shoe yourself and tell me it isn't one of the most stable shoes you've ever worn.
4. The Spieth 5 namesake on the tongue
As a big Jordan Spieth fan, I like that I can see his name (subtly, I may add) on the tongue of each shoe every time I lace them up.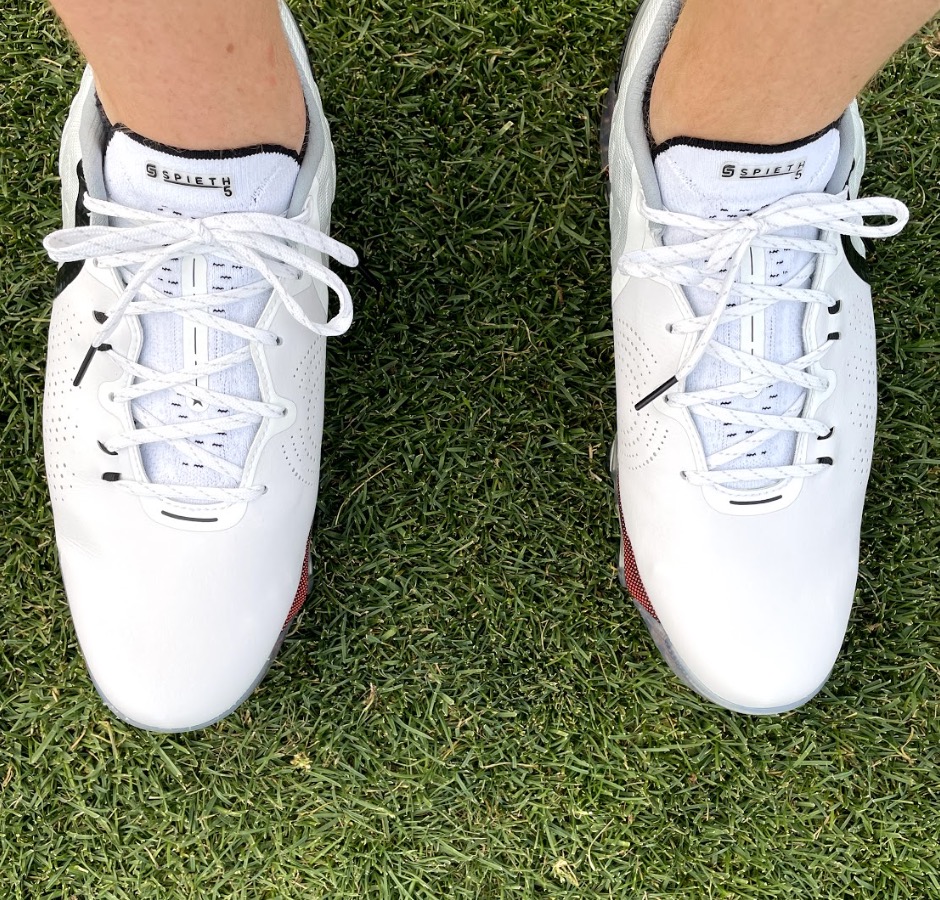 I'm just a fan of the guy and it may seem small, but in a way, it feels like I'm lacing his jersey up before I play.
I'm glad it's subtle and bespoke, but it's a clean little touch on the tongue.
The Spieth 5 Weaknesses
1. The Look
Call me crazy, but I'm actually not a huge fan of the look of the Spieth 5s. 
My take? Just a little too much going on.
Maybe I'm a traditionalist with golf shoes, but I like simple, sleek, clean, and classic. The UA line up of golf shoes is a bit too 
But I'll give the designers some credit — they've come a long way from the chaos that was the Spieth Ones.
From the unnecessary black accent line stemming down from the top lace, to the embossed look that wraps the hell, it's just a little too much for me.
I actually prefer the look of the HOVRs.
But that's really my only weakness on this pair of shoes.
2. Uncomfortable tongue.
If you're a shortie sock guy, you're going to face a little bit of bump and grind action between the tongue of this shoe and the front of the shin.
Nothing a little tape or toughness can't deal with, but I found it slightly annoying. Actually, the tongue is so thin and flexible (a strength, I suppose), that I was able to flip the tongue over.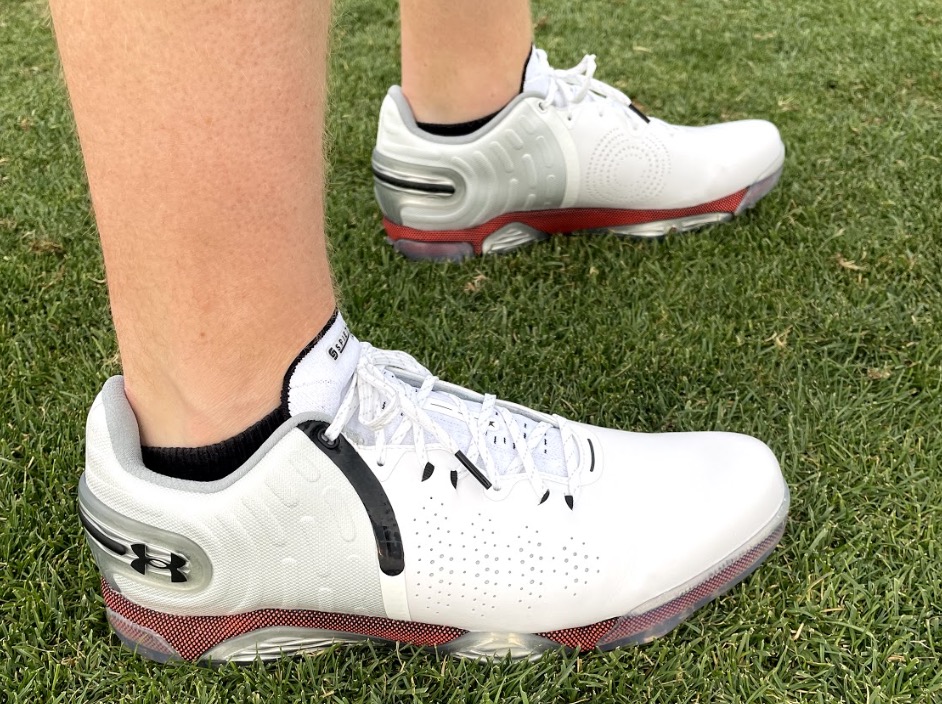 But that caused me to accidentally hide the "SPIETH 5" print.
Here's an idea for the developers, print a cool branded message on the underbelly of the shoe (i.e. Jesper Parnevik hats) and make this an intentional design feature of future shoes.
I do expect royalties for that brilliant idea.
The Verdict on the UA Spieth 5 SL Spikeless Golf Shoe:
This is a fantastic golf shoe and while I won't be doing comprehensive golf shoe reviews on the entire available market, I would be hard-pressed to find a shoe that performs as well as this shoe does, across the board.
Mr. Spieth should be proud to have his name on this shoe.
Under Armour Golf Shoe Specs
For you golf shoe nerds who really want the manufacturing specs, here they are, copied and pasted from the website for your viewing pleasure, along with my own translations and opinions.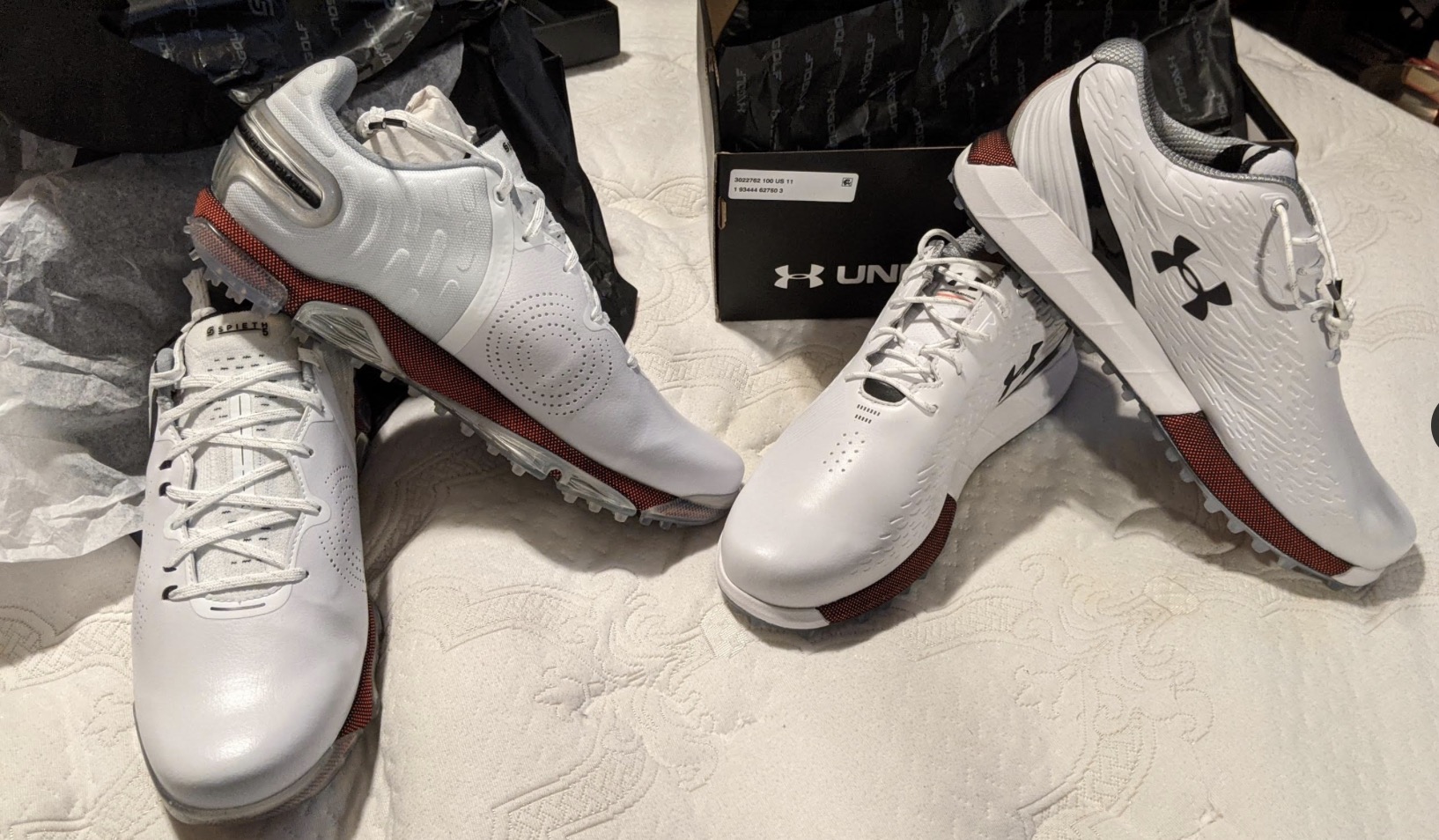 Both shoes had pretty much the same specs.
Breathable, Clarino® microfiber upper & a lightweight waterproof membrane keep you cool & dry

Waterproof + breathability has to be difficult for golf shoe manufacturers and while I never struggle with exceptionally hot feet, I do feel like this shoe was able to bridge the gap. I'm a primary "make the shoe waterproof" guy, but the fact that a breathable membrane was considered as well is bonus points.

3D molded footbed for improved fit & less slip

100% this mattered for me. I really liked it and I think you will, too.

UA HOVR™ placement supports natural motion of the foot & provides energy return to help eliminate impact

I'm not exactly sure what this meant, but I think I noticed it while walking, that they shoe can both perform during a golf shoe and still be comfortable after walking 18 holes.

Compression mesh Energy Web contains & molds UA HOVR™ foam to give back the energy you put in

For sure felt this and will be interested to see how this holds up after 60-70 rounds played (and walked).

Durable, lightweight TPU outsole with injected rubber spikes in key areas provides lockdown traction

Love the spike configuration for traction. When you get your pair, poke around at them and notice how the black spikes are a bit more flexible.

 
The UA HOVR SL
(Men's UA HOVR™ Show SL Golf Shoes)
Alright, enough about Jordan Spieth. 
Let's dive into the HOVR SL golf shoe, the UA golf shoe without the Spieth name on it.
The UA HOVR Show SL golf shoes come in at a slightly lower price point ($160 MSRP), but deliver on almost as much of the promise of the Spieth 5.
I played about 5 rounds of golf with these shoes prior to writing this review and I will say, this is a fantastic value golf shoe.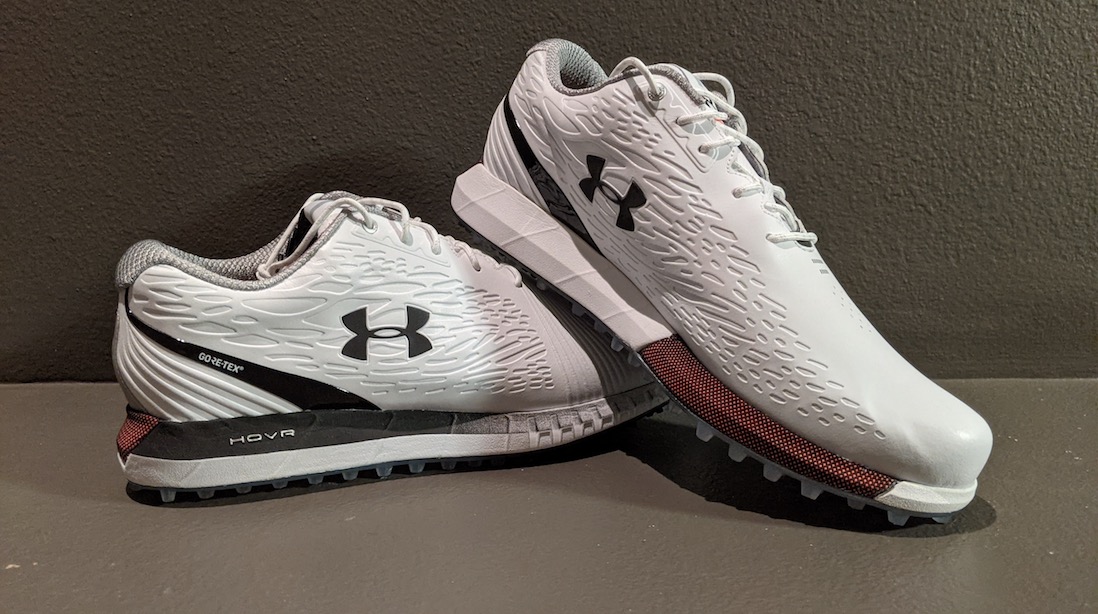 The HOVR technology was developed to give a "zero gravity feel." The lightweight shoe was extremely responsive during every step and didn't rob my body of energy as I walked and played. 
I may never know what "zero gravity" will feel like like Jeff Besos, but this golf shoe delivered on the performance metrics of comfort and playability.
As a tournament golfer, I like to walk a lot while I play. And when comparing the Spieth 5s to the HOVR, I felt like the HOVR was a lighter golf shoe.
Thanks to an ecommerce business I run on the side, we have a scale in our office that I was able to use to test my thesis.
Sure enough, the HOVR shoe was 10-12% lighter than the Spieth 5s.
Does that translate to 10-12% more distance? Gosh, I'd be hard-pressed to say so 😂. 
Does it translate to 10-12% more energy after a round of golf? Again, hard to prove.
But a lighter shoe does mean a more comfortable shoe, by and large. We'll see how it stacks up on the durability front after some 60-70 rounds of golf.
I really like this golf shoe and want to dive into some of the features.
The UA HOVR SL Strengths
1. Great traction without the "stickiness"
I know that's a bit confusing, but stay with me.
Remember your first few rounds with a brand new pair of traditional spikes? You'd see your footprints left everywhere on the golf course.
I swear, courses could save money on aeration if instead of having heavy machinery drive throughout the golf course, they instead laced up a few dozen golfers with traditional spikes then let them walk all over the course.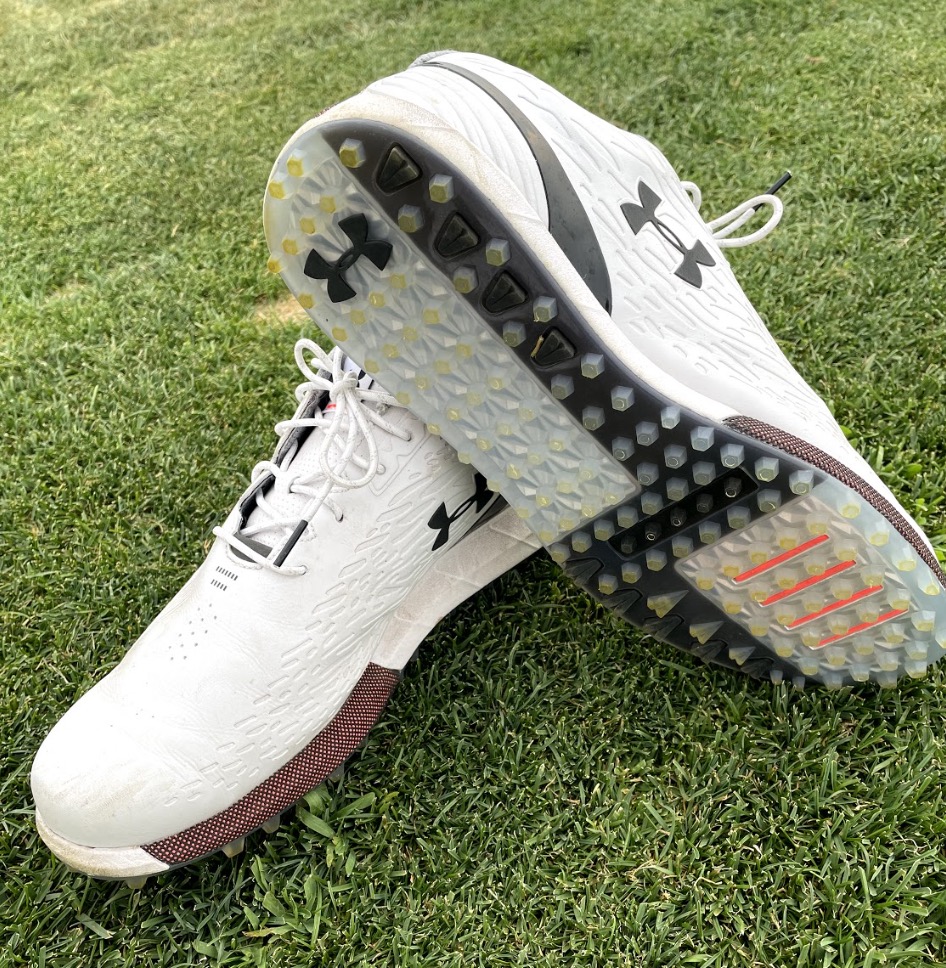 I hate the feeling of shredding turf with my shoes.
But I don't want to sacrifice the grip and traction needed to perform — so what gives? 
Well, the HOVR really delivered on this.
I loved the traction I had with both shoes, but never felt like I was tearing up greens with harsh edges and sharp spikes.
Plus, it makes walking on cart paths and parking lots a more pleasant experience for your ears.
2. The Look
Straight up, mano a mano, I preferred the look of this golf shoe compared to that of the Spieth 5s.
I even gave it the ol' "wife test," asking my wife to provide a completely unbiased selection, knowing nothing else about the two pairs. Remember, she could care less about performance. This is all about cuteness.
She liked the sleek look of the HOVRs, as well. 
It's a simplistic golf shoe and seems to fit my eye a bit better than the bulkier, more futuristic Spieth 5s.
I'm a classic preference and I feel that I'll always lean toward the classic look.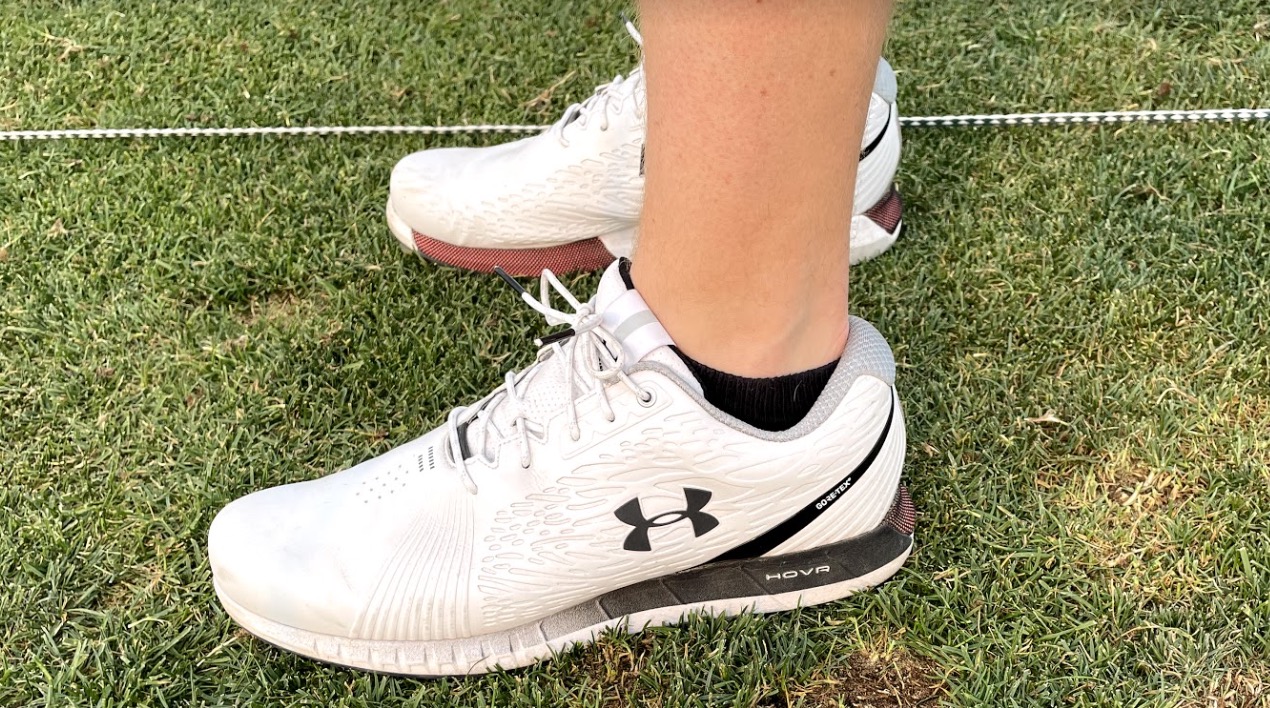 3. Easy Clean
With less in terms of plastic edging or seams, I actually think this shoe will be much easier to keep clean than the Spieth 5s. 
Are they the easiest shoes to clean? 
No. In fact, with the ribs for the Gore-tex, dirt got a little stuck when spraying, but they'll definitely be easier to keep clean than others on the market. I went with the all white with the black/red heel and a quick rinse after each round and I'm pretty much good to go. 
Sure, golf shoes are primarily about performance and comfort, but a great fitting shoe that looks sharp and clean is always a positive.
Look good, play good.
4. Comfort and Walkability
Like stated above, I played multiple rounds of golf in this pair of shoes prior to writing this review and my feet felt amazing after each round.
The sole of the inside of the shoe looks like a corkboard and it felt as such.
We've all played golf with horrible, cheap in-soles. When you make the jump to premium golf shoes, it's a spoiling that I don't believe your feet can recover from.
Walking on clouds? Perhaps an overstatement. But among the most comfortable golf shoes I've played in? Probably pretty fair to say.
The second my shoes are laced for the day, I feel incredibly confident that my feet will finish the round feeling great afterward, as evidenced by 5 successful rounds of golf already.
Two thumbs up.
The UA HOVR SL Weaknesses
1. Sizing
I never thought of the sizing as an issue until a few rounds in. I feel like the shoe might run a tad big, but I've always felt between a 10.5 and 11 anyways, so the 10.5s ended up actually being a good fit for me.
The reason I listed this as a weakness is because I read multiple reviews of folks stuck with shoes that were a bit too big for them. 
Also, I had a hard time finding weaknesses on this golf shoe, so I had to think of something, right?
2. Only "Inflexible" Fixed Nubs
One has to make sacrifices when dropping in price, but I really loved the engineering that went into the flexible black nubs on the base of the Spieth 5s.
The HOVR has universal, rigid spikes — none with flexibility or the ability to compress.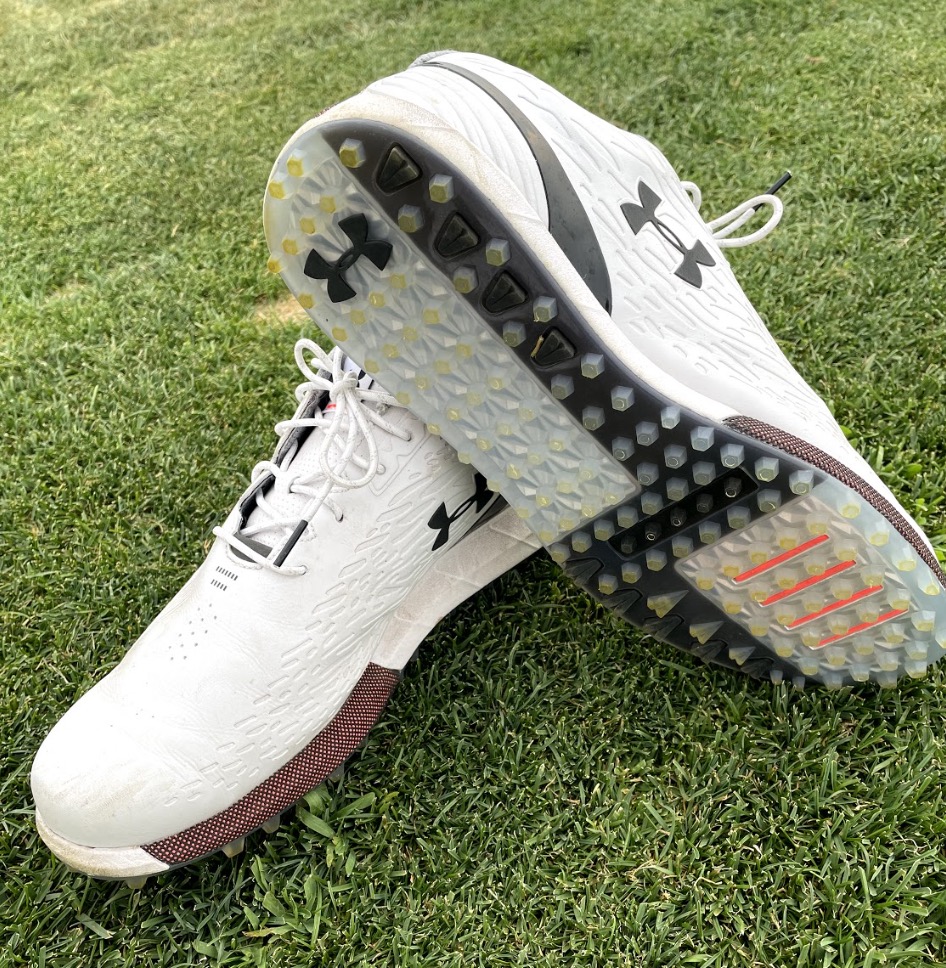 Hey, that's the rub of the green. And if I had the ability to measure items in fractions of millimeters, my eyes tell me the Spieth 5s have longer "spikes," too.
Verdict for the The UA HOVR SL golf shoe:
Because of my wife's visual preference, this is actually the shoe I wore more often during my time working with both the Spieth 5s and HOVRs. 
I'll tell you what, for really owning a sliver in the golf economy, Under Armour apparel really does it right and they strike again with the 2021 golf shoes offering.
The HOVR SLs checks all of the major boxes and is one of the few golf shoes that deliver on traction + comfort + durability + performance, all at the same time. Most shoes, you need to make a sacrifice somewhere, and I can't find where they made any significant sacrifice here. This is a great golf shoe.
I'm a fan and I think you will be, too.
Get yous a pair!
#GoSpieth