The New Bushnell Tour V5 Shift: A Revolutionary Rangefinder
Introducing the Groundbreaking Bushnell Tour V5 Shift: With Updated Slope and Enhanced Display, This is the New Standard in Rangefinder Technology.
The Bushnell is introducing their all-new Bushnell Tour V5 Shift . . . just in time for Father's Day.
Bushnell has always led the way in laser rangefinder technology, and they're holding their own with their latest product. The magnification is higher than previous models, the display is more vivid, and the Tour V5 Shift maintains the accuracy you've come to expect from Bushnell.
Wondering if this new gadget belongs in your golf bag? Here's everything you need to know about the Bushnell Tour V5 Shift and the minds behind the technology.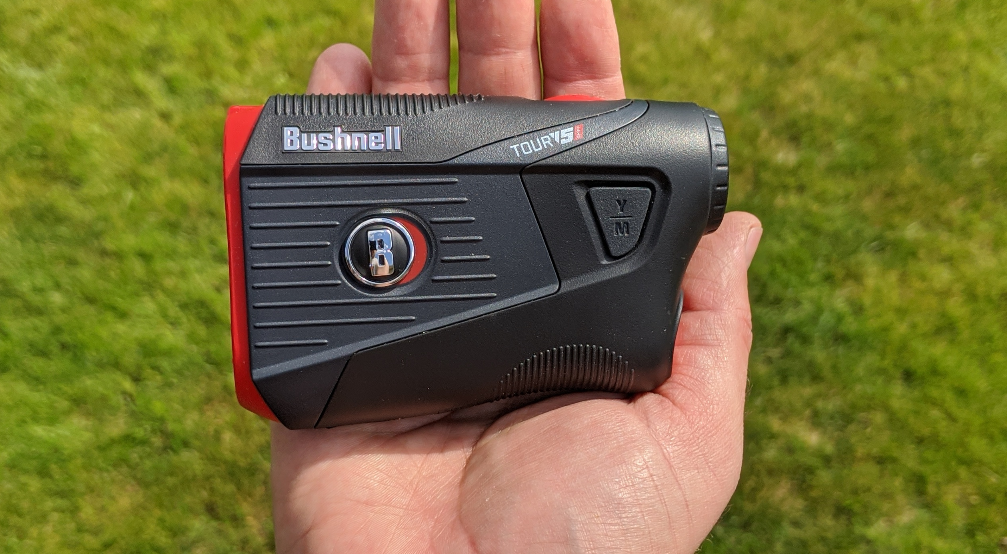 The Bushnell Legacy
A whopping 97% of PGA tour pros use Bushnell rangefinders. So . . . that's one ringing endorsement of Bushnell's tradition.
Over the years, Bushnell has worked diligently to provide golfers of all levels with new tools for reading the course.
They've revolutionized slope readings to differentiate between actual distance and "play as" distance. They introduced JOLT technology to ensure accuracy, generating a vibrating pulse when the rangefinder locks onto the target. Even Bushnell's "BITE" technology enhances your golf game by making it easy to access your rangefinder throughout a round.
Bushnell's tradition of excellence is well-known and widely acknowledged. Thanks to the high accuracy and advanced features of rangefinders like the Pro XE, countless professionals and amateurs are playing better golf.
And now, the Bushnell Tour V5 Shift offers improved feedback and an updated design.
The All-New Bushnell Tour V5 Shift
Like the products before it, the Bushnell Tour V5 Shift gives high-accuracy distance readings. The unit also features Bushnell's well-game-changing slope compensation and JOLT technology.
So how is the Tour V5 Shift different?
Bushnell has innovated all their most popular features for their best-performing rangefinder yet. Here's what you can expect.
Updated Slope Algorithm
The slope algorithm represented one of the greatest innovations in laser rangefinder technology.
As all golfers know a little too well, you can't base each golf shot on distance alone. The incline or decline of the hole should inform how you shoot your shot.
Bushnell's slope feature uses the perfect combination of distance and slope readings to provide a compensated distance. Instead of just telling you how far the hole is, this number tells you how should play the hole.
Golfers have loved this innovation. Now the Bushnell Tour V5 Shift takes it further with an enhanced slope algorithm for the most precise "play as" distances yet.
Visual JOLT Ring
Another hot feature on Bushnell laser rangefinders is JOLT technology.
Aim a traditional Bushnell rangefinder at the pin, and the device vibrates to let you know when it's locked onto the target. This seemingly simple feature turned out to be a huge hit.
With the Tour V5 Shift, Bushnell provides even greater feedback with the use of a visual JOLT. When the pinseeker locks onto to the target, you feel the vibrating pulse and see a flashing red ring around the display.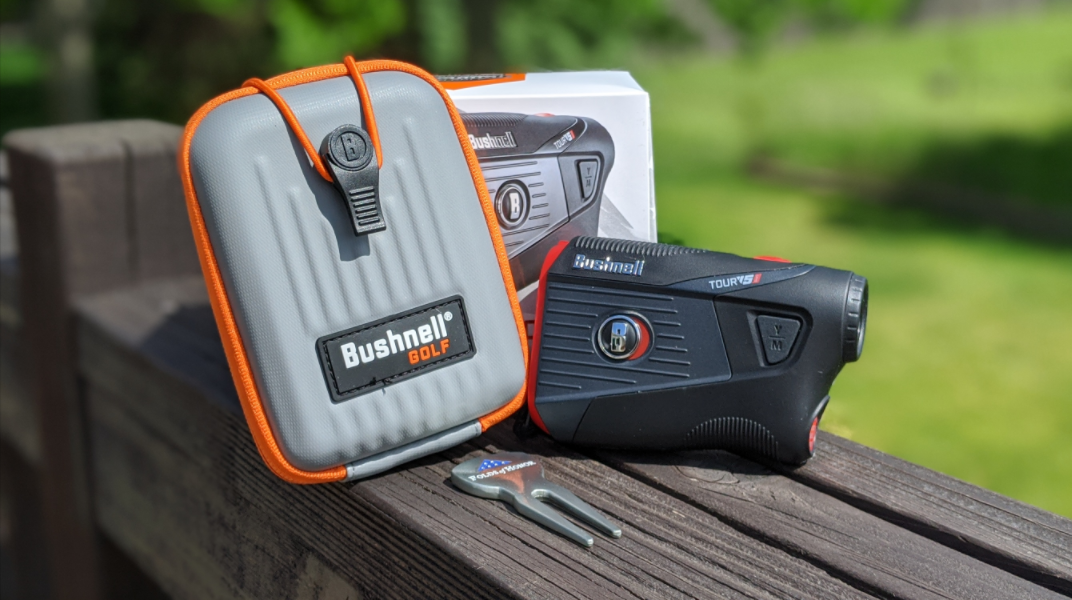 Enhanced Clarity
The Tour V5 Shift features Bushnell's best display yet. This includes:
6x Magnification. Objects in the display appear six times closer than they actually are.
Clearer definition. Observe the hole in more detail.
More vivid colors.
The overall result is a crisper, more informative visual of your target and the surrounding terrain.
High Accuracy
When you use a laser rangefinder, you're trusting technology to be a better guide than your own eyes.
Bushnell rangefinders have proven to be worthy of our trust time and again. The Tour V5 Shift is no different. The ranging accuracy of this device is only one yard. That means each reading will be accurate within one yard of the true distance.
Convenient and Adaptable
You can see from the features listed above that Bushnell is still using leading technologies to help you play better golf. But it's not just about the fancy tech.
The Bushnell Tour V5 Shift also boasts a practical design that makes it an easy addition to your golf game. Let us introduce you to our favorite details.
Slope Switch Technology
Those slope compensation readings are a huge help in a regular round with your buddies. But you can't use this feature in a tournament.
Fortunately, Bushnell is one step ahead. They've equipped the Tour V5 Shift with Slope Switch Technology. An easy-to-use slider turns off the slope function, making the device 100% legal during tournament play.
BITE Magnetic Mount
We all know that a golf gadget isn't going to get used if it isn't easy to store, easy to carry, and easy to access.
In keeping in line with constant innovation, the V5 Shift has BITE magnetic cart mount. This powerful magnet sticks to your cart bar so you can get to the device and put it away in a half second. And with 7 lbs of pull strength, you know it will stay in place during the round.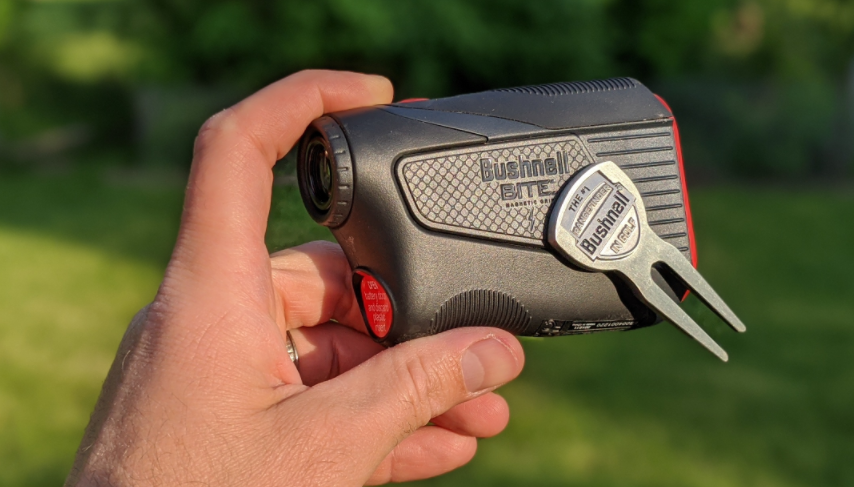 The Bushnell Golf App
When you purchase the Bushnell Tour V5 Shift, you're granted free access to the Bushnell Golf App. This app includes GPS distances for more than 36,000 golf courses across the globe. You can also view 3D flyovers, track your scores, and book tee times right from your mobile device.
How to Get Your Hands on the Bushnell Tour V5 Shift
The Bushnell Tour V5 Shift is already available for pre-order. It comes with a two-year-limited warranty.
Want to have a little more fun on the golf course this summer? You might consider Bushnell's other new release, the Bushnell Wingman GPS Speaker.
The Wingman is exactly what it sounds like. It's a Bluetooth speaker with a built-in GPS that gives you distance readings for the front, center, and back of the green. Bonus: it includes a USB port so you can use it to charge your other devices.
Check out our article about the Wingman GPS Speaker. If you decide to take the plunge, you can buy it here.
What Do You Think?
You know how we feel about the Bushnell Tour V5 Shift. What about you? Are you excited to check out this new rangefinder? Do you have a favorite model you still swear by?
Join us in the comments and let us know you're thoughts. We love talking gear.
For in-depth golf tips, visit us at GreatGolfTipsNow.com. The video is completely free and packed with detailed advice to help you play better golf!