How to Finally Stop Standing Up Through Impact
Sick of Hearing "Stop Standing Up Through Impact"? Here's How to Finally Kick the Habit.
"You gotta stop standing up through impact."
Just about every golfer out there has heard this from a friend after topping the golf ball for the third or fourth time.
It's… annoying. Sure, they're probably right. But if you knew how to stop standing up through impact, you'd do it, right? You're not out here trying to top the ball.
Listen, I get it. Standing up is a common habit, and it's a hard one to kick.
For one thing, it's tough to control what your body naturally wants to do in the middle of your split-second golf swing.
For another, it's way harder to stop a habit than it is to start a habit.
As a golf instructor, I've seen it a thousand times. Telling a student to stop doing something pretty much guarantees that they'll keep doing it. The error gets in their head. They keep gravitating towards it because they're thinking about it.
That's why I'm going to help you stop standing up through impact by telling you what to focus on instead. Don't worry about the bad habit you're trying to drop. Think about the good habits you're about to pick up.
There are three good habits, to be exact. One for your feet, one for your hips, and one for your head.
That sounds like a lot, but it's actually pretty simple. And once you've practiced these adjustments a couple times, you'll find yourself incorporating them into your setup and swing without thinking about it.
Before we get into these fixes, however, I want to help you understand the third and greatest reason you can't stop standing up through impact.
Why You Can't Stop Standing Up Through Impact
You've mastered the perfect golf posture in your setup. Why is it that you can't seem to keep that posture in your golf swing?
It's a rotation issue. Your posture might be great, but you're not set up to rotate your upper body with ease.
This is a problem that commonly plagues more "experienced" golfers—those players who (like me) might be losing the flexibility they once had.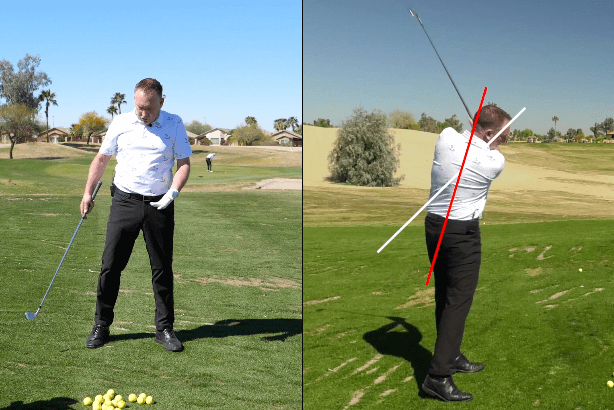 (Side note: if you're an experienced golfer, you may be able to solve all your new swing challenges using the Vertical Line System.)
But even younger players can find themselves standing up because their stance limits their range of motion.
When you're not able to rotate enough to get decent length in the backswing, you instinctively stand so you can reach farther back. This happens without thought or intention. It's just something your body does to help you get what you want.
Inevitably, you top the golf ball and get another round of unsolicited advice from your well-intentioned friends.
So, how do you fix it?
How to Stop Standing Up Through Impact
We're going to look at what's going on with three parts of your body:
Your feet,

Your hips,

And your head.
Let's take this one at a time.
1. Flare Your Toes
When you get set up, flare your toes. About 25-30 degrees is a good range for most golfers. But don't be afraid to adjust if you find that your body needs something different.
Flaring your toes frees up your hips. In fact, you can stand up right now and feel the difference.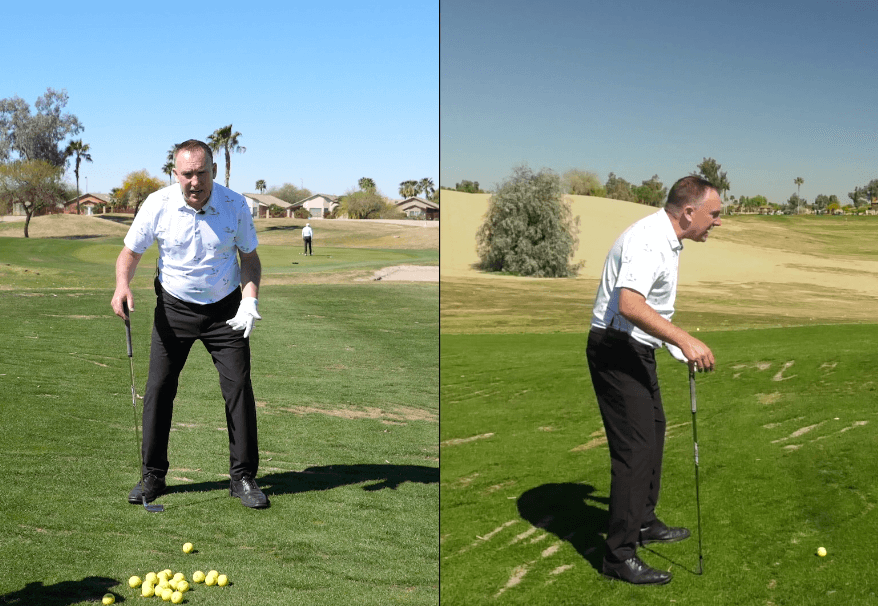 Stand with your toes square or pigeon toed and try rotating your upper body back slowly like you're making a golf swing. You'll probably find that the hips lock before you're able to rotate as far as you'd like to.
If they don't lock, they at least complain.
You may even notice yourself starting to stand up.
Now try it again with your toes flared. You can rotate a lot farther, right?
Imagine how much that minor adjustment could open up your swing motion.
Speaking of the swing…
2. Maintain Hip Hinge Through Your Swing
When people tell you to stop standing up through impact, they might suggest you fix it by "keeping your head down."
I'd say a more helpful point of focus is the hips.
When you get set up, you want to have some hip hinge. Simply put, the back part of your belt should be higher than your belt buckle. Obvious, right? You're probably already doing this.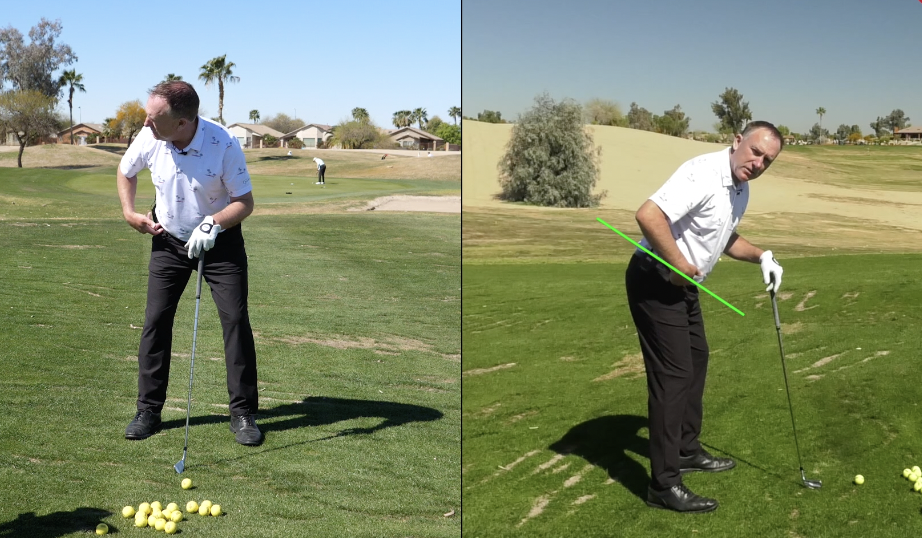 But if you're in the habit of standing up in your golf swing, you're losing your hip hinge mid-swing. I find it's really helpful for students who struggle with this to focus on maintaining hip hinge at the top of their swing.
Conveniently enough, flaring your toes makes it easier to do this.
3. Set Your Eyeline
This is the golden nugget. It's a setup tip that makes all the difference, but very few golfers know about it.
At setup, tilt your head so that your lead ear shifts upward and your trail ear goes down.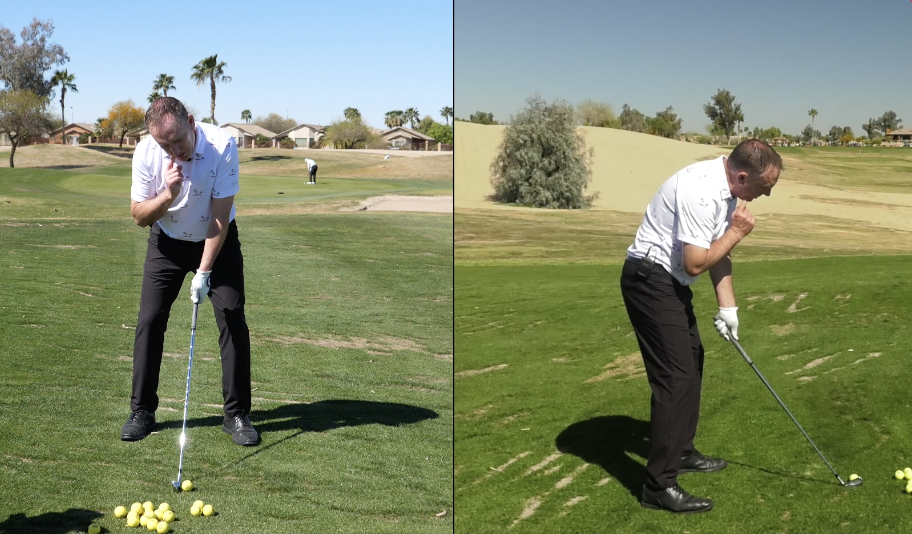 What's the point of this?
Believe it or not, this head position is another trick for getting more rotation in the backswing. Try it! If you tilt your head the other way so your eyeline tracks away from the target, you'll feel a sort of locking along the shoulders.
But raise your lead ear and what do you get? It feels looser, right? It's easier to rotate back.
A Checklist to Help You Finally Stop Standing
Not that hard, right? Just two small setup adjustments and one thing to look out for at the top of your swing. I'd be willing to bet that if you spent a little time applying these principles to your next few practice sessions, you'd drop the standing habit right away.
In the meantime, here's a checklist for easy reference on the golf course.
To stop standing up through impact:
Flare your toes at setup.

Tilt your lead ear up and your trail ear down at setup.

Maintain your hip hinge at the top of your swing.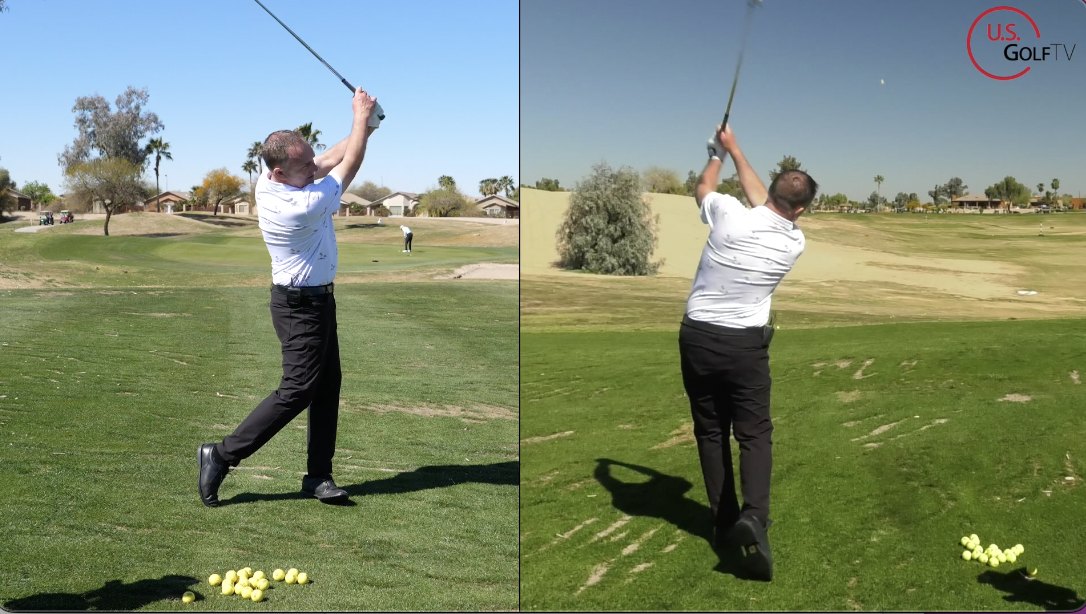 That's it! Do these three small things and I guarantee you'll stop topping it and start making solid contact.
Let Us Know What You Think!
Has the standing up habit been plaguing your swing? Does this advice help? Do you have any questions or any tips of your own to share?
Whatever's on your mind, we want to hear from you. Drop into the comments to share your ideas, insight, and inquiries. And if you think I'm wrong, we want to hear about that, too! We love talking golf, wherever the conversation leads.
And more than anything, we're here to help you play a better game.