Bushnell iON 2 Watch Review: Golf Tech You Can Wear
Product Review: The Bushnell iON 2 GPS Rangefinder Watch
Bushnell Golf has been one of the leaders in golf GPS and rangefinder devices for years.  So it's no wonder the Bushnell iON 2 Rangefinder watch is another winner in a long list of fantastic products.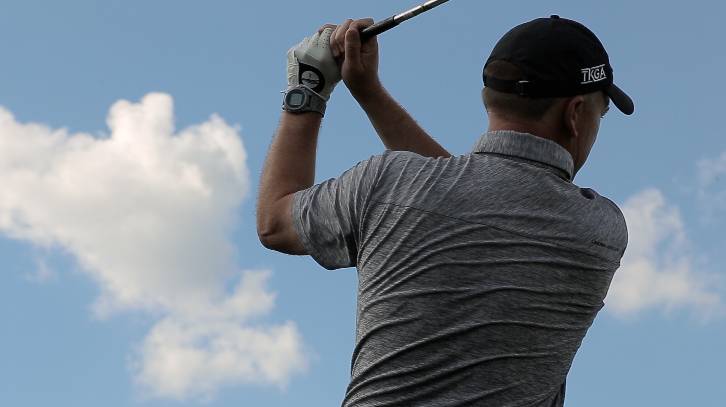 07/11/2018
Golf technology is currently in full acceleration. It seems like every day, there's a new device to help golfers evaluate, strategize, and improve their golf game. Fortunately, all these new innovations bring us more than just state-of-the-art technology; they offer increasingly convenient options for putting that technology to use.
One example of this is the new Bushnell iON 2 GPS Rangefinder Watch. If you've ever used a laser rangefinder or a golf GPS, you know these devices can really come in handy on the course. When you know your target distance, you can make informed decisions.
However, these devices often have to be stowed in your golf bag or carried in your pocket. The Bushnell iON 2, however, is a wristwatch. There's nothing to tow, nothing to stow, nothing to zip up and secure. You simply wear it without a thought until you need it.
In other words, the Bushnell iON 2 introduces advanced technology to your golf round in the most natural way possible.
But the question remains: is the iON 2 as great as it sounds?
I tested the Bushnell iON 2 GPS Rangefinder Watch myself so I could tell you everything you need to know about this product. Here is what I learned.
About Bushnell
Whenever I review a product, the first thing I consider is the brand. Sure, proven companies can still make inferior products from time to time. But more often than not, a brand name indicates quite a bit about the quality of the product.
The iON 2 is made by Bushnell, a name you likely recognize. Bushnell has been around for over 65 years, and in that time, this company has proven itself time and again. In fact, most of the golf world considers Bushnell the leader in rangefinder technology. Anytime you see one of your favorite tour players use a laser rangefinder, the odds are good that it's a Bushnell.  In fact, we just did a review on their new Bushnell Hybrid GPS Laser Rangefinder, in case you're in the market for one.
Considering this, I was already optimistic about the capabilities of the iON 2. Here is what I learned:
Is the Bushnell iON 2 Practical?
I am happy to report that the iON 2 is an affordable investment. Nevertheless, I know just about all of us have had the experience of investing in a product we ultimately never used. Maybe it was too bulky or inconvenient or out of style. It ultimately doesn't matter how much or how little you spend on a product if it's only going to wind up forgotten in your glovebox.
I can assure you, if you buy the iON 2, you will use it.
I wore the watch for a couple rounds of golf on a hot, summer day. It was comfortable from the first hole to the last hole, even when I sweat. What's more, it never interfered with my golf swing.
I also like the color scheme options. The iON 2 comes in black with blue detailing or silver with green detailing. The overall design of the iON 2 is sleek and sporty, making it a watch you can wear anywhere, even when you leave the golf course.
This watch is also easy to charge. It comes with a USB charger, so it's easy to plug in at home, at the office, and even in your car on the way to the golf course. Bushnell promises the battery charge will last through three rounds of golf. I can confirm that this is true.
So, it looks good, it feels good, and it's easy to charge. Now for the big question.
How can the iON 2 help you play better golf?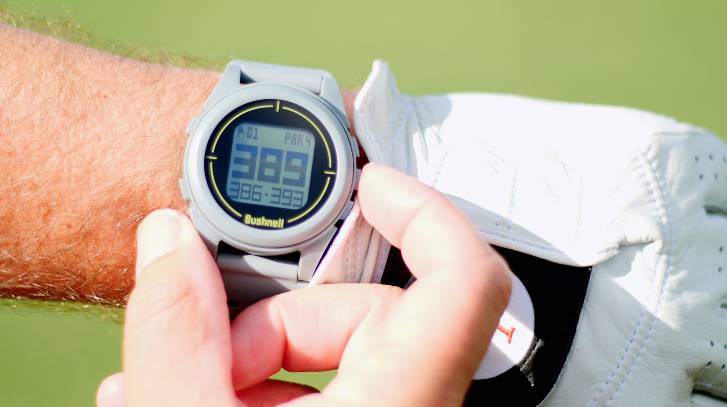 The Functionality of the Bushnell iON 2
The moment I stepped onto the golf course, the iON 2 knew exactly where I was. The watch comes pre-loaded with over 36,000 golf courses in 30 countries. Moreover, the iON 2 features autorecognition. You don't have to search for your course or tell the watch where you are. The iON 2 already knows.
The watch also features Automatic Hole Advance. In other words, when you advance to the next hole, the iON 2 immediately recognizes that you're moving on and gives you the stats for the new hole. You don't have to do anything.
So, what are those stats?
First, the iON 2 displays distances to the front, middle, and back of the green, all one screen. It will also tell you the distances of up to four different hazards. This information alone can make a meaningful impact on how you strategize your shot.
The watch also features some bonus information, including a shot distance calculator and a round odometer. For those of you who are keeping an eye on fitness, the iON 2 even has a step counter. And, of course, the iON 2 functions as a watch, with time, date, and day information.
My favorite thing about this watch is that it comes with access to the Bushnell app. This app features incredibly helpful graphics, such as hole layouts with distances and 3D flyover layouts. These images provide a bird's eye view for every hole you play. The app also syncs with your watch for automatic updates on the pre-loaded courses. With the iON 2, you always have the most current and accurate information, no matter what changes.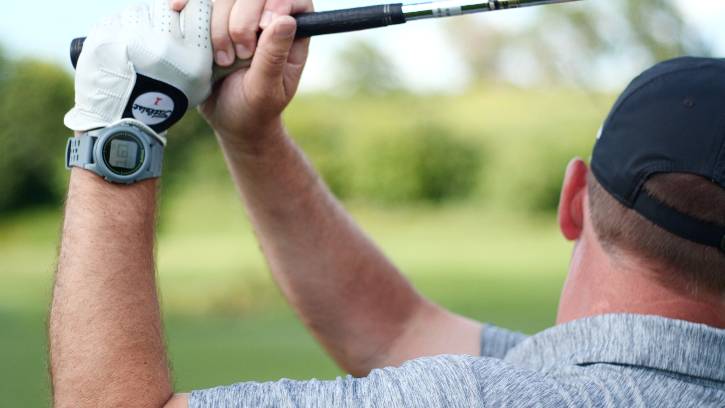 The Bottom Line
If you're looking for a convenient way to get the layout of every golf course you play, the Bushnell iON 2 is a great bet.
It's an affordable watch that is comfortable to wear and looks great. With upwards of 36,000 pre-loaded courses, this ultra-convenient tool can give you yardages for just about any course you might play.
The Bushnell iON 2 GPS Rangefinder Watch features autorecognition for every pre-loaded course, as well as auto hole advance. The watch gives you the distances for the front, back, and middle of the green, and even displays distance for up to four hazards. The accompanying app offers incredible graphics that really help you get a lay of the land.
If you've been thinking about checking out the iON 2, I highly recommend it. This watch is a great addition to your golf gear.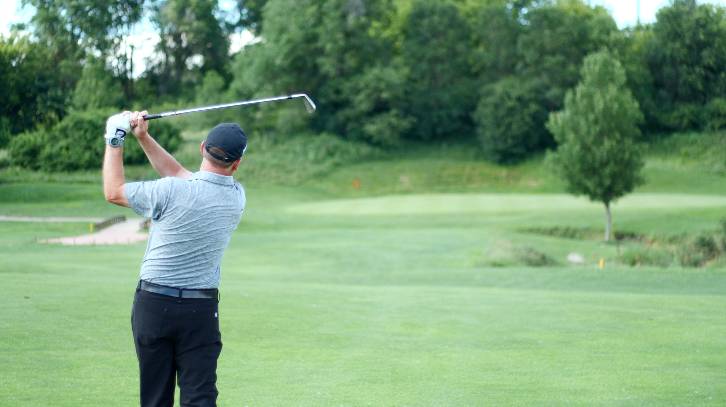 Thoughts? Comments?
Have you tried the Bushnell iON 2 for yourself? What did you think of it? Is there another product you swear by?
Share your thoughts in the comments! Whether you have questions, want to learn about another product, or even disagree, let us know. We're always happy to hear from you.
And if you have any struggles with your golf game, we can help you with chipping mistakes, fixing that nasty slice, or just getting you started golfing, as well as everything in between.
Don't forget to follow us on Facebook and Twitter, and subscribe to our YouTube channel for new content. We're always reviewing the latest products in golf, hoping we can help you find the tool that will help you play better golf.
Want to learn about the new Bushnell Hybrid GPS Laser Rangefinder?  Watch our review below!