VLS Maxvert Hybrid Review: The EveryGolfer's Performance Club
The New Maxvert Hybrid Promises to Put an End to Topping and Chunking, Cancel Low Bullets, and Vastly Improve Your Launch and Distance.
Have you heard of the new VLS Maxvert hybrid?
You're gonna want to if you:
Are an older ("experienced") golfer,

Are a casual golfer of any age who struggles with their hybrid,

Constantly hit your hybrid way too low,

Can't stop chunking, topping, or slicing your hybrid,

Can't seem to

aim your hybrid

, or

Would love to get more carry distance on those approach shots.
This brand new hybrid from the VLS team promises to ease all of these common struggles. And while it's hardly remarkable that a club would be advertised as your ticket to better scores, this one comes with a unique benefit:
It's the only hybrid designed by a major champion golf coach specifically and exclusively for casual and senior golfers.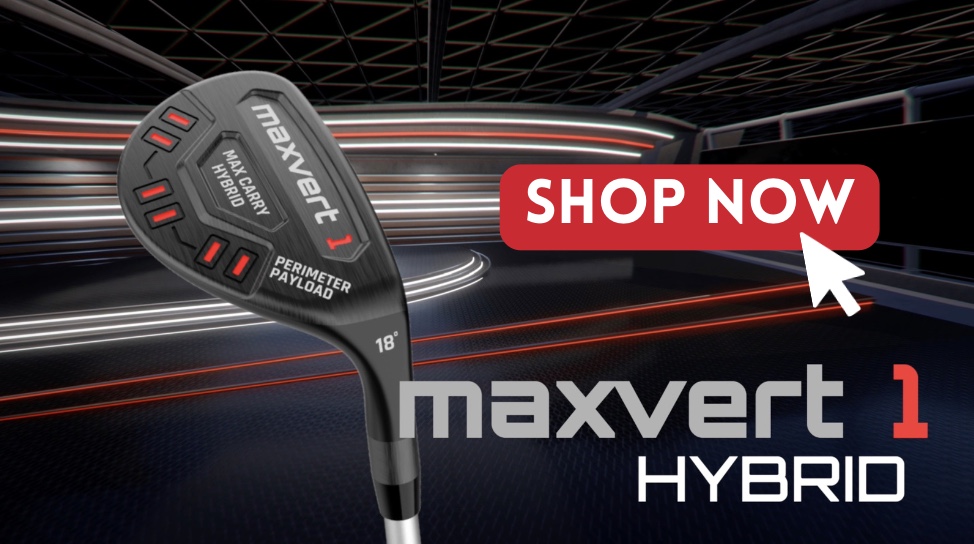 But what does that mean exactly? And does it actually work?
We've got all the details you're looking for about this buzzworthy new hybrid.
What's the Pitch?
Traditional hybrids are not designed to suit the swing style of the everyday golfer. Rather, big clubmakers craft their products to get the best performance from world-class athletes.
PGA instructor Todd Kolb—the original mind behind the Maxvert hybrid—says this is the main reason amateur golfers struggle with their hybrids. They're swinging clubs designed for someone with more speed, flexibility, and precision.
To put it in direct terms: those of us who aren't professional players are set up to fail.
Tired of seeing the everyday golfer neglected by the golf industry (again), Kolb set out to design a hybrid designed for the rest of us.
Much like Kolb's first design endeavor—the Maxvert driver—this hybrid is created to help golfers achieve:
Better contact

More accuracy

More consistency

Longer distances

Higher launch
…all without changing their swing. In fact, the VLS team claims you can start reaping these rewards from your very first swing with the Maxvert.
But how does that work exactly?
To understand that, you first need to understand why your current hybrid doesn't perform the way you expected it to.
Could All Those Rotten Shots
Really
Be Your Hybrid's Fault?
Perhaps the most compelling aspect of the Maxvert's advertising is the claim that our current hybrids are to blame for our worst approach shots.
Who wouldn't want to believe that? Who doesn't love the idea that we could all be launching it high and landing it softly on the green if only we had the right club?
But where's the justification for this claim?
This is how Kolb breaks it down:
The Shaft is Too Long
An ultra-long club shaft hinders amateur golfers in two ways.
First, the length forces you to stand far from the ball at setup. This throws off your ability to perceive the target line accurately and aim your shot correctly.
Second, a longer shaft means less control. It's going to take more torque in the wrists to keep the clubface square and find the sweet spot at impact.
The Hosel Doesn't Help
Speaking of control, the hosel of your hybrid is set far back on the heel, far from the clubhead's center of gravity.
Because the hosel connects to the only part of the club you have direct control over—the shaft—this positioning literally takes the center of gravity out of your hands.
The Flat Lie Shortens Your Swing (and Kills Your Back)
Traditional hybrids feature a flatter lie angle. That is to say, when you take your set up, the shaft naturally comes out of the clubhead at a shallower angle instead of more up-and-down.
This forces you to stand even farther from the ball. It also promotes a naturally flat backswing.
Now, you may have been taught that a flat backswing is a good thing. And it absolutely is if you can twist like a twentysomething or a tour professional.
But if you don't have superhuman flexibility anymore, a flat backswing is a short backswing.
The Curvature Creates Chaos
The curved sole of traditional hybrids is a destabilizing feature for anyone who can't afford to spend hours practicing to improve contact. If you can't seem to stop chili dipping, this is the feature to blame.
Your hybrid also has a curved leading edge, which makes this club even harder to aim and tougher to launch.
So Why Would Anyone Put These Features in a Hybrid if They're So Awful?
The truth is, these features do get a great performance from elite athletes. They just don't serve the skill set of the everyday golfer.
Here's how the Maxvert is different:
The Design of the Maxvert Hybrid
First, let's talk about the minds behind this design.
You already know it was Todd Kolb who first came up with the idea to create a hybrid for golf's most neglected demographic: experienced, casual golfers.
If you've been following us at USGolfTV, you probably also know that Kolb has been coaching golf for nearly three decades. He's a four-time Golf Digest Best-in-State Instructor and has worked with students of all walks of life: kids to seniors, beginners to tour professionals and a major champion.
He's also passionate about helping golfers access the information that works for them.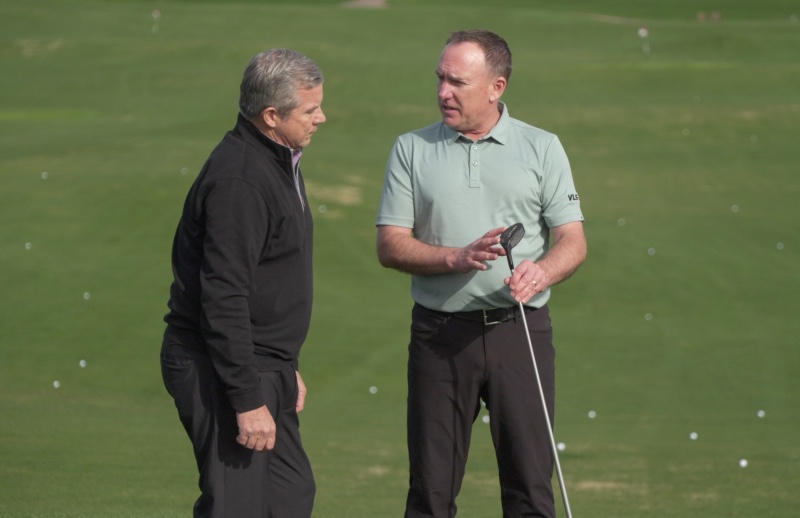 In recent years, he's revolutionized the way senior golfers approach the game with his Vertical Line Swing System. The VLS System is a method designed to help players find more success on the course even as they lose strength, flexibility, and balance.
He's also the author of the book The Bad Lie: Why Golf Instruction is Failing You (And What to Do Instead).
Kolb took everything he knew about the experienced golfer's swing to hot-shot designer Josh Boggs. If you're not familiar with Boggs, he's a big name in the industry and has scored a dozen Golf Digest Hot List medals during his time with Nike.
With their combined insight, Kolb and Boggs designed the VLS Maxvert 1 driver and the VLS Maxvert hybrid. The recently-released driver has already been met with glowing reviews from experienced golfers.
As for the hybrid, here's what Kolb and Boggs came up with:
Playability-Tuned Specs
18-Degree Loft
Lie Angle: 60 degrees
Club Length: 40.5″
Head Weight: 228 g
20-Degree Loft
Lie Angle: 60 degrees
Club Length: 40″
Head Weight: 235 g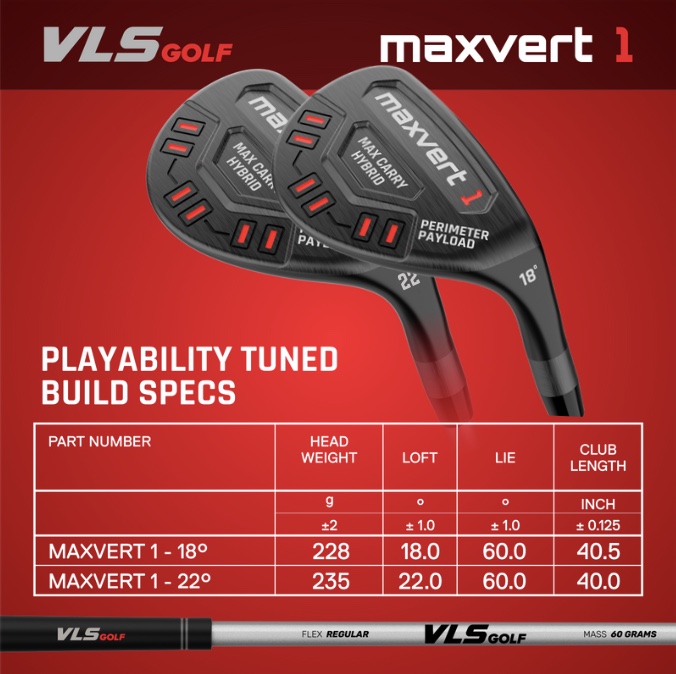 Shaft Flex Options

– Stiff: 70 grams
– Regular: 60 grams
– Senior: 50 grams
– Ladies: 50 grams
Shorter Shaft
The Maxvert hybrid comes with a slightly shorter shaft length than the traditional hybrid. This gives you more control over the clubhead, making it easier to maintain a square face throughout your swing for solid, center-of-the-face contact.
Vertical Lie Angle
Remember how the flat lie angle on your current hybrid forces that back-twisting, too-short backswing?
With a vertical lie angle, a more vertical swing comes more naturally. This allows you to create more length in your swing without injuring yourself.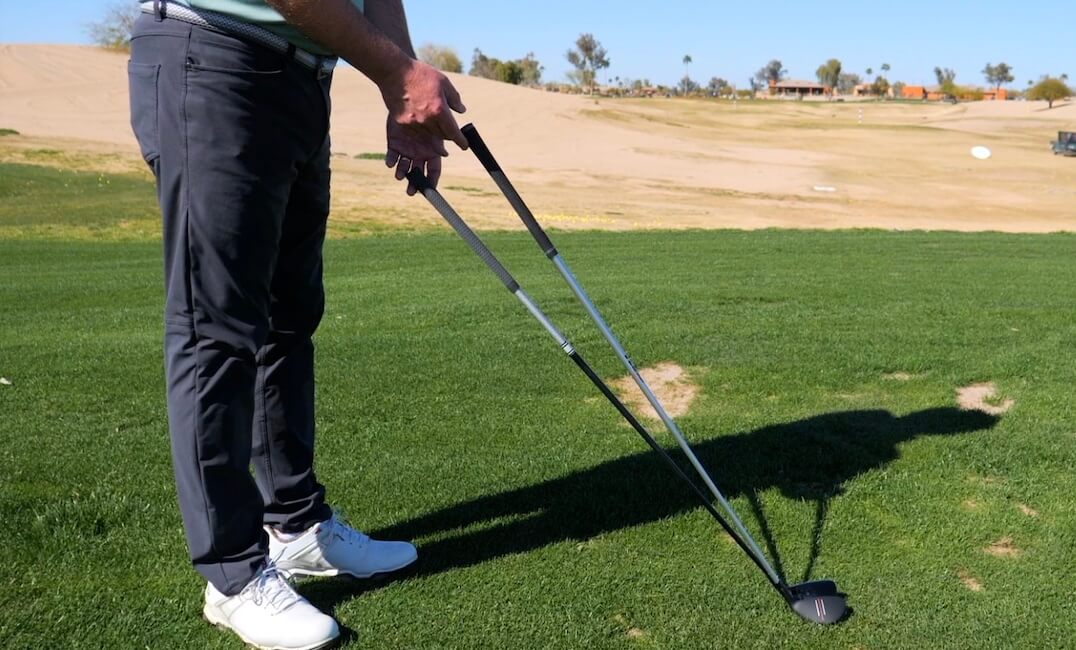 Shaft Shift Technology
Shaft Shift Technology positions the hosel to drive the hands forward. This is essentially an anti-casting design to help you hit pure, flush shots and eliminate the slice.
Active Hot-Strike Surface
This is already one of the most popular features. The maxvert hybrid features an ultra-thin stainless steel face, creating an Active Hot-Strike Surface—a springboard that blasts the ball down the fairway.
Basically, this feature gets you extra yards for less effort.
Perimeter Payload
This draw-biased heel weighting effectively lightens the toe for an easier release, purer contact, and high draws.
Clubhead Designed for Speed and Launch
The weight of the clubhead is designed for effortless speed generation.
The Maxvert also features two loft options specifically calculated to meet the swing speed of the everyday golfer. In other words, you get maximum carry for your swing speed… not to mention maximum forgiveness for those imperfect shots.
The two loft options are 18 degrees (great for a high, long ball flight) and 22 degrees (ideal for super high launch and a soft landing).

Ground Hugging Sole and Straight Leading Edge
These two features work together to create a low center of gravity for simplified aim and an end to low bullets.
Plus, the ground-hugging sole maximizes your ground-turf interaction to drastically improve center strike contact.
Fairway Finder Alignment Guide
This one is so simple but so significant.
Three crisp guidelines grace the crown of the hybrid to help you set up your shots more accurately. This is a game-changer for any golfer who struggles with aim.
Clearly, a lot of thought went into this club. But given Kolb's background as the creator of the VLS System, you might be wondering:
Can This Design Help Your Game Even if You Don't Use the Vertical Line Swing?
It's true that Todd Kolb based both his VLS System and the Maxvert hybrid around his knowledge of the swing methods that work best for senior golfers.
It's also true that many golfers find a lot of success pairing the VLS method with the Maxvert clubs.
However, Kolb's goal in designing both the Maxvert driver and hybrid was to make a club that would get results without requiring the user to change anything about their swing.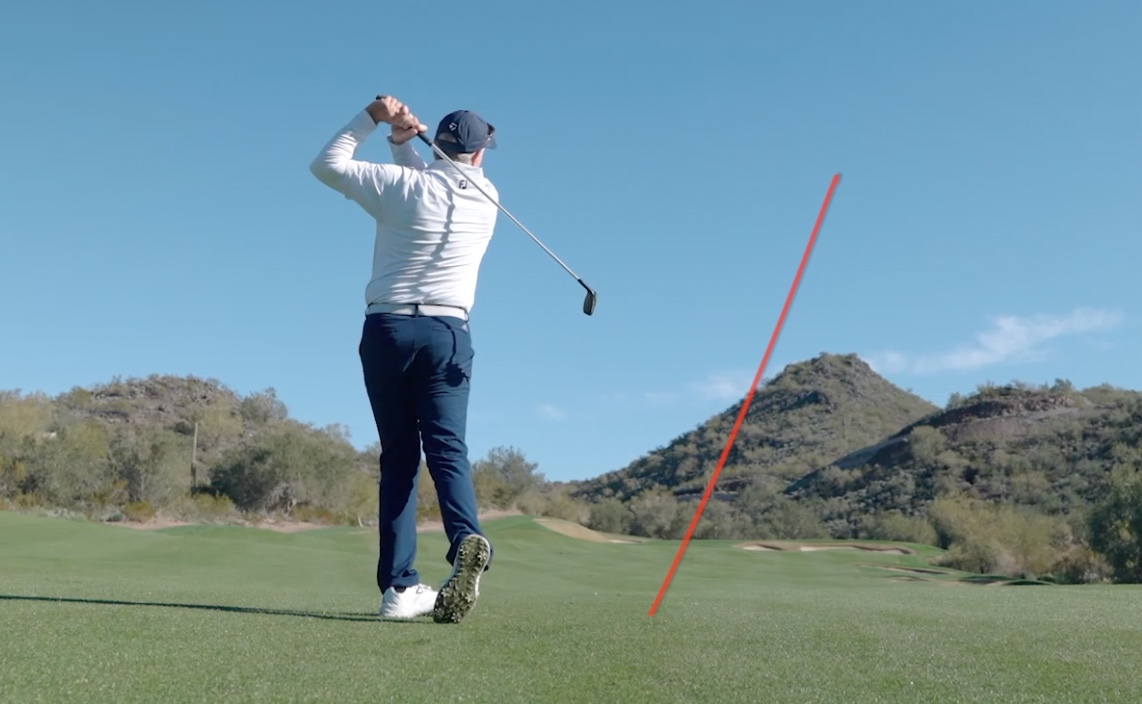 In other words, this hybrid was made to help you play better golf immediately. There's nothing to learn and nothing to adapt to.
Learn the VLS method if you want to. But if you don't, the Maxvert will still help you make magic with your current swing.
How Does the Maxvert Hybrid Compare to the Teton and Monza?
If you're a regular follower of USGolfTV, you know we've recently endorsed two other hybrids: the Teton Hybrid and the Monza Fairway Hybrid.
So what makes the Maxvert different?
For one thing, the Maxvert is the only one of these clubs to have been designed by a major champion coach. While the Teton and the Monza have been promoted by the guy you trust to help you play your best game, the Maxvert was actually created by him.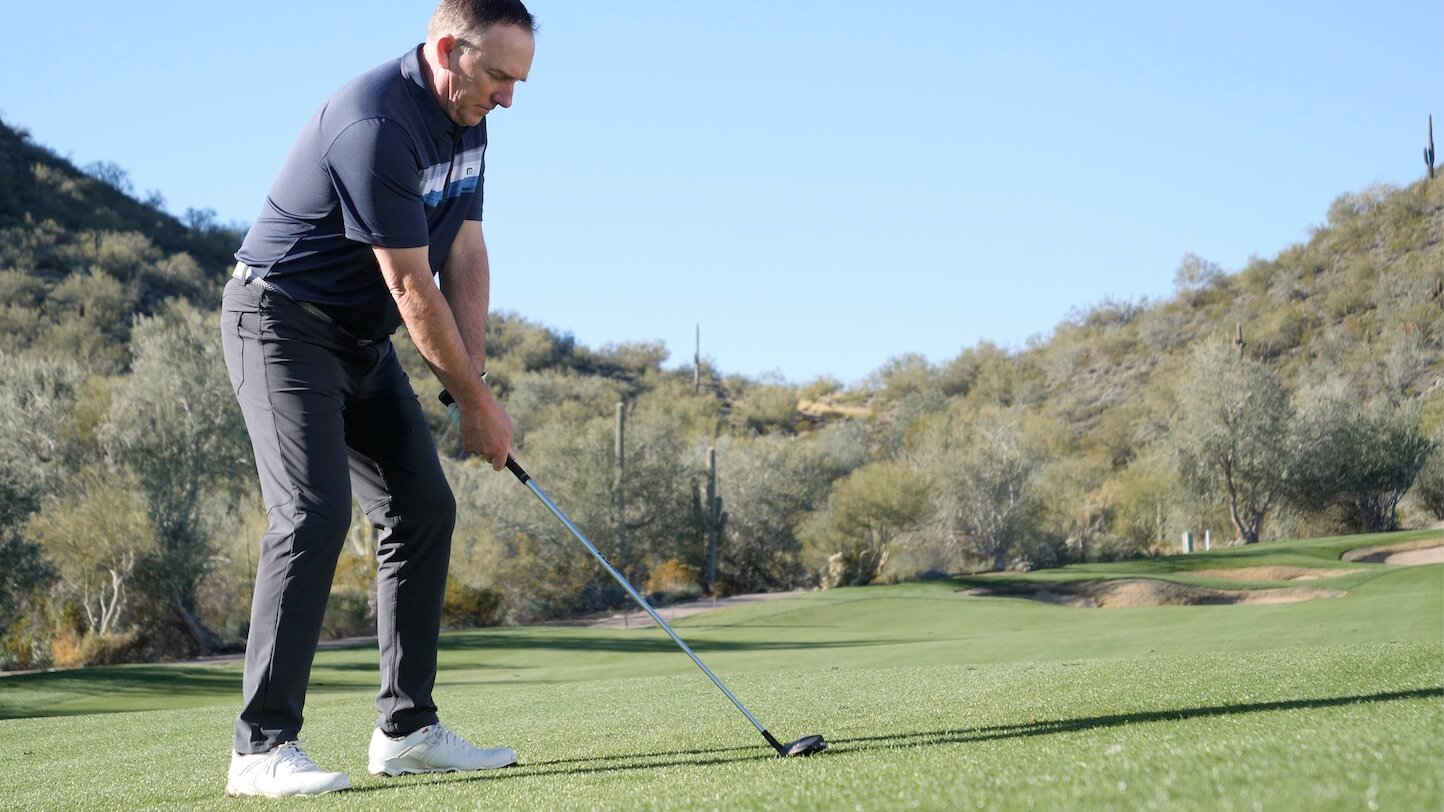 Second, while the Teton and Monza were designed to make hitting a hybrid easier in general, the Maxvert was made to make hitting a hybrid easier for you. This club takes into account the specific needs, skills, and swing motion of experienced golfers.
But let's be honest. The only difference any golfer really cares about is results. And in that area, our money's on the Maxvert. The Teton and Monza are effective. But with the Maxvert, we're already seeing casual golfers pick up more yards and get better contact from the very first swing.
How Much does the Maxvert Hybrid Cost?
So how much will a revolutionary new hybrid set you back?
Right now, the Maxvert hybrid is currently available for $229.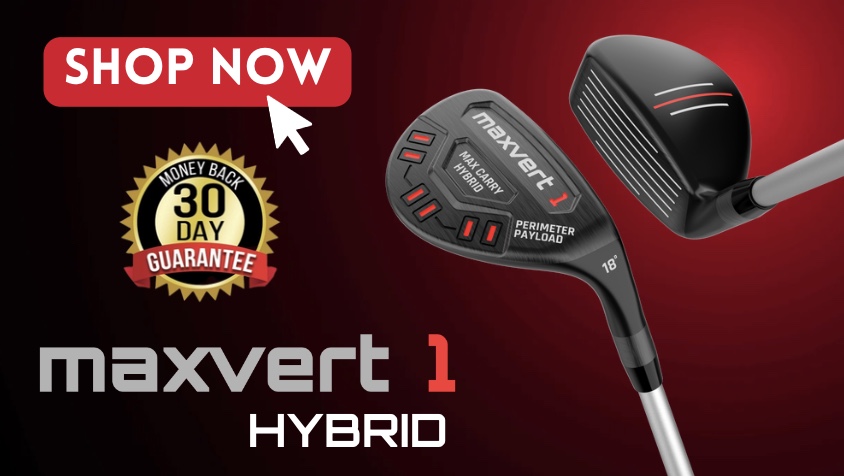 That's a pretty good price for a quality hybrid. But if you need a little more assurance, you might be interested to know that it comes with a 30-day money-back guarantee.
A "no questions asked" guarantee. And the club does not have to be in pristine condition. In fact, you're encouraged to swing the heck out of it.
If you're ready to take the leap, you can grab yours here.
Does the Maxvert Hybrid Conform to the Rules of Golf?
The Maxvert Hybrid is designed to conform to the rules of golf and is pending USGA certification.
Our VLS Maxvert Hybrid Review: What's the Verdict?
We tried the Maxvert hybrid for ourselves, and we can tell you:
This hybrid is so fun to hit.
You feel completely in control on approach shots, getting center-of-the-face contact is way easier, and even mishits stay on target. Oh! And you can pretty much count on beating your best distance with your old hybrid.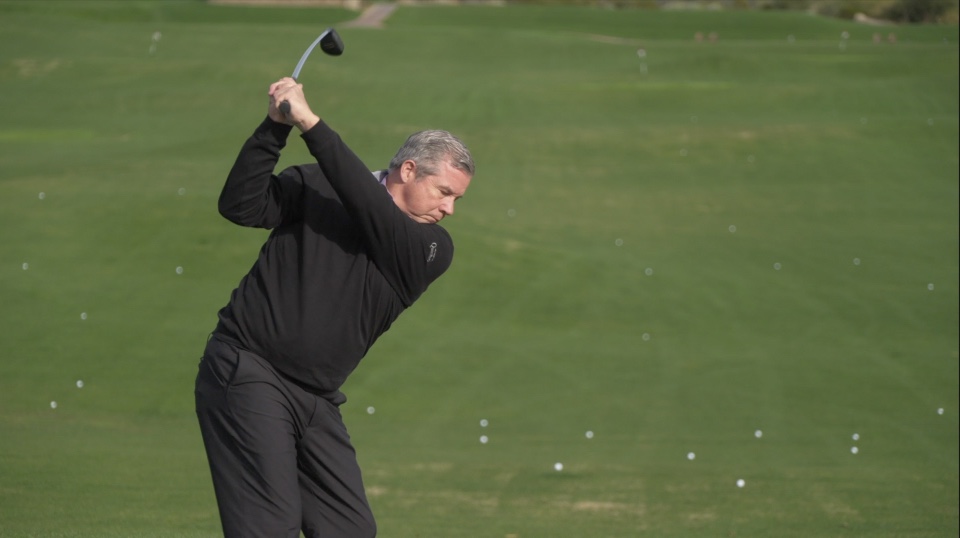 Here's what a few other golfers had to stay about their test-runs with the Maxvert hybrid:
"I normally hit my 3 wood 220-225 yards when I flush it. When I mis-hit the Maxvert hybrid I'm still going 217-218. When I flushed it, it went 230. It's easier to get up in the air, easier to control, I might as well take the 3 wood out of the bag!" –Pete

"I've never hit a hybrid like that. My normal shot shape is a slight fade or a push, and I hadn't hit one shot to the right with the Maxvert Hybrid. The ground is your friend with that ground-hugging technology. I'm taking this one home, that's how happy it makes me feel!" –Robert

"My normal hybrid I hit 200-205. The first swing with this Maxvert hybrid went 207, and I was hitting 215 effortlessly. I have never hit a hybrid that's as easy to hit as this Maxvert hybrid. The ball flight was high, soft with a baby draw. I am amazed." –Mike

"I haven't hit a draw on purpose in 30 years, and I was doing it over and over with the Maxvert Hybrid. I need to show my golf partner this film, he's not going to be happy about this. Guess I don't need a driver anymore!" –Kevin

What's Your Take?
Would results like those be enough to inspire you to check out the Maxvert hybrid for yourself? Have you already tried this club? Do you have any questions for us?
Drop into the comments and let us know what's on your mind! We're here to help.
And if you're interested in checking out more tips and products designed specifically for your game, visit vlsgolf.com.