How to Hit a Draw with Your Driver in Three Easy Steps
Know How to Hit a Draw with Driver? Discover These 3 1/2 Simple Tips and Have Way More Fun at the Tee.
What golfer isn't looking for the secret of how to hit a draw with driver?
If you're not hitting consistent draws on those driver shots, you're losing valuable distance. A nice, high draw off the tee is one of the best (and most satisfying) ways to minimize the number of strokes between you and the cup.
And the good news is, it's actually not that difficult to achieve that kind of shot. You just need the right information.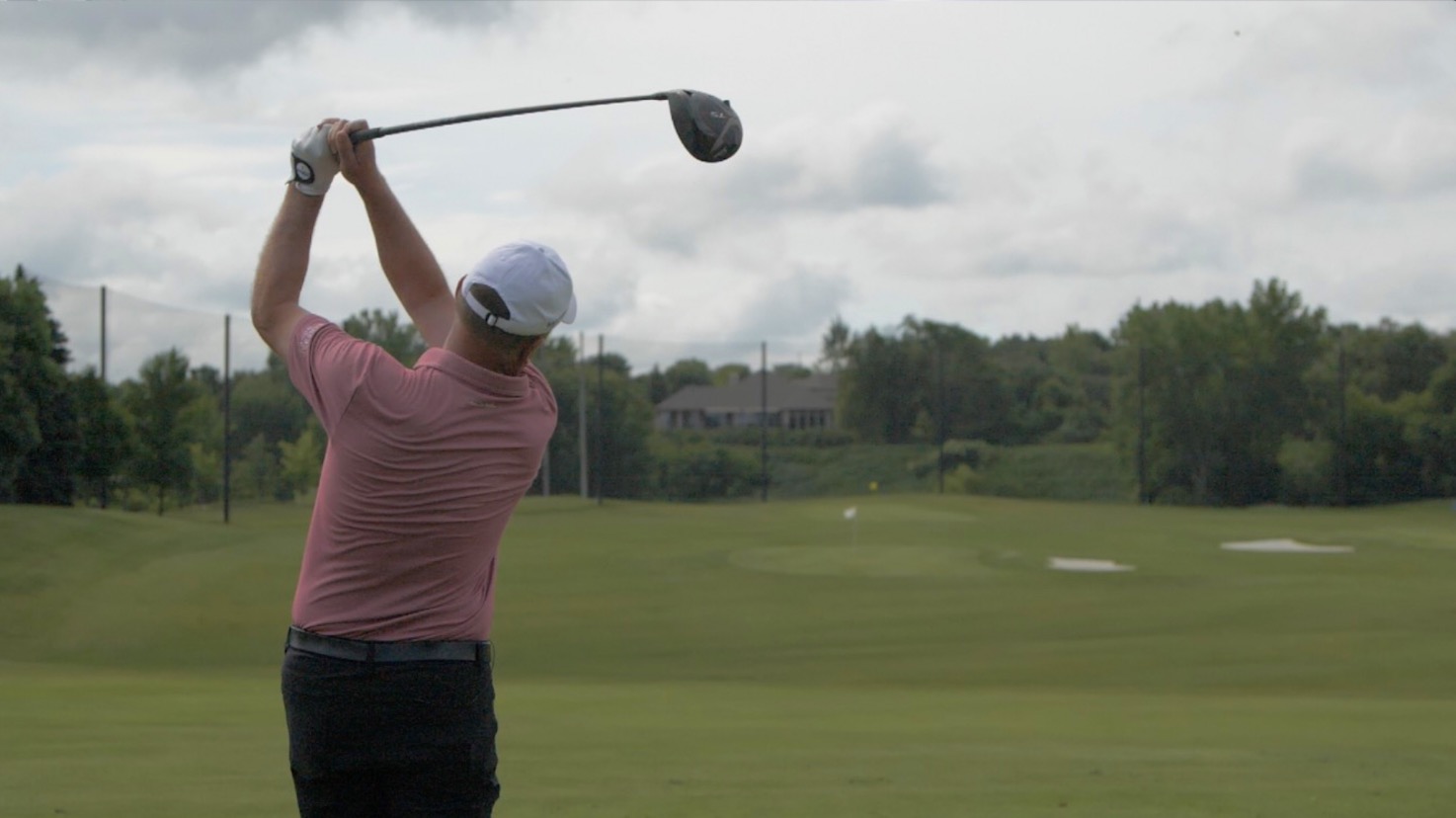 I am going to share all the insights you need to unlock that perfect draw with your driver. We'll take a look at:
I'll also share a key tip for a perfect transition and wrap it all up with a drill to help you tie these concepts all together.
Every one of these tips is easy to understand and easy to do. In fact, you can start applying this advice to your golf game today. It's worth it to take a few extra minutes to learn how to set up your golf shots for the perfect draw.
If you can get the ball to turn over, you're going to get incredible distance and have a lot more fun at the tee.
Before we dive into the how-to's, let's talk about why drawing the ball is a little trickier with your driver shots.
The Fundamentals of How to Hit a Draw with Driver
If you're like a lot of golfers who struggle to draw the ball with their driver, you probably find yourself frustrated by one constant question:
"Why is it so much harder to draw my driver versus my 3-wood, hybrid, or 7-iron?"
Well, it all comes down to the fundamental difference between drivers vs. irons. In fact, your drives are unique from every other shot you make on the golf course.
When you hit your driver, you have to hit slightly up on the golf club. This means you want to make contact with the ball just after the low point of your swing, when the clubhead is traveling upward. We tee the golf ball up for this exact reason.
This is also why the ideal driver ball position is always more forward in your stance. That's how you ensure contact occurs after the low point.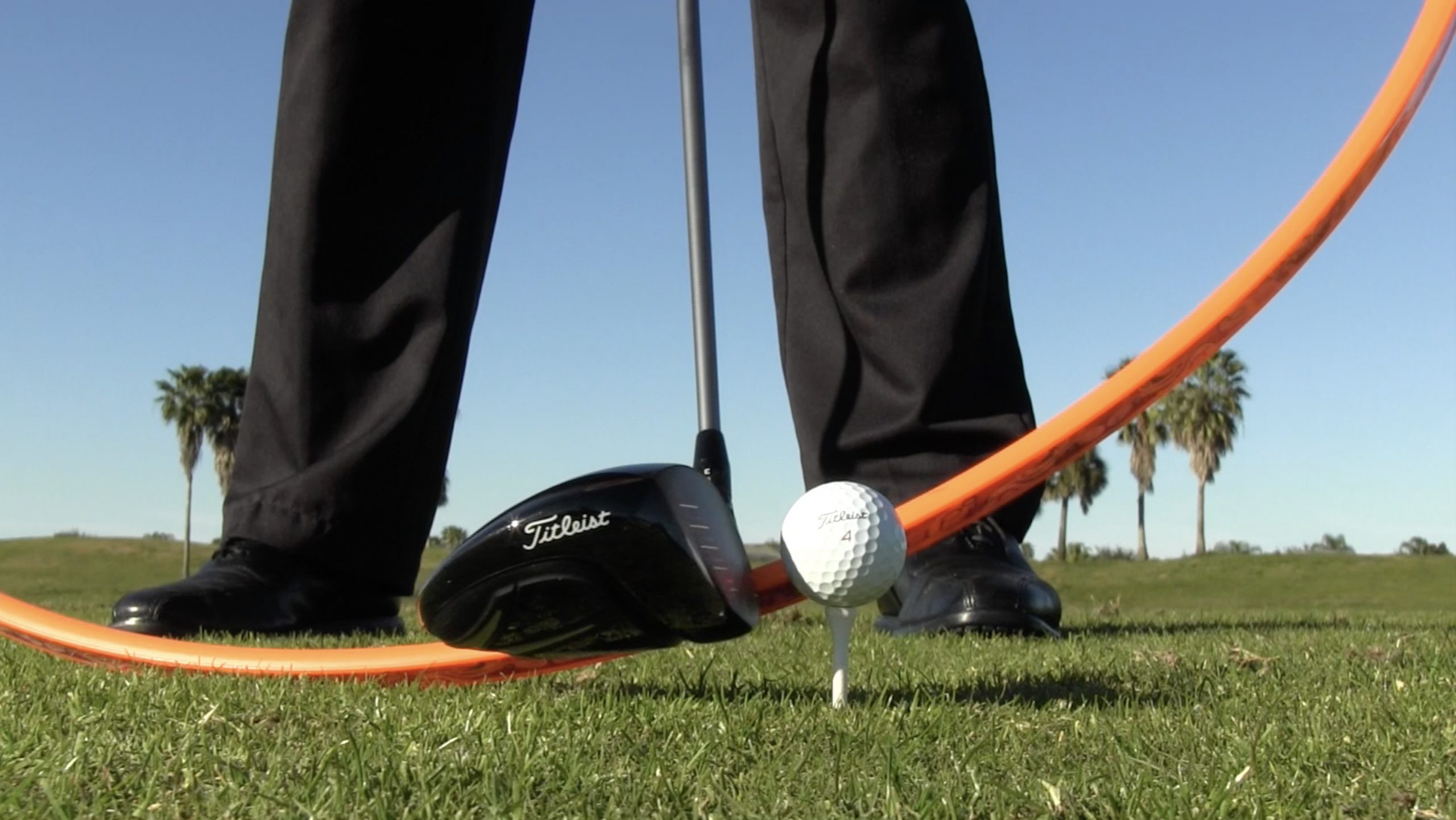 Now, here's why that matters.
Imagine the path of your clubhead throughout your swing as a hula hoop. That hoop is not perfectly perpendicular to the ground, because you have to hold the club at angle between your hands and the golf ball.
So the hula hoop is at a tilt. And that tilt means that even if your clubhead is traveling slightly to the right on the downswing, it's going to travel more towards the left as it ascends after the low point.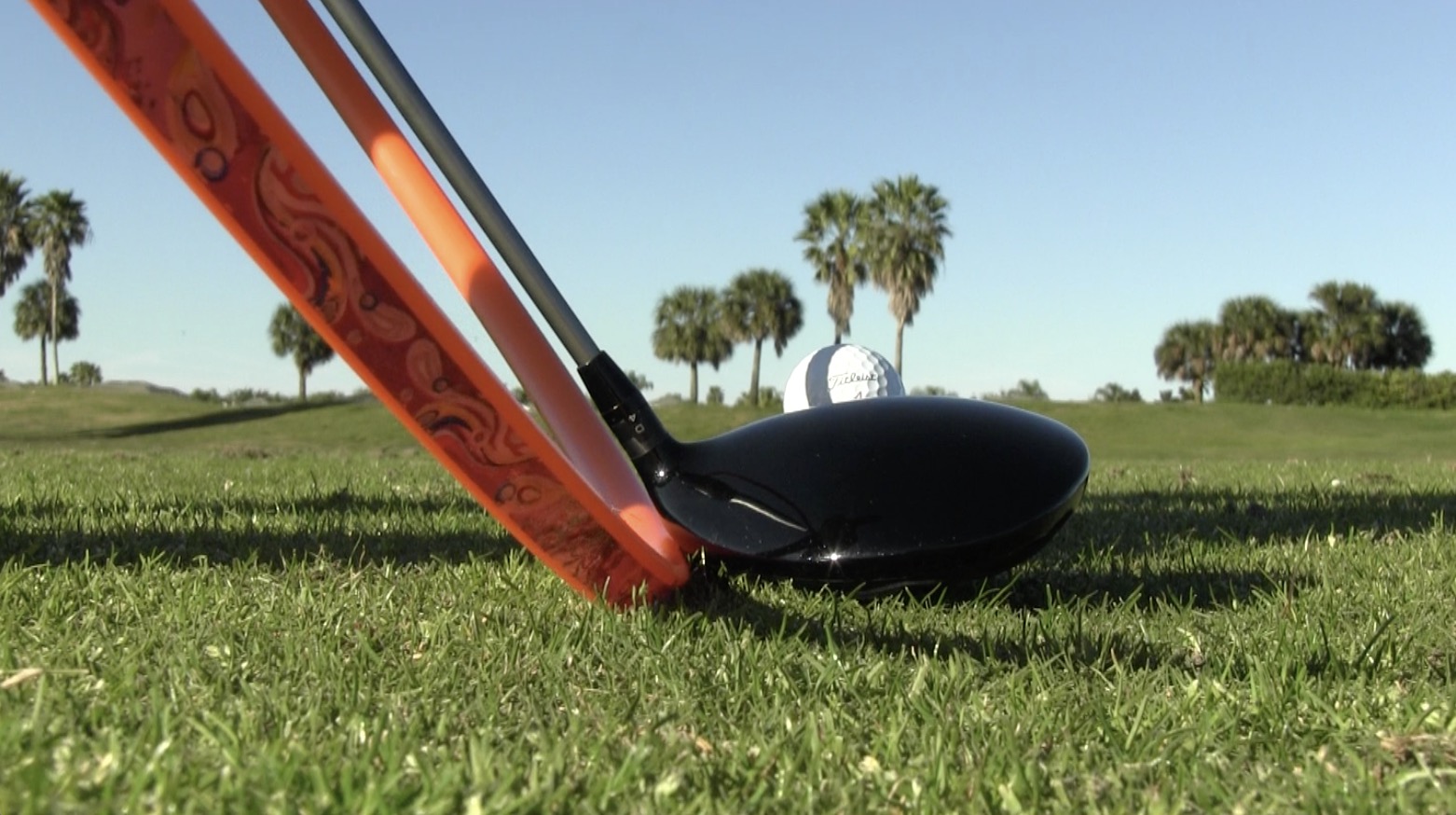 If you want to dive deep into the physics of this, you can check out our free ebook, Science of the Slice. But for now just know this:
Hitting up on the golf ball causes the clubhead to travel in and up at the moment of impact. This is the opposite of what happens when you hit down on the ball.
So if you want to know how to draw with your driver, you need to account for this difference.
Here's how:
Start with the Setup
First, you want a perfect driver setup.
What does that look like?
Generally speaking, a great driver setup accomplishes two things.
It helps you hit up on the ball.
A good setup also directs your swing path to compensate for the reversal in path direction after the low point of your swing.
Now, here's how to draw with your driver from the standpoint of setup.
Close Your Stance
First, you want to close your stance. This means your lead foot should be slightly forward (closer to the ball) compared to your trail foot.
To put that another way, right-handed golfers will want to step their left foot more towards the golf ball. When you draw an imaginary line across the toes of your shoes, that line should be aiming to the right of the target.
Left-handed golfers do the opposite. Step your right foot slightly forward. The imaginary line from toe-to-toe should aim a little to the left of the target.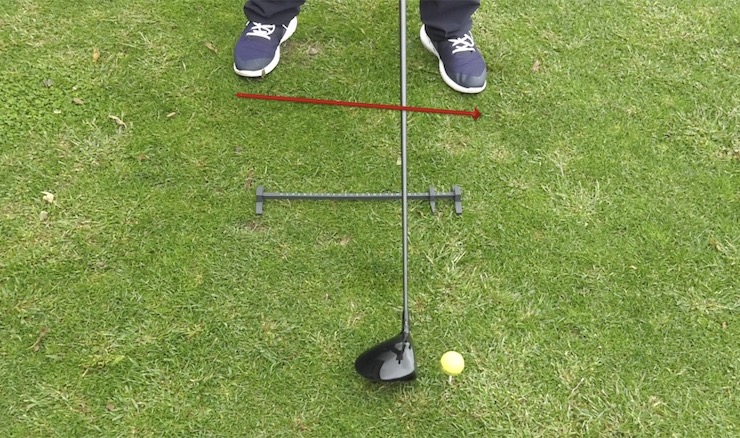 Raise Your Lead Arm
Once you set up your closed stance, raise your lead arm just a bit higher than your trail arm. This should also cause you to raise your lead shoulder and club handle.
From this position, you're able to get the upward angle of attack you want.
Tilt Your Upper Body
Finally, tilt your upper body back away from the target.
If you're not sure how far back to tilt, here's a really easy way to measure it:
Hold your golf club against your body with the handle running vertically up your chest.
Bend your knees slightly as you usually would at setup.
Tilt your torso away from the target until the clubhead hits your lead knee or thigh. That's the perfect upper body position.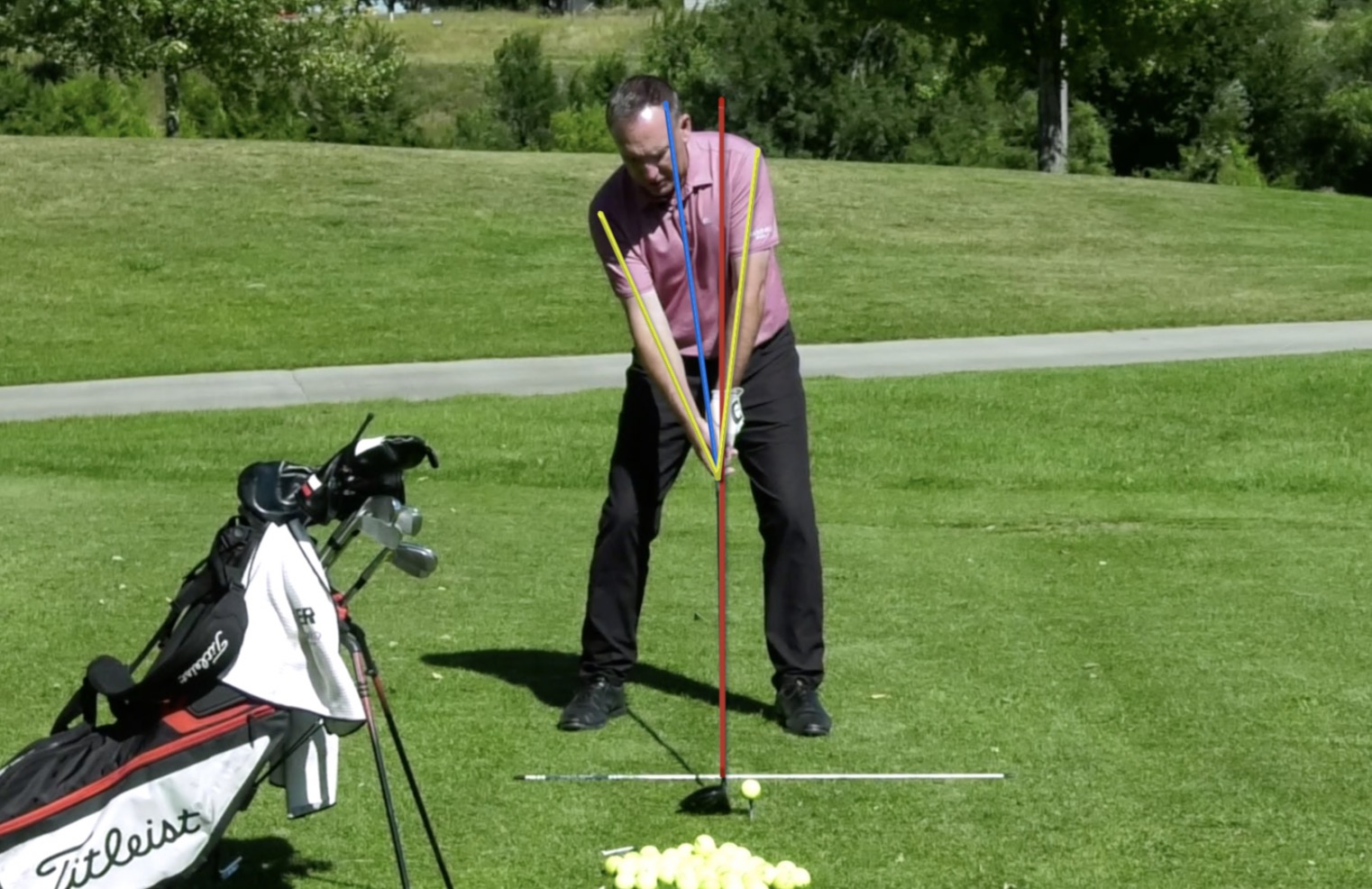 Just like raising your lead arm, this adjustment prepares you to hit up on the golf ball and get that perfect draw.
Fix the Takeaway
There are two aspects of the takeaway you need to master in order to draw the ball on driver shots.
Now, when I teach my students how to draw with driver, I like to use the LiveView camera. This device provides real-time video of your swing from any angle. You can also draw lines on the screen to help you evaluate your own technique more clearly.
If you happen to have a LiveView camera, I recommend drawing two lines as your practice your driver shots.
Draw one straight line from the golf ball through the hips.
Direct the second line from the ball through the shoulder.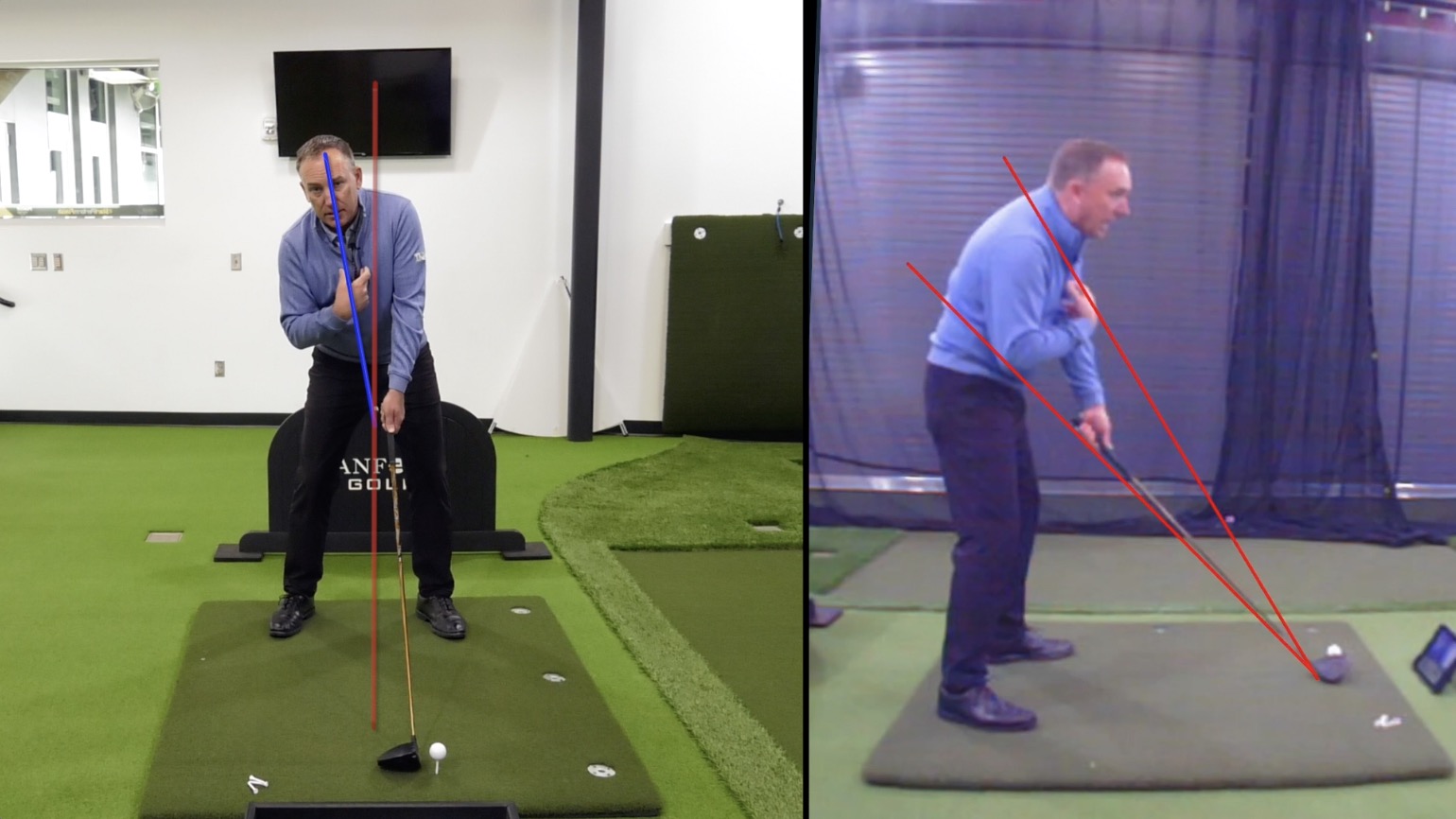 If you do not have a LiveView, imagining these lines will do the trick for now.
On the takeaway, strive to make two things happen.
First, feel your hands work in as the clubhead stays on that line between the ball and your hip. This helps you get the clubhead slightly outside your hands, which pays off big in the transition.
Second, make sure your clubhead is nice and square. Try not to let the clubface rotate open or closed. (Open means the toe looks upward. Closed means the club face points down towards the ground.)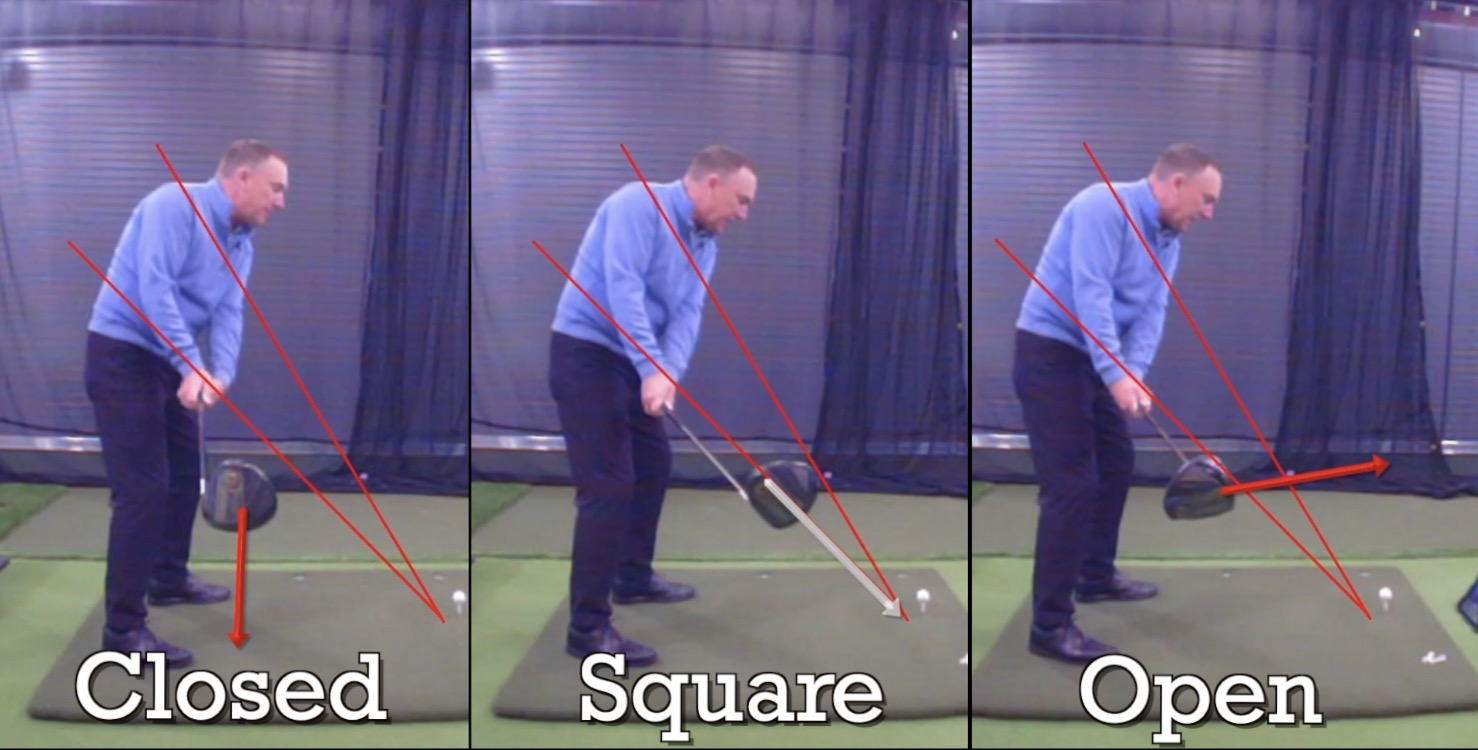 Aim for the Perfect Finish
Now, let's talk about how the perfect driver swing motion ends.
If you want to draw the golf ball, plan to finish with your trail shoulder lower than the lead shoulder.
Remember the line we drew on the LiveView—the one that travels from the ball and passes through the shoulder?
You should finish with your shoulders on that line. The trail shoulder should be low, and your torso should be tilted along the angle of the line so that the lead shoulder touches the line higher up.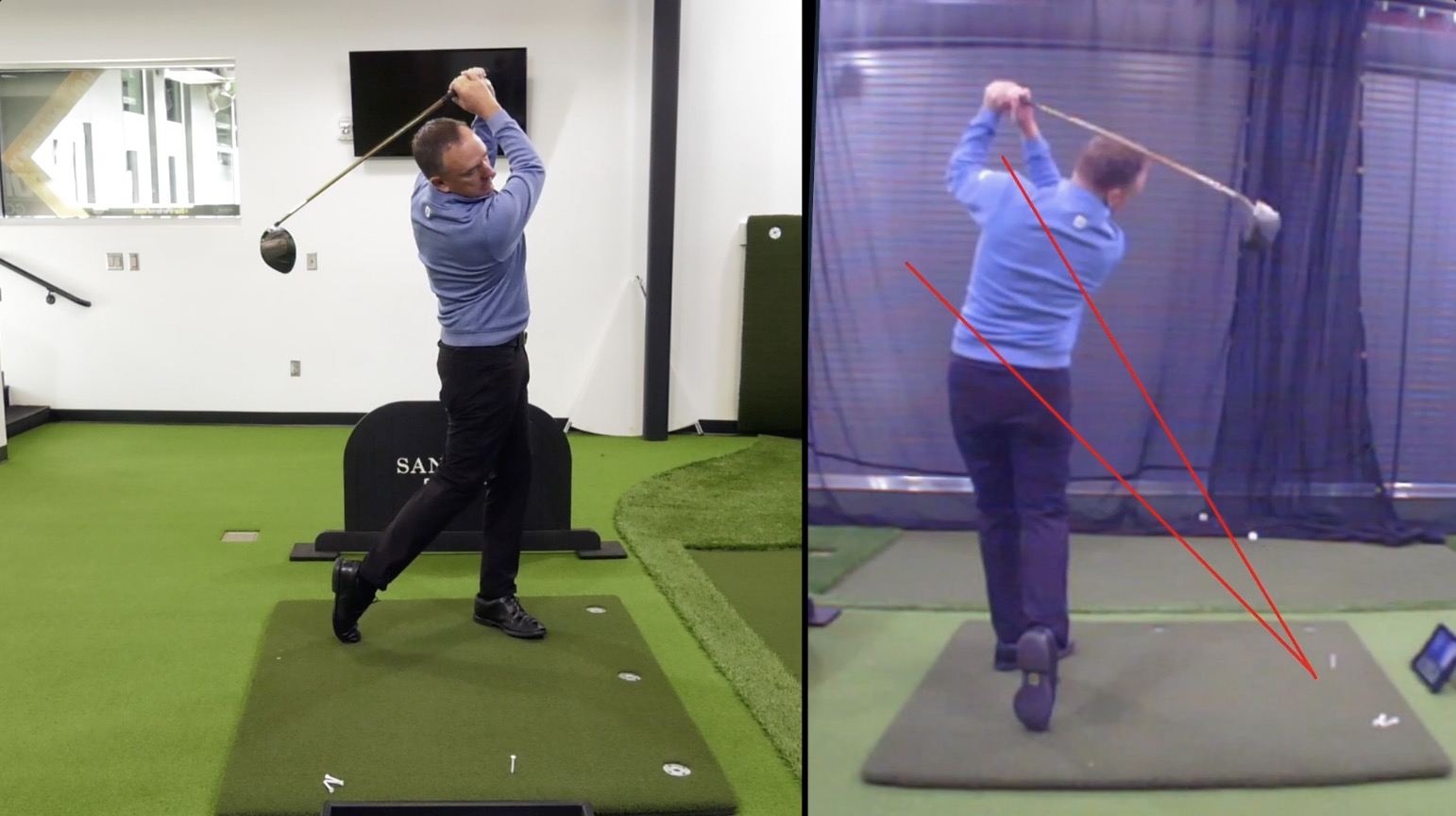 The next time you hit your driver, try to notice your shoulders at the finish . . . especially if you hit a slice instead of a draw. If you're making these nightmare shots regularly, odds are good your shoulders are even with each other.
From here on out, I want you to think about ending with that trail shoulder low.
Now, for the big question that might be on your mind:
What About the Transition?
If you've spent any time studying your golf swing sequence, you know the transition is a common problem area.
The transition is the segment of your swing motion where you make change direction, moving into the down swing from the top of your backswing. That fast reversal can kill your speed and your form if you do not do it correctly.
So, why haven't we covered this major problem area yet?
Well, it's because controlling the transition as it happens is extremely difficult. But if you master the easier aspects of your swing first—the setup, takeaway, and finish—your transition often fixes itself.
Remember how I told you to arc your hands to the inside and work the clubhead outside on the takeaway? This is the big secret of how to hit a draw with your driver. No one talks about this, but it makes all the difference.
You see, it all comes down to managing weight in your swing. Your hands create weight on one end of your club and the clubhead creates weight on the other. Through the transition, your body naturally wants to rebalance the weight distribution you established on the takeaway.
So, if you carried the clubhead outside your hands, your clubhead will naturally travel from the inside in the transition. This helps you hit up on the ball and creates that shoulder drop. You don't have to think about it or try to control it. It just happens.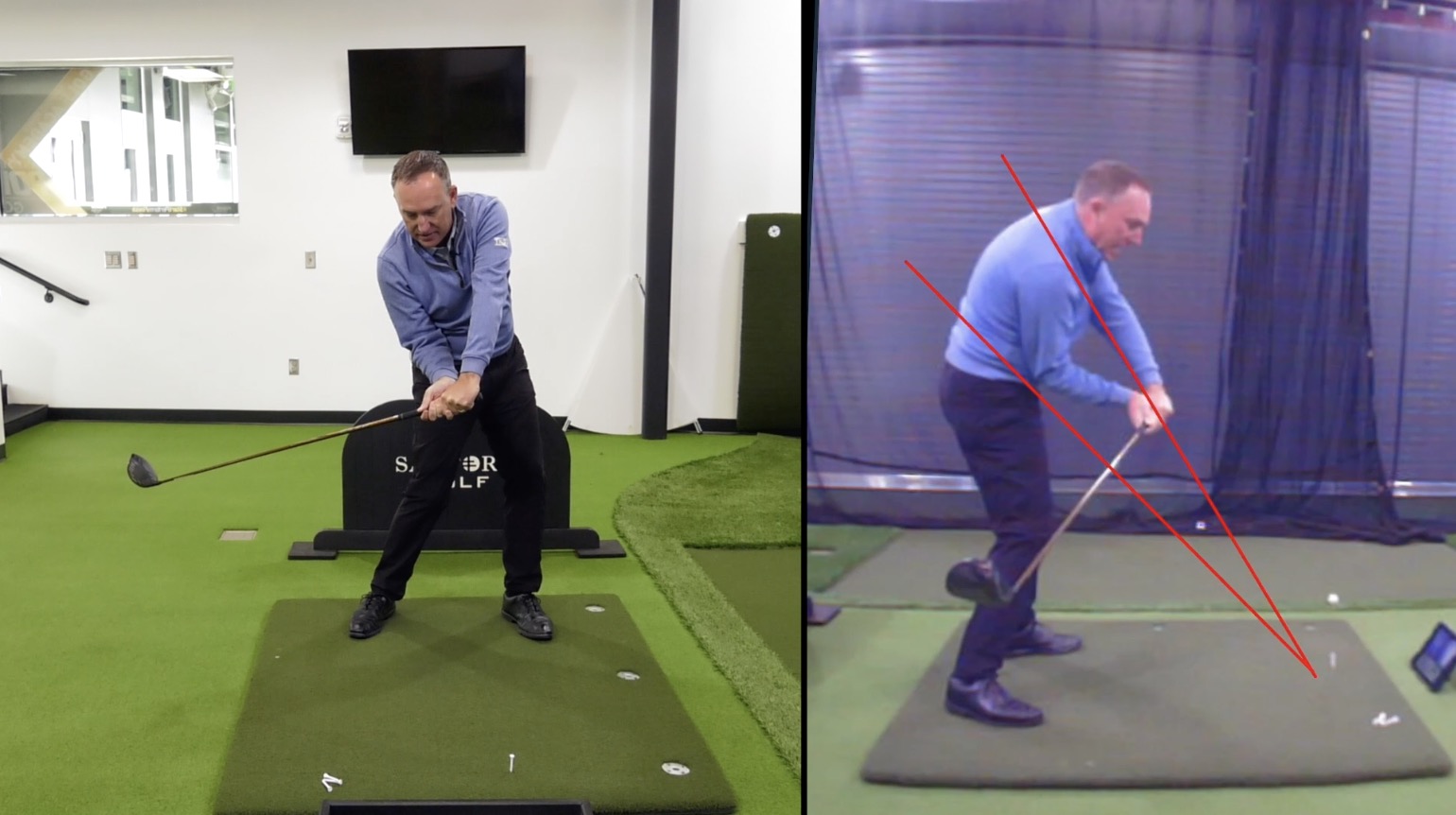 If you watch a lot of slicers closely, you'll see that they do the exact opposite. On the takeaway, they pull the weight of the clubhead in as they work their hands out. As a result, they reverse that weight distribution in the transition.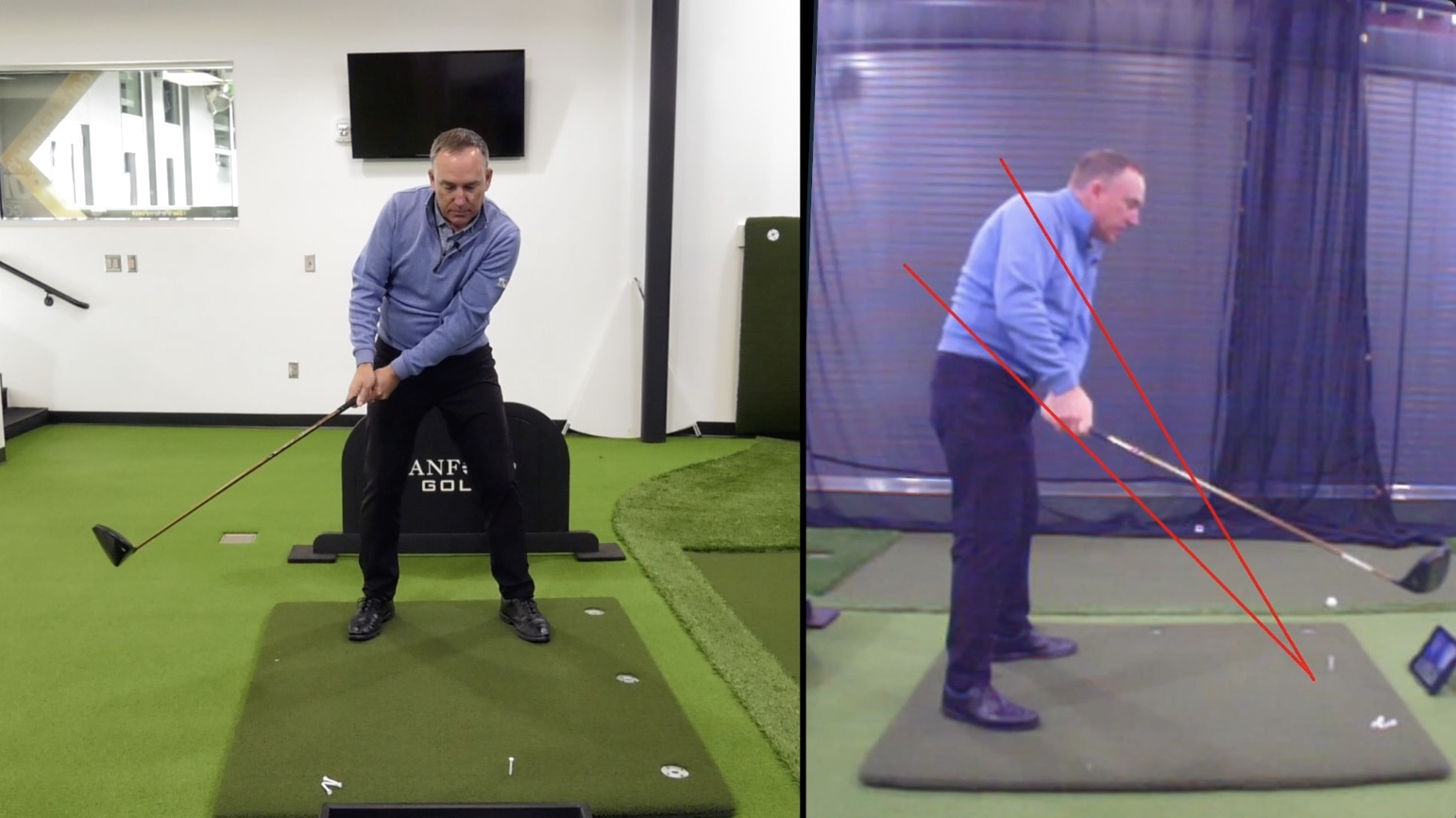 All this to say, the transition is a key element in how to hit a draw with driver. But if you do everything else right, you don't actually have to think about the transition at all.
Quick Recap
Now, I promised you this would be simple. And when it comes to actually executing this advice on how to draw with driver, it is astoundingly easy. I just wanted to make sure you had some foundational knowledge so you understood the "why" behind all these tips.
But now let's take a step back and look at the bare essentials. What do you actually need to do the next time you're at the golf course or the driving range?
Here's your checklist:
On the setup:

Close your stance by stepping your lead foot slightly closer to the ball.
Raise your lead arm slightly higher than your trail arm.
Tilt your upper body away from the target.

On the takeaway:

Work the clubhead outside your hands.
Keep the club face square.

On the finish:

End with your trail shoulder lower than your lead shoulder.
Now, if all else fails, this next drill is a failsafe technique for how to hit a draw with your driver.
The Perfect Drill for Learning How to Hit a Draw with Driver
The tips I've already given you will help you get the nice, high draw you've been dreaming of. But sometimes you just want a quick trick for getting better results.
And if your goal is to draw the ball with your driver, I suggest this astoundingly simple routine.
The TV Drill
This is one of my favorite drills to teach to students because it's so easy and so effective.
How easy is it?
Well, you only have to remember two steps:
Take your golf swing.
Finish with the butt end of the club pointing to the right of the target if you're right-handed. If you're left-handed, finish with the butt end pointing to the left of the target.
That's it.
I even recommend taking three swings like this before you actually hit the ball. That helps you get the feel for good form in your body before you step up to the tee.
Now, how could something this simple possibly help?
Well, you might be shocked at how much you can improve your golf swing just by focusing on where you want to be at the end of it. If you're maneuvering to reach that goal, you're going to find the correct motion naturally.
Full disclosure: something so simple will not be the perfect long-term solution for banishing your driver slice and getting incredible distance consistently.
So if you're super serious about optimizing your golf swing technique, give yourself extra time to practice the other concepts in this article. Browse our blog and videos for additional tips on improving your distance and mastering your drives.
But if you're looking for an easy way to play better and have more fun as a casual golfer, the TV Drill is a great option.
What Do You Think?
Did this advice help you think differently about the way you approach your driver shots? Do you have your own tips on how to draw with driver? Is there anything here you disagree with or need further clarification on?
Whatever is on your mind, share it with us in the comments. We love hearing from you, and we welcome any opportunity to talk golf!
For more in-depth golf tips, visit us at GreatGolfTipsNow.com. This golf instruction is completely free and packed with detailed advice to help you play better golf!