How to Hit Driver for Seniors: New Tips for Older Golfers
How to Hit Driver for Seniors: Finally Pick Up More Speed and Hit Powerful Drives with Advice Tailored to You
The best advice for how to hit driver for seniors is not the same as the tips you usually see in articles and videos. You see, traditional coaching draws from the techniques used by the best players on the Tour.
Players who are in incredible shape. Golfers who dedicate every waking moment of their lives to golf. Guys and gals who are . . . well . . . young.
Our bodies change as we get older. We have less flexibility and a smaller range of motion. Those of us who are more "experienced" can no longer rely on traditional advice for generating speed.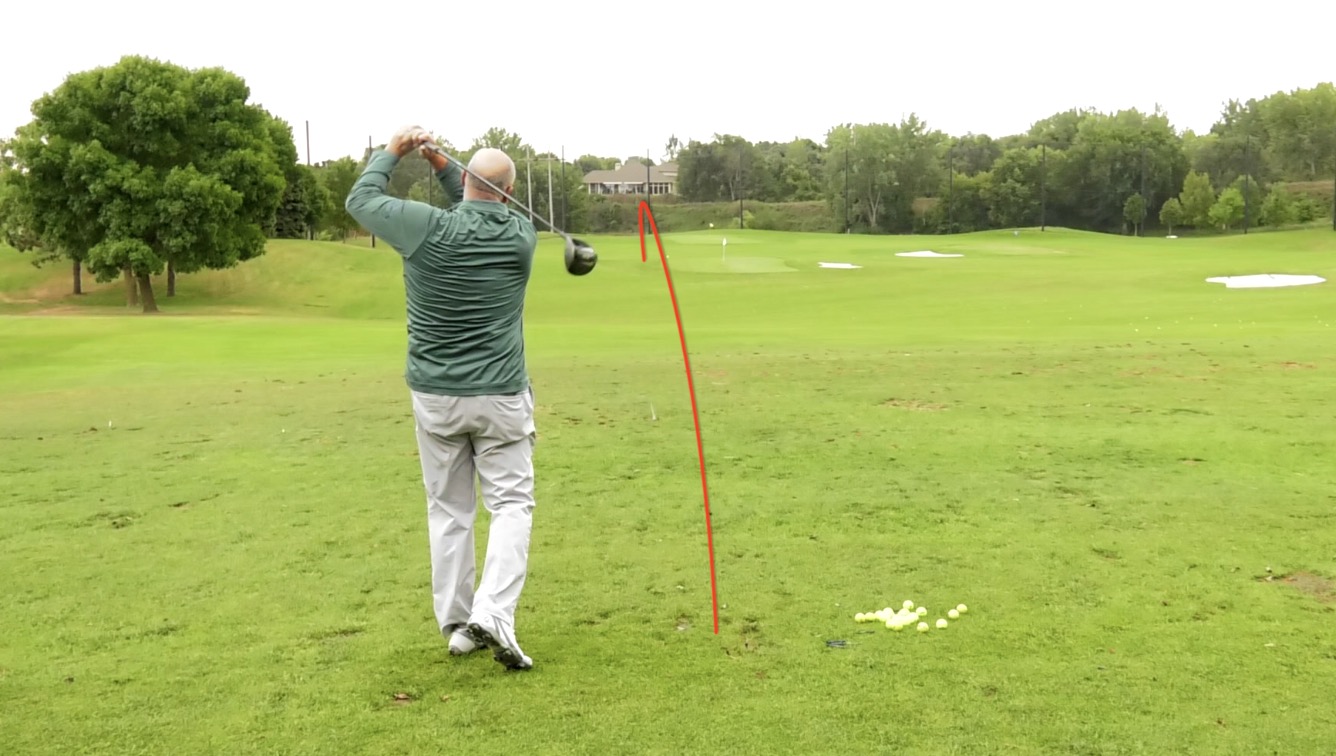 When we try to follow the same tactics as the pros, we either fall short or injure ourselves.
So, if you're struggling at the tee box, it's not because you're doing everything wrong. More likely, the problem is that you're following driver tips that aren't designed for you.
The first thing I do when I work with a new student is ask myself, "What is this person capable of? What are their physical strengths and limitations?" Then, I tailor my coaching to their needs. We're all capable of playing a solid game as long as we're working to our own abilities.
I am going to walk you through the process of how to hit a driver for seniors. We'll hit three important areas:
Setup
Backswing
Power sources
Then, I'll add a bonus drill for generating more arm speed. By the time we're done, you'll have a better idea for how to hit long, solid drives using the body you have.
Adapting Your Driver Setup
The first thing we want to look at when we talk about how to hit driver for seniors is your setup. This is where you make some accommodations for limited golf mobility.
Now, when I work with my students on driver setup, I like to use the LiveView camera. If you're not familiar with it, LiveView is an incredible device that allows you to watch your own swing in real time from any angle.
As a coach, what I love about LiveView is that I can add visual aids to my student's playback screen. When I'm working on driver setup with older golfers, I draw two red lines—one off each hip traveling straight down to the feet.
If you have a LiveView yourself, I recommend you do the same. If you don't, just visualize these lines.
Now, let's talk about traditional advice about driver setup and how we adjust it for experienced and senior golfers.
Traditional Coaching
For younger golfers, the standard advice is to square the feet at setup. This means that in the LiveView image, the golfer will see those two red lines leading down from the hips through the center of the feet.
The golfer's feet are parallel to one another, pointed in the direction of the ball. If you drew a straight line from toe to toe, that line would run parallel to the target line.
This is a beautiful driver setup. But if you're an older golfer, it comes with some significant hazards.
How to Hit Driver for Seniors: Setup
You have probably already noticed that you're not getting the same rotation you used to get using this traditional driver setup. So, we're going to make a couple small changes that help you find a wider range of motion in your backswing.
First, flare your toes. Think of the red lines on your (real or imaginary) LiveView. Rotate your toes outward slightly so that the red lines lead to the insides of your heels instead of the center of your toes.
This simple flare helps you find better hip rotation.
Then close your stance. To do this, you step your trail foot back away from the golf ball just slightly. As you do this, close your hips, too. Allow that trail hip to follow the lead of the trail foot.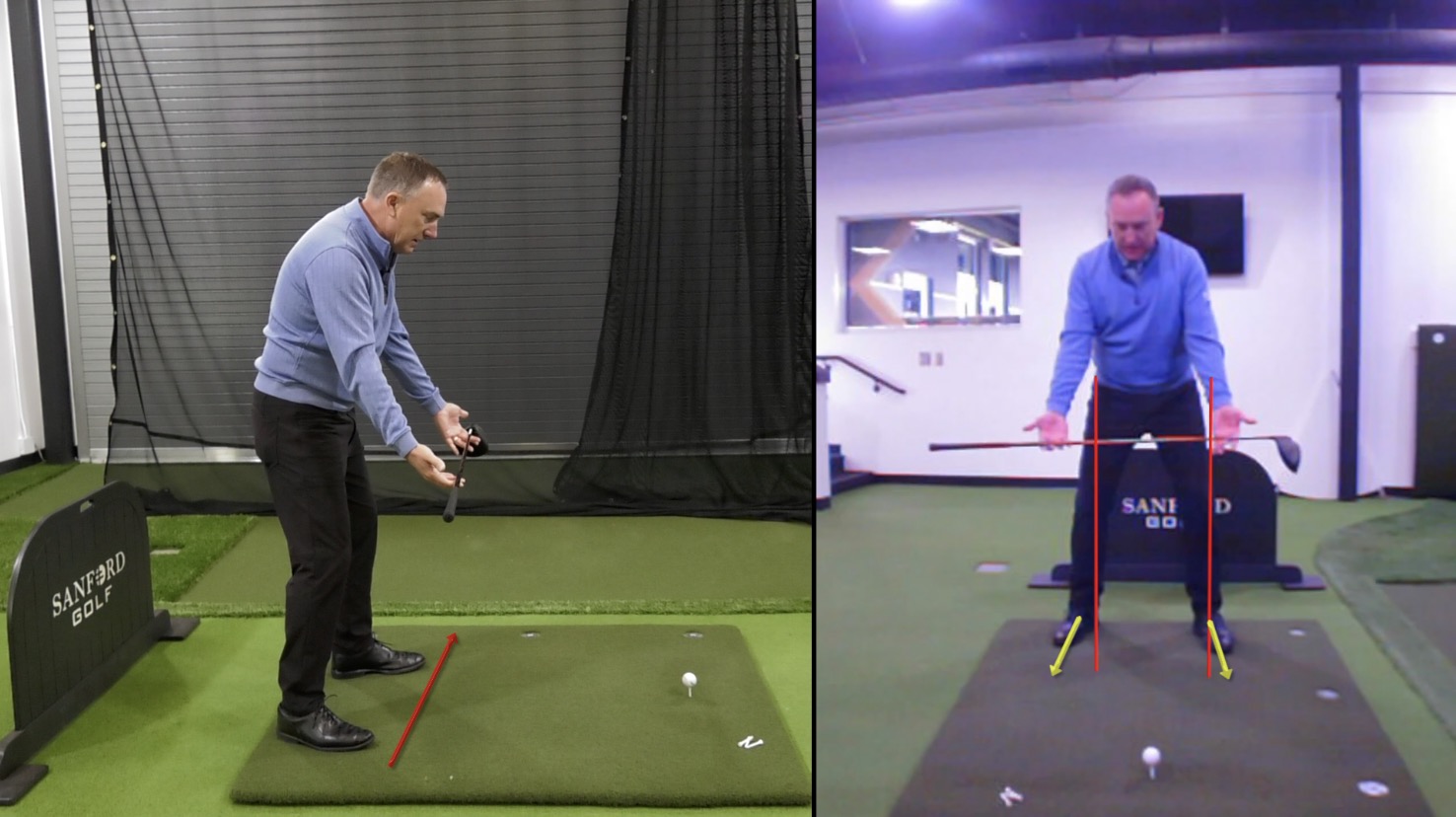 What is the purpose of this move?
Well, let's say you want about 45 degrees of hip turn and 90 degrees of shoulder turn in your backswing. (It might make you achy just thinking about it!)
Closing your stance puts you in a position where your hips are already rotated about 15 degrees at setup. It's a step towards splitting the difference. You don't have to turn quite as far on the backswing, and all it costs you is a completely doable rotation at setup.
Now, let's talk about what happens on the backswing.
Backswing Adjustment: The Vertical Line System
As many golfers know, swing length is crucial for generating swing speed. And we find that length in the backswing.
Once again, traditional advice does not help experienced and senior golfers get the length they need. This is why a shorter swing length is among the biggest distance killers for older golfers.
But—once again—there is an easy adjustment that will help you get a nice, long swing, faster speed, and longer drives.
Traditional Coaching
If you watch the best Tour players, you see them work their lead arm low, back, and behind them on the backswing. We call this a "deep" backswing. It's a maneuver that definitely achieves length and ensures solid drives.
Or, it does if you're young, anyway.
For those of us who have been around a bit longer, taking that lead arm low on the backswing really limits our mobility.
Try that motion right now. Watch yourself in your LiveView or in the mirror. You will probably notice that you're not going back as far as the young guys and gals you see on the Tour.
So let's talk about how to hit driver for seniors. This is the method that's going to help you. I call it the Vertical Line System.
How to Hit Driver for Seniors: Backswing
You know the formula: more length in the backswing equals more speed. And if body rotation can't give us that length, we need to get it another way.
We need to work with the direction of the swing.
I encourage my senior students to take their lead arm back and up on the backswing. Essentially, they follow a more vertical line swing plane.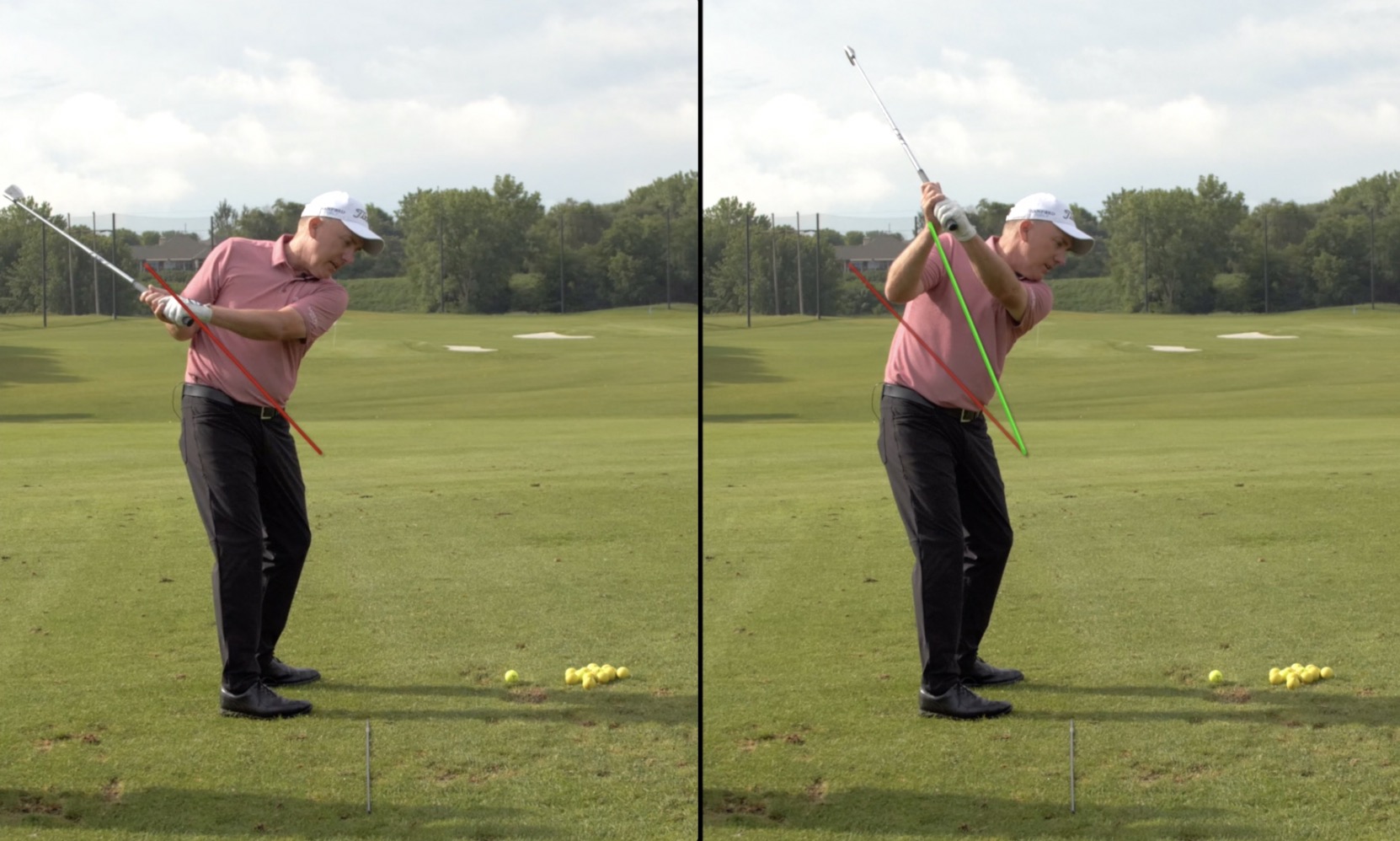 Try it right now. Can you feel the difference? Are you getting a little more length with a little less pain?
The Vertical Line System is such a simple concept, but it's real eye-opener for a lot of my golfers. Give it a shot the next time you're at the driving range. I promise you'll start seeing longer drives.
Your 3 Power Sources
The final tip I have for how to hit driver for seniors has to do with the setup. But in order to understand this strategy, it helps to understand its importance.
You see, you're working with three potential power sources in any athletic motion. When we talk about power sources, we're talking about the types of movement that generate strength and speed. The three power sources are:
Rotation. As a golfer, you are very familiar with the value of this motion.
Vertical. This type of movement is at play a lot in basketball, volleyball, and tennis serves.
Side-to-Side. Also called "sway," this is a matter of shifting weight. Think of a quarterback throwing a ball. They start with more weight on the lead foot, shift to the trail foot, then launch the ball with the power of their weight behind them.
As a mature golfer, rotation and vertical are not as available to you as they used to be. So, we're going to make the most of that third type of movement: the side-to-side.
The Power Key for How to Hit Driver for Seniors
If you follow our articles and videos, you'll probably recognize this next strategy. It's important advice for all players. But it is absolutely essential as a golf tip for senior golfers. This is how you pack your driver shots with more power.
As you take your driver setup, bump your lead hip towards the target. This allows you to access that side-to-side power source. You want about 60% of your weight on the lead foot, 40% on the trail foot. This should happen naturally with that hip bump.
As you take your backswing and rotate away from the target, shift that 60% weight into your trail foot. This gives you the room to push that weight—and power—back towards the lead foot as you swing through.
This move helps you generate speed, load the club head, and send the golf ball sailing down the fairway.
Now that you have a lot more insight regarding your driver swing as an older golfer, let's talk about where to go from here.
How to Hit Driver for Seniors: Checklist & Bonus Drill
I just dumped a lot of information on how to hit driver for seniors. To simplify, here's a quick checklist to guide you the next time you're on the golf course.
Driver Checklist
At setup:

Flare your toes
Close your stance
Close your hips
Bump the lead hip toward the target
Keep 60% of weight in the lead foot

On the backswing:

Shift weight to the trail foot as you rotate back
Bring the lead arm back and up on an almost-vertical swing plane
As a bonus, I'd like to share a great drill that will help you find a little more range and freedom in your arms. I truly cannot explain why this drill works so well, but it does.
Hover Drill
Take your driver setup, but hold the club out so the driver head is about shin-high, hovering above the golf ball.
From this position, take three practice swings. (I call this a "three-setter.") In these practice swings, you should immediately feel more freedom and speed in your arms.
After the three-setter, hover the club head behind the golf ball.
Take your regular driver shot from there.
This drill should help you discover a little more motion in your arms.
Learn More
These tips should give you a solid foundation for practicing and improving your driver shots as a more experienced golfer. But when you're ready to go a little more in-depth, I recommend checking out my FREE Power Clinic Golf Series.
Power Clinic Golf is a six-part series that confronts the techniques that are killing your game. It's based on the same principle as this article:
Different golfers require different coaching. If you haven't been seeing the distance and power you want after applying the most popular golf advice, it's probably because that advice isn't for you. And there's a good chance Power Clinic Golf has the guidance you actually need.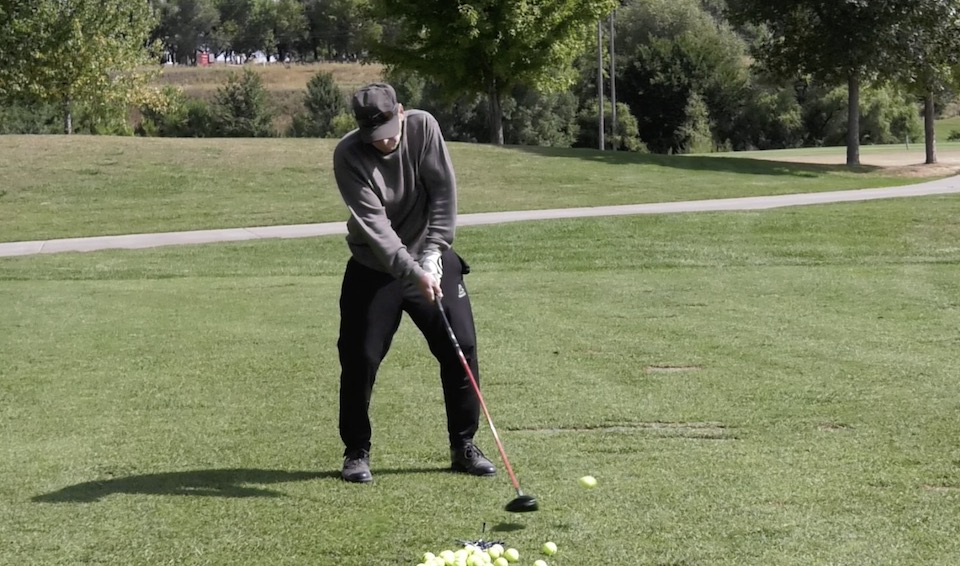 Bottom line: whenever you receive golf instruction, ask yourself, "Who is this for?"
Is it for a golfer who shares your strengths and limitations? Your level of fitness? Your age or experience level?
Or is it advice that's shows you how DJ does it?
I promise you, you will always get the best results by swinging your swing.
Has This Been Helpful?
My goal is to provide clear advice that helps you have more fun on the golf course. So jump into the comments and let me know how we're doing!
Did this help? Do you have any questions? Is there anything here you just can't agree with? I'm always up for a good golf debate!
For more in-depth golf tips, visit us at GreatGolfTipsNow.com. This golf instruction is completely free and packed with detailed advice to help you play better golf!